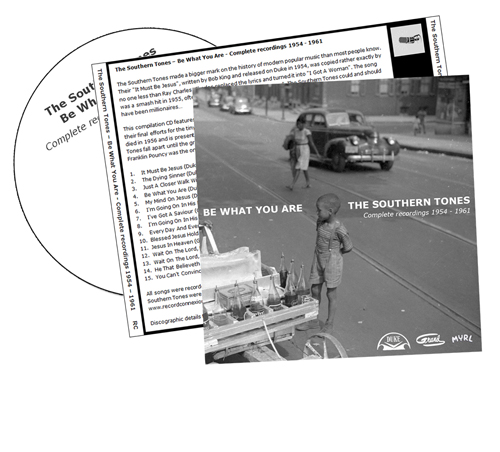 I digitized several of my LP's and also made a few compilations (artist compilations and various artists compilations). In addition to the information on this website, I also wanted to make some of the music available. All these albums are shown below. Releases in blue are linked to an album page, a musical note indicates one or more MP3 files are available.
Send me a message through the contact page to place an order.
The albums are available on CD-r and as MP3 downloads. The CD-r's offer the best sound quality.
The price for one CD-r is €12,50 but if you buy 5 or more (in one time) it's €10,00 for each CD-r. There's one double CD-r available ("38 Gospel Tracks"), which costs €17,50 but only €10,00 if you buy it with four or more other titles.
The price for an MP3 album is €7,50 (€12,50 for "38 Gospel Tracks"). If you order 5 or more albums to download (in one time) it's €6,00 per album (this applies to all albums, including "38 Gospel Tracks"). The files will be sent to you through WeTransfer of FileMail.
March 2023 update: The four new Soul Stirrers albums are available as a CD-r set for €30,00 (instead of €50,00) for a limited time. Downloads of these four albums are available for €20,00 (instead of €30,00). This applies for the set of four CD-r's/downloads only and can't be combined with other discounts.
In case you order a CD-r, this is what you'll get: a printed CD-r with front card and u-card, showing all original album artwork (in case of a reissue) and printed on photo paper. A jewel case will not be included, as they often break during transport and it makes postage more expensive. So you'll have to buy your own (standard) jewel cases.
An MP3 album includes a PDF of the artwork.
Shipping costs for 1-3 CD-r's: €4,15 (the Netherlands), €7,80 (eur 1 countries), €9,20 (eur 2 countries), €10,50 (rest of the world). Ask for other quantities.
Track & Trace and insurance is demanded for orders of €75,00 and up.
| release | artist | artist as shown | title |
| --- | --- | --- | --- |
| Song Bird 226 ♫ | Andrews, Inez | | Lord, Don't Move The Mountain |
| ABC Songbird 239 | Andrews, Inez | | More Church In The Home |
| ABC Songbird 269 | Andrews, Inez | | Chapter Five |
| VOJ 002 ♫ | Apostles of Brooklyn, NY | | Hello Everybody |
| Nashboro 7012 ♫ | Babb, Morgan | | Keep Faith In God |
| Nashboro 7059 | Babb, Morgan | Reverend Morgan Babb | The Essential Character Of The Church |
| Nashboro 7028 | Bells of Joy | | Songs That Bring Joy |
| Checker 10001♫ | Bells of Joy | | no title |
| Peacock 167 | Bells of Zion | | Let Me Lean On You |
| Gospel 3018 ♫ | Bibletones | | You Know My Heart |
| Nashboro 7062 | Boggs, Harold | Prof. Harold Boggs | Prof. Harold Boggs Sings Just For You |
| Gospel 3065 | Bonnett Harmonizers | | The Storm Is Passing Over |
| One Way 0032 | Bossie and Forever Bound Singers | | It's In My Heart |
| Chess 1524 ♫ | Operation Breadbasket Orchestra and Choir | Ben Branch and the Operation Breadbasket Orchestra and Choir | The Last Request |
| Gospel Recording Co. 1373 | Brooklyn All Stars | | I Want To Rest |
| Tru-Sound 60003 ♫ | Capitol City Stars | | We've Come This Far By Faith |
| Gospel 3001 | Caravans and Staple Singers | | A Gospel Program |
| Gospel 3007 | Caravans | | Blessed Assurance |
| Gospel 3041 | Caravans | | I Find No Fault In God |
| Peacock 146 | Chariot Gospel Singers | | Tell Him |
| Gospel 3000 | Christianaires | | Gospel Time |
| Checker 10004 ♫ | Christland Singers | | He's Mine |
| Tru-Sound 60001 | Clefs Of Carvary | | Baptized! |
| Savoy 14466 | Coates, Dorothy Love | Dorothy Love Coates and her Singers | These Are The Days |
| Nashboro 7019 | Consolers | | Joy In The Morning |
| Nashboro 7024 | Consolers | | Sweet Memories |
| Nashboro 7029 | Consolers | | Songs Of Inspiration |
| Nashboro 7002 | Cooke, Edna Gallmon | | He'll Fix It |
| Nashboro 7009 | Cooke, Edna Gallmon | | Stop Gambler |
| Sharp 2010 | Crum, Rev. H.B. | Rev. H.B. Crum with the Golden Keys | no title |
| Lu Sound 783 ♫ | Dale and Tones of Joy, Archie | | God Bless his World |
| Savoy 14000 | Davis Sisters | Famous Davis Sisters | no title |
| Woodrich 105 | Deep South Singers | | no title |
| Peacock 100 ♫ | Dixie Hummingbirds | | A Christian Testimonial |
| Richburg 0153 | Dynamic Rugged Cross Singers | | Through The Pathway Of Duty |
| RC Records 200 | Fantastic Family Aires | | Moving On Up |
| Zion 100 ♫ | Fireside Gospel Singers | | It's Getting Late |
| Gospel 3013 ♫ | Five Blind Boys of Alabama | Original Blind Boys of Alabama | God's Promise |
| Peacock 102 ♫ | Five Blind Boys of Mississippi | Original Five Blind Boys | Precious Memories |
| Peacock 113 | Five Blind Boys of Mississippi | Original Five Blind Boys | Father I Stretch My Hands To Thee |
| Savoy 14219 | Flying Clouds of Montgomery, Ala. | | Since I Laid My Burdens Down |
| Checker 10009 ♫ | Franklin, Aretha | | Songs Of Faith |
| Dauntless 6310 | Galileans | | The Gospel Truth |
| Gospel 3004 ♫ | Gate City Singers, Evangelistic Soul Seekers | Gate City Singers of Philadelphia, Pennsylvania, Evangelistic Soul Seekers of Brunswick, Georgia | Prayer Is The Key |
| Tru-Sound 60002 | Gate City Singers | | Peace In The Valley |
| Savoy 14021 | Gay Sisters | | God Will Take Care Of You |
| Grace Gospel 56 | Gazaway and the Gospel Larks, Robert | | A Personal Experience With Christ |
| Apollo A-6 ♫ | Georgia Peach | Georgia Peach with the Reliable Jubilee Singers | Spiritual Moods |
| Classic Editions 5001 | Georgia Peach | The Famous Georgia Peach | Gospel In The Great Tradition |
| Checker 10012 ♫ | Golden Harps | | Stand Up For Jesus |
| BTS 001 | Golden Trumpets | | Nashboro Gospel Sides |
| Chalice 1001 | Gospel Chords | | Introducing the Gospel Chords |
| Charleston 1742 | Gospel Tones | Sensational Gospel Tones | Tell Jesus |
| Gospel Recording Co. 1392 ♫ | Gospel Tones | | no title |
| Peacock 103 ♫ | Gospelaires | | Just Faith |
| Hit 111 | Hall Choir and Congregation, Juanita | | James Weldon Johnson's Spirituals In Verse And Song |
| Nashboro 10 | Hamilton, Rev. W.E. | | A Bad Mind |
| His Records 734 | Harmony Kings | | He's Blessing Me |
| Vee-Jay 5007 | Highway QC's | | Jesus Is Waiting |
| KNOF 1035 | Holy City Travelers | | Hold My Hand |
| Savoy 14231 | Holy Lights of Baltimore, MD. | | Yesterday's Prayer |
| B and H 10002 ♫ | Hooks, Ruby | | The Devil Can Do Me No Harm |
| Song Bird 212 | Jackson Southernaires | Jackson Southernairs | Too Late |
| Malaco 4352 | Jackson Southernaires | | All God's Children |
| Zion 101 ♫ | Jasper, Rev. W.E. | Reverend W.E. Jasper and the Jasperettes | Oh How I Love Jesus |
| Grand (nn) ♫ | Johnson's Trio and the Spiritual Light Singers, Professor C.L. | | Sweet Home |
| Checker 10006 ♫ | KYOK Koral-Aires | | Songs of the KYOK Koral-Aires |
| Boola-Boola 715 ♫ | Lathanettes | | Letting The Master Have His Way |
| Proverb 501 ♫ | Los Angeles Angels | | Blow Wind Blow |
| Gospel Roots 5016 | Luckett Brothers | Fabulous Luckett Brothers | Heaven Is God's Throne |
| Savoy 14043 | Martin Singers, Roberta | | Since I Met Him |
| Nashboro 7001 | May, Brother Joe | | The Master's On Our Side |
| Nashboro 7010 | May, Brother Joe | | Walk On And Talk On |
| BTS 003 | McGhee, Brother Louis | | Going Home |
| Finch 112210 | Mighty Gospel Travelers | | Don't Let The Devil Fool You |
| Klondike 2520 | Mighty Kings of Harmony | | The Mighty Kings Of Harmony Do Rocking Spirituals |
| TAP 0698 | Mighty Wonders | | Love Lifted Me |
| Nashboro 7036 | Morning Echoes of Detroit | | Echoes Of The Gospel |
| Savoy 14174 | Morning Stars of Savannah, GA | | This Train |
| Bilesse 350 ♫ | Moss and Celestials, Bill | | I Have Already Been To The Water |
| Sue 3001 | National Independent Gospel Singers | | Thank You Lord |
| Checker 10008 ♫ | Norfleet Brothers | | Shadrach |
| Sharp 2013 | North Philadelphia Juniors | | In The Building |
| Savoy 14093 | Norwood Singers, Dorothy | | The Old Lady's House |
| King 763 | Patterson Singers | | Gospel Songs |
| Gospel Recording Co. 1383 | Peerless Four Quartet | | Many Blessings |
| Outstanding 031 | Perkins, Betty | | God Is Supernatural |
| Gospel Soul 2847 ♫ | Perkins, Odessa' Sunshine Jubilee | | Beyond The Clouds |
| Gospel Recordings LP 14008 | Pittsburgh All-Stars | | Good Things Come To Those Who Wait |
| Choice 506 | Rasberry Singers | | Deliverance Will Come |
| Peacock 120 | Robinson, Rev. Cleophus | | Remember Me |
| Peacock 126 | Robinson, Rev. Cleophus | | God's Sons And Daughters |
| Randy's Spiritual 1028 | Robinson, Rev. Cleophus | | Making Love On The House Top |
| Champ 1701 | Rogers Brothers | | I Am Going Home |
| Regent 6112 | Royal Silvertones | | Jesus, I Love Your Name |
| HOB 2143 | Royal Travelers | | He Loves Me |
| Checker 10052 | Salem Travelers | | Tell It Like It Is |
| Gospel 3002 | Selah Singers | | His Eye Is On The Sparrow |
| HSE 1421 | Seniors of Harmony | | I'm On My Way |
| Soulville 001 | Sensational Cymbals | | God Bless America |
| Imperial 9143 | Shaw, Brother Cecil L. | | I Stretch My Hand To Thee |
| Gusman 1001 | Six Voices of Zion Of Columbia, SC | | Thank You Jesus |
| Cub 8006 | Soul Seekers | | Spirituals |
| Choice 516 | Soul Seekers | | Songs For My Mother |
| Gospel 3085 | Soul Seekers | | Tell It Like It Is |
| Checker LP 10021 | Soul Stirrers | | Resting Easy |
| Checker LP 10027 | Soul Stirrers | | The Gospel Truth |
| Checker LP 10038 | Soul Stirrers | | The Golden Gospel |
| Checker LP 10056 | Soul Stirrers | | Soul's In... But Gospel's Out Of Sight |
| One Way 1000-2 | Southern Faith Singers | | Who |
| BTS 004 | Southern Tones | | Be What You Are, Complete Recordings 1954-61 |
| Champ 1912 | Speights, Bishop Harold W. | | The Faith Hall Of Fame |
| Savoy 14038 | Stars of Faith | | The Upper Room |
| Gospel Recording Co. 1364 ♫ | Stevens, Prof. Herman | | Gospel Organ Music |
| Nashboro 7030 ♫ | Supreme Angels | | Drinking Of The Wine |
| BTS 002 | Supreme Angels | | More Of The Supreme Angels (early Nashboro sides 1958-65) |
| Vee-Jay 5003 | Swan Silvertones | | no title |
| Vee-Jay 5006 | Swan Silvertones | | Singing In My Soul |
| Savoy 14064 | Swindell Brothers | | This Trouble Of Mine |
| Veep 13530 | Swindell Brothers | Swindell Brothers with Bishop J.J. Wilkerson | Judge Not |
| Decca 224 | Tharpe, Sister Rosetta | | The Lonesome Road |
| Decca 8782 | Tharpe, Sister Rosetta | | Gospel Train |
| Mozel 201 | Thrashing Wonders | | I've Come From A Long Line Of Poor Folks |
| Peacock 104 | Trammell, Rev. William C. | | Handwriting On The Wall |
| Grand 7701 ♫ | Trumpeteers, Southern Tones | | The Last Supper |
| Jade 100 | Victory Travelers | | no title |
| Checker 10011 ♫ | Violinaires | | Stand By Me |
| Checker 10017 ♫ | Violinaires | | The Fantastic Violinaires |
| Checker 10045 ♫ | Violinaires | | Live The Right Way |
| Gospel Recording Co. 1387 | Voices of Shiloh | | Standing On The Promises |
| Regent 6110 | Walker, Clara | Clara Walker and the Gospel Redeemers | The Lord Is The Master |
| Gospel Recording Co. 1380 ♫ | Walker, Clara | Clara Walker and the Gospel Redeemers | Take Me To The Water |
| Savoy 14046 | Ward Singers | Famous Ward Singers | In A Gospel Concert |
| Gospel 3003 | Williams, Marian | | Somebody Bigger Than You And I |
| Rosemont 2032 | Wilson and the Wilson Singers, Robert C. | | Come To Jesus |
| Revelation 5002 ♫ | Young, Dewey | Dewey Young and the Flying Clouds | God Bless Our Home |
| Flying Fish 002 | Zion Harmonizers | | You Don't Have To Get In Trouble |
| Dooto 807 | Zion Travelers | | Down By The River |
| Co-Op 102 | Zion Travelers | Amazing Zion Travelers | Under The Blue Sky |
| BTS 005 ♫ | Various | | 38 Gospel Tracks |
| Nashboro 7006 | Various | | Best Loved Gospel Songs |
| Gospel Recording Co. LP 1379 | Various | | Jesus Made It Possible |
| Regent 6070 ♫ | Various | | The Gospel Train |
| Proverb XX01 ♫ | Various | | The Best From The West |
| Dooto 225 | Various | | The Best Gospel Singers |
| (no label) M 149 | Various | | The Soul of the "Big Four" Gospel Debut |
| Decca 903 | Various | | The Wedding Ceremony of Sister Rosetta Tharpe |
| Gotham 1 | Various | | Xmas Spirituals |
| Church 1 ♫ | Various | | Gospel Grooves, vol. 1 |
| Church 2 ♫ | Various | | Gospel Grooves, vol. 2 |
| Church 3 ♫ | Various | | Gospel Grooves, vol. 3 |
| Church 4 ♫ | Various | | Gospel Grooves, vol. 4 |
| Church 5 | Various | | Gospel Grooves, vol. 5 |
| Church 6 | Various | | Gospel Grooves, vol. 6 |