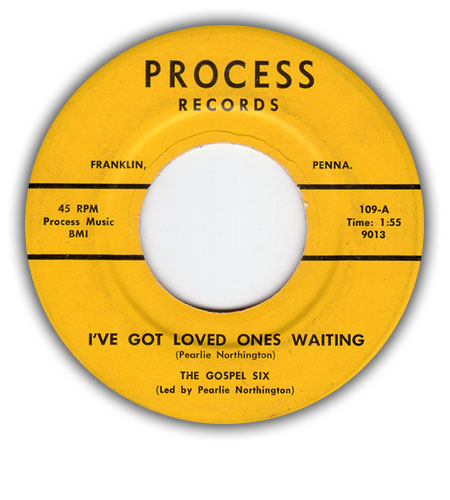 Process was a label from Franklin, PA, owned by Norman Kelly. It was in operation from c. 1961 till 1965, although it seems there was 500-series (country) in the late 1940's. The 100-series from the 1960's featured mostly country and gospel.
The Gospel Six (Gospel Six Of Buffalo, NY) also recorded for J&W, Richburg (as the Sensational Gospel Six) and for Checker in the 1970's (these recordings are excluded from the Checker discography). Their initial release was on S and H 202 (c. 1960).
The Travelaires (#141) is probably a white gospel group.
This page lists all known gospel releases, 45's and one LP, on the Process label. Unlisted numbers are mostly secular, some are unknown.
45rpm releases:

| release | artist | artist as shown | songs | year |
| --- | --- | --- | --- | --- |
| Process 104 ♫ | Crump Brothers | Jimmy Ivey and the Famous Crump Brothers | A Man At The River b/w Jesus Is My Friend | 1962 |
| Process 106 | Erie Harmonizers | | I Am The Way b/w Walk With Me | 1962 |
| Process 109 | Gospel Six of Buffalo, NY | Gospel Six | I've Got Loved Ones Waiting b/w Jesus Loves Me | 1962 |
| Process 111 | Golden Bells Spiritual Singers | | Let Us Go Back To God b/w Amazing Grace | 1962/63 |
| Process 112 | Heavenly Stars | | Somebody Touched Me b/w Jesus Is Real To Me | 1963 |
| Process 114 | Pilgrim-Aires | | God's Saints b/w I Trust In God | 1963 |
| Process 115 | Christian All Stars | | Be At Rest b/w Lord Jesus | 1963 |
| Process 118 | Northernaires | Northanaires | I Have A Song To Sing b/w You Pray For Me | 1963 |
| Process 119 | Gospel Trumpets | | Swing Down Chariot b/w Where Should I Go | 1963 |
| Process 124 | Heavenly Stars | | Peace In The Valley b/w What A Friend We Have In Jesus | 1963 |
| Process 137 | Gospel Crowns | | Love Of Jesus b/w Amen | 1964/65 |
| Process 138 | Christian All Stars | Christian All-Stars | Something About My Jesus b/w The Story Of Job | 1964/65 |
| Process 141 | Travelaires | | He Knows Just What I Need b/w I Want To Do What He Commands | 1964/65 |
| Process 142 | Gospel Trumpets | | Any Way You Bless Me b/w For You | 1965 |
| Process 152 | Silvertones of Erie | | Cryin' Days b/w I'm Free At Last | 1965 |
| Process 155 | Gospel Crowns | | Payday b/w Thank You Jesus | 1965 |
| Process 157 | Gibson Singers | | Prayer Of Faith b/w We'll Understand It Better By And By | 1965 |
| Process 159 | Northernaires | Sensational Northernaires | Everybody Ought To Pray Sometime b/w Lord Forgive | 1965 |
| Process 160 | Dunn and Dynamic Dundaleers, Henry | | Keep On Blessing Me b/w When I Got It | 1965 |
| Process 161 | Dunn and Dynamic Dundaleers, Henry | | Jesus At The Well b/w The Church Is One Foundation | 1965 |
| Process 162 | Meredith (of Shaw, Miss.), Odessa | | Deep River b/w Never Grow Old | 1965 |
| Process 166 | Christian All Stars | | Straight Street b/w How I Got Over | 1965 |
| Process 171 | Natural Tones | | Job's Affliction b/w When You See Me Walking Right | 1965 |
LP release:

| release | artist | artist as shown | title | year |
| --- | --- | --- | --- | --- |
| Process LP 10 | Dunn and Dynamic Dundaleers, Henry | | The Thirteenth Chapter | 196? |