Planet gospel discography (c. 1960-61)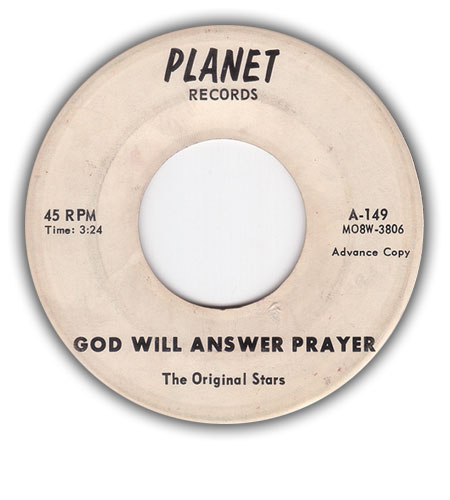 Planet Records was a small label, probably from Chicago. It seemed to have been run by drummer Jump Jackson, who also ran the La Salle label.
This Planet label shouldn't be confused with Planet from Providence, RI (on which a few gospel records were released as well) or with Planet from St. Louis (with one gospel release, by Rev. W.B. Rouse).
This page lists all known Planet gospel releases.
45rpm releases:

| release | artist | artist as shown | songs | year |
| --- | --- | --- | --- | --- |
| Planet 148/149 | Original Stars | | A Friend Of Mine b/w God Will Answer Prayer | 1961 |
| Planet 2001 | Gospel Chimes | | Jesus Will See You Through b/w Give God The Credit | 1960-61 |
| Planet 2002 | Griffin Singers | | Each Day b/w It's Amazing | 1960-61 |
| Planet 2003 | George, Cassietta | Cassietta George and the All Stars | These Things Must Be b/w I Just Can't Get Along | 1961 |
| Planet 2004 | Robbins, Rev. James | Rev. James Robbins and the Vanguards b/w Rev. James Robbins | I've Got Religion b/w Cross Jordan | 1961 |
| Planet 2005 | Faithful Wanderers | | Surely You Live b/w I Want To Rest | 1961 |
| Planet 2006 | Clefs of Calvary | | Jesus Works A Miracle b/w Wait A Little Longer | 1961 |