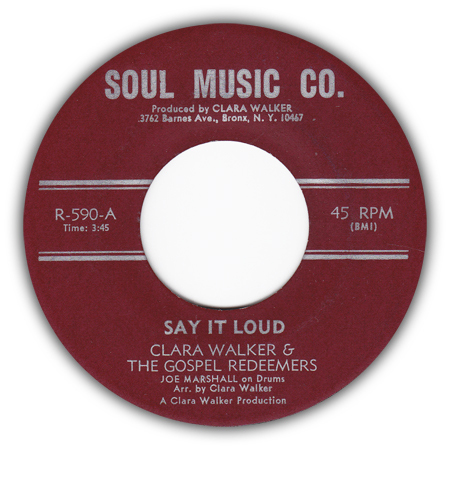 Soul Music Co. was one of Clara Walker's labels, located in the Bronx, NYC. See Clar-Walk for the other Clara Walker label.
Soul Music 577 has also been released on Clar-Walk 577.
#573 was released on Soul Music (no "Co." added).
This page lists all known Soul Music Co.'s gospel 45's and LP's.
45rpm releases:

| release | artist | artist as shown | songs | year |
| --- | --- | --- | --- | --- |
| Soul Music Co. 573 | Baker, Richard | | Precious Lord b/w Elijah Rock | c. 1966-67 |
| Soul Music Co. 577 | Bess, Julia (Doyle) | | My Record Will Be There b/w Oh For A Closer Walk With God | 1967 |
| Soul Music Co. 580 | Walker, Clara | Clara Walker and the Gospel Redeemers | The Goodness Of Jesus, Pt. 1 b/w The Goodness Of Jesus, Pt. 2 | 1967-68 |
| Soul Music Co. 585 | Rose Buds of Savannah, GA. | | Leave You In The Hands Of The Lord b/w If You Just Hold Out | 1967-68 |
| Soul Music Co. 586 | Gospel Pearls of Indianapolis, Ind. | | Lead Me On b/w Just Tell Jesus | 1968 |
| Soul Music Co. 587 | Bess, Julia (Doyle) | | I Love The Name Jesus b/w Hold On | 1968 |
| Soul Music Co. 588 | Gospel Lights | | Work Until My Day Is Done b/w Run To The Rock | 1968 |
| Soul Music Co. 589 | Spiritual Keys of Waterbury, Conn. | | He Never Fails b/w Sinner Get Right | 1968 |
| Soul Music Co. 590 | Walker, Clara | Clara Walker and the Gospel Redeemers | Say It Loud b/w Open Up Your Heart | 1968 |
| Soul Music Co. 591 | Flowers, Sister Lois | | Jonah b/w Jesus | 1968 |
| Soul Music Co. 594 | Bess, Julia (Doyle) | | Jesus' Love Bubbles Over b/w My Happy Home | 1968 |
| Soul Music Co. 595 | Bess, Julia (Doyle) | Julia (Doyle) Bess b/w Julia and Leroy Bess | The Crucifixion b/w I'll Go | 1968 |
| Soul Music Co. 600 | Oakes, Margaret | Evang. Margaret Oakes | Jesus Lover Of My Soul b/w Wait Until My Change Comes | 1968-69 |
| Soul Music Co. 601 | N.Y. Metropolitan Choir | | No Matter What b/w Saved By His Precious Blood | 1968-69 |
| Soul Music Co. 602 | Walker, Clara | | We Need More Love b/w Summer Has Ended | 1968-69 |
LP releases:

| release | artist | artist as shown | title | year |
| --- | --- | --- | --- | --- |
| Soul Music Co. LP 117 | Bess, Julia (Doyle) | | Oh, For A Closer Walk With God, 'til I Reach My Happy Home | c. 1970 |
| Soul Music Co. LP 118 | Dynamic Youth Ensemble | | I'm So Grateful | c. 1970 |