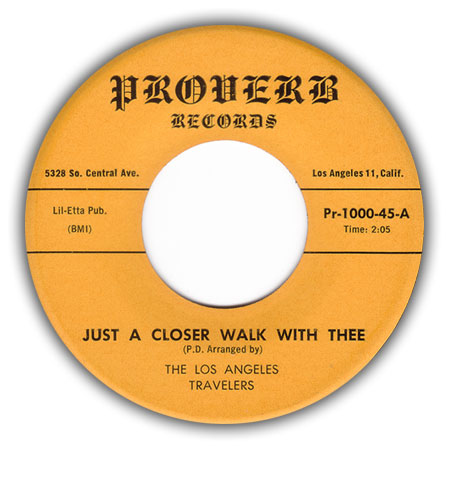 Proverb Records was started by Milton Rose, Paul Vandervoort II and Brother Henderson, in February 1959 (see this ad from the Billboard, Feb. 9, 1959). The first addresses used were PO Box addresses in Beverly Hills, CA and Pacoima, CA; all in the neighborhood of Central Ave., Los Angeles, where the company was located throughout the 1960's. In 1964 Henderson (and William Bufkin?, a.o.?) started the Gospel Corner label. Probably in 1971 Kent Gospel Records took over distribution of both labels and later the Gospel Corner and Proverb names were dropped. All subsequent releases came out on Kent Gospel Records. Brother Henderson remained in charge until his demise in 1973. See this post for more information.
Proverb had a connection with Hy-Tone. Several compilation LP's on Proverb (LP's 6-7205, 7-7353 and 7-7688) feature material that was originally released on or recorded for Hy-Tone (Corinthian Singers, Crowns of Glory, Rev. Leo Daniels, Sons of Faith and Unity Travelers).
Check this page to see the different Proverb labels in chronological order (although some may have been in use concurrently).
Proverb's catalogue is pretty confusing as many 45's have been released twice; the same number was used for two different releases.
Proverb 102 (Sister Minnie Miller) was reissued as #1020.
"Lord You Woke Me Up This Morning" by the Mighty Clouds of Joy on Proverb 100 was reissued on #1023 as "Lord You Woke Me Up". The reverse sides are different; "Jesus Is Real" (1023) was first released on Proverb 103.
Proverb 1001 (Brother Lloyd Woodard b/w Rev. Lonnie Farris and his Gospel Flames) is from a later date (see label lay-out) and it's possibly a reissue of #1000.
Proverb 1002 (Rev. T.M. Chambers Jr.) has been reissued on Gospel Corner 120.
Proverb 1002 (Pilgrim Travelers) was also released as by the New Pilgrim Travelers.
Proverb 1008 (Rev. Lee P. James side) lists "Only A Look" and "Say A Prayer For Me" on the labels; I guess these songs are performed as part of "Lord Have Mercy".
Proverb 1011 (Rev. Lee P. James b/w Fantabulous Little Joe) is a 33pm 7inch record. Instead of the prefix '45' Proverb used 'LP' for this one, but the durations on the labels are 4:50 and 4:20 only. I've listed it with the 45's. It could be the same as Proverb 1008.
Proverb 1012 (Melvin Carter and Los Angeles Community Youth Choir) has been released twice. The second release, showing the open bible on the left side of the labels, has an incomplete artist credit as "and Los Angeles Community Choir". No mention of Melvin Carter and no mention of 'Youth'.
"Prayer Changes Things" (Singing Corinthians) on Proverb 1017 is a reissue of that song on #1011.
Proverb 1018 is a reissue of #1000 (Brother Lloyd Woodard b/w Rev. Lonnie Farris).
Proverb 1019 (Los Angeles Travelers b/w Gospel Five) has also been released on Gospel Corner 1000. The song "Just A Closer Walk With Thee" has drums and organ added on both releases. On Proverb 1000 the song has no overdubs. Proverb 1000 has also been released on Sharon 1467.
Proverb 1024 is a reissue of #103 (Rev. T.M. Chambers Jr.).
Proverb 1025 (Helen Henderson) seems to have been released first without the addition "Late great voice of". This may indicate that Helen Henderson died after the first release which made Proverb print alternate labels (?). She was the mother of Brother Henderson and sang with the Simmons-Akers Gospel Singers in 1957 (RCA).
Some copies of Proverb 1028 list Madame Emily Braum instead of Madame Emily Bram.
Proverb 1030 has been released as by Little Miss Janice first (1967) and then as by Little Janice (1970's).
Proverb 1045 (Los Angeles Angels) was released with the A-side as "White Xmas" (first) and as "White Christmas".
There's a Proverb acetate by the Corinthian Singers, listing "I Believe" and "Lord Stand By Me". Proverb LP 7-7688 features the Corinthians of Buffalo, NY (three tracks, possibly from Hy-Tone). Then there's also a group called the Singing Corinthians, the most well-known of the three, who were from Los Angeles. Since all these groups had releases on Proverb, one may assume some connections.
The album "Let's Have Church" is mentioned on Proverb 100 and 1004 (Clouds of Joy and Lloyd Woodard resp.), "Gospel Varieties" is mentioned on Proverb 103 (Mighty, Mighty Clouds of Joy), "Just To Behold His Face" is mentioned on Proverb 1003 (Revelation Wonders), "Running For Jesus" is mentioned on Proverb 1006 (Delores Patterson/Roger Williams Choir), "The Devil Wants You" is mentioned on Proverb 103 and #1024 (Rev. T.M. Chambers – this could be LP 5001), "The Great Coronation" is mentioned on Proverb 1012 (Radio Choir of Pilgrim Progressive Baptist Church b/w Rev. Marvin Hines), "Without A Song" and "The Edge Of Night" are mentioned on Proverb 1010 and 1014 (Rev. Clinton Moore). All these LP releases are otherwise unknown.
Proverb LP's 100 (Mighty Clouds of Joy) and 5001 (Rev. Chambers) are mentioned on the back cover of LP 5000 (Rev. H.C. Ross), no album titles are given.
Proverb LP 100 seems to have been reissued on HOB LP 288, titled "The Mighty Clouds of Joy Sing Live Zion Songs" (1968), featuring overdubbed organ, piano and drums.
LP 5000 also mentions a couple of 45's and among them two on the Gospel Corner label. It indicates that LP 5000 and 5001 are from 1964 or later. Since the Proverb 45's mentioned on the back cover are from no later than 1963, I assume LP's 5000 and 5001 are from 1964 or 1965.
Proverb LP's 500, 501 and 503 have been released twice; first without and then with the "Distributed by Kent Gospel Records" logo. In addition, the cover art and the album titles are completely different. The second issue of LP 500 had differences in the track listing as well. The reissue LP's were titled "Here's Willie Cotton" (#500), "The Circle" (#501) and "Things Will Be Better" (#503). LP 503 (first issue) is listed as an August 1970 release in Billboard Magazine.
LP 502 by the Pilgrim Travelers is only known with the "Distributed by Kent Gospel Records" logo, but maybe there's an earlier version too. LP 502 is mentioned on the back cover of the original versions of Proverb LP 503 by the Watts Community Choir (1970) and Gospel Corner LP 500 by Prince Dixon (1970). This is referring to an earlier version of LP 502, but there are no further details. Maybe it's unreleased.
The back cover of the known version of LP 502 mentions their 1971 Kent LP (#564; "Did You Stop To Pray This Morning"), so this version of LP 502 must have been released in 1971 or later.
Proverb 1040 (Watts Community Choir) mentions the LP "What The World Needs Now"; this should probably read "We Need More Love" (the title of the original version of LP 503).
All years given are estimates, based on some other sources and a supposed number chronology, but there may be several errors.
This page lists all known gospel releases, 45's and LP's on the Proverb label.
45rpm releases:

| release | artist | artist as shown | songs | year |
| --- | --- | --- | --- | --- |
| Proverb 100 | Mighty Clouds of Joy | Clouds of Joy | Lord, You Woke Me Up This Morning b/w A Christian's Plea | 1959-61 |
| Proverb 102 | Miller, Sister Minnie | | His Eye Is On The Sparrow b/w Jesus Is All | 1959-61 |
| Proverb 103 | Mighty Clouds of Joy | Mighty, Mighty Clouds of Joy | Swing Down Chariot b/w Jesus Is Real | 1959-61 |
| Proverb 103 | Chambers Jr., Rev. T.M. | | You Don't Know (What I Know), Pt. 1 b/w You Don't Know (What I Know), Pt. 2 | 1959-61 |
| Proverb 11-22-1963 | Henderson, Brother | | Eleven-Twenty Two Nineteen Sixty Three, Pt. 1 b/w Eleven-Twenty Two Nineteen Sixty Three, Pt. 2 | 1963 |
| Proverb 1000 | Los Angeles Travelers | | Just A Closer Walk With Thee b/w I Stretch My Hands To Thee | 1962 |
| Proverb 1000 | Woodard, Brother Lloyd b/w Rev. Lonnie Farris | Brother Lloyd Woodard b/w Rev. Lonnie Farris and his electric steel guitar | Sweet Hour Of Prayer #1 b/w Peace In The Valley | 1962 |
| Proverb 1001 | Sanctified Six | | Prayer Changes Things b/w God Rode In A Wind Storm | 1962 |
| Proverb 1001 | Woodard, Brother Lloyd b/w Lonnie Farris | Brother Lloyd Woodard b/w Rev. Lonnie Farris and his Gospel Flames | Sweet Hour Of Prayer b/w Peace In The Valley | 196? |
| Proverb 1002 | Chambers Jr., Rev. T.M. | | The Man Jesus, Pt. 1 b/w The Man Jesus, Pt. 2 (sermon) | 1962 |
| Proverb 1002 | Pilgrim Travelers | World Famous Pilgrim Travelers | When I'm Gone b/w Mother Bowed | 1962 |
| Proverb 1003 | Revelation Wonders | Revelaton Wonders | Just To Behold His Face b/w Just A Little While | 1962-63 |
| Proverb 1003 | Ross, Horace C. | | The Holy Ghost (Got A Hold Of Me), Pt. 1 b/w The Holy Ghost (Got A Hold Of Me), Pt. 2 (sermon) | 1962-63 |
| Proverb 1004 | Easley Jr., Rev. R.E. | Rev. R.E. Easley, Jr. of Los Angeles, Calif. | Lord, Hold That Train, Pt. 1 b/w Lord, Hold That Train, Pt. 2 (sermon) | 1962-63 |
| Proverb 1004 | Woodard, Brother Lloyd | Lloyd Woodard with Melvin Boyd and Ohio Wonders | He Will Take Care, Pt. 1 b/w He Will Take Care, Pt. 2 (sermonette) | 1962-63 |
| Proverb 1005 | Phoenix All Stars of Phoenix, Arizona | | "Lord" I Love To Call Your Name b/w Please Stand By Me | 1962-63 |
| Proverb 1005 | Singing Corinthians | | Sweet Home b/w Lord Hold My Hand | 1962-63 |
| Proverb 1006 | Patterson and Roger Williams Choir, Delores b/w Roger Williams Choir | | Pilate's Hall b/w Thanking Him | 1963-64 |
| Proverb 1007 | Pilgrim Travelers | World Famous Pilgrim Travelers | What Is This b/w Where Shall I Go | 1963-64 |
| Proverb 1008 | Mighty Sons of Joy | Mighty Sons of Joy of Ft. Worth, Texas | Hold Me In Your Arms b/w At The Cross | 1963-64 |
| Proverb 1008 | James, Rev. Lee P. b/w Fantabulous "Little Joe" | Rev. Lee P. James b/w the late "Fantabulous" Little Joe | Lord Have Mercy b/w I'll Over Come | 1963-64 |
| Proverb 1009 | Fantabulous "Little Joe" | | The Gospel Truth, Pt. 1 b/w The Gospel Truth, Pt. 2 | 1963-64 |
| Proverb 1009 | Vocal-Aires of Birmingham, Ala. | A. Wallace and Vocal-Aires of Birmingham, Ala. b/w Rev. E. Jones and Vocal-Aires of Birmingham, Ala. | Without God b/w What About You | 1963-64 |
| Proverb 1010 | Moore, Rev. Clinton | Rev. Clinton Moore (The Blind Evangelist of Cincinnati, Ohio) | God Specializes, Pt. 1 b/w God Specializes, Pt. 2 | 1964-65 |
| Proverb 1010 | Farris, Rev. Lonnie | Rev. Lonnie Farris and his Gospel Flames | His Love b/w The Holy Spirit | 1964 |
| Proverb 1011 | James, Rev. Lee P. b/w Fantabulous "Little Joe" | | Prayer b/w I'll Over Come | 1964-65 |
| Proverb 1011 | Singing Corinthians | | Prayer Changes Things b/w When You Have Rivers | 1964-65 |
| Proverb 1012 | Radio Choir of Pilgrim Progressive Baptist Church b/w Rev. Marvin Hines | | I'm Going To Thank Him b/w These Are They | 1964-65 |
| Proverb 1012 | Carter and Los Angeles Community Youth Choir, Melvin | | Every Now And Then, Pt. 1 b/w Every Now And Then, Pt. 2 | 1964-65 |
| Proverb 1013 | Los Angeles Soul Revivors | | Never Alone b/w Operator | 1964-65 |
| Proverb 1013 | Pilgrim Travelers | World Famous Pilgrim Travelers | Jesus Knows b/w Nothing But The Blood | 1964-65 |
| Proverb 1014 | Golden Crowns | Big Paul Foster's Los Angeles Golden Crowns | A Closer Walk b/w The Lord's Prayer | 1964-65 |
| Proverb 1014 | Moore, Rev. Clinton | Rev. Clinton Moore (The Blind Evangelist of Cincinnati, Ohio) | Tis The Old Ship Of Zion, Pt. 1 b/w Tis The Old Ship Of Zion, Pt. 2 | 1964-65 |
| Proverb 1015 | Singing Corinthians | | Shoes b/w The Cross | 1964-65 |
| Proverb 1015 | Vocal-Aires of Birmingham, Ala. | | Jacobs Ladder b/w Working On The Building | 1964-65 |
| Proverb 1016 | Los Angeles All Stars | | I'm Living A Saved Life Now b/w The Walls Of Jericho | 1965 |
| Proverb 1016 | Ohio Wonders | Melvin Boyd and Ohio Wonders | Lord, You're So Good To Me b/w Stand By Me | 1964-65 |
| Proverb 1017 | Singing Corinthians | Singing Corinthians of Los Angeles, Calif. | Don't Cry b/w Prayer Changes Things | 1965-66 |
| Proverb 1018 | Dixon, Prince | Bro. Prince Dixon and the Dixon Specials | Roll The Train Easy b/w The Altar | 1965-66 |
| Proverb 1018 | Woodard, Brother Lloyd b/w Rev. Lonnie Farris | Brother Lloyd Woodard b/w Rev. Lonnie Farris and his electric steel guitar | Sweet Hour Of Prayer b/w Peace In The Valley | 1965-66 |
| Proverb 1019 | Cotton, Willie | Brother Willie Cotton | He's The One b/w Old Ship Of Zion | 1965-66 |
| Proverb 1019 | Los Angeles Travelers b/w Gospel Five | | Just A Closer Walk With Thee b/w Just A Closer Walk With Thee | 1965-66 |
| Proverb 1020 | Pilgrim Travelers | | Peace In The Valley b/w A Soldier's Plea | 1965-66 |
| Proverb 1020 | Miller, Sister Minnie | | His Eye Is On The Sparrow b/w Jesus Is All | 1965-66 |
| Proverb 1021 | Nu-Lite Gospel Singers | Nu-Lite Gospel Singers of Kansas City, MO. | Lot's Wife b/w I Believe | 1966-67 |
| Proverb 1021 | Chambers Brothers | Chambers Brothers of Los Angeles | I Trust In God b/w Just A Little More Faith | 1966-67 |
| Proverb 1022 | Cotton, Willie | | Blessed Assurance b/w Trying To Get Home | 1966-67 |
| Proverb 1022 | Fantabulous "Little Joe" | | Never Grow Old b/w Talk About A Child | 1966-67 |
| Proverb 1023 | Los Angeles Angels | | Blow Wind Blow b/w Something Within Me | 1966-67 |
| Proverb 1023 | Mighty Clouds of Joy | Mighty Mighty Clouds of Joy | Lord, You Woke Me Up b/w Jesus Is Real | 1966-67 |
| Proverb 1024 | Los Angeles Angels | | Whisper A Prayer b/w Just A Little Talk | 1966-67 |
| Proverb 1024 | Chambers Jr., Rev. T.M. | | You Don't Know (Like I Know), Pt. 1 b/w You Don't Know (Like I Know), Pt. 2 | 1966-67 |
| Proverb 1025 | Cotton, Willie | | Joy To The World b/w I'll Be Home For Xmas | 1966-67 |
| Proverb 1025 | Henderson, Helen | | He's A Light b/w Come To The Altar | 1966-67 |
| Proverb 1026 | Los Angeles Angels | | Walk On By Faith b/w The Saints | 1966-67 |
| Proverb 1026 | Carter and Los Angeles Community Youth Choir, Melvin | | Every Now And Then, Pt. 1 b/w Every Now And Then, Pt. 2 | 1966-67 |
| Proverb 1027 | Ohio Wonders | "Big Bad Bashful" John McNeil and Ohio Wonders b/w Ohio Wonders | My Savior's Care b/w Going Home To Live With Jesus | 1966-67 |
| Proverb 1027 | Williams Young Adult Choir, Roger | | Have You Heard Of A City, Pt. 1 b/w Have You Heard Of A City, Pt. 2 | 1966-67 |
| Proverb 1028 | Bram, Emily | Madame Emily Bram | One Day b/w Let God Abide | 1966-67 |
| Proverb 1028 | Nu-Lite Gospel Singers | Nu-Lite Gospel Singers of K.C. MO | You've Been So Good b/w Rock Of Ages | 1966-67 |
| Proverb 1029 | Cotton, Willie | | Look For Me, Pt. 1 b/w Look For Me, Pt. 2 | 1966-67 |
| Proverb 1030 | Little Miss Janice | | Scarred Knees b/w Won't Be Back | 1967 |
| Proverb 1031 | Wafer, James | James Wafer (Mr. Pilgrim Travellers) [sic] | What A Friend b/w Pilgrim Of Sorrow | 1967-69 |
| Proverb 1033 | Los Angeles Angels | | How Great Thou Art b/w New Born Soul | 1967-69 |
| Proverb 1034 | Cotton, Willie | | Use What I Have b/w Last Mile | 1967-69 |
| Proverb 1035 | Pilgrim Travelers | James Wafer and the Pilgrim Travelers | Help Me To Carry On b/w Mercy Lord | 1967-69 |
| Proverb 1036 | Los Angeles Angels | | When You Need A Friend b/w So Much To Thank Jesus For | 1967-69 |
| Proverb 1037 | Cotton, Willie | | Take Me To The Water b/w Freedom Marchers | 1967-69 |
| Proverb 1040 | Watts Community Choir | | What The World Needs Now b/w Keep On, Keeping On | 1968-70 |
| Proverb 1041 | Singing Corinthians | | Wandering Child b/w Don't Put Off Today | 1968-70 |
| Proverb 1042 | Watts Community Choir | Fabulous Watts Community Choir | He's Not Heavy b/w The Lord's Prayer | 1968-70 |
| Proverb 1045 | Los Angeles Angels | | White Xmas b/w Silent Night | 1968-70 |
LP releases:

| release | artist | artist as shown | title | year |
| --- | --- | --- | --- | --- |
| Proverb LP 100 | Mighty Clouds of Joy | Mighty, Mighty Clouds of Joy | Let's Have Church | c. 1959-61 |
| Proverb LP 101 | Chambers Jr., Rev. T.M. | | The Sermon From The Step Ladder (sermon) | c. 1959-61 |
| Proverb LP 102 | Various | | Gospel Varieties | c. 1959-61 |
| Proverb LP 103 | Chambers Jr., Rev. T.M. | | The Devil Wants You (sermon) | c. 1959-61 |
| Proverb LP 5000 | Ross, Horace C. | Rev. H.C. Ross of Los Angeles, Calif. | This Amazing Jesus (sermon) | 1964-65 |
| Proverb LP 5001 | Chambers Jr., Rev. T.M. | | Title unknown (sermon) | 1964-65 |
| Proverb LP (?) | Revelation Wonders (?) | | Just To Behold His Face | 1964-68 |
| Proverb LP (?) | Roger Williams Choir (?) | | Running For Jesus | 1964-68 |
| Proverb LP (?) | Radio Choir of Pilgrim Progressive Baptist Church (?) | | The Great Coronation | 1964-68 |
| Proverb LP (?) | Moore, Rev. Clinton | | Without A Song | 1964-68 |
| Proverb LP (?) | Moore, Rev. Clinton | | The Edge Of Night | 1964-68 |
| Proverb LP XX01 | Various | | The Best From The West | 1966-67 |
| Proverb LP 6-7205 | Various | | 20 Great Gospel Sounds | 1968-69 |
| Proverb LP 7-7353 | Various | | 20 Great Gospel Songs | 1968-69 |
| Proverb LP 7-7688 | Various | | 20 Great Spirituals | 1968-69 |
| Proverb LP 500 | Willie Cotton | | Take Me To The Water | 1968-69 |
| Proverb LP 501 | Los Angeles Angels | | Blow Wind Blow | 1968-69 |
| Proverb LP 502 | Pilgrim Travelers | World Famous Pilgrim Travelers | Peace In The Valley | 1971-72 |
| Proverb LP 503 | Watts Community Choir | Fabulous Watts Community Choir | We Need More Love | 1970 |