Chess gospel discography (1950-70)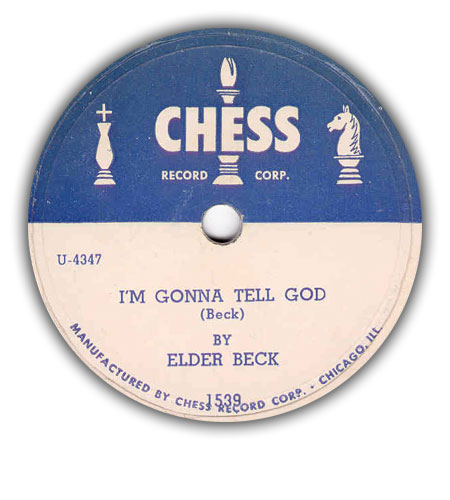 Chess Records started in 1950 and was based in Chicago, IL. It was preceded by the Aristocrat label. Chess was run by brothers Phil and Leonard Chess who released many records in the fields of blues, R&B, soul, rock and roll, jazz, comedy and gospel. Subsidiary labels included Checker (on which most gospel was released), Argo and Cadet.
Chess 1437 (Rev. Gatemouth Moore) may have been released earlier on Aristocrat 904.
Chess 1475 (Four-A-Melody Men) was earlier released on Aristocrat 902 as by the Seven Melody Men.
This page lists all known Chess gospel issues (singles and LP's), released between 1950 and 1970. Later issues (8000/9000 series and more) have been omitted, and so are all sermons by (mainly) Rev. C.L. Franklin on LP and in the 78rpm format (78rpm albums).
78 & 45rpm releases:

| release | artist | artist as shown | songs | year |
| --- | --- | --- | --- | --- |
| Chess 1437 | Moore, Rev. Gatemouth | | I'm Going Through b/w Thank You Jesus | 1950 |
| Chess 1473 | Evangelist Gospel Singers of Alabama | | Leaning On The Lord b/w Lord Stop The War | 1951 |
| Chess 1475 | Four-A-Melody Men | | I'm On My Way b/w Mother Pray For Me | 1951 |
| Chess 1485 | Spiritual Stars | | Good Religion b/w I'll Search Heaven | 1951 |
| Chess 1486 | Evangelist Gospel Singers of Alabama | | Never Grow Old b/w Walk In The Light | 1951 |
| Chess 1502 | Brewsteraires | | Where Shall I Be b/w (The Lord Gave Me) Wings For My Soul | 1952 |
| Chess 1511 | Chambers, Rev. | | It's Praying Time b/w Me And The Devil | 1952 |
| Chess 1520 | Southern Stars | | Surely God Is Able b/w Don't Give Up | 1952 |
| Checker 1539 | Beck, Elder | | Wine Head Willie Put That Bottle Down b/w I'm Gonna Tell God | 1953 |
| Chess 1540 | Southern Stars | | Prodigal Son b/w I Saw The Light | 1953 |
| Chess 1556 | Southern Stars | | Tired Of The Devil b/w I Remember I Heard My Mother | 1953 |
| Chess 1567 | Beck, Elder | | When b/w I'm Walking With Jesus At My Side | 1954 |
| Chess 1568 | Southern Stars | Southern Stars of Richmond | Weep Little Children b/w Jesus Will Be Waiting | 1954 |
| Chess 1590 ♫ | Ballenger, Rev. | | This Train b/w How I Got Over | 1955 |
| Chess 1600 | Franklin, Rev. C.L. | Rev. C.L. Franklin and Congregation | I Love The Lord b/w Heard The Voice Of Jesus | 1955 |
| Chess 1603 | Dixieland Singers | | Where We Never Grow Old b/w Our Prayer | 1955 |
| Chess 1631 | Franklin, Rev. C.L. | | The Old Ship Of Zion, Pt. 1 b/w The Old Ship Of Zion, Pt. 2 | 1956 |
| Chess 1639 | Franklin, Rev. C.L. | | The Lord Will Make A Way Somehow, Pt. 1 b/w The Lord Will Make A Way Somehow, Pt. 2 | 1956 |
| Chess 1640 | Jelks, Rev. H.R. | | It Rained Forty Days And Forty Nights, Pt. 1 b/w It Rained Forty Days And Forty Nights, Pt. 2 | 1956 |
| Chess 1642 | Ellis and Dixon Spiritual and Vocal Group | | Precious Memories, Pt. 1 b/w Precious Memories, Pt. 2 | 1956 |
| Chess 1655 | Franklin, Rev. C.L. | | I'm Going Through, Pt. 1 b/w I'm Going Through, Pt. 2 (sermon) | 1957 |
| Chess 1656 | Gospel Wonders | | I Want To Live, Live, Live b/w He's My All And All | 1957 |
| Chess 1657 | Pilgrim Harmonaires | | Anyway You Bless Me Lord b/w He Said He Would Move | 1957 |
| Chess 2051 | Operation Breadbasket Orchestra and Choir | Ben Branch and Operation Breadbasket Orch. and Choir | Motherless Child b/w Precious Lord, Take My Hand | 1968 |
LP releases:

| release | artist | artist as shown | title | year |
| --- | --- | --- | --- | --- |
| Chess LP 1524 ♫ | Operation Breadbasket Orchestra and Choir | Ben Branch and the Operation Breadbasket Orchestra and Choir | The Last Request | 1968 |
| Chess LP 1549 | Operation Breadbasket Orchestra and Choir | SCLC Operation Breadbasket Orchestra and Choir | On The Case | 1970 |