Glory gospel discography (1952-53)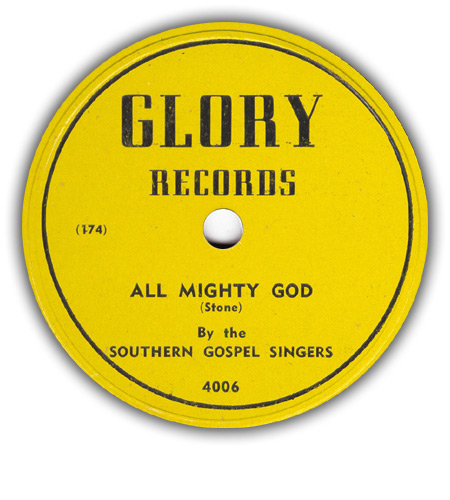 Glory 4017 by the Gospel Twins was also released on DeLuxe 6001. Glory 4004 by the Spiritual Harmonizers was also released on DeLuxe 6005. All of Rev. A. Johnson's releases were also issued on the DeLuxe label, except "Leave That Liar Alone" (Glory 4016).
The Miami Soul Stirrers (#4007, 4013) are better known as the Consolers; see the Nashboro discography. They recorded as the Spiritual Consolers for DeLuxe.
Glory 4016 was released twice.
This page lists all known Glory gospel releases. Some of the 1953 issues also appeared in the 45rpm format. Many (78rpm) records were released both with yellow and black labels.
78 & 45rpm releases:

| release | artist | artist as shown | songs | year |
| --- | --- | --- | --- | --- |
| Glory 4001 | Seniorteers | | Mother Don't You Cry b/w Certainly Lord | 1952 |
| Glory 4002 | New Lane Jubilaires | | Heavy Load b/w A Charge To Keep I Have | 1952 |
| Glory 4003 | Ford Gospel Stars | | My God Is A Mighty Man b/w This Heart Of Mine | 1952 |
| Glory 4004 | Spiritual Harmonizers | | Do You Know Him b/w God Leads His Children | 1952 |
| Glory 4005 | Ford Gospel Stars | | Lord Have Mercy Please b/w Pray For Jesus | 1952 |
| Glory 4006 | Southern Gospel Singers | | Almighty God b/w Jesus Is Going To Make Up My Dying Bed | 1952 |
| Glory 4007 | Consolers | Miami Soul Stirrers | My Soul Couldn't Rest Contented b/w Jesus Precious King | 1952 |
| Glory 4008 | Little Shattir Singers | | I'll Live Again b/w Walk Out In Jesus Name | 1952 |
| Glory 4009 | Rising Sun Gospel Singers | | Come In The Arc b/w Don't Let It Be Said | 1952 |
| Glory 4010 | Ford Gospel Stars | | Touch Me Jesus, Touch Me b/w I've Got A Brother Overseas | 1952/53 |
| Glory 4011 | Johnson, Reverend A. | | God Don't Like It b/w If I Could Hear My Mother Pray Again | 1953 |
| Glory 4012 | Spiritual Harmonizers | | I'm Your Servant b/w Wait On The Line | 1953 |
| Glory 4013 | Consolers | Miami Soul Stirrers | Forever And Forever b/w Fix Me Jesus | 1953 |
| Glory 4014 | Sons of Calvary | | Trust In The Lord b/w A Man Taking Names | 1953 |
| Glory 4015 | Johnson, Reverend A. | | Death In The Morning b/w I Don't Know How To Get Along Without The Lord | 1953 |
| Glory 4016 | Johnson, Reverend A. | | I'm Gonna Do My Best b/w Let That Liar Alone | 1953 |
| Glory 4016 | Keys of Heaven | | Let Your Light Shine On Ike b/w Jesus Bears The Cross | 1953 |
| Glory 4017 | Gospel Twins | | The Way b/w One Lord | 1953 |
| Glory 4018 | Johnson, Reverend A. | | Let That Liar Pass On By b/w Jesus Loves Us All | 1953 |
| Glory 4019 | Johnson, Reverend A. | | Do You Call That Religion b/w I'm Gonna Do My Best | 1953 |