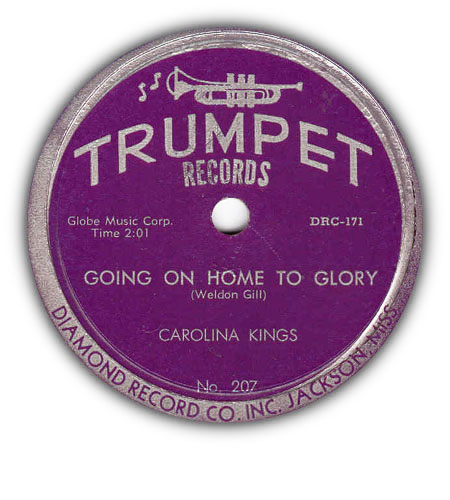 Trumpet Records was started by Willard and Lillian McMurry in Jackson, MS, in 1950. The label got its fame through blues recordings by Elmore James, Sonny Boy Williamson and others, but it also had a gospel catalogue of 15 issues.
Trumpet 179 (Blue Jay Gospel Singers) and 208 (Carolina Kings) are both unreleased.
Trumpet didn't have a separate gospel series, the missing numbers are secular or unused/unknown (#120-127, 130, 148, 158, 159, 167).
This page lists all known gospel releases on the Trumpet label.
78 & 45rpm releases:

| release | artist | artist as shown | songs | year |
| --- | --- | --- | --- | --- |
| Trumpet 118 | Southern Sons | Southern Sons Quartette | Search Me, Lord b/w New Born Again | 1950 |
| Trumpet 119 | Southern Sons | Southern Sons Quartette | Peace In The Valley b/w Nearer My God To Thee | 1950 |
| Trumpet 120 | St. Andrews Gospelaires | | Every Word Of Jesus Is True b/w Tone Them Bells | 1950 |
| Trumpet 131 | Southern Sons | Southern Sons Quartette | My God Is A Mighty Man b/w God Will Answer Prayer | 1950 |
| Trumpet 142 | Southern Sons | Southern Sons Quartette | This Heart Of Mine, Pt. 1 b/w This Heart Of Mine, Pt. 2 | 1951 |
| Trumpet 143 | Southern Sons | Southern Sons Quartette | Our Heavenly Father b/w I Can't Feel At Home Anymore | 1951 |
| Trumpet 162 | Argo Singers | Argo Gospel Singers | Whisper A Prayer b/w Jesus Will Make Things Right | 1951 |
| Trumpet 163 | Argo Singers | Argo Gospel Singers with Southern Sons | Near The Cross b/w Going Home | 1951 |
| Trumpet 164 | Southern Sons | Southern Sons Quartette | I'll Fly Away b/w Oh, Lord I'm In Your Care | 1951 |
| Trumpet 165 | Southern Sons | Southern Sons Quartette | I Love The Lord b/w Live So God Can Use You | 1951 |
| Trumpet 178 | Blue Jay Singers | Blue Jay Gospel Singers | Shall I Meet You Over Yonder b/w Pilgrim Of Sorrow | 1952 |
| Trumpet 180 | Dent, Bro. Hugh | | In The End b/w I'm Gonna Live Up In Glory | 1952 |
| Trumpet 181 | Dent, Bro. Hugh | | Let Us Glory b/w I'm Growing In The Spirit | 1952 |
| Trumpet 206 | Southern Sons | Southern Sons Quartette | Rock In A Weary Land b/w A Prayer For Tomorrow | 1953 |
| Trumpet 207 | Carolina Kings | | There's A Narrow Pathway To Heaven b/w Going On Home To Glory | 1953 |