Hy-Tone gospel discography (c. 1963 – early 70's)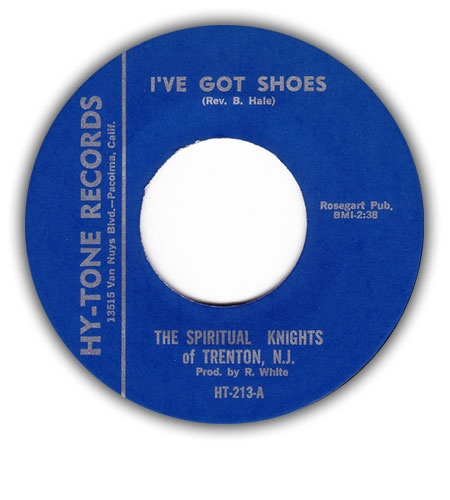 There were several Hy-Tone labels, this discography is about the Hy-Tone label from California, although in the 1970's it operated from Dallas, TX. The Texas 45's were released in the 300 and 400 series, but Hytone 371 (note the alternative spelling) shows one of the California addresses (13515 Van Nuys Blvd.).
The exact years of release are unknown, but it seems that most Californian 45's were released in the mid 1960's.
There were at least three Californian addresses for this Hy-Tone label: 1190 Browning Boulevard – Los Angeles, 1149 S. Highland Ave – Los Angeles, 13515 Van Nuys Blvd – Pacoima.
Hy-Tone 108 (Melody Kings) has been released twice, featuring the same songs, but one version features live recordings, the other studio recordings. There are no differences in the labels.
Proverb was in a way connected to Hy-Tone, check the Proverb discography for more details.
This page lists all known Hy-Tone gospel releases (45's and one LP).
45rpm releases:

| release | artist | artist as shown | songs | year |
| --- | --- | --- | --- | --- |
| Hy-Tone 0010 | Golden Hummingbirds | Golden Humming Birds | He's Using Me b/w The Blood | 1963-66 |
| Hy-Tone 100 | Unity Travelers | Unity Travelers of Ferriday, LA | I Believe b/w God's Word Will Never Pass Away | 1963-66 |
| Hy-Tone 101 | Melody Kings | | If You Have The Faith b/w Take Your Burdens To The Lord | 1963-66 |
| Hy-Tone 103 | Crowns of Glory of Dallas, Texas | | He's Alright b/w I'm In Your Care | 1963-66 |
| Hy-Tone 104 | Mighty Warriors of Hollywood, Calif. | | Very Soon b/w I Shall Not Be Moved | 1963-66 |
| Hy-Tone 105 | Sons of Faith | | How Did You Feel b/w Swing Low Sweet Chariot | 1963-66 |
| Hy-Tone 106 | Choraliers Singers of Dayton, Ohio | | I Thank You Lord b/w Meet Me In The City | 1963-66 |
| Hy-Tone 107 | Evangelist Singers of Hamilton, Ohio | | My Work Will Be Done b/w Ease My Troubleing Mind [sic] | 1963-66 |
| Hy-Tone 108 ♫ | Melody Kings | Melody Kings of Los Angeles, Calif. | Two Wings b/w Walk Close To Thee | 1963-66 |
| Hy-Tone 109 | Earl of Los Angeles, Calif., Evangelist Lucretia | | When Jesus Comes b/w Take Hold | 1963-66 |
| Hy-Tone 110 | Victory Gospel Singers of Ft. Wayne, Ind. | | Standing In The Safety Zone b/w You Got To Move | 1963-66 |
| Hy-Tone 111 | Unity Travelers | Unity Travelers of Los Angeles, Calif. | Work Until The Days Are Done b/w Revelation | 1963-66 |
| Hy-Tone 112 | Religious Gospelaires of Lincoln Heights, Ohio | | Please Move These Things b/w I'm Satisfied | 1963-66 |
| Hy-Tone 114 | Traveling Souls | Traveling Souls of Terrell, Texas | He May Not Come When You Want Him b/w How Long Did Jesus Stay Here | 1963-66 |
| Hy-Tone 115 | Daniels, Rev. Wilbert Leo | Reverend and Mrs. Wilbert Leo Daniels | Spread The News b/w Just Make It In | 1963-66 |
| Hy-Tone 116 | Harp Tones of Cincinnati, Ohio | | Dear Lord Forgive Me b/w I Made It | 1963-66 |
| Hy-Tone 117 | Melody Kings | Melody Kings of Los Angeles, Calif. | I'm Going To Walk Through The Streets, Pt. 1 b/w I'm Going To Walk Through The Streets, Pt. 2 | 1963-66 |
| Hy-Tone 118 | Spiritual Wonders of Boston, Mass. | | Don't Leave Me Here b/w Heaven On My Mind | 1963-66 |
| Hy-Tone 201 | Kelly Singers of Little Rock, Ark. | | He's My Joy b/w Eternal Life Is the Gift of God | 1963-66 |
| Hy-Tone 202 | Daniels, Rev. Wilbert Leo | Rev. and Mrs. Wilbert Leo Daniels | There's A Bright Side Somewhere b/w Lord Hold Me In Your Arms | 1963-66 |
| Hy-Tone 203 | Daniels, Rev. Wilbert Leo | | Precious Lord, Pt. 1 b/w Precious Lord, Pt. 2 | 1963-66 |
| Hy-Tone 204 | Snead, Rev. Willie T. | Rev. Willie T. Snead of Los Angeles, Calif. | The Labor's Are Few b/w Bread Of Heaven | 1963-66 |
| Hy-Tone 205 | Golden Eagles Singers of Birmingham, Ala. | | I'm So Glad I'm No Stranger b/w Nobody Knows | 1963-66 |
| Hy-Tone 206 | Mighty Cross of Calavary of Los Angeles, Calif. | | How Blessed You Are b/w Good Time | 1963-66 |
| Hy-Tone 207 | Golden Hummingbirds | Golden Hummingbirds of Birmingham, Ala. | He's Listening b/w Build On That Show | 1963-66 |
| Hy-Tone 208 | Dozier Singers of Los Angeles, Calif. | | Fight On b/w Be Saved | 1963-66 |
| Hy-Tone 209 | Triumph Aires | | The Mind Of Christ b/w Reveal | 1963-66 |
| Hy-Tone 210 | Spirits of Joy of Toledo, Ohio | | Mother Stay With Me b/w Hide Me | 1963-66 |
| Hy-Tone 211 | First Baptist Church Choir of Birmingham, Ala. | | I Didn't Have No Doubt b/w Jesus | 1963-66 |
| Hy-Tone 213 | Spiritual Knights of Trenton, NJ | | I've Got Shoes b/w Jesus Loves Me | 1963-66 |
| Hy Tone 303 | Original Birds | | I Know I'm A Child Of God b/w Going To The City | 197? |
| Hy-Tone 307 | Golden Hummingbirds | Golden Hummingbirds of Birmingham, Ala. | By The Grace Of God b/w Blessed Quietness | 197? |
| Hy-Tone 371 | Snead, Rev. Willie T. | Rev. W.T. Sneed | To Be Like Jesus b/w Move Up A Little Higher | 197? |
| Hy-Tone 401 | Traveling Souls | Traveling Souls of Dallas Texas | Farther Along b/w God Is Getting Tired | 197? |
| Hy-Tone 402 | Birds of Wonder | | Where Could I Go b/w God Will Answer Prayer | 197? |
| Hy-Tone 403 | Goss and Sunny South Singers, Jasper | | No No Nothing Can Change b/w Farther Along | 197? |
| Hy-Tone (nn) | Golden Hummingbirds | Golden Hummingbirds of Birmingham, Ala. | When I Reach The City Called Glory b/w When The Saints Go Marching In | ? |
| Hy-Tone (nn) | Golden Hummingbirds | Golden Hummingbirds of Birmingham, Ala. | Amen b/w I Need The Lord | ? |
| Hy-Tone (?) | Daniels, Rev. Wilbert Leo | Rev. Leo Daniels (?) | Viet-Nam b/w Few More Tears | ? |
| Hy-Tone (?) | Unity Travelers | | Somebody Bigger Than You And I b/w Good-By | ? |
LP release:

| release | artist | artist as shown | title | year |
| --- | --- | --- | --- | --- |
| Hy-Tone LP 100 | New Hope Missionary Baptist Church Choir | | Let's Praise The Lord | 197? |