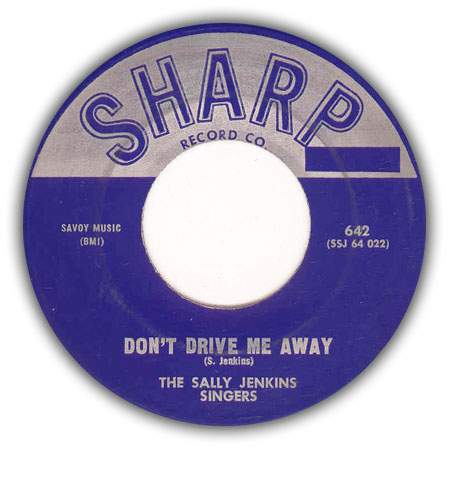 Sharp was a subsidiary label of Savoy, releasing gospel as well as secular material.
Sharp 606 (Eddie Williams and the Crusaders) was reissued on Savoy 4340 in the 1970's.
The Harmonizing Five (of Burlington, NC) recorded with Thermon Ruth as the Harmoneers on Savoy 4208.
Sharp 609 has probably not been released.
Early Savoy catalogues often list the first song (or another) on an album as the album title; the actual LP title was neglected or an album title was given where there was none. I have corrected most of these mistakes but it may lead to some inconsistencies with other information found on the internet and elsewhere.
This page lists all known gospel releases (45's and LP's) on the Sharp label.
45rpm releases:

| release | artist | artist as shown | songs | year |
| --- | --- | --- | --- | --- |
| Sharp 601 | Caravans | | Solid Rock b/w Jesus | 1960 |
| Sharp 602 | Caravans | | Think Of His Goodness To You b/w Tell The Angels | 1960 |
| Sharp 603 | Staple Singers | | This Same Jesus b/w This May Be My Last Time | 1960 |
| Sharp 604 | Gospel Cavaliers | | He Gave Us You b/w Are You Listening | 1960 |
| Sharp 605 | Williams, Eddie | Eddie Williams and the Crusaders | Where Is Your Child b/w Come On In The Arc Now | 1960 |
| Sharp 606 | Williams, Eddie | Eddie Williams and the Crusaders | They Won't Believe In Me b/w Pass Me Not | 1960 |
| Sharp 607 | Gospel Cavaliers | | Who Was It b/w I Found Out | 1960 |
| Sharp 608 | Joy Harmonizers | | He's A Mighty Rock b/w Soon One Morning | 1960 |
| Sharp 610 | Smith Sisters | Famous Smith Sisters | Blessed Is The Man b/w Give Me The Holy Spirit | 1960 |
| Sharp 611 | Joy Harmonizers | | He Cares b/w Thank You Lord | 1960 |
| Sharp 612 | Spiritual Sons | | He Don't Love You (Like Jesus Loves You) b/w Don't You Want To Go | 1961 |
| Sharp 613 | Murray Singers | | The Lord Saveth Me b/w Trouble | 1961 |
| Sharp 614 | Taylor, Prof. Charles | | Lord What About Me b/w Test In Judgement | 1961 |
| Sharp 615 | Rasberry Singers | Raymond Rasberry Singers (?) | If I Work For Jesus b/w Jesus Is Ever Near | 1961 |
| Sharp 616 | Stars of Faith | | Touch Me Lord Jesus, Pt. 1 b/w Touch Me Lord Jesus, Pt. 2 | 1961 |
| Sharp 617 | Harmonizing Five | Harmonizing Five of Burlington, NC | I Don't Need Nobody But The Lord b/w The Glorious Voice Of God | 1961 |
| Sharp 618 | Spiritual Sons | | Hold To God's Hand b/w Hard Times Coming Through The Years | 1961 |
| Sharp 619 | Rasberry Singers | Raymond Rasberry Singers (?) | The Chariot's Coming b/w Somebody's Knocking | 1961 |
| Sharp 620 | North Philadelphia Juniors | | Pen Of Love b/w I Know Jesus Is Calling | 1961 |
| Sharp 621 | Taylor, Prof. Charles | | Saved And I Know I Am b/w Just Like Jesus | 1961-62 |
| Sharp 622 | Gospel Emeralds | | We're On Our Way b/w I've Been Running | 1962 |
| Sharp 623 | Murray Singers | | Jewels b/w When You Pray | 1962 |
| Sharp 624 | Jenkins Singers, Sally | | Some Day b/w I've Done What You Told Me To Do | 1962 |
| Sharp 625 | Royal Silvertones | | Build Me A Cabin b/w Savior, Don't Pass Me By | 1962 |
| Sharp 626 | Tomlin Choir | Rev. J.A. Tomlin Choir | Don't Listen To A Liar b/w Sing Amen | 1962 |
| Sharp 627 | Ellison Singers | | He's Holding Me b/w In My Upper Room | 1962 |
| Sharp 628 | Gospel Messengers | | Walking With Jesus b/w Waiting | 1962 |
| Sharp 629 | Christones | Little Jimmy Davis and the Christones | If I Could Hear My Mother Pray Again b/w Faith | 1962 |
| Sharp 630 | North Philadelphia Juniors | | Battle Ax b/w A Grave Can't Hold My Body Down | 1962 |
| Sharp 631 | Gospel Messengers | | Joy Like a River b/w His Love | 1962 |
| Sharp 632 | Greater Harvest Baptist Church Choir | | Without God b/w What A Difference In My Life | 1962 |
| Sharp 633 | Gospel Emeralds | | Daniel b/w Blest Is He That Cometh | 1962-63 |
| Sharp 634 | Royal Travelers | Mighty Royal Travelers | Send My Child b/w Closed Doors | 1963 |
| Sharp 635 | Ellison Singers | Lorraine Ellison and the Ellison Singers | Open Up Your Heart b/w This Is The Day | 1963 |
| Sharp 636 | Gospel Cavaliers | | Wonderful Jesus b/w This Is The Moment | 1963 |
| Sharp 637 | Christones | | Lord, It's Me b/w I Love To Call His Name | 1963 |
| Sharp 638 | Sensational Six | | Guide My Mind b/w I Couldn't Hear Nobody Pray | 1963 |
| Sharp 639 | Royal Travelers | | Jesus Changed My Life b/w In The Need Of Prayer | 1963 |
| Sharp 640 | Taylor, Prof. Charles | | Made It Over b/w Everybody Should Serve The Lord | 1963-64 |
| Sharp 641 | Soul Satisfiers | | Deliver Me b/w He'll Do Better Things For You | 1964 |
| Sharp 642 | Jenkins Singers, Sally | | Don't Drive Me Away b/w Pray, Pray, Pray | 1964 |
LP releases:

| release | artist | artist as shown | title | year |
| --- | --- | --- | --- | --- |
| Sharp LP 2009 | Harmonizing Five | | The Hands Of The Lord | 1962 |
| Sharp LP 2010 | Crum, Rev. H.B. | Rev. H.B. Crum with the Golden Keys | no title | 1962 |
| Sharp LP 2011 | Corinthian Gospel Singers | | City Called Heaven | 1962 |
| Sharp LP 2012 | Murrie Singers | | Jewels | 1962 |
| Sharp LP 2013 | North Philadelphia Juniors | | In The Building | 1962 |
| Sharp LP 2014 | Ellison Singers | | He's Holding Me | 1962 |
| Sharp LP 2015 | Jenkins Singers, Sally | | Help Me To Run This Race | 1962 |
| Sharp LP 2016 | Greater Harvest Baptist Church Choir | Greater Harvest Baptist Church Choir of Chicago, Ill. | A Gospel Program | 1963 |
| Sharp LP 2017 | Gospel Messengers | | His Love | 1963 |
| Sharp LP 2018 | Gospel Emeralds | | Blest Is He That Cometh | 1963 |
| Sharp LP 2019 | Gospel Cavaliers | | This Is The Moment | 1963 |