Dooto & Dootone gospel discography (c. 1952-63)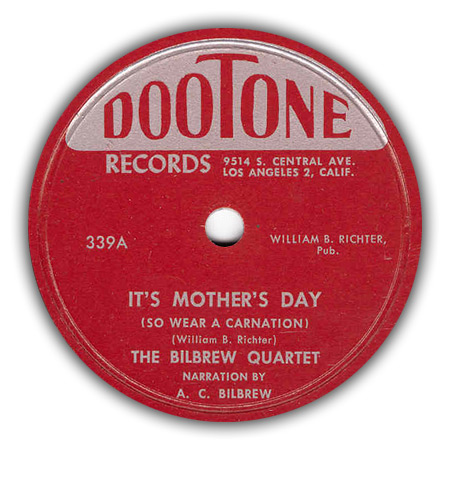 The Dootone Record label was formed in 1951 by Walter (Dootsie) Williams in Los Angeles, California. Williams had started a label called "Blue Records" in 1949. In 1951, he changed the name of the label to Dootone. The label's output consisted of rhythm and blues, jazz, comedy, gospel and popular music. The Dootone name was changed to Dooto in January 1957 (to avoid a lawsuit from Duo-Tone Records). Singles numbered 301 to 409 were on the Dootone label, with the switch to Dooto coming at single #410. Albums changed from Dootone at #223, released in 1956, to Dooto at #224, released in 1957. Later on (from the early 1960's onwards?) both label names were used (as the issue with Duo-Tone was either resolved of forgotten), both for new issues and for reissues. This makes it sometimes hard to distinguish an original release from a reissue. The listing below intends to give the original releases, but at least some of them appeared both on Dootone and Dooto.
Dootone 382 by the Ramparts is in fact no gospel; it tells the story of the murder of Emmett Till in 1955. This terrible crime had great impact on the Civil Rights Movement. The song (in two parts) was written by A.C. Bilbrew (see Dootone 339) and although credited to the Ramparts, it's a solo performance with guitar.
Dootone 702 was first released on Authentic 702 in 1956.
Although (some copies of?) Dootone 406 has (have) the Harmonizers listed for "I Shall Not Be Moved", it appears that this group is in fact the Kansas City Soul Revivers as well.
Dootone 307 (1952) was reissued as Dooto 607 (1963).
The Whippoorwills had various secular releases on Dootone. It's doubtful if #387 should be seen as a gospel release.
Dootone LP 221 was also released on Authentic LP 221.
Click here for a photograph of the Zion Travelers.
This page lists all known Dooto and Dootone gospel singles and LP's.
78 & 45rpm releases:

| release | artist | artist as shown | songs | year |
| --- | --- | --- | --- | --- |
| Dootone 307 | Spiritual Wayfarers | | Help Some Weary Soul b/w Hush, Somebody's Calling My Name | 1952 |
| Dootone 313 | Sims Brothers Sextet | | Ocean Of Prayer b/w God Can Set The World On Fire | 1952 |
| Dootone 326 | Sims Brothers Sextet | | I'm So Glad There's A God In Heaven b/w Say Yes Hallelu | 1953 |
| Dootone 339 | Bilbrew Quartet b/w A.C. Bilbrew | | It's Mother's Day (So Wear A Carnation) b/w The Regular Fellow's Prayer | 1954 |
| Dootone 350 | Taylor, (Rev.) John | | Ocean Of Prayer b/w It Is No Secret | 1954 |
| Dootone 382 | Ramparts | | The Death Of Emmett Till, Pt. 1 b/w The Death Of Emmett Till, Pt. 2 | 1956 |
| Dootone/Dooto 383 | Kansas City Soul Revivers | K.C. Soul Revivers (?) | Salesman For My Lord b/w It's All Right | 1956 |
| Dootone 386 | Gospel Light Singers | Gospel Light Singers of Moultrie, Georgia | Time Moves On b/w I Need You Lord (Yes I Do) | 1956 |
| Dootone 387 | Whippoorwills | | God Is My Partner b/w Fight On And Win | 1956 |
| Dootone 389 | Zion Travelers | | Two Little Fishes b/w The Death Of Jesus | 1956 |
| Dootone 392 | Randolph Singers, Lillian | | Were You There b/w Rock-a My Soul | 1956 |
| Dootone 395 | Kansas City Soul Revivers | | Jesus Came At Midnight b/w In The Garden | 1956 |
| Dootone/Dooto 399 | Zion Travelers | | Close to Thee b/w Soldier Of The Cross | 1956 |
| Dootone 406 | Kansas City Soul Revivers | Harmonizers b/w Kansas City Soul Revivers | I Shall Not Be Moved b/w I Don't Need No One Else | 1956 |
| Dooto 459 | Zion Travelers | | God I'll Live b/w Packin' Up | 1959 |
| Dooto 466 | Zion Travelers | | Lord Hold My Hand b/w Bless Me | 1961 |
| Dootone 473 | Zion Travelers | | I Got To Move b/w Lord I'll Go | 1963 |
| Dooto 475 | Zion Travelers | | I Don't Have To Cross Jordan Alone b/w Just A Little Talk With Jesus | 1963 |
| Dooto 602 | Zion Travelers | | The Blood b/w I Want To Go To Heaven And Rest | 1963 |
| Dooto 607 | Spiritual Wayfarers | | Help Some Weary Soul b/w Hush, Somebody's Calling My Name | 1963 |
| Dootone 702 | Friendly Five | | Stand Up For The Lord b/w Jesus Will Answer Prayer | 1963? |
LP releases:

| release | artist | artist as shown | title | year |
| --- | --- | --- | --- | --- |
| Dootone LP 221 | Randolph Singers, Lillian | Lillian Randolph and her Singers | Spiritual Moments | 1956 |
| Dooto LP 225 | Various | | The Best Gospel Singers | 1957 |
| Dooto LP 807 | Zion Harmonizers | | Down By The River | 1962 |