Atomic-H gospel discography (c. 1954-72)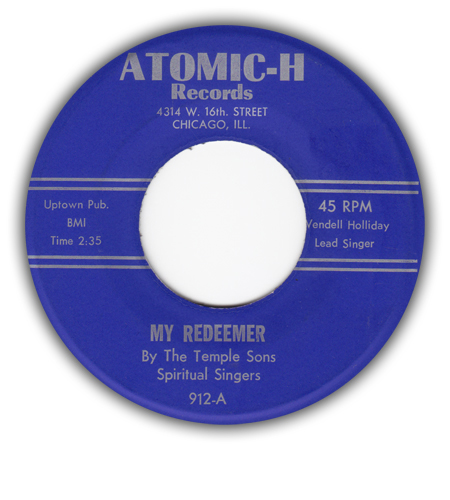 Atomic-H Records was founded by Rev. Houston H. Harrington in Chicago, IL. The label specialized in blues and gospel.
Read a short label introduction here.
The first label name used, was Atomic (without "-H"). The one gospel issue with this label name is included in the discography.
This page lists all known gospel releases on Atomic and Atomic-H. Atomic 1251/1252 is probably the only gospel issue in the 78rpm format.
45 & 78rpm releases:

| release | artist | artist as shown | songs | year |
| --- | --- | --- | --- | --- |
| Atomic 1251/2 | Harrington, Rev. H.H. | The Man of God, Rev. H.H Harrington, with Good News for All | Mississippi Is Red Hot b/w You Are Just Another Fellow | c. 1954? |
| Atomic-H 908 | Adams, Rev. Carrie | | How Did You Feel b/w Singing Well-Well-Well | 1959-60? |
| Atomic-H 912 | Temple Sons Spiritual Singers | | My Redeemer b/w I Am So Glad I Found The Lord | 196? |
| Atomic-H 913 | Harrington, Rev. H.H. | | Christmas In Heaven b/w Black Pride | 1968 |
| Atomic-H 914 | Thunderairs Singers of Chicago | | I Am In The Need Of Prayer b/w O Lord I Am Your Child | ? |
| Atomic-H 915 | McCauley Spiritual Singers | | Jesus Said Live Holy b/w Jesus Gave Me Water | ? |
| Atomic-H 919 | Alabama and Georgia Gospel Singers | | I Want To Be Ready b/w He Is So Good | 1972 |