Apollo gospel discography (1946-62)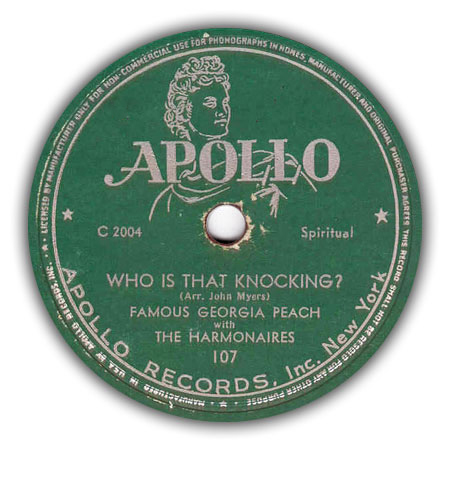 Apollo Records was an independent record label, in business from 1944 until 1962. It was formed in New York City in 1944 by Bess Berman and her husband Isaac "Ike" Berman together with Hy Siegel and Sam Schneider. Apollo is most remembered for early doo-wop recordings from groups such as the Larks and the 5 Royales, blues artists such as Champion Jack Dupree, Duke Henderson and Doc Pomus and for releasing gospel records, particularly those by Mahalia Jackson. (source: Wikipedia)
Some gospel sides were released on Lloyds, an Apollo subsidiary label.
Apollo 120, 121 and 122 (Georgia Peach) were released together in Apollo album #6, called "Spiritual Moods".
The Royal Sons Quintet (with Lowman Pauling, see Apollo 253 & 266) became the 5 Royales, a group that had big secular successes on Apollo, King and other labels.
The reverse side of Apollo 1184 by the Larks (a.k.a. the Southern Harmonaires, the Selah Jubilee Singers, etc.) is secular ("My Reverie").
Apollo 539 and 750 (Mahalia Jackson) feature songs that were previously available on Apollo 235 and 245, from 1950 and 1951.
Apollo 314 (Mahalia Jackson) is a reissue of #286. More on Mahalia Jackson: "I'm Going To Tell God" (#110) was reissued on #291, "His Eye Is On The Sparrow" (#246) was reissued on #311, "I Can Put My Trust In Jesus" (#213) was reissued on #311, "Nobody Knows The Trouble I've Seen" (#313) is an alt. take of "Nobody Knows" (#298).
Apollo LP's 201 and 202 (both by Mahalia Jackson) are in the 10 inch format.
Apollo 1204 and 1205 by the Golden Gate Quartet are bootlegs, issued in the mid 1970's. They're excluded from the discography.
This page lists all known Apollo gospel single and LP releases.
45 & 78rpm releases:

| release | artist | artist as shown | songs | year |
| --- | --- | --- | --- | --- |
| Apollo 103 | Georgia Peach | Georgia Peach with the Harmonaires | Shady Green Pastures b/w Here Am I, Do Lord Send Me | 1946 |
| Apollo 104 | Dixie Hummingbirds | Dixie Humming Birds | In The Storm Too Long b/w Every Knee Surely Must Bow | 1946 |
| Apollo 107 | Georgia Peach | Georgia Peach with the Harmonaires | Who Is That Knocking? b/w Where The Sun Will Never Go Down | 1946 |
| Apollo 108 | Dixie Hummingbirds | Dixie Humming Birds | My Record Will Be There b/w Amazing Grace | 1946 |
| Apollo 110 | Jackson, Mahalia | | (I'm Goin' To) Wait Until My Change Comes b/w I'm Going To Tell God | 1946 |
| Apollo 112 | Reliable Jubilee Singers | | Jesus, Lover Of My Soul b/w God's Eye Is On The Sparrow | 1946 |
| Apollo 120 | Georgia Peach | Georgia Peach with Reliable Jubilee Singers | See About Me b/w Saviour Don't Pass Me By | 1947 |
| Apollo 121 | Georgia Peach | Georgia Peach with Reliable Jubilee Singers | Tear Down Confusion In This Land b/w Just One Moment | 1947 |
| Apollo 122 | Georgia Peach | Georgia Peach with Reliable Jubilee Singers | I Don't Know Why (I Have To Cry Sometime) b/w The Sea Gave Way | 1947 |
| Apollo 131 | Reliable Jubilee Singers | | Tell Me Why You Like Roosevelt, Pt. 1 b/w Tell Me Why You Like Roosevelt, Pt. 2 | 1947 |
| Apollo 132 | Dixie Hummingbirds | Dixie Humming Birds | One Day b/w Don't You Want To Join That Number | 1947 |
| Apollo 133 | Reliable Jubilee Singers | | Standing On The Highway b/w Didn't It Rain | 1947 |
| Apollo 137 | Two Gospel Keys | | Can't No Grave Hold My Body Down b/w Jesus Met The Woman At The Well | 1947 |
| Apollo 145 | Jackson, Mahalia | | I Want To Rest b/w He Knows My Heart | 1947 |
| Apollo 155 | Dixie Hummingbirds | Dixie Humming Birds | Just A Closer Walk With Thee b/w Ezekiel Saw The Wheel | 1947 |
| Apollo 162 | Two Gospel Keys | | I Don't Want To Go Down There, Pt. 1 b/w I Don't Want To Go Down There, Pt. 2 | 1947 |
| Apollo 163 | Willett, Sister Dorothy | | Strange Things Happening Every Day b/w I Claim Jesus | 1947 |
| Apollo 164 | Jackson, Mahalia | | Move On Up A Little Higher, Pt. 1 b/w Move On Up A Little Higher, Pt. 2 | 1947 |
| Apollo 176 | Reliable Jubilee Singers | | Open Up Those Pearly Gates b/w God Shall Wipe All Tears Away | 1948 |
| Apollo 178 | Jackson, Mahalia | | What Could I Do b/w Even Me | 1948 |
| Apollo 181 | Jackson, Mahalia | | Dig A Little Deeper b/w If You See My Saviour | 1948 |
| Apollo 183 | Dixie Hummingbirds | Dixie Humming Birds | Nobody Knows the Trouble I've Seen b/w Wrestling Jacobs | 1948 |
| Apollo 185 | Campbell, Rev. B.C. | Rev. B.C. Campbell and Congregation | I'll Fly Away b/w Promised Land | 1948 |
| Apollo 187 | Two Gospel Keys | | If I Never See You No More b/w Stranger Don't Drive Me Away | 1948 |
| Apollo 188 | Bright Lights | | Let Us Cheer The Weary Traveler b/w I Just Rose To Tell You | 1948 |
| Apollo 189 | Golden Tones | | Ride With The Lord b/w Move Over Gabriel | 1948 |
| Apollo 191 | Dixie Hummingbirds | Dixie Humming Birds | If We Ever Needed The Lord b/w Journey To The Sky | 1948 |
| Apollo 193 | Campbell, Rev. B.C. | | Let Me Go Back b/w Jesus Was Great | 1948 |
| Apollo 194 | Jackson, Mahalia | | Tired b/w Amazing Grace | 1948 |
| Apollo 196 | Dixie Hummingbirds | Dixie Humming Birds | God Is Now Speaking b/w Guide My Mind | 1949 |
| Apollo 197 | Two Gospel Keys | | Precious Lord b/w This Heart Of Mine | 1949 |
| Apollo 198 | Willett Sisters b/w Sister Georgia Lee Willett | | One Day b/w If I Were Hungry I Wouldn't Tell You | 1949 |
| Apollo 201 | Dixie Hummingbirds | Dixie Humming Birds | I'll Forever Stand b/w Jesus, I Love You | 1949 |
| Apollo 204 | Powers, Prophet | Prophet Powell and the (40 group) Holy Mount Singers | The Wonderful Counselor b/w You've Got To Move | 1949 |
| Apollo 205 | Jackson, Mahalia | | In My Home Over There b/w Since The Fire Started Burning In My Soul | 1949 |
| Apollo 207 | Jackson, Mahalia | | I Have A Friend b/w There's Not A Friend Like Jesus | 1949 |
| Apollo 208 | Campbell, Rev. B.C. | Rev. B.C. Campbell and Congregation | Remember Me b/w The Lord Will Make A Way Somehow | 1949 |
| Apollo 210 | Williams and his Ivory Gospel Singers, Rev. Harold | | Jesus b/w Lord Have Mercy | 1949 |
| Apollo 211 | Bradley and Howard T. Dodson, J. Robert | | Didn't My Lord Deliver Daniel b/w If My Jesus Has To Pray | 1949 |
| Apollo 212 | Landlighters | | You've Got To Learn How To Pray b/w I've Got A Home In That Rock | 1949 |
| Apollo 213 | Jackson, Mahalia | | I Can Put My Trust In Jesus b/w Let The Power Of The Holy Ghost Fall On Me | 1949 |
| Apollo 214 | Martin Singers, Roberta | Roberta Martin Singers of Chicago | Only A Look b/w He Knows How Much We Can Bear | 1949 |
| Apollo 215 | Campbell, Rev. B.C. | Rev. B.C. Campbell and Congregation | Sweepin' Thru The Gate b/w I'm Satisfied | 1949 |
| Apollo 216 | Patterson, Samuel | | This World Is Not My Home b/w Where The Sun Will Never Go Down | 1949 |
| Apollo 217 | Jackson, Mahalia | | Walk With Me b/w Prayer Changes Things | 1949 |
| Apollo 218 | Martin Singers, Roberta | | My Friend b/w What A Blessing In Jesus I Found | 1949 |
| Apollo 219 | Williams and his Ivory Gospel Singers, Rev. Harold | | Out Of The Depths b/w Make More Room | 1949 |
| Apollo 220 | Dixie Hummingbirds | Dixie Humming Birds | Jesus Has Traveled This Road Before b/w The Holy Baby | 1949 |
| Apollo 221 | Jackson, Mahalia | | Just Over The Hill, Pt. 1 b/w Just Over The Hill, Pt. 2 | 1949 |
| Apollo 222 | Jackson, Mahalia | | I'm Glad Salvation Is Free b/w The Last Mile Of The Way | 1950 |
| Apollo 223 | Martin Singers, Roberta | Roberta Martin Singers of Chicago | The Old Ship Of Zion b/w Do You Know Him | 1950 |
| Apollo 224 | Ross Singers, Robert | | I'll Tell It b/w Speak To Me Jesus | 1950 |
| Apollo 225 | Golden Tones | | Jesus On My Mind b/w Lookin' For The City | 1950 |
| Apollo 227 | Martin Singers, Roberta | Roberta Martin Singers of Chicago | Satisfied b/w My Eternal Home | 1950 |
| Apollo 228 | Campbell, Rev. B.C. | Rev. B.C. Campbell and Congregation | What Could I Do b/w Shine Shine On Me | 1950 |
| Apollo 229 | Jackson, Mahalia | | Shall I Meet You Over Yonder b/w I Do, Don't You | 1950 |
| Apollo 231 | Ross Singers, Robert | | How Far Am I From Canaan, Pt. 1 b/w How Far Am I From Canaan, Pt. 2 | 1950 |
| Apollo 232 | Campbell, Rev. B.C. | Rev. B.C. Campbell and Congregation | Jesus Hold My Hand b/w Heaven Bound Train | 1950 |
| Apollo 233 | Daniels Singers | | It Must Be Jesus Love Divine b/w Bye And Bye | 1950 |
| Apollo 234 | Jackson, Mahalia | | It Pays To Serve Jesus b/w These Are They | 1950 |
| Apollo 235 | Jackson, Mahalia | | Go Tell It On The Mountain b/w Silent Night, Holy Night | 1950 |
| Apollo 236 | Gospelaires | Bess Folk with the Gospelaires b/w Norsalus McKissick with the Gospelaires | I Call Jesus My Rock b/w Every Day | 1950 |
| Apollo 237 | Southern Harmonaires | | Who Will Your Captain Be b/w I'm So Glad | 1950 |
| Apollo 238 | Martin Singers, Roberta | Roberta Martin Singers of Chicago | What A Friend b/w Let It Be | 1950 |
| Apollo 239 | Daniels Singers | | God Answers Prayers b/w He's All I Need | 1950 |
| Apollo 240 | Jackson, Mahalia | | Get Away Jordan b/w I Gave Up Everything To Follow Him | 1950 |
| Apollo 241 | Martin Singers, Roberta | | Where Can I Go b/w You'll Understand It Better | 1950 |
| Apollo 242 | Gospelaires | | Oh! What A Time b/w The Life Boat Is Coming (?) | 1950 |
| Apollo 243 | Campbell, Rev. B.C. | Rev. B.C. Campbell and his Congregation | Oh! In That Morning b/w I Know It's Worth It | 1950 |
| Apollo 244 | Bradford, Alex | Bradford Singers | Now Lord b/w Let The Heavenly Light Shine On Me | 1950 |
| Apollo 245 | Jackson, Mahalia | | Bless This House b/w The Lord's Prayer | 1951 |
| Apollo 246 | Jackson, Mahalia | | His Eye Is On the Sparrow b/w It Is No Secret | 1951 |
| Apollo 247 | Martin Singers, Roberta | | I Am Sealed b/w The Lord Will Make A Way | 1951 |
| Apollo 248 | Jackson, Mahalia | | How I Got Over b/w Just As I Am | 1951 |
| Apollo 249 | Martin Singers, Roberta | | I'll Follow In His Footsteps b/w Tell Jesus All | 1951 |
| Apollo 250 | Jackson, Mahalia | | I Bow On My Knees b/w City Called Heaven | 1951 |
| Apollo 251 | Gospelaires | | He's Pleading In Glory For Me b/w Talk About A Child | 1951 |
| Apollo 252 | Daniels Singers | | Joy To The World b/w Mary, What Are You Going To Name The Child | 1951 |
| Apollo 253 | Royal Sons Quintet | | Bedside Of A Neighbor b/w Journey's End | 1952 |
| Apollo 254 | Savage, Rev. E. | | Christians Fight On b/w Just To Behold His Face | 1952 |
| Apollo 255 | Cosmopolitan Male Choir | | Jesus Is Mine b/w Peace In The Valley | 1952 |
| Apollo 256 | Campbell, Rev. B.C. | Rev. Campbell | We're Sailing On b/w There Is Just One Way | 1952 |
| Apollo 257 | Daniels Singers | | Guide Me b/w I've Got An Interest Over There | 1952 |
| Apollo 258 | Jackson, Mahalia | | I'm Getting Nearer My Home b/w He's The One | 1952 |
| Apollo 261 | Martin Singers, Roberta | | Come In The Room b/w He's My Light | 1952 |
| Apollo 262 | Jackson, Mahalia | | In The Upper Room, Pt. 1 b/w In The Upper Room, Pt. 2 | 1952 |
| Apollo 263 | Daniels Singers | | My Lord And I b/w Child Of The King | 1952 |
| Apollo 264 | Daniels Singers | | Lower Lights b/w Just Like Jesus Did | 1952 |
| Apollo 265 | Bradford, Alex | Bradford Singers | Prayer To The Power Of The Lord b/w Test At The Judgement | 1952 |
| Apollo 266 | Royal Sons Quintet | | Come Over Here b/w Let Nothing Separate Me | 1952 |
| Apollo 267 | Daniels Singers | | I Shall Be Free Someday b/w Jesus | 1952 |
| Apollo 268 | Woods Singers, Maceo | | Witness b/w He Brought Joy To My Soul | 1952 |
| Apollo 269 | Jackson, Mahalia | | God Spoke To Me b/w Said He Would | 1953 |
| Apollo 270 | Martin Singers, Roberta | Roberta Martin Singers featuring Eugene Smith b/w Roberta Martin Singers of Chicago featuring Roberta Martin and Myrtle Jackson | Oh! Lord Stand By Me b/w He Didn't Mind Dying | 1953 |
| Apollo 271 | St. Peter's Gospel Singers | | The Battle Done Got Started Again b/w Lord Hold My Hand | 1953 |
| Apollo 272 | Martin Singers, Roberta | | After It's All Over b/w The Old Account | 1953 |
| Apollo 273 | Jackson, Mahalia | | Do You Know Him b/w I'm Going Down To The River | 1953 |
| Apollo 274 | Melody Echoes | | When I've Done The Best I Can b/w Dip Your Fingers In Some Water | 1953 |
| Apollo 275 | Martin Singers, Roberta | | I Wanna See Jesus b/w Let God Abide | 1953 |
| Apollo 276 | Bradford, Alex | Bradford Singers | Who Can I Blame b/w Turn Away From Sin | 1953 |
| Apollo 277 | Melody Echoes | | Yes They Tell Me b/w When The Roll Is Called | 1953 |
| Apollo 278 | Jackson, Mahalia | Mahalia Jackson with the Melody Echoes | I Wonder If I Will Ever Rest b/w Come To Jesus | 1953 |
| Apollo 279 | Martin Singers, Roberta | | I'm Too Close b/w Marching To Zion | 1953 |
| Apollo 280 | Daniels Singers | | I'm Leaning b/w Wade In The Water | 1953 |
| Apollo 281 | Martin Singers, Roberta | | Since I Met Jesus b/w Keep On Trusting | 1954 |
| Apollo 282 | Jackson, Mahalia | Mahalia Jackson (with the Belleville Choir) | Hands Of God b/w It's Real | 1954 |
| Apollo 283 | Anderson, Robert | Robert Anderson Singers | Sweet As The Day Goes By b/w He Knows The Reason Why | 1954 |
| Apollo 284 | Bradford, Alex | Alex Bradford and Singers | He's A Wonder b/w He's So Good To Me | 1954 |
| Apollo 285 | Martin Singers, Roberta | | I'm Just Waiting On The Lord b/w Shine Heavenly Light | 1954 |
| Apollo 286 | Jackson, Mahalia | | I'm On My Way b/w My Story | 1954 |
| Apollo 287 | Bradford, Alex | Prof. Alex Bradford and Singers | Oh Lord Remember Me b/w Jesus Keeps Nearer The Cross | 1954 |
| Apollo 288 | Bradford, Alex | Prof. Alex Bradford and Singers | Rock Of Ages b/w Tell The World About Jesus | 1954 |
| Apollo 289 | Jackson, Mahalia | | What Then b/w Walking To Jerusalem | 1954 |
| Apollo 290 | Anderson, Robert | | Nothing Shall Destroy My Faith b/w Since My Heart's Been Changed | 1954 |
| Apollo 291 | Jackson, Mahalia | | I'm Going To Tell God b/w I Walked Into The Garden | 1955 |
| Apollo 292 | Martin Singers, Roberta | | Have You Found A Friend b/w I'm Gonna Praise His Name | 1955 |
| Apollo 293 | Daniels Singers | | Yield Not To Temptation b/w The Old Rugged Cross | 1955 |
| Apollo 294 | Melody Echoes | | He Rose To Tell Me b/w I Trust In God | 1955 |
| Apollo 295 | Butler and his Singers, Anthony | | Judgement's Comin' b/w World's Testimonial | 1955 |
| Apollo 296 | Anderson, Robert | | He's Coming Back For Me b/w Eyes Have Not Seen | 1955 |
| Apollo 297 | Martin Singers, Roberta | | I've Got A Home For You b/w Is There Anybody There | 1955 |
| Apollo 298 | Jackson, Mahalia | | Run All The Way b/w Nobody Knows | 1955 |
| Apollo 299 | Martin Singers, Roberta | | He's Using Me b/w Saved | 1955 |
| Apollo 300 | Anderson, Robert | | My Possession b/w Oh Lord Is It I | 1955 |
| Apollo 301 | Martin Singers, Roberta | | I'll Do What You Want Me To Do b/w Come Into My Heart Lord Jesus | 1955 |
| Apollo 302 | Gate City Singers | | The Last Mile Of The Way b/w Will The Circle Be Unbroken | 1955 |
| Apollo 303 | Soul Satisfiers | | After Awhile b/w I'm His And He's Mine | 1956 |
| Apollo 304 | Jackson, Mahalia | | He's My Light b/w If You Just Keep Still | 1956 |
| Apollo 305 | Martin Singers, Roberta | | There's A Man b/w Trouble In My Way | 1956 |
| Apollo 306 | Soul Satisfiers | | Run On Home And Live With God b/w I Love To Tell Of His Goodness | 1956 |
| Apollo 307 | Anderson, Robert | | Wait Upon The Lord b/w If Jesus Had To Pray, What About Me | 1956 |
| Apollo 308 | Colemanaires | | This May Be My Last Time b/w I Cannot Understand It | 1957 |
| Apollo 309 | Gospel All Stars | | It's Me Oh Lord b/w Lord Remember Me | 1957 |
| Apollo 310 | Gospel All Stars | | Every Now And Then b/w Until My Jesus Comes | 1957 |
| Apollo 311 | Jackson, Mahalia | | His Eyes Are On The Sparrow b/w I Can Put My Trust In Jesus | 1957 |
| Apollo 312 | Gospel All Stars | | What Could I Do b/w That's Why I Love Him | 1958 |
| Apollo 313 | Jackson, Mahalia | | Didn't It Rain b/w Nobody Knows | 1958 |
| Apollo 314 | Jackson, Mahalia | | I'm On My Way b/w My Story | 1958 |
| Apollo 316 | Thomas Singers, Rev. John | | Old Time Religion b/w Lord, Walk With Me | 1958 |
| Apollo 529 | Southern Harmonaires | | Honey In The Rock b/w I'm So Glad | 1958-59 |
| Apollo 539 | Jackson, Mahalia | | Silent Night, Holy Night b/w Lord's Prayer | 1959 |
| Apollo 750 | Jackson, Mahalia | | Silent Night, Holy Night b/w Lord's Prayer | 1961 |
| Apollo 1184 | Larks | | Let's Say A Prayer b/w My Reverie | 1951 |
| Apollo 1189 | Larks | | Shadrack b/w Honey In The Rock | 1951 |
LP releases:

| release | artist | artist as shown | title | year |
| --- | --- | --- | --- | --- |
| Apollo LP 201 | Jackson, Mahalia | | Queen Of The Gospel Singers | 1954 |
| Apollo LP 202 | Jackson, Mahalia | | Queen Of The Gospel Singers, vol. 2 | 1954 |
| Apollo LP 474 | Jackson, Mahalia | | In The Upper Room | 1957 |
| Apollo LP 479 | Jackson, Mahalia | | Just As I Am | 1958 |
| Apollo LP 480 | Martin Singers, Roberta | | Here This Sunday | 1959 |
| Apollo LP 481 | Various | | Spiritual Moods | 1959 |
| Apollo LP 482 | Jackson, Mahalia | | No Matter How You Pray | 1959 |
| Apollo LP 483 | Daniels | | The Daniels Sing The Gospel | 1959 |
| Apollo LP 486 | Jackson, Mahalia | | Mahalia | 1959 |
| Apollo LP 487 | Martin Singers, Roberta | | Prayer Meeting | 1959 |
| Apollo LP 489 | Various | | Mahalia Jackson with the Greatest Spiritual Singers | 1959 |
| Apollo LP 499 | Jackson, Mahalia | | Christmas with Mahalia Jackson | 1962 |
| Apollo LP 1001 | Jackson, Mahalia | | Command Performance | 1961 |
| Apollo LP 1002 | Jackson, Mahalia | | Command Performance, vol. 2 | 1961 |