Hosanna gospel discography (c. mid. 60's – early 70's)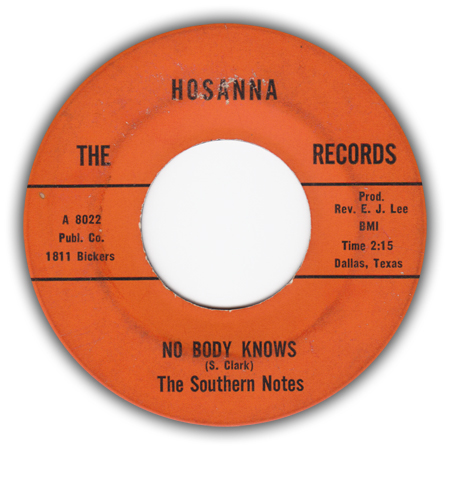 Hosanna Records (Hosanna, the Hosanna Records) was located in Dallas, TX, although releases #2001 and 2003 show a Forth Worth address. The label was run by Rev. Emmett J. Lee of the Eminent Twilight Singers of Dallas, TX. He also ran the Rapturea label in the 1970's. Today Rev. Lee pastors at the Rapturea Better Way Ministry in Dallas, TX.
Hosanna remains sort of a mystery label; little is known about it and most information came from eBay ads.
It seems likely that the 7000, 8000 and 9000 series came first and were released mostly in the 1960's. The 1000, 1500 and 2000 series followed in the late 1960's and 1970's. The 9000 and 1000 series may have run concurrently for some time.
All years given for the 45rpm releases are estimates, the only year that seems reliable is 1971 for the Relatives record (#1528); this year is given on the Relatives compilation LP on Heavy Light Records (2009). Also, LP 1522 was likely released in 1972 (this year is etched in the dead wax).
Gene West (#8018) is Gean West who organized the Relatives in 1970 with his brother Tommy. The Southern-Aires (with Gean West) recorded as the Southernaires for Don Robey and two 45's were released on the Song Bird label in around 1963-64 (#1007 and 1021).
The Hosanna LP's (three are known to exist) didn't have a separate numbering system, they were released in the 1500 series.
The missing numbers refer to unknown releases. Some numbers may have been unused.
This page lists all known Hosanna gospel releases on 45's and LP's
45rpm releases:

| release | artist | artist as shown | songs | year |
| --- | --- | --- | --- | --- |
| Hosanna 7683 | Sensational Harmonizers | | Where Could I Go b/w God Is Real | 196? |
| Hosanna 7684 | Bethlehem Travelers | | In The End b/w It's A Wonder | 196? |
| Hosanna 8015 | Star Lights of Okla. City | | The Jerico Road b/w My Heart Is Fixed | 196? |
| Hosanna 8016 | Ft. Worth Spiritual Airs | | I'm going to Heaven b/w He first loved me | 196? |
| Hosanna 8017 | Wilson Singers | | God Is Alright b/w Serve The Lord | 196? |
| Hosanna 8018 | West and his Southern-Aires, Rev. Gene | | So Long Sin b/w Jesus Loves Me | 196? |
| Hosanna 8019 | Spiritual Jubilees | | Come On In This House b/w God's Graces | 196? |
| Hosanna 8020 | Jubilee-Aires | | Don't Let It Be Too Late b/w Chimes Of Time | 196? |
| Hosanna 8021 | Wilburn Singers, Grace | | Sweet Jesus b/w What More Could He Do | 196? |
| Hosanna 8022 | Southern Notes | | No Body Knows b/w Jesus Lifted Me | 196? |
| Hosanna 8023 | Spirit of Faith Singers | | When We All Get To Heaven b/w Yes Jesus Loves Me | 196? |
| Hosanna 8024 | Sensational Golden Knights | Sensational Golden Knights of Shreveport, LA. | Thank You Jesus b/w You've Been So Good | 196? |
| Hosanna 8025 | Gospel Invader's | | I Know A Man b/w God Is So Wonderful | 196? |
| Hosanna 8031 | Five Echoes of Harmony | | Man From Galilee b/w I've Got It Within | 196? |
| Hosanna 8032 | Rocks of Harmony | | In The Care Of The Lord b/w He's Done What He Said | 196? |
| Hosanna 8078 | Silver Lights | | Feel The Holy Spirit b/w I Know The Lord | 196? |
| Hosanna 8079 | Sensational Harmonizers | | Don't Let My Running Be In Vain b/w Can't Make This Journey Alone | 196? |
| Hosanna 8081 | Bethlehem Travelers | | Hide Me In Thy Bosom b/w Keep Your Lamp Trim And Burning | 196? |
| Hosanna 8081 | Eminent Twilight Singers | | No Body Knows b/w I'm Going Through | c. 1967 |
| Hosanna 8098 | Hammon Singers | | Faith In God b/w Time for Praying | c. 1967-69 |
| Hosanna 9004 | New Wavely Baptist Church Choir | Carol Haywood, New Wavely Baptist Church Choir | My Life Will Be Sweeter, Pt. 1 b/w My Life Will Be Sweeter, Pt. 2 | c. 1967-69 |
| Hosanna 9006 | Golden Tones | Rev. R.L. Allen, Golden Tones | I Know My Robe b/w Somebody's Calling Me | c. 1967-69 |
| Hosanna 9007 | Mighty Gospel Notes | | Little More Love b/w I've Been Washed | c. 1967-69 |
| Hosanna 9008 | Gospel Warriors of Minden, LA | | I've Been Born Again b/w The Table Is Spread | c. 1967-69 |
| Hosanna 9009 | Eminent Twilight Singers | | Let Me Walk With You b/w He Never Left Me | c. 1967-69 |
| Hosanna 1001 | Jones Singers | Sensational Jones Singers of Shreveport, LA | I'm On My Journey Now b/w I Want to Go Home | 1969-70? |
| Hosanna 1002 | Ambassadors | | I've Been Pushed Back b/w It's Me | 197? |
| Hosanna 1004 | Sensational Harmonizers | | He's Mine b/w Nobody Knows | 197? |
| Hosanna 1011 | Silver Tones | | Now Lord b/w If It Wasn't for the Lord | 197? |
| Hosanna 1013 | Sensational Golden Knights | | I've Got Your Word b/w I Am Guilty | 197? |
| Hosanna 1519 | Texas Northwest Gospel Choral Ensemble | | Stretch Out, Pt. 1 b/w Stretch Out, Pt. 2 | 1970-71 |
| Hosanna 1521 | Singing Assembles | | Done What The Doctor Couldn't Do b/w Jesus Died | 1970-71 |
| Hosanna 1526 | McGee, Brother Louis | Bro. Louis McGee | There Is No Peace b/w I've Been Wrapped Up | 1970-71 |
| Hosanna 1528 | Relatives | | Don't Let Me Fall b/w Rap On | 1971 |
| Hosanna 1529 | Spiritual Jubilees | | Meet Me At The River b/w Precious Lord | 1971-72 |
| Hosanna 1533 | Williams and the Exciting Melody Clouds, P. | | Let Me Walk With You b/w I Shall Not Be Moved | 197? |
| Hosanna 1538 | Mighty Cross of Calvary Gospel Singers | | When I Come To The End Of My Journey b/w Close To Thee | 197? |
| Hosanna 2001 | Gospel Movements | | Nothing Can Stop Me b/w We Can Make It Alright | 197? |
| Hosanna 2003 | Talton, Rev. J.L. | | A Pilgrim Of Sorrow b/w He Will Understand And Say Well Done | 197? |
LP releases:

| release | artist | artist as shown | title | year |
| --- | --- | --- | --- | --- |
| Hosanna LP 1522 | Texas Northeast Gospel Choral Ensemble | | Let Go, Let God | 1972 |
| Hosanna LP 1530 | Eminent Twilight Singers | | When My Name Is Called Up Yonder | 197? |
| Hosanna LP 1540 | Paradise Baptist Church Senior Chorus | | There's A Bright Side Somewhere | 197? |