From the back cover of the CD-r: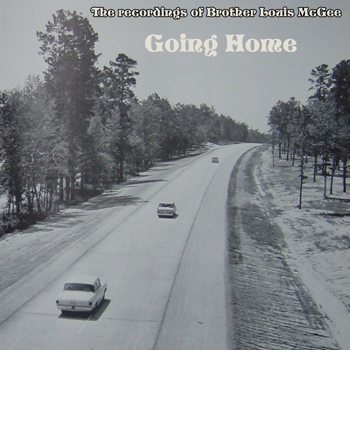 Brother Louis McGee is a mystery. It's likely that he hailed from Texas, it's sure that there were at least six singles released, and that's about it.
In 2008 I bought a box of 45's from a seller on eBay. I had no special reason to make my bid, other than an extreme curiosity about what seemed to be an obscure collection of Texas gospel 45's. Most of the artists were unknown to me, so were many labels.
Among these singles there were four by Brother Louis McGee (or Bro. Lewis McGee), on the LTM (3) and Hosanna (1) labels. In 2013 and 2016 I found two more 45's; one on a Texas label called Gospel and another one on LTM.
I asked around and searched the internet but nothing but dead end streets, except for an unconfirmed possibility that our man sang as Lewis McGhee with the Gospel Tornadoes on Designer. These tracks are quite different from the rest, but they are included on this CD-r as bonus tracks.
I decided to record all tracks I have and put them on a CD-r. This way it may attract more attention and solve some of the mysteries along the way, but even more important: Brother Louis McGee's recordings need to be heard! He's a great artist who performs in the tradition of Rev. Cleophus Robinson, Harold Boggs, Alex Bradford and others, and he has a personal, bluesy and expressive style.
These recordings bring you back to what church was some 40 years ago, best expressed with recordings like "He Will Understand And Say Well Done" and "Going Home To Jesus", which were recorded live in church.
Song listing:
| artist (as shown on release) | song title | year | release |
| --- | --- | --- | --- |
| Bro. Louis McGee | God Placed The Light From Heaven In My Soul | 196? | LTM 6763 |
| Bro. Louis McGee | Lord Don't Move The Mountain | 196? | LTM 6763 |
| Louis McGee | He Will Understand And Say Well Done | 196? | LTM 44432 |
| Louis McGee | Going Home To Jesus | 196? | LTM 44432 |
| Brother Louis McGee | What Is This I Got | 196? | LTM 93-66 |
| Brother Louis McGee | Keep Walking In Jesus' Name | 196? | LTM 93-66 |
| Louis McGee | So Much To Thank The Lord For | 196? | LTM 510X21 |
| Bro. Louis McGee | Crying Days Will Be Over After While | 196? | LTM 510X21 |
| Bro. Lewis McGee | There Is No Peace | c. 1970-71 | Hosanna 1526 |
| Bro. Lewis McGee | I've Been Wrapped Up | c. 1970-71 | Hosanna 1526 |
| Bro. Lewis McGee | Lord Don't You Move The Mountain | 197? | Gospel 517 |
| Bro. Lewis McGee | Try Jesus | 197? | Gospel 517 |
| Gospel Tornados | Everlasting Arms | c. 1970 | Designer 6833 |
| Gospel Tornados | The Bible Is Being Fulfilled | c. 1970 | Designer 6833 |