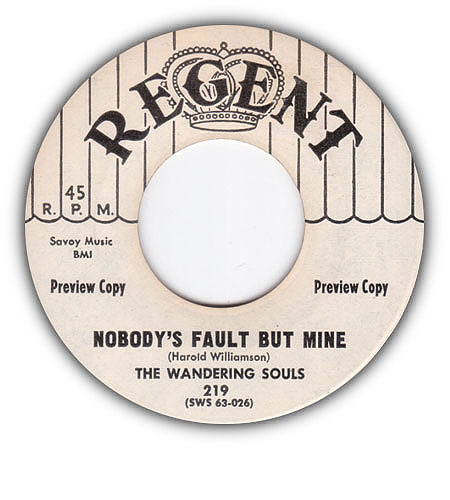 Regent released gospel in the 1000-series (1950-52) and ran a largely to gospel devoted series (206-227) from 1962 to 1964. Regent 189 was a Christmas 1951 release and featured only one gospel track (by Charles Watkins).
Regent 1023 (Mary DeLoach) was also released on Acorn 306, Free 1007, Seaboard 1033 and Lance 1033.
Regent 1029 (Mary DeLoach) was also released on Acorn 312, Lance 1031 and Seaboard 1104.
Regent 1034 (Mary DeLoach) was also released on Seaboard 1105.
Regent 1035 (Moses Gospel Singers) was also released on Acorn 316.
The reverse side of Regent 189 (Charles Watkins) is a secular title by the Meltones. Watkins' track was also released on Savoy 4029.
The Lincoln Gospel Singers also recorded as the Heavenly Four of Alabama (King Solomon) and the Heavenly Gospel Singers (Manor).
Regent LP 6070 features Reverend Morgan and Reverend Cromwell (four titles). On Savoy 4035, this duo went under the name the Sons of David. "When" was released on both Savoy 4035 and Regent LP 6070 (all songs were recorded at the same session, April 3, 1952). It is possible that Rev. Morgan is the same person as Rev. "Squeaky" Morgan who recorded with the Harrison Singers for Savoy (1963-65), King, HSE and ASL.
Early Savoy catalogues often list the first song (or another) on an album as the album title; the actual LP title was neglected or an album title was given where there was none. I have corrected most of these mistakes but it may lead to some inconsistencies with other information found on the internet and elsewhere.
This page lists all known gospel releases (78's, 45's and LP's) on Regent; missing numbers are secular.
78 & 45rpm releases:

| release | artist | artist as shown | songs | year |
| --- | --- | --- | --- | --- |
| Regent 1010 | Heavenly Four of Alabama | Lincoln Gospel Singers | Big Jubilee b/w Lincoln Gospel Train | 1950 |
| Regent 1015 | Heavenly Four of Alabama | Lincoln Gospel Singers | A Child Of God b/w Dark Trials | 1950 |
| Regent 1023 | DeLoach, Mary | Mary DeLoach and her guitar | I'll Ride On A Cloud With My Lord b/w Our Father Loves His Son | 1950 |
| Regent 1029 | DeLoach, Mary | ? | I Want To Die Easy b/w I Really Believe | 1951 |
| Regent 1034 | DeLoach, Mary | Mary DeLoatch | If You Only Knew b/w Mother Dear | 1951 |
| Regent 1035 | Moses Gospel Singers | | Jesus, He's A Friend Of Mine b/w It's All Right With Jesus | 1951 |
| Regent 1042 | DeLoach, Mary | | The New Gospel Street b/w The Lord's Gospel Train | 1952 |
| Regent 1043 | Eason, Brother Willie | | There'll Be No Grumblers There b/w I Want To Live (So God Can Use Me) | 1952 |
| Regent 189 | Watkins, Charles | | Christmas Morn | 1951 |
| Regent 206 | Walker, Clara | Gospel Redeemers | The Lord Is The Master b/w My Soul's Salvation | 1962 |
| Regent 207 | Crum, Rev. H.B. | Rev. H.B. Crum and his Golden Keys | I Can Feel Him b/w The Bible's Right | 1962 |
| Regent 209 | Smith Sisters | Smith Singers | I've Never Seen The Rightious Forsaken b/w Lord, Send The Rain | 1962 |
| Regent 210 | Sons of Thunder | | Going To The City b/w I'll Get My Crown | 1962 |
| Regent 211 | Bradford, Alex | Prof. Alex Bradford | I'm Going To Work (Until The Day Is Done) b/w My Lord Is Going To Move This Wicked Race | 1962 |
| Regent 212 | Williams, Marion | | I'm Glad To Know b/w Calling For Me | 1962 |
| Regent 213 | Rasberry Singers | Raymond Rasberry Singers | Sinner Man If I Were You b/w Waiting On You | 1962 |
| Regent 214 | Walker, Clara | Gospel Redeemers | I've Been Changed b/w I'll Be So Glad | 1962 |
| Regent 215 | Smith Sisters | | V-i-c-t-o-r-y b/w Let´s Get In The Race | 1962 |
| Regent 216 | Royal Silvertones | | The Patience Of Job b/w Jesus, I Love Your Name | 1962 |
| Regent 217 | Bullock Brothers | | May The Lord Be With You b/w Jesus Loves Me | 1963 |
| Regent 218 | Sons of Thunder | Mighty Sons of Thunder | I Don't Want To Be Alone b/w Close Of The Day | 1963 |
| Regent 219 | Wandering Souls | | Father Forgive Them b/w Nobody's Fault But Mine | 1963 |
| Regent 220 | Lucas and the Christian Temple Choir, Rev. Robert | | Sermon On The Mount b/w Just Like Fire | 1963 |
| Regent 221 | Bradford, Alex | Prof. Alex Bradford | He's All Right b/w Because He Loves Me So | 1963 |
| Regent 222 | Williams, Marion | | The Lord Knows b/w I'm Begging You Please | 1963 |
| Regent 223 | Walker, Clara | Gospel Redeemers | Calvary b/w I've Been Saved | 1963 |
| Regent 224 | Bradford, Alex | Prof. Alex Bradford and the Bradford Singers | Everything Is All Right b/w Sweet Hour Of Prayer | 1963 |
| Regent 225 | Wandering Souls | | Sister Mary b/w Wasn't It Sad | 1963 |
| Regent 226 | Royal Silvertones | | He Won't Forsake His Own b/w I'm Thinking Of A City | 1964 |
| Regent 227 | Bradford, Alex | Prof. Alex Bradford, featuring Carrie Williams | Walking With The King b/w Where My Jesus Lives | 1964 |
LP releases:

| release | artist | artist as shown | songs | year |
| --- | --- | --- | --- | --- |
| Regent LP 6070 | Various | | The Gospel Train | 1959 |
| Regent LP 6080 | Various | | A Gospel Program | 1959 |
| Regent LP 6084 | Banks, Prof. Robert | | Sing A Hymn To Jesus | 1959 |
| Regent LP 6107 | Elite Jubilee Singers | | Lord Have Mercy | 1962 |
| Regent LP 6109 | Smith Sisters | | Lord Send The Rain | 1962 |
| Regent LP 6110 | Walker, Clara | Gospel Redeemers | The Lord Is The Master | 1962 |
| Regent LP 6111 | Bradford, Alex | Prof. Alex Bradford | I'm Going To Work Till The Day Is Done | 1962 |
| Regent LP 6112 | Royal Silvertones | | Jesus, I Love Your Name | 1962 |
| Regent LP 6115 | Lucas, Rev. Robert | Rev. Robert J. Lucas and the Christian Temple Choir | Sermon On The Mount (?) | 1962 |
| Regent LP 6116 | Walker, Clara | Gospel Redeemers | Judgement Day | 1963 |
| Regent LP 6117 | Bradford, Alex | Alex Bradford and the Bradford Singers | I Found The Answer | 1963 |
| Regent LP 6118 | Lucas, Rev. Robert | Rev. Robert J. Lucas and the Christian Temple Choir | He's A Shelter In The Time Of Storm | 1964 |