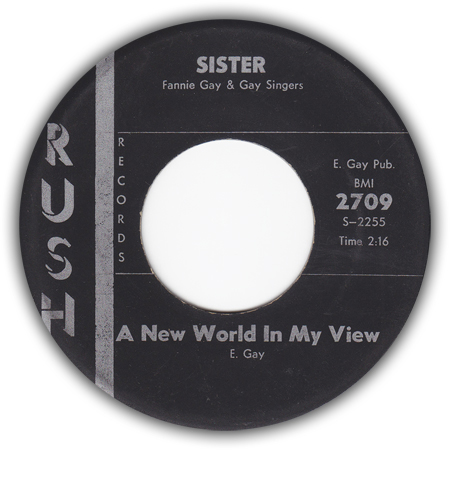 Rush Records was located in Chicago, IL and in operation from c. 1961 – 1968. The label also released secular material.
An ad in the Chicago Defender indicated that Rush 2703 by the Norfleet Brothers was recorded and released in 1961. Other sources date this 45 and most Rush releases as from the late 1960's but that appears to be incorrect. The label's main series (2700) was probably released before 1965.
At one time during its history, Rush was a division of Bandera (see the first of two labels of Rush 601, a release by Little Ben and the Cheers, one of the secular

appearance

s of the Norfleet Brothers) and later of Salem Records (Salem Records is mentioned on the labels of Rush 606 by the C & H Community Singers).
The small Audio label was a sub label of Rush, on which one gospel 45 was released (#2801 by the Glory Airs). The R&B Indies also makes a connection with Saint, which could have had the same address as Rush had for some time (two addresses are known for Rush). However, this needs verification. It's seems more likely that Saint was connected to St. Lawrence (or Saint Lawrence). Both artists on Saint (Lucy Rodgers and the Messiah's of Glory) were also on St. Lawrence. The numbering (both record numbers and matrix numbers) shows similarity with the St. Lawrence numbers and many sides on both labels seem to have been produced by Monk Higgins, who was probably not involved with the Rush recordings. On the other hand, Lucy Rodgers also had a release on Rush…
To further complicate it: Rush, St. Lawrence and Saint were in some way connected to Checker, f.i. some issues on Rush were reissued on Checker and the Lucy Rodgers recordings that ended up on the Saint 45 and on one of the two St. Lawrence 45's were made during the same sessions that resulted in her Checker LP (#10034). The producer on many Checker sides was (again) Monk Higgins. Of course, the Chess brothers and their crew worked with many smaller labels in the Chicago area.
This discography lists all known gospel releases on the Rush label from Chicago, IL.
45rpm releases:

| release | artist | artist as shown | songs | year |
| --- | --- | --- | --- | --- |
| Rush 2701 | Close Harmonieers | | Jesus Is On The Main Line b/w Jesus Is The Light Of The World | 1961 |
| Rush 2702 | Jubilee Hummingbirds | | I'm On My Way Home b/w Lead Me Jesus Every Day | 1961 |
| Rush 2703 | Norfleet Brothers | | The Story Of Martin Luther King, Pt. 1 b/w The Story Of Martin Luther King, Pt. 2 | 1961 |
| Rush 2704 | Wings Of Heaven | | Look For Me In Heaven b/w I Was Lost | 1961-62 |
| Rush 2705 | Clouds Of Joy (of Columbus Ohio) | | On My Way To Heaven b/w Lord, I'm In Your Care | 1961-62 |
| Rush 2706 | Jubilee Hummingbirds | | He'll Understand b/w My Confession | 1961-63 |
| Rush 2707 | Excello Gospel Singers | | Near The Cross b/w Just To Behold His Face | 1961-63 |
| Rush 2708 | Space Spiritual Singers | | You've Got To Move b/w Trouble In My Views | 1961-63 |
| Rush 2709 | Gay and Gay Singers, Sister Fannie b/w Donald "Preacher" Gay | | A New World In My View b/w I'll Wait Till My Change Come | 1961-63 |
| Rush 2710 | Lewis, Rev. Singing Sammy | | What Is This, Pt. 1 b/w What Is This, Pt. 2 | 1961-63 |
| Rush 2711 | Bailey Singers, Harold | | I'm Looking For My Lord b/w Since Jesus Came Into My Heart | 1961-64 |
| Rush 2712 | Lewis, Rev. Singing Sammy | Rev. Singing Sammy Lewis and the Harold Bailey Singers | I Just Can't Tell It All b/w Gonna Walk In Jerusalem | 1961-64 |
| Rush 2713 | Thomas Singers, Mildred | | God Can Use You b/w Love Lifted Me | 1961-64 |
| Rush 2714 | Bailey Singers, Harold | | Have A Little Talk With Jesus b/w I Thank The Lord | 1961-64 |
| Rush 2716 | Reed and James Bond, Clarence | | A Sinners Prayer b/w The Preacher And The Deacon | 1961-64 |
| Rush 2717 | Bailey Singers, Harold | | On A Hill b/w Rock In A Weary Land | 1961-64 |
| Rush 2719 | Rodgers, Lucy | Lucy Rogers Singers | He's Been Good b/w The Blood Of Jesus | 1961-64 |
| Rush 2720 | Lewis, Rev. Singing Sammy | | I'm Glad About It, Pt. 1 b/w I'm Glad About It, Pt. 2 | 1961-64 |
| Rush 2721 | Jubilaires | | Farther Along b/w Sweeping Through Those Gates | 1961-64 |
| Rush 2722 | Faithful Wonders | | God's Love Is Everywhere b/w You've Got To Move | 1961-64 |
| Rush 2723 | Reed, Clarence | | To Far To Turn Around b/w (When I've Made) The Last Payment On My Fare | 1961-64 |
| Rush 403 | Reed, Clarence | (Poet) Clarence Reed | Build Up The Walls b/w When I Have Paid My Fare | 196? |
| Rush 606 | C and H Community Singers | | He Came Along (He Opened My Eyes) b/w Be Attitude | 1968? |
| Rush 607 | C and H Community Singers | Rev. Lannell Hallman and C and H Community Singers | Just A Closer Walk With Thee b/w I Thank God | 1968? |
| Rush 609 | C and H Community Singers | | He's (Jesus) Alright b/w He's Been My Everything | 1968? |
LP release:

| release | artist | artist as shown | title | year |
| --- | --- | --- | --- | --- |
| Rush LP 2718 | Tabernacle Baptist Church Choir | | Lord Guide My Feet | 1961-64 |