Tru-Sound/Prestige gospel discography (1962-64)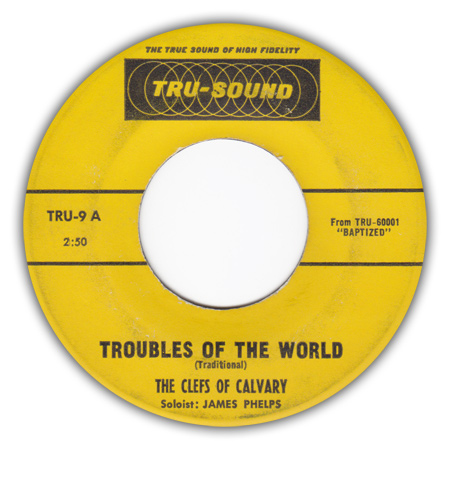 Tru-Sound was a subsidiary label of Prestige, the label most famous for its numerous jazz releases. There were gospel and secular releases on Tru-Sound; King Curtis may have been the best-known artist on the label. The Tru-Sound label was in operation from 1961-63 and all gospel was released in 1962 and 1963, with a final LP release on Prestige in 1964.
Most if not all sides were produced by Ozzie Cadena and engineered by Rudy van Gelder. Ozzie Cadena also ran the Choice label. The Choice page has a link to a label introduction by Per Notini, giving some more details on Cadena's career.
LP's 60005 (Pentecostal Choir), 60006 (Psalms of Grace) and 60007 (Clefs of Calvary) were released on Tru-Sound first and then re-released on Prestige (blue trident labels).
Choice LP 514 has #60014 ("TRU 60014") on the labels, referring to the Tru-Sound label. This is a bit surprising, especially because of the number, as the Tru-Sound LP issues stopped after number 60007. So, it appears that the numbering has been used until at least #60014 and I wonder what's in between 60007 and 60014… I haven't seen other Choice LP's with an additional Tru-Sound number (but I haven't seen all of them).
Prestige LP 25007 doesn't seem to have any Tru-Sound connection, but it's listed here nevertheless. It was released with blue trident Prestige labels.
All years need to be confirmed.
This discography lists all known Tru-Sound/Prestige gospel releases.
45rpm releases:

| release | artist | artist as shown | songs | year |
| --- | --- | --- | --- | --- |
| Tru-Sound 1 | Clefs of Calvary | | Save Me b/w God's Love | 1962 |
| Tru-Sound 2 | Gate City Singers | | Peace In The Valley b/w I Thank You Jesus | 1962 |
| Tru-Sound 3 | Capitol City Stars | | Friends Talk About Me b/w There'll Be Rest For The Weary | 1962 |
| Tru-Sound 4 | Back Home Choir | | He's So Mighty b/w Climbing High Mountains | 1962-63 |
| Tru-Sound 5 | Clefs of Calvary | | Baptized b/w A Stranger In Any Land | 1962-63 |
| Tru-Sound 6 | Capitol City Stars | | I Love The Lord b/w I'm So Glad | 1962-63 |
| Tru-Sound 7 | Gate City Singers | | No Time To Lose b/w Something Within | 1962-63 |
| Tru-Sound 8 | Back Home Choir | | Come Out Of The Wilderness b/w I Trust Him | 1962-63 |
| Tru-Sound 9 | Clefs of Calvary | | Troubles Of The World b/w While The Bloods Running Warm | 1962-63 |
LP releases: