Tru-Sound/Prestige gospel discography (1962-64)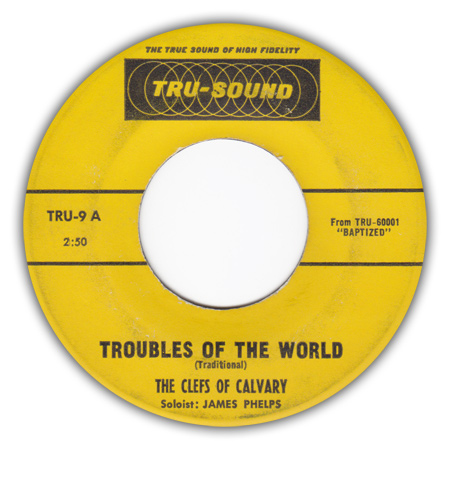 Tru-Sound was a subsidiary label of Prestige, the label most famous for its numerous jazz releases. There were gospel and secular releases on Tru-Sound; King Curtis may have been the best-known artist on the label. The Tru-Sound label was in operation from c. 1961-63.
Most if not all sides were produced by Ozzie Cadena and engineered by Rudy van Gelder. Ozzie Cadena also ran the Choice label. The Choice page has a link to a label introduction by Per Notini, giving some more details on Cadena's career.
LP's 60005 (Pentecostal Choir), 60006 (Psalms of Grace) and 60007 (Clefs of Calvary) were released on Tru-Sound first and then re-released on Prestige (blue trident labels).
Choice LP 514 has #60014 ("TRU 60014") on the labels, referring to the Tru-Sound label. This is a bit surprising, especially because of the number, as the Tru-Sound LP issues stopped after number 60007. So, it appears that the numbering has been used until at least #60014 and I wonder what's in between 60007 and 60014… I haven't seen other Choice LP's with an additional Tru-Sound number (but I haven't seen all of them).
Prestige also released gospel albums on their Prestige International imprint (late 1950's, early 1960's). In the early 1950's Prestige released a small number of gospel 78s in their religious series.
All years need to be confirmed.
This discography lists all known Tru-Sound/Prestige gospel releases.
45rpm releases:

| release | artist | artist as shown | songs | year |
| --- | --- | --- | --- | --- |
| Tru-Sound 1 | Clefs of Calvary | | Save Me b/w God's Love | 1962 |
| Tru-Sound 2 | Gate City Singers | | Peace In The Valley b/w I Thank You Jesus | 1962 |
| Tru-Sound 3 | Capitol City Stars | | Friends Talk About Me b/w There'll Be Rest For The Weary | 1962 |
| Tru-Sound 4 | Back Home Choir | | He's So Mighty b/w Climbing High Mountains | 1962-63 |
| Tru-Sound 5 | Clefs of Calvary | | Baptized b/w A Stranger In Any Land | 1962-63 |
| Tru-Sound 6 | Capitol City Stars | | I Love The Lord b/w I'm So Glad | 1962-63 |
| Tru-Sound 7 | Gate City Singers | | No Time To Lose b/w Something Within | 1962-63 |
| Tru-Sound 8 | Back Home Choir | | Come Out Of The Wilderness b/w I Trust Him | 1962-63 |
| Tru-Sound 9 | Clefs of Calvary | | Troubles Of The World b/w While The Bloods Running Warm | 1962-63 |
LP releases: