D-Town gospel discography (c. 1961-65)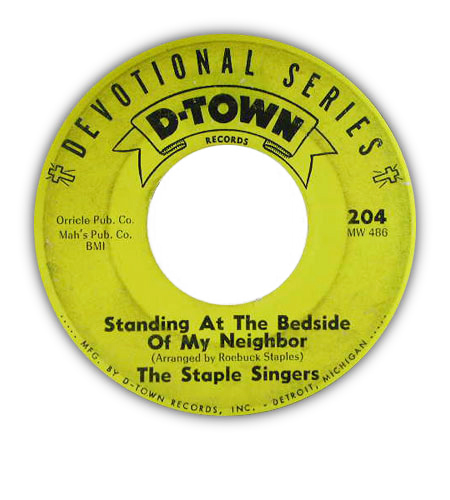 D-Town was a Detroit soul label that ran a small gospel series with only six known releases. It's not clear when exactly the label was in operation. Some sources say 1964-65, but the Gospel Discography (Laughton/Hayes) gives 1961 for all the gospel releases (except #207, no year given). Maybe D-Town started with a gospel series and continued to release soul records later on.
D-Town 204 and 206 (by the Staple Singers) were also released on Bishop (same catalog numbers). It's possible that Bishop 208 (by the Gospel Four) and Bishop 209 (by the Sons of Zion) were released on D-Town as well (using the same catalog numbers). #204, 206, 208 and 209 are the only known (gospel) releases on the Bishop label.
No details on D-Town 205, could be unreleased.
This page lists all known D-Town gospel 45's.
45rpm releases:

| release | artist | artist as shown | songs | year |
| --- | --- | --- | --- | --- |
| D-Town 201 | Meditations | | Farther Alone b/w My Soul Got Happy | 1961-65 |
| D-Town 202 | Griffinairs | | Don't Want To Be Lost b/w He Is The Master | 1961-65 |
| D-Town 203 | Meditations | | The Love Of God b/w Your All On The Altar | 1961-65 |
| D-Town 204 | Staple Singers | | Standing At The Bedside Of My Neighbor b/w I'll Fly Away | 1961-65 |
| D-Town 204 | Staple Singers | Stapleton Singers | I Will Trust In The Lord b/w Tell Him What You Want | 1961-65 |
| D-Town 207 | Voices of Tabernacle | | Blessed Assurance b/w I Trust In You | 1961-65 |