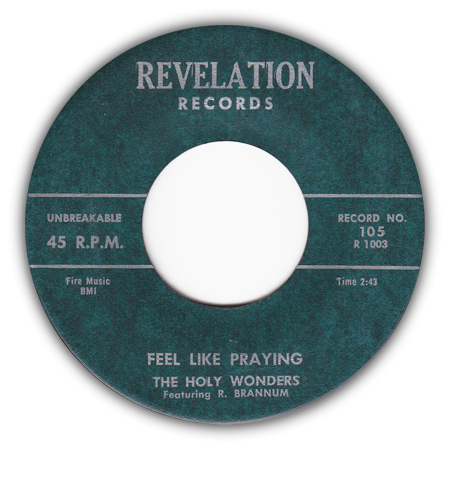 Revelation was a gospel subsidiary label of Fury Records (Bobby Robinson) from New York City. Most sides were produced by John Bowden (Ark, HOB and other labels).
Read a label introduction here.
Revelation may have started it's singles output with #100. However, nothing is known about #100-104. Number 401 though, which seems to be the first Revelation release, may have been wrongly numbered. One may assume that it should have been #104 instead of #401. See Revelation 401 for more details.
Revelation 109 and 118 have been released on one 45, showing #109 on one side and #118 on the other.
Revelation 136 has been released twice. One may assume that one of these issues should have been numbered 137 as that one is missing in de discography.
The labels of many Revelation 45 show typos; these have not been corrected.
This page lists all known releases (singles, LP's) on the Revelation label from New York City. Revelation 401 is probably the only 78rpm release.
78 & 45rpm releases:

| release | artist | artist as shown | songs | year |
| --- | --- | --- | --- | --- |
| Revelation 401 | Echoes of Glory of Augusta, GA | | Love In My Heart b/w Journeying On | 1958-59 |
| Revelation 105 | Holy Wonders | | I've Got A Home b/w Feel Like Praying | 1959 |
| Revelation 106 | Stevenson Singers | | Somebody Touched me b/w Peace In The Valley | 1959 |
| Revelation 107 | Cross Jordan Singers | Cross Jordon Singers of Nashville, Tennessee | Strollin' Round Heaven b/w Kneel And Pray | 1959-60 |
| Revelation 108 | Grimes, Sandra | Sandra Grimes Singers | Must Jesus Bear The Cross Alone b/w What A Friend | 1959-60 |
| Revelation 109/118 | Gospel Wonders | | He Will Supply b/w 't Will Be Glory | 1959-60 |
| Revelation 110 | Kingdom Jubilee Singers of NY | | Tired Of Life b/w God Said Let There Be Life | 1959-60 |
| Revelation 111 | Julia Peterson Singers of Bklyn, NY | | Give An Account b/w He'll Understand | 1959-60 |
| Revelation 112 | Five Singing Stars | | If I Live Right b/w Come By Here Lord | 1960 |
| Revelation 113 | Drexall Singers | | Jesus Said b/w The Answer | 1960 |
| Revelation 114 | Sacred Harmonizers | Sacred Harmonizers of Philadelphia, Penna. | Truly It Was Jesus b/w He Said That He Will | 1960 |
| Revelation 115 | Girtmanairs of New York | | Be Still b/w No More Sorrow | 1960 |
| Revelation 116 | Soul Finders of Newark NJ | | Guide Me b/w Sinners Prayer | 1960 |
| Revelation 117 | Clark, Christine | Christine Clark of Brooklyn, NY | Sinner Like Me b/w When Jesus Come | 1960 |
| Revelation 119 | Holy Wonders | Holy Wonder of Newark, NJ | I Am Moving On b/w Jesus On My Mind | 1960 |
| Revelation 120 | Capitol City Stars | | Jacob's Ladder b/w Shad-Rack | 1960 |
| Revelation 121 | Mighty Gospel Giants | Mighty Giants of Brooklyn, NY | Stop By Here b/w Prodigal Son | 1960 |
| Revelation 122 | Twilight Gospel Singers | Twilight Gospel Singers of Hempstead, LI | Pick Up Your Bed b/w Holy Holy | 1960 |
| Revelation 123 | Coleman and her Gospel Combo, Dr. | | Over In Glory Land b/w I Know Who Holds Tomorrow | 1960 |
| Revelation 124 | Heavenly Gates | Heavenly Gate Gospel Singers of Baltimore MD | How Old Are You b/w You Got To Walk | 1960 |
| Revelation 125 | Cross Jordan Singers | Cross Jordan Singers of Nashville, Tenn. | Promised To Meet Me b/w Who Will Wake Me In The Morning | 1960 |
| Revelation 126 | Tear of Music of New York City | | No Hiding Place b/w Tramping | 1960 |
| Revelation 127 | Christian Tabernacle Choir | Rev. O'Neil and the Christian Tabanade Choir b/w Christian Tabanade Choir | Without A God b/w Down By The Riverside | 1960 |
| Revelation 128 | Evening Star Gospel Singers | | Call Him Anytime b/w Better Come Home | 1960 |
| Revelation 129 | Burke, Eugene | Eugine Burke | I Found The Answer b/w He Is Everywhere | 1960 |
| Revelation 130 | Gospel Harmaniers | Gospel Harmaniers (of Oxford, NC) | To Close b/w Take Me By The Hand | 1960 |
| Revelation 131 | Grimes, Sandra | Sandra Grimes Singers of NYC | Oh Lord I've Done b/w I Complained | 1960 |
| Revelation 132 | Mighty Covington Gospel Singers of Brooklyn, NY | | Early In The Morning b/w Lord Remember Me | 1960 |
| Revelation 133 | Young, Dewey | Dewey Young and the Flying Clouds | God Bless Our Home b/w Christian Of Today | 1960 |
| Revelation 134 | Gospel Challengers | | Walls of Jericho b/w How Great Thou Art | 1960-61 |
| Revelation 135 | Twilight Gospel Singers | Twilite Gospel Singers of Hempstead, NY | I'm Willing To Go b/w Oh Lord Save Me | 1961 |
| Revelation 136 | Chariot Wheels | | I Want You Lord b/w Sinner Testemony | 1961 |
| Revelation 136 | Revelation Singers | | I Just Didn't Know, Pt. 1 b/w I Just Didn't Know, Pt. 2 | 1961 |
| Revelation 138 | Cross Jordan Singers | Cross Jordan Singer | Trail Of Jesus b/w Doesn't Matter | 1961 |
| Revelation 139 | Pressers of Christ | | Living In A Mean World b/w Prayed All Night | 1961 |
| Revelation 140 | Carolina Kings | | What A Blessing b/w A-Friend | 1961-62 |
| Revelation 141 | Sensational Canarians | | Who Wrote The Bible b/w Place Called Heaven | 1962 |
| Revelation 142 | Cross Jordan Singers | | Sinner Man's Prayer b/w Precious Lord | 1962 |
| Revelation 143 | Ward, Little Barbara Ann | | What Do You Think Of Jesus b/w My The Grace Of God | 1962 |
| Revelation 144 | Highlight Gospel Singers | | The Bible Told Me So b/w Let's Talk About Jesus | 1962 |
| Revelation 145 | Young, Dewey | Dewey Young and the Flying Clouds | He's A Round b/w Guide My Mind | 1962 |
| Revelation 146 | Brown, Leola | Leola Brown Radio Gospel Chorus with Hattie Williams | Holding To His Hand b/w Never Turn Back | 1962 |
| Revelation 147 | Williams and Seven Saints, Bishop | | I Can Hear Them Crying b/w He Will Take Care of Me | 1962 |
| Revelation 148 | Capitol City Stars | | Some Day b/w Good News | 1962 |
| Revelation 149 | Sacred Harmonizers | | I'll Be Ready When God Calls Me b/w She's Waiting For Me | 1962 |
LP releases:

| release | artist | artist as shown | title | year |
| --- | --- | --- | --- | --- |
| Revelation LP 5001 | Various | | The Gospel Caravan | c. 1962 |
| Revelation LP 5002 | Young, Dewey | Dewey Young and the Flying Clouds | God Bless Our Home | c. 1962 |
| Revelation LP 5003 | Cross Jordan Singers | | Who Will Wake Me In The Morning | c. 1962 |