Aladdin gospel discography (1946-55)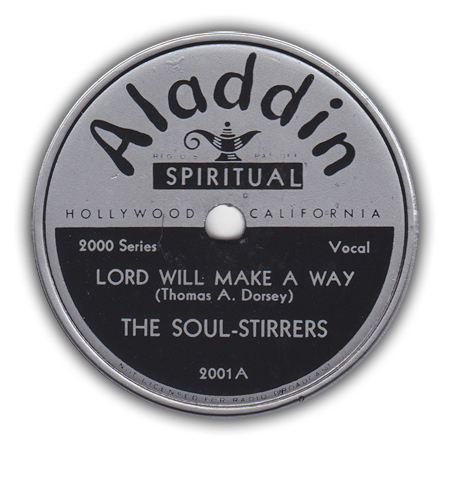 Aladdin, from Hollywood, California, was founded in 1945 by Eddie, Leo and Ira Mesner and was initially called Philo Recordings. In April 1946 it became Aladdin. The label had several subsidiary labels such as Score, Intro, 7-11 and Lamp.
The Mesners sold the entire Aladdin catalog to Lew Chudd's Imperial Records on February 12, 1962.
The 2000-series started with #2001 and ended with #2040. Most of the missing numbers in this series are unreleased, except for #2006, which is a secular release by Al Hibbler.
Gospel acts who recorded for Aladdin but didn't have anything released, include the Gospel Stirrers, Rev. Alex Mims and the Virginia Sons Of Harmony.
This page lists all known Aladdin gospel releases. Likely, none of them were released in the 45rpm format.
78rpm releases:

| release | artist | artist as shown | songs | year |
| --- | --- | --- | --- | --- |
| Aladdin 2001 | Soul Stirrers | Soul-Stirrers | Lord Will Make A Way b/w Steal Away | 1946 |
| Aladdin 2002 | Soul Stirrers | Soul-Stirrers | Remember Me b/w Golden Bells | 1946 |
| Aladdin 2003 | Soul Stirrers | Soul-Stirrers | Lord, I've Tried b/w Elijah | 1947 |
| Aladdin 2004 | Soul Stirrers | Soul-Stirrers | His Eye Is On The Sparrow b/w I Want To Rest, Lord, Rest | 1947 |
| Aladdin 2005 | Soul Stirrers | Soul-Stirrers | One Day b/w There'll Be No More Sorrow | 1947 |
| Aladdin 2007 | Soul Stirrers | Soul-Stirrers | He Knows How Much We Can Bear b/w Some Day | 1947 |
| Aladdin 2008 | Soul Stirrers | Soul-Stirrers | I'm A Soldier In The Army Of The Lord b/w What Could I Do | 1947 |
| Aladdin 2009 | Soul Stirrers | Soul-Stirrers | I Thank You, Lord b/w You Got To Move | 1947 |
| Aladdin 2010 | Soul Stirrers | Soul-Stirrers | Ride On King Jesus b/w Canaan Land | 1947 |
| Aladdin 2011 | Mickels and his Gospel Three, Rev. L.C. | Reverend L.C. Mickels and his Gospel Three | A Friend Above All Others b/w Oh Lord, I'm In Your Care | 1947 |
| Aladdin 2012 | Mickels and his Gospel Three, Rev. L.C. | | I Shall Never Forget What He's Done For Me b/w If I Could Only Hear My Mother Pray Again | 1947 |
| Aladdin 2013 | Mickels and his Gospel Three, Rev. L.C. | | He Knows How Much We Can Bear b/w Master Savior, Don't Pass Me By | 1947 |
| Aladdin 2014 | Martin, Sallie | Sally Martin and her Singers Of Joy | Four And Twenty Elders b/w Jesus Steps Right In | 1947 |
| Aladdin 2015 | Martin, Sallie | Sally Martin and her Singers Of Joy | You Know, Lord b/w He's A Friend Of Mine | 1947 |
| Aladdin 2016 | Martin, Sallie | Sally Martin and her Singers Of Joy | Even Me, Even Me b/w Just A Few Days To Labor | 1947 |
| Aladdin 2017 | Willett, Sister Dorothy Mae | Sister Dorothy Mae Willett with Reverend L.C. Mickels and his Gospel Three | I Believe b/w Jonah | 1947 |
| Aladdin 2018 | Soul Stirrers | Soul-Stirrers with Willie Eason | Why I Like Roosevelt, Pt. 1 b/w Why I Like Roosevelt, Pt. 2 | 1947 |
| Aladdin 2019 | Soul Stirrers | Soul-Stirrers | Go Ahead b/w Blessed Quietness | 1947 |
| Aladdin 2020 | Soul Stirrers | Soul-Stirrers | Working On The Building b/w All Alone | 1948 |
| Aladdin 2021 | Soul Stirrers | Soul-Stirrers | I'm Willing To Run All The Way b/w Never Turn Back | 1948 |
| Aladdin 2022 | Soul Stirrers | Soul-Stirrers | I Have A Friend Above All Others b/w A Little Talk With Jesus | 1948 |
| Aladdin 2023 | Willett, Sister Dorothy Mae | Sister Dorothy Mae Willett with rhythm accompaniment | I'm Going To Live A Life That I Sing About b/w Stand Still | 1948 |
| Aladdin 2024 | Soul Stirrers | Soul-Stirrers | Dig A Little Deeper b/w This Is My Prayer | 1948 |
| Aladdin 2025 | Soul Stirrers | ? | Pearl Harbor, Part 1 b/w Pearl Harbor, Part 2 | 1949 |
| Aladdin 2026 | Soul Stirrers | Soul-Stirrers | Lift Him Up b/w Jesus Traveled This Road Before | 1949 |
| Aladdin 2027 | Soul Stirrers | ? | Glory Glory, Hallelujah b/w Lord Jesus | 1949 |
| Aladdin 2028 | Soul Stirrers | | My Life Is In His Hands b/w Silent Night | 1949 |
| Aladdin 2029 | Soul Stirrers | | Seek And Ye Shall Find b/w One Of These Days | 1950 |
| Aladdin 2031 | Soul Stirrers | ? | Goin' On With The Spirit In Jesus b/w End Of My Journey | 1950 |
| Aladdin 2035 | Soul Stirrers | Soul-Stirrers | John Saw The Holy Number b/w Well, Well! | 1950 |
| Aladdin 2036 | Zion Travelers | | Charge To Keep I Have b/w Stand By Me | 1953 |
| Aladdin 2037 | Soul Stirrers | Soul-Stirrers | Does Jesus Care? b/w My Journey To The Sky | 1953 |
| Aladdin 2038 | Zion Travelers | | Your Wicked Ways b/w Last Days | 1953 |
| Aladdin 2039 | Jewell Gospel Singers | | At The Cross b/w Rest, Rest, Rest | 1953 |
| Aladdin 2040 | Jewell Gospel Singers | | I Shall Know Him b/w Over There | 1953 |
| Aladdin 3299 | Royal Travelers | | Drinkin' My Tears For Water b/w Yes It's Me, Lord, That Came To Thee | 1955 |