Gospel Corner discography (c. 1964-73)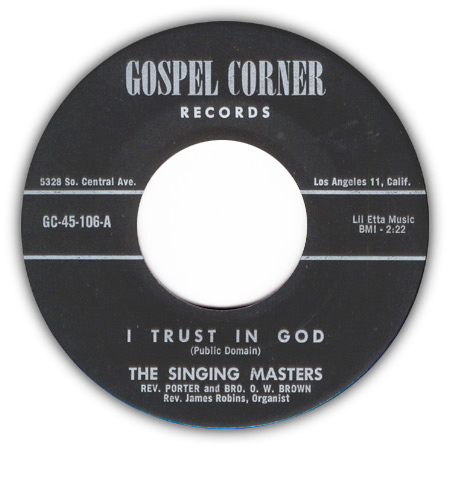 Gospel Corner was one of Brother Henderson's labels, located in Los Angeles, CA. Henderson (a.o.) started the Proverb label in February 1959 and Gospel Corner followed in 1964. Throughout the 1960's both labels were located at the same address (5328 S. Central Avenue). Probably in 1971, Kent Gospel Records took over distribution, then became the main company and the Gospel Corner and Proverb names were dropped. Brother Henderson remained active with Kent Gospel Records until his demise in 1973. See the Proverb label page for more information.
Some Gospel Corner 45's were issued twice, which is a bit confusing. There were two label designs in use, which you can see here.
Starting with #107, the labels mention "Subsidiary of Proverb Records". The 45's with the second label lay-out did not mention Proverb and were distributed by Kent Gospel Records, like most of the LP issues.
Gospel Corner 1000 (Los Angeles Travelers b/w Gospel Five) was also released on Proverb 1019.
Gospel Corner 1001 (Fantabulous Little Joe) is mentioned on the back cover of Proverb LP 5000; no song titles are given and #1001 is otherwise an unknown release.
In other discographies Gospel Corner 108 by Brother Henderson is listed as number 103. It's my belief that 108 is the correct number. It has been printed kinda vaguely on the labels of the copy I own (and also on the one I owned before) and if that's the case with all copies a mistake can easily be made. But #108 is in the dead wax and if it would be #103, the labels should have been black with silver lettering and shouldn't mention "Subsidiary of Proverb Records". #103 was formerly unknown but I found a copy recently (Rev. Clinton Moore).
Gospel Corner 103 mentions the LP "The Brighter Day"; this is an otherwise unknown album. It's listed below in the LP discography but maybe this LP was actually released on Proverb, as Rev. Clinton Moore has two other LP releases on Proverb (also mentioned on 45's and otherwise unknown).
Gospel Corner 116 seems to have been released twice, both versions are by Prince Dixon and the  b-sides appear to be different.
Gospel Corner 122 and 123 feature the same group ("Sweet Singing" Cavaliers) and the same songs (though the a-side and b-side are flipped).
Gospel Corner LP 500 (Prince Dixon) has been released with two different titles. First it was released as "Another Child Of God" (no mention of Kent Gospel Records), then as "Something Is Wrong". Apart from the album titles, the covers and track listings are also slightly different.
Although mentioned on Gospel Corner 147 (Inspirational Souls), it's doubtful if the LP "Won't Have To Cry Nomore" exists. I assume that the single should have been referring to LP 507 ("The Letter"), which features this song.
All years given are estimates, there may be several errors.
This page lists all known Gospel Corner issues, 45's and LP's. No details on the missing numbers.
45rpm releases:

| release | artist | artist as shown | songs | year |
| --- | --- | --- | --- | --- |
| Gospel Corner 1000 | Los Angeles Travelers b/w Gospel Five | | Just A Closer Walk To Thee b/w Just A Closer Walk To Thee (instr.) | 1964 |
| Gospel Corner 1001 | Fantabulous "Little Joe" | | unknown titles | 1964 |
| Gospel Corner 100 | Trimble, Sister Marie | | Go Ahead b/w I Have A Right | 1964 |
| Gospel Corner 101 | Hamptonaires | Hampton-Aires of Memphis , Tenn. | It's A Blessing b/w We Don't Thank Him Enough | 1965 |
| Gospel Corner 102 | Jasper, Rev. W.E. | Rev. W.E. Jasper and Choir of Little Rock, Ark. b/w Rev. W.E. Jasper of Little Rock, Ark. | Last Mile Of The Way b/w Father I Stretch My Hand To Thee | 1965 |
| Gospel Corner 103 | Moore, Rev. Clinton | | God Specializes, Pt. 1 b/w God Specializes, Pt. 2 | 1965 |
| Gospel Corner 104 | Hamptonaires | | See How Far We've Come b/w Who Wouldn't Serve A God | 1965 |
| Gospel Corner 105 | Nu-Lite Gospel Singers | Nu-Lite Gospel Singers of Kansas City, MO | Wonderful b/w My Desire | 1965 |
| Gospel Corner 106 | Singing Masters | | I Trust In God b/w The Sun Will Shine | 1965 |
| Gospel Corner 107 | Robbins, Rev. James | | By The Grace Of God b/w Closer Walk | 1965 |
| Gospel Corner 108 | Page-Ettes of Seaside, Calif. | | Hold On To God, Pt. 1 b/w Hold On To God, Pt. 2 | 1966 |
| Gospel Corner 108 | Henderson, Brother | Brother Henderson and Melvin Boyd, Ohio Wonders b/w Brother Henderson and Pilgrim Travelers | A Prayer Of Faith, Pt. 1 b/w A Prayer Of Faith, Pt. 2 | 1966 |
| Gospel Corner 110 | Zion Travelers | | Amazing Grace, Pt. 1 b/w Amazing Grace, Pt. 2 | 1966 |
| Gospel Corner 110 | Dixon, Prince | Brother Prince Dixon | They Don't Live Here Anymore b/w I'm Going Home | 1967 |
| Gospel Corner 112 | Voices of Jerusalem of Long Beach, Calif. | | Kneel At Jesus Feet b/w Ain't Nobody's Business | 1967 |
| Gospel Corner 113 | Gospel Tones of Las Vegas, Nev. | | Arms Around Me b/w That's All I Need | 1967 |
| Gospel Corner 114 | Birden, Rev. C.L. | | Prayer b/w Say A Prayer For Me | 1967 |
| Gospel Corner 115 | Evangelistic Crusaders of San Jose, Calif. | | So God Can Use You b/w In Love With Jesus | 1967 |
| Gospel Corner 116 | Dixon, Prince | The Small One Prince Dixon | Stop-Look And See b/w Child Of The King | 1967 |
| Gospel Corner 116 (2) | Dixon, Prince | The Small One Prince Dixon | Stop-Look And See b/w Don't Let The Devil Ride | 1967 |
| Gospel Corner 117 | Cavaliers | Sweet Singing Cavaliers | All I Need b/w Must Jesus Bear | 1967 |
| Gospel Corner 118 | Angels of Joy | Clarence Ligon and Angels of Joy | Mighty Christian Soldier b/w There's A Man | 1967 |
| Gospel Corner 119 | Housley and Family of Oakland, Calif., Rev. Thomas | | Goodby World [sic] b/w God Is A Wonder | 1967 |
| Gospel Corner 120 | Chambers Jr., Rev. T.M. | | That Man Jesus, Pt. 1 b/w That Man Jesus, Pt. 2 | 1967-68 |
| Gospel Corner 121 | Gospel Tones of Las Vegas, Nev. | | I'm Going Home b/w You Ought To Pray | 1967-68 |
| Gospel Corner 122 | Dixon, Prince | The Small One-Prince Dixon | April 4th, 1968 b/w Steal Away | 1968 |
| Gospel Corner 122 | Cavaliers | "Sweet Singing" Cavaliers | Hide Me b/w I Call On Jesus | 1968 |
| Gospel Corner 123 | Cavaliers | "Sweet Singing" Cavaliers | I Call On Jesus b/w Hide Me | 1968 |
| Gospel Corner 124 | Spiritual Five of Sacramento | | God's Own Set Time b/w On My Mind | 1968 |
| Gospel Corner 125 | Dixon, Prince | The Small One Prince Dixon | The Lord Has A Blessing b/w Home Don't Seem Like Home | 1968 |
| Gospel Corner 125 | Ohio Wonders | Melvin Boyd and the Fabulous Ohio Wonders b/w Fabulous Ohio Wonders | I'm Going To Work b/w Why Should I Feel | 1968 |
| Gospel Corner 127 | Robinson, Madame Nellie | | Mini-Your-Dress Is Too Short b/w Viet Nam | 1968 |
| Gospel Corner 128 | Dixon and Sis. Walter Paige, Prince | | Another Child Of God b/w Jesus, He's The One | 1968 |
| Gospel Corner 128 (2) | Dixon, Prince | Small-One Prince Dixon | Another Child Of God b/w We Used To Have A Good Time | 1972 |
| Gospel Corner 129 | Paige, Sis. Walter | Sis. Walter Paige of Denver, Colo. | For The Time I've Lost b/w The Last Say | 1968 |
| Gospel Corner 130 | Sensational Travelers of Richmond, Calif. | | Thank The Lord b/w Satan Can't Win | 1968 |
| Gospel Corner 131 | Ohio Wonders | | No Short Cuts To God b/w Jordan River | 1968-69 |
| Gospel Corner 132 | Sensational Harmonizers of Sacramento, Calif. | | Wait On The Lord b/w Hold On, Stretch Out | 1969 |
| Gospel Corner 133 | Little West and Group-Ettes of Sacramento | | Glory Glory b/w He'll Understand | 1969 |
| Gospel Corner 134 | Victory Five of Sacramento | | John, Pt. 1 b/w John, Pt. 2 | 1969 |
| Gospel Corner 135 | Dixon, Prince | | Keep On Fighting b/w The Crying Mother | 1969 |
| Gospel Corner 136 | Lady Byrd | | Never Grow Old b/w I'll Fly Away | 1969 |
| Gospel Corner 137 | Gospel Tones of Las Vegas, Nev. | Gospel Tones | Who Wrote the Map b/w Don't Have to Worry | 1969 |
| Gospel Corner 137 | Bro. Dailey's Phoenix-Tones | | There's A Way b/w Other Side Of The River | 1969 |
| Gospel Corner 138 | Mighty Gospel Revelators of San Diego | | Lord God b/w Prayer Is The Answer | 1969 |
| Gospel Corner 139 | Angels of Joy | | Shall Not Be Moved b/w I Love The Lord | 1969-70 |
| Gospel Corner 140 | Supreme Nightingales of Miss. | | I Know A Man b/w There Are Mansions | 1969-70 |
| Gospel Corner 141 | Glover, Kenneth | | Showers Of Blessings b/w Waited So Long | 1970 |
| Gospel Corner 142 (2) | Cavaliers | "Sweet Singing" Cavaliers | Peace And Love b/w Let Him Lead You | 1970 |
| Gospel Corner 142 (2) | Inspirational Souls | | He's My Everything b/w Waiting On The Lord | 1970 |
| Gospel Corner 143 | Magnificent Voices of Holiness | | Cheer Up My Brother b/w I'm Going To Work | 1970 |
| Gospel Corner 144 | Snead, Rev. Willie T. | | I'm Going Through b/w At The Throne Of Grace | 1970-71 |
| Gospel Corner 145 | Mighty Gospel Revelators of San Diego | "Jumping-Singing" Sammie Graham and Gospel Revelators of San Diego | I'm On My Way b/w How Great Thy Art | 1971 |
| Gospel Corner 145 (2) | Glover, Kenneth | | Just A Little While, Pt. 1 b/w Just A Little While, Pt. 2 | 1971 |
| Gospel Corner 145 (3) | Oxnard Jubilees | | Jericho Road b/w Didn't It Rain | 1971 |
| Gospel Corner 146 | Dixon, Prince | | Something Is Wrong b/w Going Home | 1971 |
| Gospel Corner 147 | Inspirational Souls | | Won't Have To Cry Nomore b/w Trying To Make A Hundred | 1972-73 |
| Gospel Corner 148 | Snead, Rev. Willie T. | | The Lord Will Make A Way b/w Prayer | 1972-73 |
| Gospel Corner 149 | Angels of Joy | | Mr. President b/w Don't Let The Devil Fool You | 1972-73 |
LP releases:

| release | artist | artist as shown | title | year |
| --- | --- | --- | --- | --- |
| Gospel Corner LP (?) | Moore, Rev. Clinton | | The Brighter Day | c. 1965 |
| Gospel Corner LP 500 | Dixon, Prince | "The Small One" Prince Dixon | Another Child Of God | 1970 |
| Gospel Corner LP 501 | Snead, Rev. Willie T. | | Headline Maker Or Headline Reader (sermon) | 1971-72 |
| Gospel Corner LP 502 | Chambers Jr., Rev. T.M. | | The Sermon From The Pig Pen (sermon) | 1972 |
| Gospel Corner LP 503 | Cavaliers | "Sweet Singing" Cavaliers | Peace And Love | 1972 |
| Gospel Corner LP 504 | Snead, Rev. Willie T. | | I Got What I Wanted, But Lost What I Had | 1972 |
| Gospel Corner LP 505 | Chambers Jr., Rev. T.M. | | A Fool On A Mule, In The Middle Of The Road (sermon) | 1972-73 |
| Gospel Corner LP 506 | Henderson, Brother | Minister Henderson | You Had It All The Time, Now Use It (sermon) | 1972-73 |
| Gospel Corner LP 507 | Inspirational Souls | Inspirational Souls of Los Angeles, California | The Letter | 1972-73 |
| Gospel Corner LP 508 | Angels of Joy | | ? | 1972-73 |
| Gospel Corner LP 510 | Hines, Rev. Marvin | | ? | 1972-73 |
| Gospel Corner LP 511 | Evans, Rev. J.W. | | The Story Of The Worms (sermon) | 1972-73 |
| Gospel Corner LP 515 | Mighty Gospel Revelators of San Diego | Mighty Gospel Revelators of San Diego, California | How Great Thou Art | 1972-73 |
| Gospel Corner LP 516 | Dixon, Prince | "Small One" Prince Dixon | Somebody Bigger Than You And I | 1972-73 |
| Gospel Corner LP (?) | Lumpkin, Rev. W.J. | | Old Fashioned Church Service (sermon) | 197? |