Fine Art gospel discography (c. 1957-63)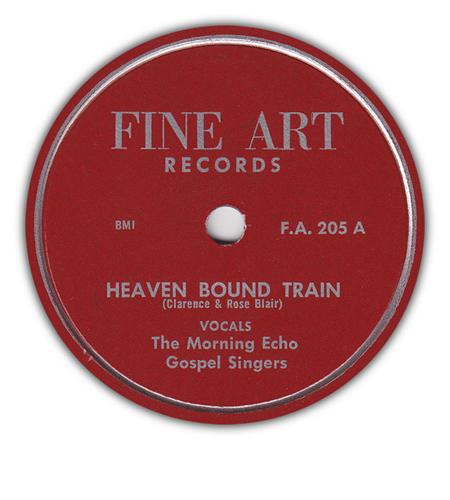 Fine Art was a label from Detroit MI, in operation from c. 1952 to 1967. The label released secular material as well. It seems that all gospel issues on Fine Art came with red labels.
Fine Art 208 may have been released with #210 as well.
Fine Art 237 was released twice (Leroy Cannon and Lois Miles).
This page lists all known Fine Art gospel issues.
78 & 45rpm releases:

| release | artist | artist as shown | songs | year |
| --- | --- | --- | --- | --- |
| Fine Art 205 | Morning Echo Gospel Singers | | Heaven Bound Train b/w God Knows The Reason Why | c. 1957 |
| Fine Art 208 | Lampkin, Willie | Willie Lampkin and the Lampkin Singers b/w Willie Lampkin | I Say A Prayer Every Night b/w No Place To Lay His Head | 1958 |
| Fine Art 213 | Gospelite Singers of Detroit | | Since I Gave My Heart To The Lord b/w I Found The Key To My Fathers Kingdom | c. 1959 |
| Fine Art 215 | Velvet-Aires of Philadelphia, PA. | | Since I Gave My Heart To The Lord b/w Call Up Heaven | 1960 |
| Fine Art 216 | Nixon, Milt | | In Darkness b/w Judgement | 1960 |
| Fine Art 218 | Lampkin, Willie | Willie Lampkin, the Lampkin Singers | I Have No Time For Sin b/w Lord I Wanna Go | 1960 |
| Fine Art 219 | Heavenly Chanters | | Honor b/w Go Down Moses | 1960 |
| Fine Art 220 | Accapels | | Ezekiel Saw De Wheel [sic] b/w I've Been Saved | 1960 |
| Fine Art 224 | Zion Harmonaires of Philadelphia, PA. | | He Bled And Died b/w I Want To Know More About Jesus | 1961 |
| Fine Art 225 | Zion Harmonaires of Philadelphia, PA. | | Friend In Jesus b/w Going Up To Heaven | 1961-62 |
| Fine Art 227 | Hemphill and Family, Doris | | On Jordan's Stormy Bank b/w A Way Out Of No Way | 1962 |
| Fine Art 229 | Original Sacred Stars of Philadelphia, PA. | | Wait On The Lord b/w I Want The World To Know (I Have A Savior) | 1962 |
| Fine Art 232 | Ambassadors Male Chorus | | I Want Jesus To Walk With Me b/w Stand Your Test In Judgment | 1962 |
| Fine Art 233 | James and Wings of Joy, Sister Ella Mae | | Just Jesus And I b/w Sell Out Today | 1962 |
| Fine Art 234 | Bible Tone Gospel Singers | | Holy Ghost Moving b/w Christ Is All | 1962 |
| Fine Art 235 | Camp, Connie b/w James Mitchell | | More Praise b/w The Lord's Prayer | 1963 |
| Fine Art 236 | Singing Angels of Brunswick, GA. | | The Ten Virgins b/w Jesus Got A Hold Of My Hand | 1964 |
| Fine Art 237 | Cannon and his Religious Combo of Phila, PA., Leroy | | March On Washington b/w It Was A Sad Day | 1964 |
| Fine Art 237 | Miles, Lois | | Some Time I Feel Like A Motherless Child b/w Joshua Fit The Battle Of Jerico | 1964 |
| Fine Art (?) | Bethalonians | | I Found The Key To My Father's Kingdom b/w unknown title | 196? |