Score gospel discography (1948-58)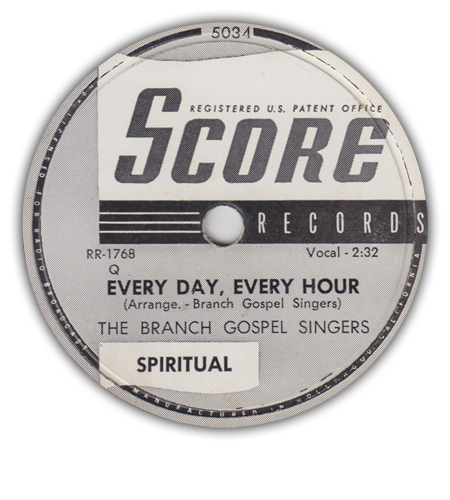 Score was subsidiary label of Aladdin, with a 5000 series devoted to gospel. In the late 1950's the Score label name was used for a line of budget LP's, most of which became quite collectable. One gospel LP was released in this series: Score LP 4021 by the Trumpeteers.
Score 5016 (Trumpeteers) is unissued ("My Trouble Is Hard").
Score 5053 and 5054 have been released twice.
This page list all known Score gospel releases.
78 & 45rpm releases:

| release | artist | artist as shown | songs | year |
| --- | --- | --- | --- | --- |
| Score 5001 | Trumpeteers | | Milky White Way b/w Handwriting On The Wall | 1948 |
| Score 5002 | Trumpeteers | | Packing Up b/w At The Cross I'll Bow | 1948 |
| Score 5003 | Trumpeteers | | Servant Prayer Amen b/w Didn't It Rain | 1948 |
| Score 5004 | Trumpeteers | | Little Wooden Church b/w Blind Barnabas | 1948 |
| Score 5005 | Trumpeteers | | When I've Done My Best b/w Freedom | 1948 |
| Score 5006 | Trumpeteers | | I Want To Die Easy b/w Get Away, Jordan | 1948 |
| Score 5007 | Spiritual Five | | Precious Lord b/w Savior Don't Pass Me By | 1949 |
| Score 5008 | Golden Crown Quartet | | A Soldier's Plea b/w Run For A Long Time | 1949 |
| Score 5008 | Trumpeteers | | Gospel Train b/w Been In The Storm So Long | 1949 |
| Score 5010 | Trumpeteers | | Rock My Soul b/w It's A Blessing To Call My Savior's Name | 1949 |
| Score 5011 | Trumpeteers | | I'm So Glad Trouble Don't Last Always b/w Babylon's Fallen | 1949 |
| Score 5012 | Trumpeteers | | There's A Light Shining In The Heaven For Me b/w John The Revelator | 1949 |
| Score 5013 | Golden Crown Quartet | | My God Called Me This Morning b/w Lift Jesus Up | 1949 |
| Score 5014 | Trumpeteers | | Lord, Ease My Troublin' Mind b/w Just A Little Talk With Jesus | 1949 |
| Score 5015 | Trumpeteers | | Journey To The Sky b/w Stretch Out | 1950 |
| Score 5017 | Simmons-Akers Trio | | It Means A Lot To Know Jesus For Yourself b/w Didn't It Rain | 1950 |
| Score 5018 | Simmons-Akers Trio | | I Want A Double Portion Of God's Love b/w Open Up The Pearly Gates | 1950 |
| Score 5019 | Trumpeteers | | Noah b/w By And By | 1950 |
| Score 5020 | Flying Clouds of Pensacola | | Ain't No Stranger Now b/w Move In The Room With The Lord | 1950 |
| Score 5021 | Trumpeteers | | The Service Of The Lord b/w Jesus' Love Bubbles Over | 1950 |
| Score 5022 | Trumpeteers | | Right To The Tree Of Life b/w There's A Man In Jerusalem | 1950 |
| Score 5023 | Trumpeteers | | The Mighty Number b/w The Motherless Child | 1950 |
| Score 5024 | Trumpeteers | | Don't You See b/w Gideon And The Sword | 1950 |
| Score 5025 | Trumpeteers | | Use Me, Lord b/w Job And Satan | 1951 |
| Score 5026 | Trumpeteers | | Till He Comes b/w Lord, I Wish I Had Heard You | 1951 |
| Score 5027 | Mount Zion Jubalaires | | Jesus Pleading For Me b/w Oh Today | 1951 |
| Score 5028 | Mount Zion Jubalaires | | Rest For The Weary b/w Prayer Changes Things | 1951 |
| Score 5029 | Mount Zion Jubalaires | | Calling Jesus b/w Where Shall I Be | 1951 |
| Score 5030 | Rising Star Gospel Singers | | Telephone Line b/w I Trust In God | 1951 |
| Score 5031 | Trumpeteers | | Lord In My Soul b/w In The Bosom Of Abraham | 1951 |
| Score 5032 | Traveling Four | | Wake Up b/w Too Late | 1951 |
| Score 5033 | Trumpeteers | | Live The Life I Sing About b/w Run On | 1951 |
| Score 5034 | Branch Gospel Singers | | Jesus Is Real To Me b/w Every Day, Every Hour | 1951 |
| Score 5035 | Traveling Four | | Give Me Jesus b/w Mother Called Her Children | 1952 |
| Score 5036 | Sister Elizabeth Phillips | | A Little Old-Fashioned b/w There's Nothing Like The Holy Spirit | 1952 |
| Score 5037 | Branch Gospel Singers | | Tell Jesus All b/w Guide Me, Oh Thou Great Jehovah | 1952 |
| Score 5038 | Sons of Calvary | | Jesus Will Help Me b/w Friend Of Mine | 1952 |
| Score 5039 | Spiritual Kings | | Paul And Silas b/w A Letter To Jesus | 1953 |
| Score 5040 | Traveling Four | | No Love Like Mother's b/w I Ain't Gonna Study War No More | 1953 |
| Score 5041 | Flying Clouds of Pensacola | | When The Saints Go Marching In b/w Move Up Higher | 1953 |
| Score 5042 | Golden Crown Quartet | | Glory Hallelujah b/w I Must See Jesus For Myself Someday | 1953 |
| Score 5043 | Trumpeteers | | My Life Is In His Hands b/w It's A Rough And Rocky Road | 1953 |
| Score 5044 | Sons of Calvary | | Death b/w Humble Yourself | 1953 |
| Score 5045 | Spiritual Five | | Glory, Glory b/w Jesus | 1953 |
| Score 5046 | Soul Stirrers | | Jesus Prayed For You And Me b/w Life's Journey | 1953 |
| Score 5047 | Traveling Four | | Free Lord b/w All On The Altar | 1953 |
| Score 5048 | Traveling Four | | What He Done For Me b/w This Little Light Of Mine | 1953 |
| Score 5049 | Traveling Four | | Shoes, Wings And Harps b/w To Canaan | 1953 |
| Score 5050 | Spiritual Kings | | More Than A Dream b/w My Loved Ones Are Waiting For Me | 1953 |
| Score 5051 | Trumpeteers | | That Awful Man b/w Better Days Are Coming | 1953 |
| Score 5052 | Zion Travelers | | Lord I'll Go b/w Tell Them That You Saw Me | 1953 |
| Score 5053 | Trumpeteers | | Highway To Heaven b/w Seven Angels | 1953 |
| Score 5053 | Jewell Gospel Singers | | At The Cross b/w Rest, Rest, Rest | 1953 |
| Score 5054 | Jewell Gospel Singers | | I Shall Know Him b/w Over There | 1954 |
| Score 5054 | Zion Travelers | | Where Is My Wandering Child b/w Moving Up The Kings Highway | 1954 |
| Score 5055 | Zion Travelers | | I May Never Pass This Way Again b/w If I Could Hear My Mother Pray Again | 1954 |
| Score 5056 | Trumpeteers | | Traveling Shoes b/w Death Gonna Straighten Him | 1955 |
| Score 5057 | Trumpeteers | | Last Passover b/w Leave That Lie Alone | 1955 |
| Score 5058 | Zion Travelers | | Come Over Here b/w I Want To Go Home | 1955 |
LP release:

| release | artist | artist as shown | title | year |
| --- | --- | --- | --- | --- |
| Score LP 4021 | Trumpeteers | | Milky White Way | 1958 |