Bounty gospel discography (1959-69)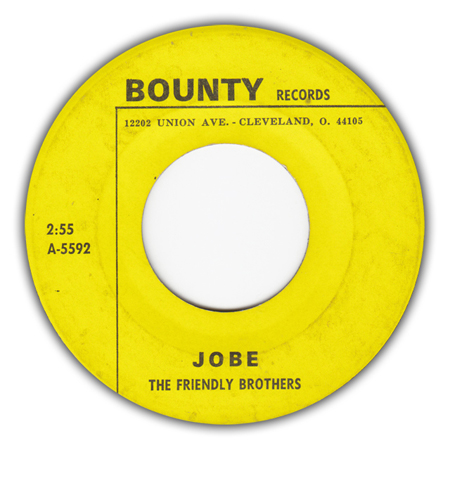 Bounty, Luau, Plaid and Soul Kitchen were run by Tom & Louise Boddie in Cleveland, Ohio. This discography covers the pre-1970 gospel releases (45's and 78's) on these labels.
From 1969 onwards the first two digits of the release numbers indicate the year of release (Bounty, Plaid and Soul Kitchen). On the Bounty label (devoted to gospel from 1966 onwards), releases continued to come out until the second half of the 1980's. Luau was in operation in 1965-1967, Plaid's initial releases were from 1959 with a few more in 1970, one (#145) somewhere in between (?) and possibly one late release from 1977 (#7728, no gospel). Soul Kitchen started in 1967 and quit the scene in 1974.
Luau 5592 and Bounty 5592 feature the same recordings, but it must be said that Luau 5592 has never showed up anywhere as far as I know and the booklet of the Numero box "Boddie Recording Company: Cleveland, Ohio" doesn't mention this release either. It shows eight Luau label scans and mentions a total of sixteen sides for the label, with no mention of the Friendly Brothers 45.
The before mentioned Numero release doesn't feature any recordings released on Plaid, the booklet however mentions an early release (1959) by the Pronoun Gospel Singers. There are no further details on this record and the information could also be inadequate as the releases by the Bright Stars and the Wonderland Gospel Singers are not mentioned, as if they do not exist. The text speaks of two early releases only; the Pronoun Gospel Singers and a secular release by Crown Prince Waterford…
There were more 'Boddie' (related) labels in the 1970's which released gospel, like: Bos, J&W, Justine, LGS, Praise, RS and St. Teresa.
The Effort for Christ Singers and the Happy Valley Singers are white country/sacred groups (releases on Bounty). The Gospel Mountaineers and the Huffman Trio could be white as well, but they're in the Gospel Discography (Laughton/Hayes), so their records are listed. Apparently both releases seem to have the same catalog number.
This page lists all known pre-1970 Bounty gospel releases (Bounty, Luau, Plaid and Soul Kitchen).
45 & 78rpm releases:

| release | artist | artist as shown | songs | year |
| --- | --- | --- | --- | --- |
| Plaid 2 | Bright Stars | Bright Stars of Flint, Michigan | What The Future Holds For Me b/w Couldn't Hear Nobody Pray | 1959 |
| Plaid 3 | Wonderland Gospel Singers | | Come On Up To Glory b/w God Said He Would Move | 1959 |
| Plaid 145 | Pronoun Gospel Singers | | Pray For Me, Mother b/w I Am Going Home | 196? |
| Luau 5592 (?) | Friendly Brothers | | Jobe b/w Near The Cross | 1966 |
| Bounty 5592 ♫ | Friendly Brothers | | Jobe b/w Near The Cross | 1966 |
| Bounty 5594 | Gospel Hebrews | | See About Me b/w Jesus Is All Over Me | 1967 |
| Bounty 5595 | Mitchellairs Gospel Singers | | Trust In Jesus Always b/w Happy With Jesus Alone | 1967 |
| Bounty 5596 | Gospel Mountaineers | | I'm Using My Bible For A Road Map b/w Little Community Church | 1967-68 |
| Bounty 5596 | Huffman Trio | | In Heaven We'll Never Grow Old b/w Jesus Is Passing Along This Way | 1967-68 |
| Bounty 5597 | Free Will Baptist Church | | Such A Wonderful Friend b/w ?? | 1968 |
| Bounty 5598 | Bright Clouds | | It Was God (That Made The Trees) b/w He's Coming Back | 1968 |
| Bounty 5610 ♫ | Master Keys | | Something Got A Hold On Me b/w I Want To Thank You | 1968-69 |
| Bounty 6908 | Leon Brown | | God Is In My Corner b/w On That Day | 1969 |
| Bounty 6913 | Victory Free Baptist Church | | He's Calling You b/w That's The Price You Had To Pay | 1969 |
| Soul Kitchen 0012 ♫ | Master Keys | | Use Me Lord b/w Walking Right | 1968 |
| Soul Kitchen 0013 | Wonders of Faith Gospel Singers | | Traveling On b/w Stop By (And Check Up On Me Jesus) | 1968 |