Acquarian gospel discography (1960's-70's)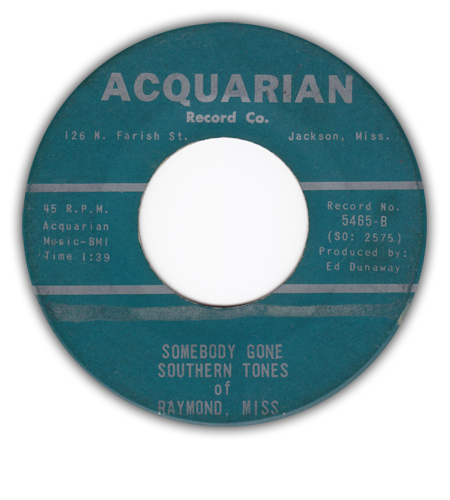 The Acquarian label first operated from Hattisburg, MS, so it seems. The majority of the label's gospel releases shows the Hattisburg address. Later, another studio was opened in Jackson, MS. The 5400 series show either the Hattisburg or the Jackson address, all mixed up, which may indicate that Acquarian had (or used) two studios concurrently, at least for some time. In the late 1960's, again: so it seems, the label moved to Stuttgart, AR. There are only a few gospel releases with this address. Some sources mention releases on this label as late as 1978, possibly from a Memphis, TN. address.
The Acquarian label was run by Calvin Brown. Other names of men involved, were Earl Fox and Rueben Hughes. Affiliated labels include C&F, Central, Downtown, Marathon, Messenger, Riceland and Soul Beat (all information acc. to the R&B Indies).
The years given are all estimates. It's likely that all 45's and EP's listed are from the 1960's, except for a few 45's, listed at the end of the 45rpm listing.
The number of Acquarian 9214/15 (Hazel Chandler) could be incorrect – maybe it's 9215/16.
Acquarian 6459 (Willie Morganfield) was reissued on Jewel 106, Acquarian 6460 (Williams Sisters) on Jewel 107, #5462 (Traveling Echoes) on Jewel 108, #5469 (Mighty Stars of Harmony) on Jewel 102, #5475 (Mighty Stars of Harmony) on Jewel 113.
This page lists all known Acquarian gospel releases (45's and EP's).
45rpm releases:

| release | artist | artist as shown | songs | year |
| --- | --- | --- | --- | --- |
| Acquarian 94 | Spirit of Springfield | | Got a Good Thing (Working With The Lord) b/w Soul Power | |
| Acquarian 100 | Singing Southern Jubilees of Memphis, Tenn. | | What Tomorrow Will Bring b/w A Christian's Duty | 1960 |
| Acquarian 101 | Jackson, Emily | | He's My Everything b/w Christ Is The Answer | 1960 |
| Acquarian 352 | Morganfield, Willie | | Only The Lord Is Able To Help Us b/w I Can't See Why | 1960 |
| Acquarian 6457 | Morganfield, Willie | | Can I Ride b/w What Is This | 1961 |
| Acquarian 6458 | Hamptonaires | Hamptonaires of Memphis, Tenn. | Truth Is Going To Shine b/w Tell Me Why | 1961-62 |
| Acquarian 6459 | Middle Georgia Singers of Macon, GA | | Your Close Friend b/w Guide My Mind | 1961-62 |
| Acquarian 6459 | Morganfield, Willie | | Best Friend I Ever Had b/w Right Now Is The Right Time | 1961-62 |
| Acquarian 6460 | Williams Sisters | William Sisters [sic] of Lexington, Miss. | Keeps Me Singing All The Time b/w He's Got Everything You Need | 1961-62 |
| Acquarian 6460 | Southern Echoes of Memphis, Tenn. | | I'm Going To The City b/w When This Journey Has Ended | 1961-62 |
| Acquarian 6461 | Sensational Jubalaires of Memphis, Tenn. | | My Time Is Winding Up b/w Somebody Is Gone | 1961-62 |
| Acquarian 6462 | True Tones of New Orleans, LA | Isaac Haney and the True Tone Gospel Singers of New Orleans, LA | He'll Meet Me At The River, Pt. 1 b/w He'll Meet Me At The River- Pt. 2 | 1961-62 |
| Acquarian 6463 | Spiritual Q.C.'s of Tupelo, Miss. | | Moving Up b/w Never Mind | 1961-62 |
| Acquarian 6464 | Morganfield, Willie | Willie Morganfield of Memphis, Tenn. b/w Willie Morganfield and Florence Morganfield | I Have Made Connections b/w He Works That Way | 1962 |
| Acquarian 6465 | Golden Chords of Baton Rouge, LA | | When I Get Home b/w God Will Supply My Every Need | 1962 |
| Acquarian 6466 | True Tones of New Orleans, LA | True Tones of New Orleans, LA b/w Issac Haney and True Tones of New Orleans, LA | Friday Morning, Pt. 1 b/w Friday Morning, Pt. 2 | 1962 |
| Acquarian 6467 | Middle Georgia Singers of Macon, GA | Middle Georgia Singers of Macon, Georgia | When I Get Old And Feeble b/w Call On Jesus | 1962 |
| Acquarian 6468 | Brooks Singers of Benoit, Miss., Ray | | I'm Going Through b/w He'll Keep You Safe From Harm | 1962 |
| Acquarian 6469 | Watkins of Mobile, Ala., E. Tiny | | Blow Gabriel b/w Assurance | 1962 |
| Acquarian 6471 | Morganfield, Willie | | I Can't Let My Saviour Down b/w Why I Love The Lord | 1962 |
| Acquarian 6472 | McGee, Ernest Ray | | This Is The Way I Do b/w If You Just Keep Still | 1962-63 |
| Acquarian 6473 | Lands and St. Lucy Spiritual Songmakers, Rev. Mrs. J.C. | | Before b/w Wonderful Time | 1962-63 |
| Acquarian 13749/50 | Young and Albuquerque Spiritual Singers of Albuquerque, New Mexico, Eugene | | Will You Meet Me b/w Went In The Valley | 1961-63? |
| Acquarian 9209/10 | Lands of Baton Rouge, LA, Rev. J.C. | | I Have Made My Decision b/w In Times Of Trouble | 1962-63 |
| Acquarian 9211/12 ♫ | Traveling Echoes | Traveling Echoes of Louisville, KY | You Don't Know Like I Know b/w Never No More | 1963 |
| Acquarian 9213/14 | Southern Faith Singers of Chicago, Ill. | | Take Away My Sin b/w The Lord Is Good | 1963 |
| Acquarian 9214/15? | Chandler of Memphis, Tenn., Hazel | | Open Your Heart b/w Hurry Back To God | 1963 |
| Acquarian 9933/34 | William and Brown Singers of Memphis, Tenn. | | You Better Leave Me Alone b/w He's Pleading | 1963 |
| Acquarian 9935/36 | Missionary Gospel Singers | | Lord You Been Good b/w On The Other Side | 1963 |
| Acquarian 5461 | Spiritual Echoes of Springfield, IL | | There Is No Other Name (Like Jesus Name) b/w Serving The Lord Is A Full Time Job | 1964-65 |
| Acquarian 5462 | Traveling Echoes | | Where Is The Road That Leads Home b/w I Love The Lord | 1964-65 |
| Acquarian 5463 | Five Star Harmonizers | Five Star Harmonizers of Columbus, Ohio | Jesus Is Mine b/w Jesus Is On My Side | 1965 |
| Acquarian 5464 | Williams Sisters | Williams Sisters of Lexington, Miss. | When I Was Lost And Troubled b/w If You Have Problems | 1965 |
| Acquarian 5465 | Southern Tones of Raymond, Miss. | | Soon I'll Be At Rest b/w Somebody Gone | 1965 |
| Acquarian 5466 | Briggs of Memphis, Tenn., Annie Mae "Mister" | | Don't Give Up b/w Jesus Is My Friend | 1965 |
| Acquarian 5467 | Christland Wonders of Pine Bluff, Ark. | | You Need The Lord b/w The Way You Live | 1965-66 |
| Acquarian 5468 | Kansas City Melodyaires | | Lord Remember Me b/w Come By Here | 1965-66 |
| Acquarian 5469 | Mighty Stars of Harmony | | My Rock Of Ages b/w I Got To Answer To The Lord | 1965-66 |
| Acquarian 5470 | Reed, Little Yvonne | | Who Wouldn't Serve A God Like This b/w I Found Someone To Set Me Free | 1966 |
| Acquarian 5471 | Trumpetaires of Mobile, Ala. | | Chariot Ride b/w Don't Leave Me Now | 1966 |
| Acquarian 5472 | Mighty Stars of Harmony | | Few More Days b/w God Will Answer (Your Prayer) | 1966 |
| Acquarian 5473 | Reed, Little Yvonne | | My Lord And I Walk Together b/w I Have A Master I Have A Friend | 1966 |
| Acquarian 5475 | Mighty Stars of Harmony | | Everybody's Down On Me b/w Stand By Me Jesus | 1966 |
| Acquarian 5476 | Smith and True Lights of Pascagoula, Miss., Little Yolanda | | He'll Fix It Alright b/w Holding His Hand | 1966 |
| Acquarian 5477 | Bethelhem Travelers of Hattiesburg, Miss. | | Don't Let It Be Said Too Late b/w Going On With Jesus Just The Same | 1966 |
| Acquarian 5478 | Reed, Little Yvonne | Little Yvonne Reed of Mobile, Ala. | God's Moving Hand b/w Hello Sinner | 1966-67 |
| Acquarian 5479 | West End Jubilees of St. Louis, MO | | When This Life Is Over b/w Hide Me In Thy Bosom | 1966-67 |
| Acquarian 5487 | Soul Wonders | | Oh What A Time b/w Old Time Religion | 1966-67 |
| Acquarian ? | Moses King and Georgia All Stars? | | Jesus Will Take Me Home b/w ? | |
| Acquarian 6491 | Aikens, Henry B. Thomas of Memphis, Tenn., Annie Lee | | Have Nobody I Can Depend On (But The Lord) b/w There Is No Secret | 1968-70's? |
| Acquarian 6494 | Pilgrim Travelers of Arkansas | Rev. Larry Blood with the Pilgrim Travelers of Arkansas b/w Arthur Blood with the Pilgrim Travelers of Arkansas | The Goodness Of The Lord b/w Living In A World Of Sin | 1968-70's? |
| Acquarian 6943 | Stuttgart Harmonizers | | A Perfect Day b/w Thank You Lord | 1970's? |
| Acquarian 6945 | Gates, Rev. Harvey | | Price Of Love b/w It's Hard To Live In This Old World | 1978? |
| Acquarian 6989/90 | Five Star Harmonizers | | He Will Answer Prayer b/w Jesus Is Coming | 1970's? |
EP releases:

| release | artist | artist as shown | title | year |
| --- | --- | --- | --- | --- |
| Acquarian EP 6458 | Golden Chords of Baton Rouge, LA | | no title | 1961-62 |
| Acquarian EP 6474 | Morganfield, Willie | Willie Morganfield of Memphis, Tenn. | no title | 1962-63 |