Carrie gospel discography (1961-69)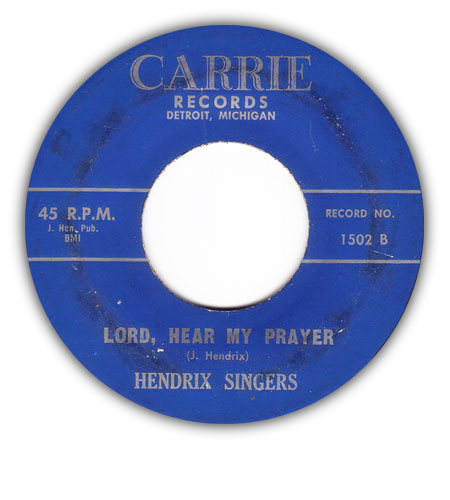 The Carrie label started in Detroit, MI (early 1960's) but the company moved to Nashville, TN in the mid 1960's. The label was in operation until c. 1990. James Hendrix was the label owner.
The Carrie catalogue featured both gospel and secular releases.
There may be several issues missing in the discography and the given years could be inaccurate.
The 45's by the Corder Family (Carrie 382 and 396, the latter was prob. released in 1970-71 and omitted from the discography) were also on Kent LP 569.
Both sides of Carrie 393 (Rev. Amos Jones Jr.) were also on the Rev. Jones LP "I Know The Man" (Carrie LP 2271), released in the early 1970's.
This page lists all known Carrie gospel releases (singles and one EP) from the 1960's. Later releases have been omitted.
45rpm releases:

| release | artist | artist as shown | songs | year |
| --- | --- | --- | --- | --- |
| Carrie 1502 | Hendrix Singers, James | Hendrix Singers | I've Got My Feet On Higher Ground b/w Lord Hear My Prayer | 1961 |
| Carrie 1004 | National Independents | | Talking About Our God b/w I Thank The Lord | 1964 |
| Carrie 6503 | Hill and Singers, Lawrence | | In The Cleft Of The Rock b/w Let Me Hear You Witness | 1965 |
| Carrie 375 | Williams, Rev. Jerry E. | | All I Need b/w The Same Thing Happened To Me | 1967-68 |
| Carrie 381 | King Solomon Bapt. Church Choir | | I Know The Man b/w I Know The Lord Has Laid His Hands On Me | 1968 |
| Carrie 382 | Corder Family | | Oh, Blessed Name Of Jesus b/w I Love The Lord | 1968 |
| Carrie 383 | Bazemore, Louvenia | | He Never Left Me Alone b/w Precious Lord, Take My Hand | 1968-69 |
| Carrie 384 | Baronaires | | I Have A Father Who Can b/w You're Not Gonna Be Up There | 1968-69 |
| Carrie 386 | Rippey Sisters | | Fix Me Lord b/w If You Believe | 1968-69 |
| Carrie 387 | Hall, Phil | | You Can Depend On God b/w It's In My Heart | 1968-69 |
| Carrie 389 | Gospel Stirrers | | Down Here Working b/w Get Your House In Order | 1968-69 |
| Carrie 390 | Hendrix Singers, James | Joseph Jones and the James Hendrix Singers b/w James Hendrix Singers | There's A Power Working In My Life b/w Jesus Calls | 1968-69 |
| Carrie 391 | Williams, Rev. Jerry E. | | I'm Glad That The Lord Let Me Live b/w There Is No Failure In God | 1968-69 |
| Carrie 393 | Jones and the Westwood Bapt. Church Choir, Rev. Amos | | God Maketh No Mistake b/w Carry On | 1968-69 |
EP release:

| release | artist | artist as shown | title | year |
| --- | --- | --- | --- | --- |
| Carrie EP 1485 | M.B. Terrell and Triedstone Bapt. Church Choir, Rev. | | The Little Wooden Church | 1960-61 |