Avant gospel discography (1956 – c. mid 60's)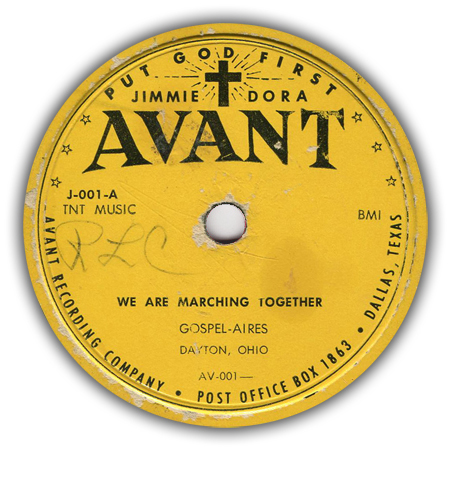 The Avant label was run by Jimmie and Dora Avant in Dallas, Texas.
Avant 058 seems to have been released as by the Bonner Brothers (no 'r' ) as well, the a-side title reading "Wait There Be Joy" instead of "Want There Be Joy".
Avant 106 and 108 seem to have been released twice, this needs confirmation.
This page lists all known Avant gospel singles and one gospel EP. The missing numbers are unknown releases (some numbers may be unreleased/unused).
45 & 78rpm releases:

| release | artist | artist as shown | songs | year |
| --- | --- | --- | --- | --- |
| Avant 001 ♫ | Gospelaires | Gospel-Aires | We Are Marching Together b/w Some People Never Stop To Pray | 1956 |
| Avant 002 | Bells of Paradise | | Make My Enemies Behave b/w Help Me To Run This Race | 1956 |
| Avant 003 | Bells of Paradise | | Jesus Traveled b/w God Said He'll Fix It | 1956 |
| Avant 014 | Southern Gospel Singers | | The Half Has Never Been Told b/w Love Lifted Me | 1956 |
| Avant 020 | Gospelettes of Chattanooga | | Since I Met You Jesus b/w Hide Me | 1956 |
| Avant 034 | Zion Harmonizers | | Lord Don't Leave Me b/w Lord I'll Go | 1956 |
| Avant 042 | Hardeman Singers | | What A Wonderful Saviour I've Found b/w Everlasting Life | 1958 |
| Avant 050 | May, Brother Joe | | Mother Bowed b/w He's Got The Whole World | 1958 |
| Avant 052 | Southern Echoes | Southern Echoes of Chicago, IL. | Life Evening Sun b/w I Know I've Been Born Again | 1958 |
| Avant 053 | Joyful Travelers | Joyful Traveler's | Just Over The River b/w Lord Lift Me Up | 1958 |
| Avant 054 | Sons of Glory | | See What The Lord Can Do b/w I'll Serve Him Until I Die | 1958 |
| Avant 055 | May, Brother Joe | | It's Amazing b/w The Fire Starts Burning | 1958 |
| Avant 057 | Traveling Echoes | | He's A God b/w He's A Waymaker | 1958-59 |
| Avant 058 | Bronner Brothers | | Want There Be Joy b/w I'm Troubled | 1959 |
| Avant 059 | Gospel Knights | | To Me He's So Wonderful b/w Let Me Walk Close To Thee | 1959 |
| Avant 064 | Spirit of Peoria Gospel Singers | | Peace In The Valley b/w Won't It Be Wonderful There | 1959 |
| Avant 065 | Bibletone Gospel Singers | | Jesus b/w I Heard A Voice | 1959 |
| Avant 069 | Dolphus Singers | | I'm Going To Serve The Lord b/w How I Love Jesus | 1959 |
| Avant 071 | Evangelist Gospel Singers | | He Walks And Talks With Me b/w His Yolk Is Easy | 1959 |
| Avant 073 | Jones and his Golden Tone Singers, Brother R.E. | | Said He Would Meet Me b/w It's A Rocky Road | 1959 |
| Avant 074 | Religious Gospel-Aires | | He's My Guiding Light b/w Lord Don't Leave Me | 1959 |
| Avant 075 | Echoes of Joy | | Didn't It Rain b/w Way Back To God | 1959 |
| Avant 078 | Sunshine Harmonettes | | Holy Ghost b/w I'm A Pilgrim | 1959 |
| Avant 079 | Best Gospel Singers | | Come By Here Dear Lord b/w When You Carry the Spirit of God | 1959 |
| Avant 080 | World Singing Gaylocks | | The Rainbow b/w Jesus Came to Save You | 1959 |
| Avant 081 ♫ | Swindell Brothers | Famous Swindell Singers b/w Famous Swindell Brothers | If I Don't Have A Friend b/w I've Been Mourning A Long Time | 1959 |
| Avant 082 | Little Wonders | | I Want To Walk A Little Closer To God b/w When I Get Over In Gloryland | 1959 |
| Avant 083 | Taylor Singers | | Go Down Moses b/w Let's Go to Heaven | 1959 |
| Avant 084 | Four Stars | | That's Enough For Me To Know b/w Way Up On High | 1959 |
| Avant 085 | Six Sons of Joy | | On My Way To See King Jesus b/w Make My Enemies Leave Me Alone | 1959? |
| Avant 087 | Gospel Melodies | | Nobody Knows b/w He Said He Would Move | 1959-60 |
| Avant 088 | Harmonizing Five | | Jesus I Don't Need Nobody Else But You b/w Jesus Is All The World To Me | 1960? |
| Avant 093 | Jones Singers | | Wondering Child b/w In The Morning | 1960? |
| Avant 094 | Southern Nightengales | | Lord Hold My Hand b/w Have You Any Time for Jesus | 1960? |
| Avant 098 | Fairlane Gospel Singers | | He's My Shelter b/w One More River | 1960? |
| Avant 100 | Unknown group ("In memory of the Cincinnatians") | | Step By Step b/w Heavenly Father | 1960? |
| Avant 101 | Stovall Singers | | Time Is Winding Up b/w I'm Going On With Jesus | 196? |
| Avant 105 | Spiritual Jubelettes | | We Are Marching b/w Jesus is a friend | 196? |
| Avant 106 | Gospel Melodies | | I Can See Everybody's Mother b/w Come To Jesus | 196? |
| Avant 106 | Trio Three | | Open Up My Eyes b/w There Is Going To Be Shouting | 196? |
| Avant 108 | Jolly Four | | I Will Follow b/w Jesus Been Good To Me | 196? |
| Avant 108 | Jimmie Avant | | Memorial prayer b/w ? | 196? |
| Avant 110 | Mighty Golden Voices | | He'll Make A Way For You b/w Lord Remember Me | 196? |
EP release:

| release | artist | artist as shown | title | year |
| --- | --- | --- | --- | --- |
| Avant EP 076 | Wilson and Watson Singers | | no title | 1959 |