DeLuxe gospel discography (1945-54)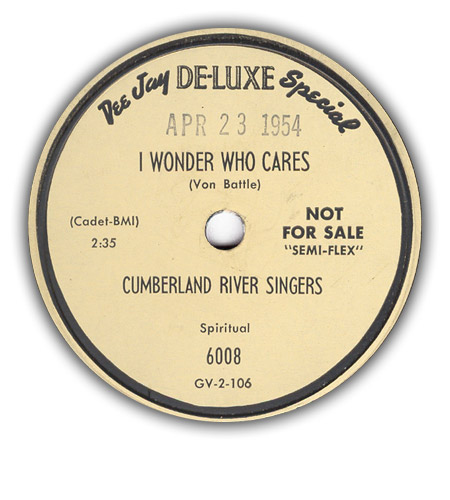 DeLuxe was formed in 1944 by brothers Dave and Jules Braun. They recorded everything from gospel, jazz and blues to pop and polka. Blues man Roy Brown was their biggest star.
DeLuxe officially became a subsidiary label of King in February 1951. Many of the DeLuxe masters were issued on King singles and albums. After the take over, gospel was released in DeLuxe's 6000 series (1953-54).
In the pre King years it seems that DeLuxe sometimes felt insecure about where to file under gospel records, so at least some of the gospel issues were released both in the 1000 series (pop) and the 3000 series (rhythm & blues).
DeLuxe 6001 by the Gospel Twins was also released on Glory 4017. DeLuxe 6005 by the Spiritual Harmonizers was also released on Glory 4004. All of Rev. A. Johnson's releases were also issued on the Glory label, except for #6010. See the Glory label discography.
All of Prof. James Earle Hines' releases were also issued on Sacred and all of them except #3182 were also issued on Gotham. #3182 was also released on Rex and Esquire. The DeLuxe issues all seem to have been released as by (Prof.) James E. Hines and his Good Will Singers.
The Spiritual Consolers (#6026) are better known as the Consolers; see the Nashboro discography. They recorded as the Miami Soul Stirrers for Glory.
The Four Blues is the same group as the Golden Echo Quartet; #1005 was released both as by the Four Blues and as by the Golden Echo Quartet.
The Memphis Gospel Singers (#3221) are better known as the Spirit of Memphis; see the King and Peacock discographies.
The Gospel Tones and the Veteran Singers also recorded for DeLuxe, but these sides were not issued. There are also several unissued sides by the Spiritual Consolers.
This page lists all known DeLuxe gospel 78's. Some of the later issues may also exist in the 45rpm format.
78rpm releases:

| release | artist | artist as shown | songs | year |
| --- | --- | --- | --- | --- |
| DeLuxe 1003 | Four Blues | | I Couldn't Hear Nobody Pray (a-side by Billy Eckstine; secular) | 1945 |
| DeLuxe 1005 | Four Blues | | Study War No Mo' b/w Noah And The Ark | 1945 |
| DeLuxe 1005 | Golden Echo Quartet | | Study War No Mo' b/w Noah And The Ark | 1945 |
| DeLuxe 1042/3042 | Southern Jubilee Quartette | Southern Jubilee Quartette of Charlotte, North Carolina | Wake Up, Nicodemus! b/w I'll Be Satisfied | 1946 |
| DeLuxe 3045 | Southern Jubilee Quartette | | My Jesus Prayed b/w I'll Never Turn Back | 1946 |
| DeLuxe 1047/3047 | Southern Jubilee Quartette | | Low Down The Chariot b/w I'm Singin' Hallelujia | 1946 |
| DeLuxe 1055/3055 | Southern Jubilee Quartette | Southern Jubilee Quartette of Charlotte, North Carolina | Troubles Of This World b/w It's Gonna Rain | 1946 |
| DeLuxe 3056 | Southern Jubilee Quartette | | You Man Run On b/w Give Away Jordan | 1946 |
| DeLuxe 1129/3129 | WMA Singers of Houston, Texas | | Guide Me Lord, I'm Going Through b/w Look For Me In Heaven, I'll Be There | 1947 |
| DeLuxe 3153 | WMA Singers of Houston, Texas | | The Lord Is My Shephard b/w He's A Friend Of Mine | 1948 |
| DeLuxe 1157/3157 | Soul Comforters | | Working On The Building b/w Does Jesus Care? | 1948 |
| DeLuxe 3158 | WMA Singers of Houston, Texas | WMA Singers of Houstan, Texas | I've Got To Tell It b/w There's Not A Friend Like The Lowly Jesus | 1948 |
| DeLuxe 3179 | Hines, Prof. James Earl | (Prof.) James E. Hines | Yes! God Is Real b/w Look For Me In Heaven | 1948 |
| DeLuxe 3180 | Hines, Prof. James Earl | (Prof.) James E. Hines and his Good Will Singers | Does Jesus Care b/w I Want To Rest | 1948 |
| DeLuxe 3181 | Hines, Prof. James Earl | (Prof.) James E. Hines and his Good Will Singers | Well Done b/w I Want Wings | 1948 |
| DeLuxe 3182 | Hines, Prof. James Earl | (Prof.) James E. Hines and his Good Will Singers | Down On My Knees b/w I'll Never Turn Back | 1948 |
| DeLuxe 3183 | Hines, Prof. James Earl | (Prof.) James E. Hines and his Good Will Singers | Jesus b/w Have A Talk With Jesus | 1948 |
| DeLuxe 3184 | Hines, Prof. James Earl | (Prof.) James E. Hines and his Good Will Singers | Didn't It Rain b/w Thank You Jesus | 1948 |
| DeLuxe 3185 | Hines, Prof. James Earl | (Prof.) James E. Hines and his Good Will Singers | King Jesus b/w Canaan Land | 1948 |
| DeLuxe 3191 | Southern Silvertone Singers | | The Little Wooden Church b/w Good Morning To Heaven | 1948 |
| DeLuxe 3201 | Hines, Prof. James Earl | (Prof.) James E. Hines and his Good Will Singers | Canaan Land b/w King Jesus (a reissue of #3185) | 1948-49 |
| DeLuxe 3205 | Hines, Prof. James Earl | (Prof.) James E. Hines and his Good Will Singers | Only A Look b/w Every Day Will Be Sunday | 1948-49 |
| DeLuxe 3207 | Hines, Prof. James Earl | (Prof.) James E. Hines and his Good Will Singers | What Manner Of Man Is This b/w I Cried Holy | 1948-49 |
| DeLuxe 3221 | Memphis Gospel Singers | | I'm Happy In The Service Of The Lord b/w My Life Is In His Hands | 1948-49 |
| DeLuxe 3222 | Cooke, Edna Gallmon | | Old Ship Of Zion b/w Angels, Angels, Angels | 1948-49 |
| DeLuxe 3310 | Hines, Prof. James Earl | (Prof.) James E. Hines and his Good Will Singers | After Awhile b/w Precious Memories | 1950 |
| DeLuxe 6001 | Gospel Twins | | This Way b/w One Word | 1953 |
| DeLuxe 6003 | Johnson, Reverend A. | | God Don't Like It b/w If I Could Hear My Mother Pray Again | 1953 |
| DeLuxe 6005 | Spiritual Harmonizers | | Do You know Him b/w God Leads His Children | 1953 |
| DeLuxe 6008 | Cumberland River Singers | | I Wonder Who Cares b/w Jesus Is The Rock | 1954? |
| DeLuxe 6010 | Johnson, Reverend A. | | The Lord Will Make A Way Somehow b/w Run, Children, Run | 1954? |
| DeLuxe 6012 | Meditation Singers | | We're Marching To Zion b/w Jesus Is With Me | 1954? |
| DeLuxe 6015 | Golden Clouds | | Work Until My Day Is Done b/w Upon The Cross Of Calvary | 1954? |
| DeLuxe 6016 | Johnson, Reverend A. | | I Don't Know How To Get Along Without The Lord b/w Death In The Morning | 1954? |
| DeLuxe 6017 | Johnson, Reverend A. | | Let That Liar Pass On By b/w Jesus Loves Us All | 1954? |
| DeLuxe 6020 | Cumberland River Singers | | Too Close To Heaven b/w Jesus Is All The World | 1954? |
| DeLuxe 6026 | Consolers | Spiritual Consolers | Wade In The Water b/w How Long Has It Been Since You've Been Home | 1954? |
| DeLuxe 6027 | Sons of Daniel | | Nearing My Heavenly Home b/w I Want To Go | 1954? |
| DeLuxe 6033 | Sons of Calvary | | Lead The Light b/w My Blessed Saviour | 1954? |
| DeLuxe 6039 | Detroit Harmonettes | | I Gave Up Everything b/w I Need Thee | 1954 |
| DeLuxe 6042 | Johnson, Reverend A. | | I'm Gonna Do My Best b/w Do You Call That Religion | 1954 |