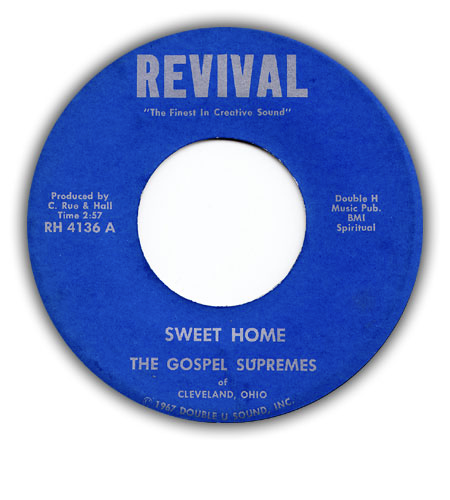 There were several Revival labels, this is the one from Ecorse MI, best known for the recordings by Shirley Ann Lee. The label was run by Felton Williams.
Felton Williams ran four labels: Revival, Cass, Compose and Solid Rock. All gospel appeared on the Revival label. Although the labels were different, the issue numbers largely appeared to be continuing. Issues 633/634, 641/642, 126 and 129 came out on Compose, issue 643/644 on Solid Rock.
After a long hiathus (1973-1981), Williams tried to revive the label with a release by the Walker Brothers (Revival 138). The effort wasn't very succesful. The last known release was Revival 139 (Brown Family Singers). Both #138 and #139 are excluded from the discography.
The Coleman Family (Revival 127) is a white group.
Williams' Revival label has nothing to do with Revival 632 and 633 (Anchored Souls of Atlanta and Christian Harmonizers of South Carolina), although some discographies suggest a connection. Revival 632 and 633 have been released on the New York Revival label (a Cee-Jay subsidiary), in c. 1960.
Numero LP/CD 026 ("Local Customs, Downriver Revival") contains 24 released and unreleased performances on the various labels run by Felton Williams, plus a DVD with almost 200 sound recordings pulled from Williams' vaults. Most of it is gospel and listed in the tapes vault.
This page lists all known gospel 45's on the Ecorse Revival label, from 1967 to 1972. Missing numbers are unknown releases; some may be unused/unreleased.
45rpm releases:

| release | artist | artist as shown | songs | year |
| --- | --- | --- | --- | --- |
| Revival 4136 | Gospel Supremes of Cleveland, Ohio | | Sweet Home b/w Sinner Man | 1967 |
| Revival 635/636 | Lee, Shirley Ann | | I Can't Give Up b/w How Can I Lose | 1968 |
| Revival 637/638 | Lee, Shirley Ann | | There's A Light b/w Please Accept My Prayers | 1968 |
| Revival 639/640 | Pilgrim Wonders | | He Never Failed b/w New Born Soul | 1968 |
| Revival 123 | Lee, Shirley Ann | | Without God (There Is No Hope) b/w My Faith Is In Thee | 1969 |
| Revival 124 | Cooke, Calvin | | Walk With Me b/w What Happens To People | 1969 |
| Revival 125 | Pennington Specials | | Nothing Too Hard For God b/w There's A Leak In This Old Building | 1969 |
| Revival 128 | Prince Singers, Isaac | | Marvelous Name, Pt. 1 b/w Marvelous Name, Pt. 2 | 1970 |
| Revival 130 | Deliverance Echoes | | Is Your All On The Altar b/w Garden Of Prayer | 1971 |
| Revival 131 | Mighty Voices of Wonder | | Every Year Carries A Number b/w I Thank The Lord | 1971 |
| Revival 132 | Apostles of Music | Apostle's of Music | Look Where He Brought Us From b/w Wade In The Water | 1972 |
| Revival 133 | Deliverance Echoes | | Heaven b/w Have A Little Talk With Jesus | 1972 |