Hollywood gospel discography (1953-58)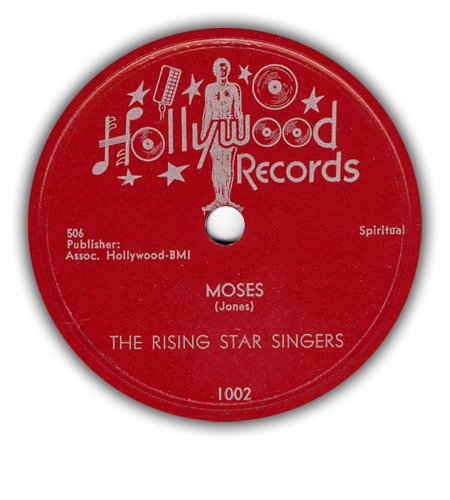 Click here for an introduction to John Dolphin's 'Hollywood' labels.
#1095 was the last gospel release on the Hollywood label (1958).
Hollywood 1069 (Rev. G.W. Killens) was earlier released on Recorded In Hollywood 196 (1952).
Hollywood 1073 (Southern Six) may have been released as by Andrew Johnson as well.
Hollywood 1078 (Abraham Brothers) was also released on Sullivan (with the same number).
Missing numbers are (all?) secular releases.
This page lists all known Hollywood gospel releases. Most issues have been released in both the 78rpm and the 45rpm format. The links below show 78rpm records only.
45 & 78rpm releases:

| release | artist | artist as shown | songs | year |
| --- | --- | --- | --- | --- |
| Hollywood 1002 | Rising Star Gospel Singers | Rising Star Singers | Moses b/w Is The Blood Running Warm | 1953 |
| Hollywood 1007 | Narcisse, King Louis H. | Bishop Narcisse | He That Believeth b/w My Mind Standing On Jesus | 1954 |
| Hollywood 1010 | Soul Comforters | Original New Orleans Soul Comforters | Radio Television In My Heart b/w Ten Commandments | 1954 |
| Hollywood 1017 | Soul Comforters | Original New Orleans Soul Comforters | Pray And Have Faith (In The Lord) b/w Broadcast The Power Of Jesus | 1954 |
| Hollywood 1036 | Campbell, Rev. Richard | Campbell with the Wonder Boy, Rev. | You Can't Hurry God b/w Old Ship Of Zion | 1955 |
| Hollywood 1037 | Campbell, Rev. Richard | Campbell with the Wonder Boy, Rev. | No Room For Liars b/w Stop That | 1955 |
| Hollywood 1038 | Senior Harmony Gospel Singers | | Telephone In My Bosom b/w Send Your Blessings Down | 1955 |
| Hollywood 1039 | Soul Comforters | Original New Orleans Soul Comforters | Long Long Ago b/w It's Me (Standing In The Need Of Prayer) | 1955 |
| Hollywood 1041 | Golden Voices | | Climbing The Ladder b/w King Jesus Rolls All Burdens Away | 1955 |
| Hollywood 1042 | Soul Comforters | Original New Orleans Soul Comforters | White Christmas b/w Silent Night | 1955 |
| Hollywood 1048 | Mitchel Aires Quartet | | He's That Rock b/w Lord, Will I Meet Them Again | 1955 |
| Hollywood 1049 | Southern Six | Andrew Johnson and the Southern Six Quintet | It's Me, Oh Lord b/w I Want A Home | 1955 |
| Hollywood 1050 | Abraham Brothers | | You Can Go To Heaven b/w I Heard Zion Moan | 1955 |
| Hollywood 1061 | Franklin with Sister Mable Franklin, Jay | | Give Me Strength To Carry On b/w Marching To Glory | 1956 |
| Hollywood 1064 | Campbell, Rev. Richard | Campbell with the Wonder Boy, Rev. | This Is A Mean Old World b/w You Can't Fool God | 1956 |
| Hollywood 1069 | Killens, Rev. G.W. | | I Love The Lord b/w Great God Almighty | 1956 |
| Hollywood 1073 | Southern Six | | This Old Life Of Mine b/w Jesus, Hold My Hand | 1957 |
| Hollywood 1076 | Gospel Stars | | The Lamb On The Altar b/w He Lives | 1957 |
| Hollywood 1078 | Abraham Brothers | | He'll Answer You b/w We'll Meet In The City | 1957 |
| Hollywood 1095 | Sensational Florida Hurricanes | | Just Another Day b/w Just A Little Lower | 1958 |