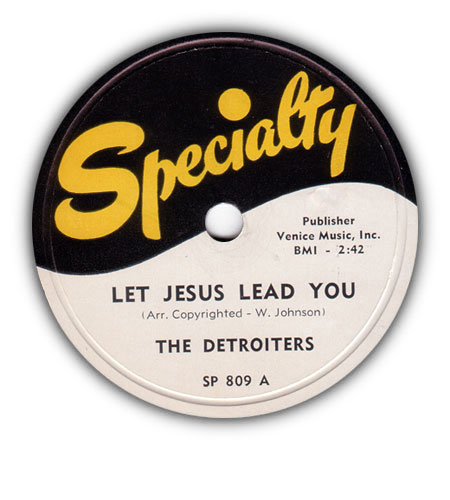 Specialty Records was started by Art Rupe in Los Angeles, California in 1944. The original address of the company was 2719 West Seventh St., but it was also located at 311 Venice Blvd. in the early years. In 1949 the company moved to the more familiar address of 8508 Sunset Blvd. in Hollywood. Specialty was very selective in what it recorded; jazz, rhythm & blues, gospel, and rock & roll were about all that was released on the label. (source: www.bsnpubs.com)
Specialty was the parent label of Fidelity.
Specialty 78rpm records first had black labels, than yellow and finally they featured the famous black and white labels with yellow lettering. Some early black or yellow label issues were later released with the black & white labels.
Specialty 45s (yellow/white) were originally released with black, double wavy lines. Late 1957, probably starting with number 907, the design changed and featured a solid black line. Some 45s that were released with double wavy lines first were reissued with a solid black line later on (probably in the 1960's).
In the early 1970's (maybe starting in 1969?) Specialty re-released several 45's, mentioning the LP, where the tracks were taken from, on the labels. These LP's (#2115 and onwards) are compilations of 1950's recordings and also featured several previously unreleased tracks.
In the early 1970's Specialty also released some new 45s (#920-934), mostly containing 1950's recordings. Specialty 933 by the Melody Kings is probably the only 45 in this series that featured new recordings.
Specialty released both gospel and secular material in the 300 series; the 800 and 900 series were gospel only.
The Original Blind Boys of Alabama were listed as the 'Original Five Blind Boys of Alabama' and the 'Happyland Singers' on almost all of their releases (45's and 78's). Given in the column artist as shown is the name shown as their main name, which varies.
Specialty 919 is the last original Specialty single, from 1959. The series continued (with #920) in 1971.
Specialty 934 (Pilgrim Travelers) is a reissue of Specialty 856 and "I'll Be Home For Christmas" on these issues was first released on Specialty 837.
Specialty originally released some fifteen LP's only; twelve in their 2100 (main) series and three in their 5000 series (jazz). In 1968, eight years later, Specialty continued their 2100 series which ran into the 1980's. The majority of these releases came out in the 1970's.
The original LP label lay-out was black and gold and was probably used until #2152. From #2153 onwards the label was black and white with 'Specialty' in yellow, just like most of the 78rpm issues. Earlier LP numbers with the black and white labels are reissues.
Volume 1 of "How It All Began" (Specialty LP 2117) features gospel and r&b artists, volume 2 (LP 2118) did not feature any gospel artists.
Side one of Specialty LP 2119 ("The 2 Sides of Sam Cooke") features gospel recordings of Sam Cooke with the Soul Stirrers. Side two contains secular recordings by Sam Cooke.
Original copies of Specialty LP 2121 (Pilgrim Travelers) do not mention "Vol. 1", which is printed on the front cover of the reissues.
Click here for a photograph of the Five Blind Boys of Alabama.
Click here for a photograph of the Pilgrim Travelers.
Click here for a photograph of the Chosen Gospel Singers.
This discography lists all gospel issues on Specialty (78's, 45's, LP's) from 1948 to the early 1970's.
78 & 45rpm releases:

| release | artist | artist as shown | songs | year |
| --- | --- | --- | --- | --- |
| Specialty 300 | Southern Harmonizers | | These Old Bones b/w I'm In His Care | 1948 |
| Specialty 301 | Southern Harmonizers | | What Are They Doing In Heaven b/w Until I Find The Lord | 1948 |
| Specialty 302 | Southern Harmonizers | | Canaan b/w My Lord Is Waiting All The Time | 1948 |
| Specialty 305 | Pilgrim Travelers | Pilgrim Travelers and their "Walkin' Rhythm" Spirituals | I'm Standing On The Highway b/w I'll Tell It | 1948 |
| Specialty 306 | Pilgrim Travelers | Pilgrim Travelers and their "Walkin' Rhythm" Spirituals | Everybody's Gonna Have A Wonderful Time Up There b/w Stretch Out | 1948 |
| Specialty 310 | Pilgrim Travelers | | He Will Remember Me b/w Good News | 1948 |
| Specialty 311 | Golden Keys Quartet | | He Knows How b/w God Rode | 1948 |
| Specialty 313 | Pilgrim Travelers | Pilgrim Travelers and their Walkin' Rhythm Spirituals | My Prayer b/w I Want My Crown | 1948 |
| Specialty 315 | Pilgrim Travelers | | Jesus Travels b/w Mother Bowed | 1948 |
| Specialty 316 | Pilgrim Travelers | | Jesus b/w Thank You Jesus | 1948 |
| Specialty 324 | Carr, Sister Wynona | | Each Day b/w Lord Jesus | 1949 |
| Specialty 326 | Pilgrim Travelers | | Now Lord b/w Yes, My Lord | 1949 |
| Specialty 329 | Pilgrim Travelers | | Jesus Met The Woman At The Well b/w It's A Blessing | 1949 |
| Specialty 331 | Golden Echoes | | When The Saints Go Marching In b/w Glory Glory Hallelujah | 1949 |
| Specialty 333 | Carr, Sister Wynona | | I Want To Go To Heaven And Rest b/w I Know That He Knows | 1949 |
| Specialty 340 | Pilgrim Travelers | | My Eternal Home b/w Jesus Is The Only One | 1949 |
| Specialty 343 | May, Brother Joe | Brother Joe May (Thunderbolt of the Middle West) | Search Me Lord b/w How Much More Of Life's Burden Can We Bear | 1949 |
| Specialty 345 | Pilgrim Travelers | | Nothing Can Change Me b/w A Soldier's Plea | 1950 |
| Specialty 347 | May, Brother Joe | Brother Joe May (Thunderbolt of the Middle West) | Do You Know Him b/w The Day Is Past And Gone | 1950 |
| Specialty 348 | Carr and Brother Joe May, Sister Wynona | Brother Joe May and Sister Wynona Carr | What Do You Know About Jesus b/w I'll Serve You Lord Until My Dying Day | 1950 |
| Specialty 351 | Pilgrim Travelers | | Jesus Hits Like The Atom Bomb b/w Something Within Me | 1950 |
| Specialty 354 | Soul Stirrers | | By And By, Pt. 1 b/w By And By, Pt. 2 | 1950 |
| Specialty 357 | Pilgrim Travelers | | The Old Rugged Cross b/w Call Him By His Name | 1950 |
| Specialty 360 | Soul Stirrers | | Feel Like My Time Ain't Long b/w I'm Still Living On Mother's Prayer | 1950 |
| Specialty 361 | May, Brother Joe | Brother Joe May (Thunderbolt of the Middle West) | I Want Jesus On The Road I Travel b/w I'm Going To Live The Life I'm Singing About In My Song | 1950 |
| Specialty 363 | Pilgrim Travelers | | God Shall Wipe All Tears Away b/w Dear Lord, Look Down Upon Me | 1950 |
| Specialty 364 | Carr, Sister Wynona | | I Heard My Mother Pray One Day b/w Don't Miss That Train | 1950 |
| Specialty 365 | Soul Stirrers | | In The Awful Hour b/w I Have A Right To The Tree Of Life | 1950 |
| Specialty 371 | Pilgrim Travelers | | I Love The Lord b/w My Road's So Rough And Rocky | 1950 |
| Specialty 373 | May, Brother Joe | Brother Joe May (Thunderbolt of the Middlewest) | I'm Want A Double Portion Of God's Love b/w He'll Be Waiting At The End For Me | 1950 |
| Specialty 376 | Soul Stirrers | | How Long? b/w The Lord Is My Shepherd | 1950 |
| Specialty 377 | Carr and Brother Joe May, Sister Wynona | Sister Wynona Carr and Brother Joe May | I See Jesus b/w It's All Right | 1950 |
| Specialty 382 | Pilgrim Travelers | | I Was There When The Spirit Came b/w What A Blessing In Jesus I've Found | 1950 |
| Specialty 383 | Carr, Sister Wynona | | I Know Someday God's Gonna Call Me b/w What Do You Do When You Get To Heaven? | 1950 |
| Specialty 384 | May, Brother Joe | Brother Joe May (Thunderbolt of the Middlewest) (?) | I Just Can't Keep From Crying Sometime b/w Jesus Is The Name | 1950 |
| Specialty 385 | Pilgrim Travelers | | Satisfied With Jesus b/w He's Pleading In Glory | 1950 |
| Specialty 387 | Soul Stirrers | | Faith And Grace b/w I'm Gonna Move In The Room With The Lord | 1950 |
| Specialty 388 | May, Brother Joe | Brother Joe May (Thunderbolt of the Middlewest) (?) | Our Father b/w There Must Be A Heaven Somewhere | 1950 |
| Specialty 389 | Pilgrim Travelers | | I've Got A Mother Gone Home b/w Call Jesus | 1950 |
| Specialty 391 | Martin Singers with Brother Joe May, Sallie | Brother Joe May with the Sallie Martin Singers | Every Day And Every Hour b/w Didn't It Rain? | 1951 |
| Specialty 393 | Pilgrim Travelers | | I'll Be The One b/w Welcome Home | 1951 |
| Specialty 395 | Carr, Sister Wynona | Sister Wynona Carr and her Echoes of Joy | The Good Old Way b/w See His Blessed Face | 1951 |
| Specialty 396 | Pilgrim Travelers | | Let Him Be Your Friend b/w Jesus Gave Me Water | 1951 |
| Specialty 399 | Martin Singers with Brother Joe May, Sallie | Brother Joe May with the Sallie Martin Singers | Oh Yes, He Set Me Free b/w I'll Make It Somehow | 1951 |
| Specialty 800 | Pilgrim Travelers | | Peace Of Mind b/w Jesus is the First Line of Defense | 1951 |
| Specialty 801 | Rimson, Reverend | Reverend Rimson and his Congregation | Believe On Me b/w Living Waters | 1951 |
| Specialty 802 | Soul Stirrers | | Peace In The Valley b/w Jesus Gave Me Water | 1951 |
| Specialty 803 | May, Brother Joe | Brother Joe May (Thunderbolt of the Middlewest) (?) | I Thanks The Lord b/w Your Sins Will Find You Out | 1951 |
| Specialty 804 | Hines, Prof. James Earl | Professor J. Earle Hines and his Good Will Singers | The Day Will Surely Come b/w The Old Ship Of Zion | 1951 |
| Specialty 805 | Rimson, Reverend | Rev. Rimson and his Congregation | Jonah b/w Song And Sermon | 1951 |
| Specialty 806 | May, Brother Joe | Brother Joe May (Thunderbolt of the Middlewest) | Christ Is All b/w Doctor Jesus | 1951 |
| Specialty 807 | Pilgrim Travelers | | Jesus, I'm Thankful b/w Who Am I | 1951 |
| Specialty 808 | Martin Singers, Sallie | | Throw Out The Life-Line b/w Eyes Hath Not Seen | 1951 |
| Specialty 809 | Detroiters | | Let Jesus Lead You b/w Mother Don't Cry About Your Child | 1951 |
| Specialty 810 | Hines, Prof. James Earl | Professor J. Earle Hines and his Good Will Singers | Wait Till My Change Comes b/w Come Ye Disconsolate | 1951 |
| Specialty 811 | Original Gospel Harmonettes | | I'm Sealed b/w Just To Behold His Face | 1951 |
| Specialty 812 | Pilgrim Travelers | | Angels Tell Mother b/w I'll Trust His Hand (It Was Nailed To The Cross) | 1951 |
| Specialty 813 | Soul Stirrers | | Come, Let's Go Back To God b/w Joy, Joy To My Soul | 1951 |
| Specialty 814 | Martin, Sister Cora | | On The Other Side b/w Everyday Of My Life | 1951 |
| Specialty 815 | May, Brother Joe | Brother Joe May (Thunderbolt of the Middlewest) (?) | In That Day b/w Precious Lord | 1951 |
| Specialty 816 | Original Gospel Harmonettes | | Get Away Jordan (I Want To Cross Over) b/w These Are They | 1952 |
| Specialty 817 | Pilgrim Travelers | | Lord, Hold My Hand b/w Never Knew Joy Before | 1952 |
| Specialty 818 | Pilgrim Travelers | | Long Ago (Wooden Church) b/w Please Watch Over Me | 1952 |
| Specialty 819 | Pilgrim Travelers | | Leading Me b/w When I Join The Jubilee | 1952 |
| Specialty 820 | Pilgrim Travelers | | Deliver Me From Evil b/w King Jesus Will Roll All Burdens Away | 1952 |
| Specialty 821 | Soul Stirrers | | I'm Gonna Build On That Shore b/w Until Jesus Calls Me Home | 1952 |
| Specialty 822 | Detroiters | | I Trust In Jesus b/w Ride On King Jesus | 1952 |
| Specialty 823 | Martin Singers, Sallie | | Until We Meet Again b/w He's Able To Carry Me Through | 1952 |
| Specialty 824 | Soul Stirrers | | How Far Am I From Canaan? b/w It Won't Be Very Long | 1952 |
| Specialty 825 | Pilgrim Travelers | | How About You? b/w Leaning On The Everlasting Arm | 1952 |
| Specialty 826 | Carr, Sister Wynona | | Conversation With Jesus b/w Did He Die In Vain? | 1952 |
| Specialty 827 | Detroiters | | Old Time Religion b/w Mother, I Need Your Prayer | 1952 |
| Specialty 828 | Original Gospel Harmonettes | | When I Reach My Heavenly Home On High b/w I'm Going To Die With The Staff In My Hand | 1952 |
| Specialty 829 | Swan Silvertone Singers | | The Day Will Surely Come b/w Jesus Changed This Heart Of Mine | 1952 |
| Specialty 830 | May, Brother Joe | Brother Joe May (Thunderbolt of the Middle West) | Mercy, Oh Lord b/w I'm Going Through | 1952 |
| Specialty 831 | Pilgrim Travelers | | Blessed Be The Name b/w Lord, Help Me Carry On | 1952 |
| Specialty 832 | Martin Singers with Brother Joe May, Sallie | | Hold To God's Unchanging Hand b/w I'm Bound For The Promised Land | 1952 |
| Specialty 833 | Original Gospel Harmonettes | | Every Day Will Be Sunday (By And By) b/w One Morning Soon | 1952 |
| Specialty 834 | Carr, Sister Wynona | | A Letter To Heaven b/w In A Little While | 1952 |
| Specialty 835 | Soul Stirrers | | Let Me Go Home b/w Just Another Day | 1952 |
| Specialty 836 | Swan Silvertone Singers | | Oh, How I Love Jesus b/w My Rock | 1952 |
| Specialty 837 | Pilgrim Travelers | | I'll Be Home For Christmas b/w Move Up To Heaven | 1952 |
| Specialty 838 | Chosen Gospel Singers | | Before This Time Another Year b/w One-Two-Three | 1953 |
| Specialty 839 | Original Gospel Harmonettes | | He's Right On Time b/w I Shall Know Him | 1953 |
| Specialty 840 | Anderson, Robert | | Let God Abide b/w Something Within | 1953 |
| Specialty 841 | Martin Singers with Brother Joe May, Sallie | | It's A Long Long Way b/w Working On The Building | 1953 |
| Specialty 842 | Original Blind Boys of Alabama | Original Five Blind Boys of Alabama | Oh Lord, Stand By Me (Every Day, Let Me Walk With Thee) b/w When I Lost My Mother | 1953 |
| Specialty 843 | Pilgrim Travelers | | A Hard Road To Travel b/w My Old Home | 1953 |
| Specialty 844 | Swan Silvertone Singers | | Man In Jerusalem b/w He Won't Deny Me | 1953 |
| Specialty 845 | Soul Stirrers | | Jesus Paid The Debt b/w Blessed be the Name of the Lord | 1953 |
| Specialty 846 | Original Gospel Harmonettes | | The Railroad b/w Where Shall I Be? | 1953 |
| Specialty 847 | Pilgrim Travelers | | Amazing Grace b/w Gonna Walk Right Out | 1953 |
| Specialty 848 | May, Brother Joe | Brother Joe May (Thunderbolt of the Middle West) | Thank You Lord For One More Day b/w The Old Ship Of Zion | 1953 |
| Specialty 849 | Chosen Gospel Singers | | The Lord Will Make A Way Somehow b/w It's Getting Late In The Evening | 1953 |
| Specialty 850 | Original Blind Boys of Alabama | Original Five Blind Boys of Alabama | I'll Fly Away b/w Precious Lord | 1953 |
| Specialty 851 | Soul Stirrers | | End Of My Journey b/w He'll Welcome Me (To My Home) | 1953 |
| Specialty 852 | Bradford, Alex | Professor Alex Bradford and the Bradford Specials | I Don't Care What The World May Do b/w Too Close To Heaven | 1953 |
| Specialty 853 | Swan Silvertone Singers | | I'm Coming Home b/w Trouble In My Way | 1953 |
| Specialty 854 | Pilgrim Travelers | | Go Ahead b/w I've Got A New Home | 1953 |
| Specialty 855 | Carr, Sister Wynona | | The Ball Game b/w I Know By Faith | 1953 |
| Specialty 856 | Pilgrim Travelers | | I'll Be Home For Christmas b/w Silent Night | 1954 |
| Specialty 857 | Original Blind Boys of Alabama | Happyland Singers | Does Jesus Care? b/w Marching Up To Zion | 1954 |
| Specialty 858 | Bradford, Alex | Professor Alex Bradford and the Bradford Specials | He Lifted Me b/w Lord! Lord! Lord! | 1954 |
| Specialty 859 | Soul Stirrers | | Come And Go To That Land b/w He's My Friend Until The End | 1954 |
| Specialty 860 | May and Pilgrim Travelers, Brother Joe b/w Brother Joe May | Brother Joe May and the Pilgrim Travelers b/w Brother Joe May (Thunderbolt of the Middle West) | Lead Me! Guide Me! b/w Just Call His Name | 1954 |
| Specialty 861 | Original Gospel Harmonettes | | No Hiding Place b/w Who Art Thou? | 1954 |
| Specialty 862 | Pilgrim Travelers | | In My Heart b/w Shake My Mother's Hand | 1954 |
| Specialty 863 | Swan Silvertone Singers | | How I Got Over b/w Jesus Is A Friend | 1954 |
| Specialty 864 | Chosen Gospel Singers | | I'm Goin' Back With Him b/w No Room In The Hotel | 1954 |
| Specialty 865 | Bradford, Alex | Professor Alex Bradford and the Bradford Specials | Just The Name Of Jesus b/w I Won't Sell Out | 1954 |
| Specialty 866 | Meditation Singers | | I'm Determined To Run This Race b/w Promise To Meet Me There | 1954 |
| Specialty 867 | May and Pilgrim Travelers, Brother Joe b/w Brother Joe May | | Old Time Religion b/w I'm Happy Working For The Lord | 1954 |
| Specialty 868 | Soul Stirrers | | Any Day Now b/w Jesus, I'll Never Forget | 1954 |
| Specialty 869 | Original Gospel Harmonettes | | Wade In The Water b/w Waiting For Me | 1954 |
| Specialty 870 | Original Blind Boys of Alabama | Happyland Singers | Alone And Motherless b/w Since I Met Jesus | 1954 |
| Specialty 871 | Bradford, Alex | Professor Alex Bradford and the Bradford Specials | I Feel The Spirit b/w Right Now | 1954 |
| Specialty 872 | Pilgrim Travelers | | It Is No Secret b/w Look Down That Lonesome Road | 1954 |
| Specialty 873 | May, Brother Joe | | He'll Understand And Say Well Done b/w Lead Me, Holy Father | 1954 |
| Specialty 874 | Original Gospel Harmonettes | | He's Calling Me b/w You Must Be Born Again | 1954 |
| Specialty 875 | Pilgrim Travelers | | Look To The Hills b/w Weary Traveler | 1954 |
| Specialty 876 | Original Blind Boys of Alabama | Happyland Singers | There Is A Fountain b/w God's Promise | 1955 |
| Specialty 877 | Pilgrim Travelers | | Did You Stop To Pray This Morning? b/w Straight Street | 1955 |
| Specialty 878 | Soul Stirrers | | Be With Me Jesus b/w Nearer To Thee | 1955 |
| Specialty 879 | Bradford, Alex | Professor Alex Bradford and the Bradford Specials | He'll Wash You Whiter Than Snow b/w Oh Lord Save Me | 1955 |
| Specialty 880 | May and Pilgrim Travelers, Brother Joe | | It Don't Cost Very Much b/w Speak! Lord, Jesus! | 1955 |
| Specialty 881 | Original Gospel Harmonettes | | Jesus Laid His Hand On Me b/w I'll Be With Thee | 1955 |
| Specialty 882 | Soul Stirrers | | One More River b/w I'm So Glad (Trouble Don't Last Always) | 1955 |
| Specialty 883 | Pilgrim Travelers | | Troubled In Mind b/w Every Prayer (Will Find Its Answer) | 1955 |
| Specialty 884 | May and Pilgrim Travelers, Brother Joe | | Jesus Knows b/w Sell Out | 1955 |
| Specialty 885 | Chosen Gospel Singers | | Stay With Me Jesus b/w Prayer For The Doomed | 1955 |
| Specialty 886 | Bradford, Alex | Professor Alex Bradford and the Bradford Specials | Holy Ghost b/w Life's Candlelight | 1955 |
| Specialty 887 | Original Gospel Harmonettes | | I Wouldn't Mind Dying b/w You Better Run | 1956 |
| Specialty 888 | May, Brother Joe b/w Annette May | | Going Home b/w Consider Me | 1956 |
| Specialty 889 | Pilgrim Travelers | | Close To Thee b/w How Jesus Died | 1956 |
| Specialty 890 | Griffin, Bessie | Bessie Griffin and the Consolators | Blessed Mother b/w Heaven | 1956 |
| Specialty 891 | Original Blind Boys of Alabama | Happyland Singers | Here Am I b/w I Cried | 1956 |
| Specialty 892 | Soul Stirrers | | Wonderful b/w Farther Along | 1956 |
| Specialty 893 | Bradford, Alex | Professor Alex Bradford and the Bradford Specials | If Mother Knew b/w Somebody Touched Me | 1956 |
| Specialty 894 | Original Blind Boys of Alabama | Happyland Singers | Living For My Jesus b/w Swingin' On The Golden Gate | 1956 |
| Specialty 895 | May and Pilgrim Travelers, Brother Joe b/w Annette May | May with the Pilgrim Travelers, Brother Joe b/w Annette May | Grow Closer b/w Vacation In Heaven | 1956 |
| Specialty 896 | Soul Stirrers | | Touch The Hem Of His Garment b/w Jesus Wash My Troubles | 1956 |
| Specialty 897 | Original Gospel Harmonettes | | Lord, Don't Forget About Me b/w 99 1/2 | 1956 |
| Specialty 898 | Bradford, Alex | Professor Alex Bradford and the Bradford Specials | I Dare You b/w Without A God | 1956 |
| Specialty 899 | Pilgrim Travelers | | Hold On b/w Bless Us Today | 1956 |
| Specialty 900 | Griffin, Bessie | Bessie Griffin and the Consolators | Whosoever Will b/w More Like Jesus | 1956 |
| Specialty 901 | Original Blind Boys of Alabama | Happyland Singers | I'm Going Through b/w Broken Heart Of Mine | 1956 |
| Specialty 902 | Soul Stirrers | | Pilgrim of Sorrow b/w In a Few More Days | 1957 |
| Specialty 903 | Original Blind Boys of Alabama | Happyland Singers | Heaven On My Mind b/w When Death Comes | 1957 |
| Specialty 904 | Original Gospel Harmonettes | | Am I A Soldier b/w That's Enough | 1957 |
| Specialty 905 | Bradford, Alex | Professor Alex Bradford | I Can't Tarry b/w Steal Away | 1957 |
| Specialty 906 | Original Blind Boys of Alabama | Happyland Singers | I've Been Born Again b/w Goodbye, Mother | 1957 |
| Specialty 907 | Soul Stirrers | | Were You There? b/w Sinner Run To Jesus | 1957 |
| Specialty 908 | Soul Stirrers | | Out On A Hill b/w The Love Of God | 1958 |
| Specialty 909 | Bradford, Alex | Professor Alex Bradford | It All Belongs To Him b/w What Did John Do? | 1958 |
| Specialty 910 | Bradford, Alex | | He's Everything To Me b/w I've Got A Job | 1958 |
| Specialty 911 | Soul Stirrers | | Until Then b/w Loved Ones are Waiting | 1959 |
| Specialty 912 | Argo Singers | | Bring Back Those Days b/w What Did He Say | 1959 |
| Specialty 913 | Stewart, Princess | | Tired, Lord b/w I'm A Child Of The King | 1959 |
| Specialty 914 | Sacred Hearts | | Jesus Has A Blessing b/w Oh! I Know My Savior Lives | 1959 |
| Specialty 915 | Bradford and Bessie Griffin, Alex b/w Bessie Griffin (?) | Prof. Alex Bradford and Sister Bessie Griffin b/w Sister Bessie Griffin | What Makes A Man Turn His Back On God b/w All Of My Burdens | 1959 |
| Specialty 916 | Bradford, Alex | Alex Bradford and the Men of Song | The Man Is Wonderful b/w God Searched The World | 1959 |
| Specialty 917 | Bradford, Alex | | What Folks Say About Me b/w The Lifeboat | 1959 |
| Specialty 918 | Soul Stirrers | | When The Gates Swing Open b/w The Lord Laid His Hands On Me | 1959 |
| Specialty 919 | Meditation Singers with James Cleveland | | Ain't That Good News b/w My Soul Looks Back And Wonders | 1959 |
| Specialty 920 | Pilgrim Travelers | | A Soldier's Plea b/w Mother Bowed | 1971 |
| Specialty 921 | Soul Stirrers | Sam Cooke with the Soul Stirrers | Must Jesus Bear This Cross Alone b/w The Last Mile Of The Way | 1971 |
| Specialty 922 | Swan Silvertone Singers | Swan Silvertones | I'm A-Rollin' b/w Love Lifted Me | 1971 |
| Specialty 923 | Original Blind Boys of Alabama | Original Five Blind Boys of Alabama | This May Be The Last Time b/w Our Father's Praying Ground | 1971 |
| Specialty 924 | New Testament | | Since You Came Into My Life b/w Let's Talk About God | 1971 |
| Specialty 925 | Original Gospel Harmonettes | Dorothy Love Coates and the Original Gospel Harmonettes | Why Not b/w Jesus Knows It All | 1971 |
| Specialty 926 | Bradford, Alex | | The Bells Keep On Ringing b/w This May Be The Last Time | 1971 |
| Specialty 927 | Original Blind Boys of Alabama | Original Five Blind Boys of Alabama | Fix It Jesus b/w Servant's Prayer Amen | 1971-72 |
| Specialty 928 | Soul Stirrers | Sam Cooke with the Soul Stirrers | Just Another Day b/w Christ Is All | 1971-72 |
| Specialty 929 | Pilgrim Travelers | | After While b/w Your Mother Is Your Friend | 1972 |
| Specialty 930 | Soul Stirrers | | That's Heaven To Me b/w Lord,Remember Me | 1972 |
| Specialty 931 | Swan Silvertone Singers | Swan Silvertones | Keep My Heart b/w This Little Light Of Mine | 1972 |
| Specialty 932 | Soul Stirrers | | Going Back To The Lord Again b/w Free At Last | 1972 |
| Specialty 933 | Melody Kings | | How Sweet It Is To Be Saved b/w He's Alright | 1972 |
| Specialty 934 | Pilgrim Travelers | | Silent Night b/w I'll Be Home For Christmas | 1972-73 |
LP releases:

| release | artist | artist as shown | title | year |
| --- | --- | --- | --- | --- |
| Specialty LP 2106 | Soul Stirrers | Soul Stirrers featuring Sam Cooke | no title | 1959 |
| Specialty LP 2107 | Original Gospel Harmonettes | | He's Calling Me | 1959 |
| Specialty LP 2108 | Bradford, Alex | | Too Close To Heaven | 1959 |
| Specialty LP 2115 | Various | | Ain't That Good News | 1969 |
| Specialty LP 2116 | Soul Stirrers | Sam Cooke with the Soul Stirrers | The Gospel Soul of Sam Cooke with the Soul Stirrers, Vol. 1 | 1969 |
| Specialty LP 2117 | Various | | This Is How It All Began, The Specialty Story Vol. 1 | 1970 |
| Specialty LP 2119 | Soul Stirrers b/w Sam Cooke | Sam Cooke | The 2 Sides of Sam Cooke | 1970 |
| Specialty LP 2121 | Pilgrim Travelers | | The Best of the Pilgrim Travelers | 1970 |
| Specialty LP 2122 | Swan Silvertones | | Love Lifted Me | 1970 |
| Specialty LP 2123 | Original Blind Boys of Alabama | Original Five Blind Boys of Alabama | Oh Lord, Stand By Me | 1970 |
| Specialty LP 2128 | Soul Stirrers | Sam Cooke with the Soul Stirrers | The Gospel Soul of Sam Cooke with the Soul Stirrers, Vol. 2 | 1971 |
| Specialty LP 2132 | May, Brother Joe | | Search Me Lord | 1971 |
| Specialty LP 2133 | Bradford, Alex | | The Best of Alex Bradford | 1971 |
| Specialty LP 2134 | Original Gospel Harmonettes | Dorothy Love Coates and the Original Gospel Harmonettes | The Best of Dorothy Love Coates and the Original Gospel Harmonettes, Vol. 1 | 1971 |
| Specialty LP 2137 | Soul Stirrers | Original Soul Stirrers | no title | 1971 |
| Specialty LP 2138 | Original Blind Boys of Alabama | Original Five Blind Boys of Alabama | Marching Up To Zion | 1971 |
| Specialty LP 2140 | Pilgrim Travelers | | The Best of the Pilgrim Travelers, Vol. 2 | 1971 |
| Specialty LP 2141 | Original Gospel Harmonettes | Dorothy Love Coates and the Original Gospel Harmonettes | The Best of Dorothy Love Coates and the Original Gospel Harmonettes, Vol. 2 | 1971 |
| Specialty LP 2142 | May, Brother Joe | | Thank You Lord For One More Day | 1971 |
| Specialty LP 2143 | Bradford, Alex | | He Lifted Me | 1971 |
| Specialty LP 2144 | Various | | Greatest Gospel Gems, Volume 1 | 1971 |
| Specialty LP 2145 | Various | | Greatest Gospel Gems, Volume 2 | 1971 |
| Specialty LP 2146 | Soul Stirrers | Sam Cooke with the Soul Stirrers | That's Heaven To Me | 1972 |
| Specialty LP 2147 | Pilgrim Travelers | | Stand Up And Testify | 1972 |
| Specialty LP 2148 | Swan Silvertones | | My Rock | 1972 |
| Specialty LP 2150 | Soul Stirrers | | Going Back To The Lord Again | 1972 |
| Specialty LP 2151 | May, Brother Joe | | In Loving Memory of Brother Joe May: A Collection of his Most Famous Recordings | 1972-73 |
| Specialty LP 2152 | Various | | To Mother | 1972-73 |
| Specialty LP 2153 | Various | | Gospel Stars in Concert | 1973 |