Andex gospel discography (1958-59)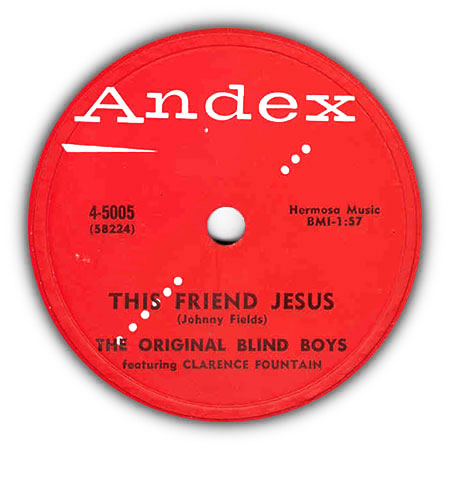 Andex was short-lived label, owned by John and Alex Siamas who also ran Keen and Ensign. The label operated from Culver City, CA and later from Hollywood, CA.
The Andex 5000 series was devoted to gospel.
The Pilgrim Travelers also recorded secular material for Andex (as The Travelers). Kylo Turner's release on this label (#4027) is also secular. Kylo Turner was one of the lead singers with the Pilgrim Travelers.
This page lists all known Andex gospel releases; 45/78rpm singles plus their sole gospel LP release.
45 & 78rpm releases:

| release | artist | artist as shown | songs | year |
| --- | --- | --- | --- | --- |
| Andex 5001 | Pilgrim Travelers | | Yes Indeed b/w Daniel Saw The Stone | 1958 |
| Andex 5002 | Original Gospel Harmonettes | | Gods Goodness b/w Elijah | 1958 |
| Andex 5003 | Original Gospel Harmonettes | Gospel Harmonetts | Power Of The Holy Ghost b/w The World Has Changed | 1958 |
| Andex 5004 | Original Gospel Harmonettes | Gospel Harmonetts | Jerico Walls b/w Trust And Obey | 1958 |
| Andex 5005 | Original Blind Boys of Alabama | Original Blind Boys | Coming Up Thru The Years b/w This Friend Jesus | 1958 |
| Andex 5006 | Original Blind Boys of Alabama | Original Blind Boys | You Got To Move b/w Oh Lord (Fix It) | 1958 |
| Andex 5007 | Pilgrim Travelers | | The Battle Of Jerico b/w Go Down Moses | 1958 |
| Andex 5008 | Pilgrim Travelers | | Poor Pilgrim Of Sorrow b/w Talk About Jesus | 1958 |
| Andex 5009 | Pilgrim Travelers | | Motherless Child b/w Walk Around | 1958 |
| Andex 5010 | Pilgrim Travelers | | I Could Do Better Than That b/w a Soldier's Plea | 1958-59 |
| Andex 5011 | Pilgrim Travelers | | Jesus Met The Woman At The Well b/w I Remember The Time | 1958-59 |
| Andex 5012 | Pilgrim Travelers | | He'll Never Let Go Your Hand b/w Come Home | 1958-59 |
| Andex 5013 | Original Gospel Harmonettes | | Looking For A Home b/w Precious Memories | 1959 |
| Andex 5014 | Original Gospel Harmonettes | | Love Lifted Me b/w I Have Done | 1959 |
LP release:

| release | artist | artist as shown | title | year |
| --- | --- | --- | --- | --- |
| Andex LP 5001 | Pilgrim Travelers | | Look Up! | 1958 |