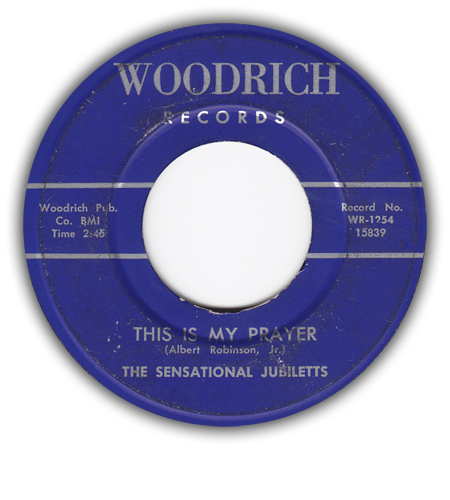 Apart from black gospel, this label (which was run by Woody Richardson) also released country, pop and rock & roll. The label's history is sort of a mystery but it seems the label has been active from the early 1960's to the late 1980's. All post-1970's issues have been omitted from this discography.
The Sons of Glory (Woodrich 1258, 1266) seem not to be connected to other groups with the same name. To avoid confusion with the Nashboro group, (2) is added.
The Song Birds of the South, as this male group is called on two of their three Woodrich single releases, should not be confused with the female Savoy group bearing the same name. Their Woodrich LP is included in the LP discography, but it may actually be from the 1980's.
Later (1980's) issues include albums by the Hobson Family, the Rocket City Harmonizers and the Joyful Sounds.
Most years given are estimates and there may be errors. Missing numbers in the listing are secular or unknown releases.
The 1200 numbers seem to be regular release numbers, the numbers that follow in the listing may also be matrix numbers (with an actual release number missing).
This page lists all known Woodrich gospel releases (45's and LP's) from the 1960's and 1970's.
45rpm releases:

| release | artist | artist as shown | songs | year |
| --- | --- | --- | --- | --- |
| Woodrich 1246 | Boone, Percy | | I've Been Born Again b/w Help Me Keep My Hands On The Plow | 1964-65 |
| Woodrich 1248 | Boone, Percy | | Look Unto the Hills b/w Let Thy Will Be Done | 1964-65 |
| Woodrich 1252 | Deep South Singers | | The Lord Has Been So Good To Me b/w Jesus' Love | 1965 |
| Woodrich 1254 | Sensational Jubilettes | Sensational Jubiletts | This Is My Prayer b/w Tell Me What To Say | 1965 |
| Woodrich 1257 | Sensational Jubilettes | Sensational Jubiletts | Be My Keeper b/w When Jesus Comes | 1966 |
| Woodrich 1258 | Sons of Glory (2) | | Nobody But The Lord b/w What Did Jesus Say | 1966 |
| Woodrich 1266 | Sons of Glory (2) | Gospel Sons Of Glory | Is Your Religion Real b/w Bread Alone | 1967 |
| Woodrich 1272 | Light House Singers | | I Don't Mind You Talking b/w Hold My Hand | 1967-68 |
| Woodrich 2461/2 | Song Birds | | The Blood Of Jesus b/w Bless My Soul | 196?-7? |
| Woodrich 2687/8 | Song Birds | Song Birds of the South | Jesus Lives b/w The Holy Ghost Fire | 196?-7? |
| Woodrich 2871/2 | Song Birds | Song Birds of the South | I've Been In The Storm Too Long b/w Vacation In Heaven | 196?-7? |
| Woodrich 2983 | Eternal Chariot Singers | | Wade In The Water b/w Too Close | 196?-7? |
| Woodrich 10663 | Moore Jr., Rev. George | | God Is So Good b/w Go On My Child | 197? |
| Woodrich 11061 | Rocket City Harmonizers | | Jesus b/w He Did It All | 197? |
| Woodrich 74383 (?) | Moore Jr., Rev. George | Rev. George Moore Jr. and the Spiritual Fellowships | Jesus Was Right There b/w You Don't Miss Your Water Until The Well Runs Dry | 197? |
LP releases:

| release | artist | artist as shown | title | year |
| --- | --- | --- | --- | --- |
| Woodrich LP 104 | Boone, Percy | Rev. Percy Boone | Try A Little Faith | 196?-7? |
| Woodrich LP 105 | Deep South Singers | | no title | 196?-7? |
| Woodrich LP 9707/8 | Song Birds | Song Birds of the South | no title | 197?-8? |