Atlantic gospel discography (1949-75)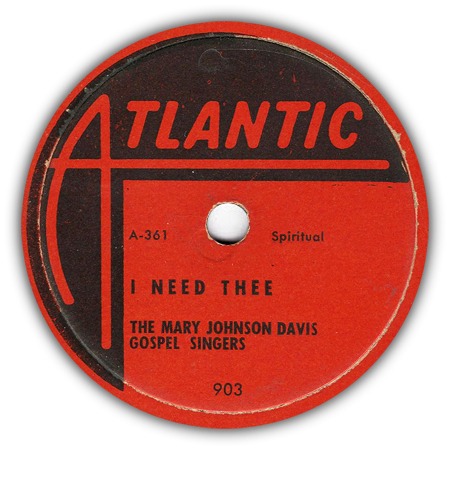 The Atlantic Recording Corporation (New York City, NY) started in 1947 and is best known for its numerous recordings in the fields of rhythm and blues, rock and roll, jazz, gospel and more. Important names connected to the Atlantic board include Herb Abramson (who sold his interest c. dec. 1958), Miriam Abramson, Ahmet Ertegun and Jerry Wexler.
Atlantic bought recordings (both gospel and secular) from Therman Ruth (Selah Jubilee Singers) in 1949, recorded in 1948, but nothing was released.
Lavern Baker recorded intensively for Atlantic, but LP 8036 is her only gospel LP for the label (a 45, drawn from this album, was released on Atco).
This page lists all known Atlantic gospel singles (1949-1970) and LP releases (1959-1975).
45 & 78rpm releases:

| release | artist | artist as shown | songs | year |
| --- | --- | --- | --- | --- |
| Atlantic 882 | Silver Leaf Quartet | | I Come To The Garden Alone b/w I Heard Zion Moan | 1949 |
| Atlantic 883 | Silver Leaf Quartet | | In That Sweet Bye And Bye b/w Just A Little Talk With Jesus | 1949 |
| Atlantic 890 | Johnson Davis Gospel Singers, Mary | | I'm Going To Wait On The Lord b/w He Satisfies | 1949 |
| Atlantic 903 | Johnson Davis Gospel Singers, Mary | | I Need Thee b/w He Has A Way That's Mighty Sweet | 1950 |
| Atlantic 908 | Parker Brothers | Parker Brothers Quartet of Norfolk, VA | I Can't Help Crying Sometimes b/w The Separating Line | 1950 |
| Atlantic 928 | Gospel Pilgrims | | Korea, Fightin' In The Foreign Land b/w I'm So Grateful To The N.A.A.C.P. | 1951 |
| Atlantic 929 | Thomas and the Gospel Pilgrims, Sister Essie Mae | | The Storm Is Passing Over b/w Do You Know My Heavenly Father? | 1951 |
| Atlantic 3001 | Rosettes | | My Expectations b/w He Lives In Me | 1952 |
| Atlantic 3002 | Gospel Harmonaires | | Thank You, Lord Jesus b/w The Little Wooden Church On The Hill | 1952 |
| Atlantic 3003 | Rosettes | | Walk Out In Jesus' Name b/w My Life Will Be Sweeter | 1953 |
| Atlantic 3004 | Rosettes | | When It's Time For Me To Go b/w Somewhere | 1953 |
| Atlantic 3005 | Jackson Gospel Singers | | I Can't Walk This Highway b/w The Last Mile Of The Way | 1954 |
| Atlantic 3006 | Booker Gospel Singers | | Jesus The Light b/w Get Away Sinner | 1954 |
| Atlantic 3007 | Fountain of Life Singers | | Jesus, My Savior, My Friend b/w Peace, Be Still | 1954-55 |
| Atlantic 3008 | Jackson Gospel Singers | | Heavenbound Train b/w Someday I'm Gonna Walk With Jesus | 1955 |
| Atlantic 3009 | Crum, Rev. H.B. | Rev. H.B. Crum and the Golden Keys | He'll Fix It For You b/w So Glad I'm Here (In Jesus' Name) | 1955 |
| Atlantic 2181 | Little Richard | | Hole In The Wall b/w Crying In The Chapel | 1963 |
| Atlantic 2192 | Little Richard | | Travelin' Shoes b/w It's No Secret | 1963 |
| Atlantic 2432 | Williams, Sondra | | God Bless The Child b/w Heartaches | 1967 |
| Atlantic 2531 | Williams, Marion | | Precious Lord Take My Hand b/w We Shall Overcome | 1968 |
| Atlantic 2572 | Ellis and Riverview Spiritual Singers, Jimmy | | I Don't Mind b/w Take The Lord With You | 1968 |
| Atlantic 2655 | Williams, Marion | | I Shall Be Released b/w People Got To Be Free | 1969 |
| Atlantic 2782 | Williams, Marion | | Come On People b/w I Pity The Poor Immigrant | 1970 |
| Atlantic 2788 | Williams, Marion | | Standing Here Wondering b/w Great Speckled Bird | 1971 |
| Atlantic 7551 | Walter Arties Chorale | | Morning Train b/w Amen, Amen | 1967-68 |
| Atlantic 7552 | Williams, Sondra | | The Whole World In His Hands b/w Hark The Voice | 1967-68 |
| Atlantic 7553 | Harmonizing Four | | If I Can Help Somebody b/w Take Your Burden To The Lord | 1967-68 |
| Atlantic 7554 | Gospel Chimes | | When I've Done The Best I Can b/w Miss Me | 1967-68 |
| Atlantic 7555 | Mighty Clouds of Harmony | | When My Journey Ends b/w Didn't It Rain | 1967-68 |
| Atlantic 7556 | Garden State Choir | | Showers of Blessing b/w When He Calls My Name | 1967-68 |
| Atlantic 7557 | Hines and Gospel Winds, George | | Give A Little b/w He's My Everything | 1967-68 |
| Atlantic 7558 | Institutional Church of God in Christ Choir | | God Is Everything To Me b/w If You Hold Out | 1967-68 |
| Atlantic 7559 | Richburg Singers | | Doing The Will Of God b/w Stand By Me | 1967-68 |
| Atlantic 7560 | Bolden, Alfred | | Get Right Church b/w Only What You Do For Christ | 1967-68 |
| Atlantic 7561 | Institutional Church of God in Christ Choir | | It Took A Miracle b/w Stretch Out (When Trouble Comes) | 1967-68 |
| Atlantic 7562 | Bolden, Alfred | | Lord Jesus b/w Amazing Grace | 1967-68 |
| Atlantic 7563 | Harmonizing Four | | Let Us Get Together With The Lord b/w There Will Be Peace | 1967-68 |
| Atlantic 7564 | Robinson Youth Choir, Helen | | I'm Happy With Jesus Alone b/w He's my Rock | 1967-68 |
| Atlantic 7565 | Stars of Virginia | | Be Ready b/w All These Things To Me | 1967-68 |
| Atlantic 7566 | Bolden, Alfred | | If I Could Hear b/w We Shall Overcome | 1967-68 |
| Atlantic 7567 | Griffin, Gloria | | Bless The Lord b/w It's Real | 1967-68 |
| Atlantic 7568 | Harmonizing Four | | Silent Night b/w Oh Little Town Of Bethlehem | 1967-68 |
| Atlantic 7569 | Arties Chorale, Walter | | Christmas Medley b/w All He Wants Is You | 1967-68 |
| Atlantic 7570 | Hines and Gospel Winds, George | George Hines and the Gospel Chimes | Trouble In Your Home b/w Do More | 1968-70 |
| Atlantic 7571 | Garden State Choir | | What You Gonna Do b/w World Situation | 1968-70 |
| Atlantic 7573 | Jackson and Exciting Melody Stars, Benny | | The Love Of God b/w Running To The Lord | c. 1970 |
LP releases:

| release | artist | artist as shown | songs | year |
| --- | --- | --- | --- | --- |
| Atlantic LP 8036 | Baker, Lavern | | Precious Memories | 1959 |
| Atlantic LP 1351 | Various | | Negro Church Music | 1959 |
| Atlantic LP 001 | Garden State Choir | | Perspectives In Gospel | 1967 |
| Atlantic LP 002 | Mighty Clouds of Harmony | | Presenting the Mighty Clouds of Harmony | 1967 |
| Atlantic LP 003 | Williams, Sondra | | Hark The Voice | 1967 |
| Atlantic LP 004 | Arties Chorale, Walter | | Walter Arties Chorale Sings Jewels Of Faith | 1967 |
| Atlantic LP 005 | Harmonizing Four | | Shine On Me | 1967 |
| Atlantic LP 006 | Bolden, Alfred | | Presenting Alfred Bolden, World's Greatest Gospel Organist | 1967 |
| Atlantic LP 007 | Gospel Chimes | | When I've Done The Best I Can | 1967 |
| Atlantic LP 008 | Institutional Church of God in Christ | | Gospel "Blessed With Soul" | 1967 |
| Atlantic LP 009 | Hines and the Gospel Winds, George | | Presenting George Hines and the Gospel Winds | 1968 |
| Atlantic LP 010 | Garden State Choir | | "In" Time | 1968 |
| Atlantic LP 011 | Mighty Clouds of Harmony | | Didn't It Rain | 1968 |
| Atlantic LP 012 | Richburg Singers | | Gospel Bliss | 1968 |
| Atlantic LP 013 | Harmonizing Four | | 40 Years Singing Gospel | 1968 |
| Atlantic LP 014 | Robinson Youth Choir, Helen | | Joy | 1968 |
| Atlantic LP 015 | Utterbach Concert Ensemble | | Holy And Righteous | 1968 |
| Atlantic LP 016 | Stars of Virginia | | Lift Every Voice And Sing | 1968 |
| Atlantic LP 017 | Arties Chorale, Walter | | His Name Is Wonderful | 1968 |
| Atlantic LP 018 | Griffin, Gloria | | Presenting Gloria Griffin, Gospel's Queen | 1968 |
| Atlantic LP 019 | Bolden, Alfred | | We Shall Overcome | 1968 |
| Atlantic LP 020 | Blair, Rev. Edmond | | Seeking A Part Time Love (sermon) | 1968 |
| Atlantic LP 021 | Institutional Church of God in Christ | | Grace | 1968 |
| Atlantic LP 022 | Garden State Choir | | Gospel Erupts | 1969 |
| Atlantic LP 023 | Mighty Clouds of Harmony | | Gospel "Plus" | 1969 |
| Atlantic LP 024 | Riverview Spiritual Singers | Jimmy Ellis and the Riverview Spiritual Singers | no title | 1969 |
| Atlantic LP 025 | Community Youth Choir | CYC Community Youth Choir | Running For My Life | 1969 |
| Atlantic LP 026 | Harmonizing Four | | Tommie, Lonnie and Me | 1970 |
| Atlantic LP 027 | Hines and the Gospel Winds, George | | no title | 1970 |
| Atlantic LP 8182 | Drinkard and the Sweet Inspirations, Cissy | | Songs Of Faith And Inspiration | 1968 |
| Atlantic LP 8228 | Williams, Marion | | The New Message | 1969 |
| Atlantic LP 8289 | Williams, Marion | | Standing Here Wondering Which Way To Go | 1971 |
| Atlantic LP 1587 | Roach with the J.C. White Singers, Max | | Lift Every Voice And Sing | 1971 |
| Atlantic LP 2-906 | Franklin, Aretha | | Amazing Grace | 1972 |
| Atlantic LP 7302 | Williams, Marion | | Blessed Assurance | 1974 |
| Atlantic LP 18142 | Williams, Marion | | Prayer Changes Things | 1975 |