Honey B gospel discography (late 1950's – early 1960's)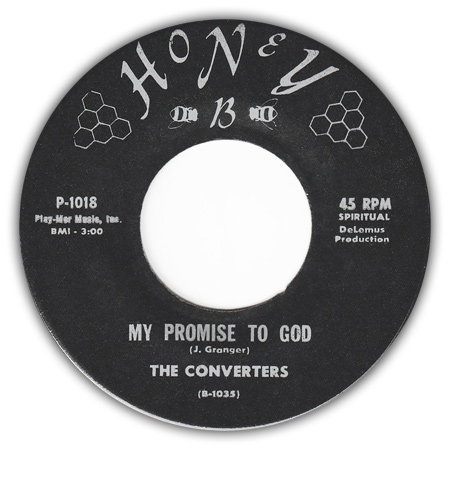 The Honey B label (Honey B, Honey-B-Recording Co., Honey-B Records, Honey-B Recordings Inc.) was located in New York City (77 Lafayette Ave., Brooklyn) and it appears to be related to the JAS label. It seems the Honey B label was in operation from the late 1950's to the early 1960's. It was related to the Buzz label (mentioned on the labels of #1016), which appears to have been active between 1959 and 1961 (according to the R&B Indies).
Honey B is a rather obscure label and little is known about it. Only eight gospel issues are listed, but there may be more. There are many missing numbers, but the label also released secular material.
Honey B 1017 was re-released on JAS with the same catalog number.
Many of the Honey B sides were produced by Wilber Delemus.
This page lists all known Honey B gospel releases.
45rpm releases:

| release | artist | artist as shown | songs | year |
| --- | --- | --- | --- | --- |
| Honey B 1016 | Delemus and Dynamic Harmonizers, Wilbur | | Peace In The Valley b/w Nobody's Fault But Mine | 195?-6? |
| Honey B 1017 | Mighty Mello Tones | | Beams Of Heaven b/w I Want To Be Right | 195?-6? |
| Honey B 1018 | Converters | | My Promise To God b/w The Power Within | 195?-6? |
| Honey B 1019 | Spiritual Echoes | | Cain't Sit Down b/w No Secret | 195?-6? |
| Honey B 1041 | Boys of Wonder | | Living In Jesus' Name b/w May The Good Lord Bless And Keep You | 196? |
| Honey B 1045 | Boys of Wonder | | Steal Away b/w I Believe | 196? |
| Honey B 1049/50 | Emperial Wonders | | The Lord Will Make A Way b/w Yoiu Must Be Born Again | 196? |
| Honey B 1051 | Spirits of Joy | | If You Ever Needed A Friend b/w Lets Have Church Tonight | 196? |
Acorn gospel