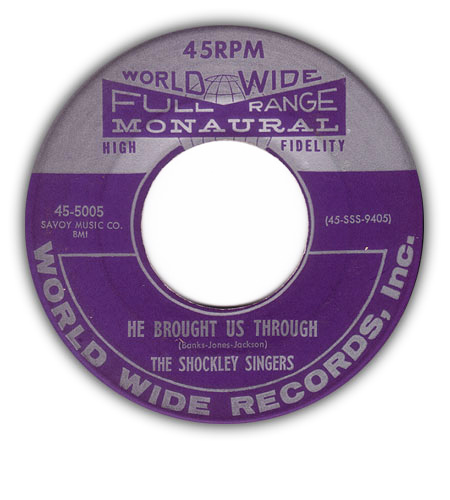 World Wide (World Wide Records, Inc.) was a subsidiary label of Savoy, releasing both gospel and secular. The label should not be confused with the World-Wide label (R.C. Quintette).
The 5000 series was devoted to gospel, all issues seem to be from 1960.
World Wide 5001 (Elder Broadie) was first issued on Coleman 5989 in c. 1948.
This page lists all known gospel releases on the World Wide label.
45rpm releases:

| release | artist | artist as shown | songs | year |
| --- | --- | --- | --- | --- |
| World Wide 5001 | Broadie, Elder | Elder B.H. Broadie, the World's Greatest Wonder Preacher | On The Jericho Road b/w Come On Home | 1960 |
| World Wide 5002 | Shockley Singers | Shockley Singers (the World's Youngest Gospel Singers) | Tell It To The People b/w Deliver Me | 1960 |
| World Wide 5003 | Georgia Peach | Famous Georgia Peach | I'll Never Grow Old b/w I'll Search Heaven (Looking For You) | 1960 |
| World Wide 5004 | Smith Sisters | Famous Smith Sisters | Who Shall Abide b/w Jesus Is Coming | 1960 |
| World Wide 5005 | Shockley Singers | | He Brought Us Through b/w The Divine Creator | 1960 |
| World Wide 5006 | Imperial Gospel Singers | | The Roll Call b/w Nothing Too Hard For God | 1960 |
| World Wide 5007 | North Philadelphia Juniors | | I Heard The News b/w I Dreamed Of A City Called Heaven | 1960 |
| World Wide 5008 | Crum, Rev. H.B. | Reverend Crum and his Mighty Golden Keys | Hold My Hand b/w All Over Me | 1960 |
| World Wide 5009 | Georgia Peach | | I'm Going To Build On That Shore b/w I Know I Got Religion | 1960 |
| World Wide 5010 | Shockley Singers | | Stop, Listen b/w There's Nothing Like It | 1960 |