Gospel Recording Co. discography (c. 1957-72)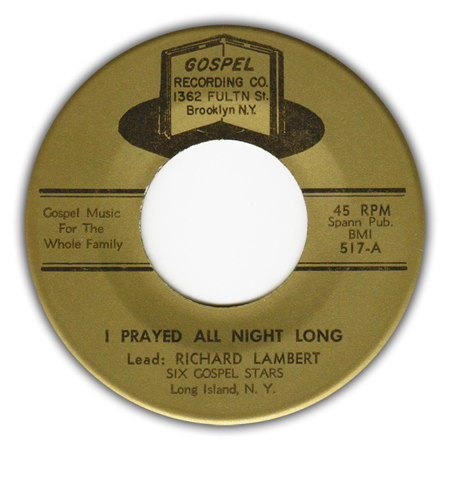 The Gospel Recording Co. label was located in New York City and in operation from the late 1950's to the early 1970's.
Little is known about the label's history and the people involved; most information was drawn from 45's, LP's and eBay ads.
Although listed under the name Gospel Recording Co., the label had in fact several names: Gospel Recording (200, 300, 400 series, #1369, 1370, 1497, 2171 and some early issues in the 200 and 1300 LP series, but on the labels only – the covers show the Gospel Recording Co. name), Gospel Recording Co. (most of the 500 series and the 600, 700 and 800 series, the majority of the LP issues) and GRC (#507, 513, 518 and 524, a.o.).
Apart from the above, some LP covers show the name as Gospel, Gospel Records or Gospel Recordings. However, the labels for these issues still show Gospel Recording Co.
The listing below shows the LP's with either the name Gospel Recording Co. or Gospel Recordings, depending on what the front cover shows. The 45's/78's are listed the way the labels indicate.
LP's #1364 (Prof. Herman Stevens) and 217 (Gospel All Stars) were reissued with different covers. Maybe there were more LP's reissued.
LP's #1376 (Dewey Young) and 1377 (Brooklyn All Stars) are mentioned on the back covers of other Gospel Recording Co. LP's, but it's unknown if they really exist.
LP 1385 (Rev. Howard Coleman) seems to have been released in a blank, gold-colored cover.
The Southland Singers (#505) and the Southland Mission Singers (#531) are supposed to be different groups.
Gospel Recording Co. 506 seems to have been released twice, by the J.C. Downing Quartette and by the Peerless Four Quartet.
All years given are estimates, all missing numbers are yet unknown releases (some may not have been released).
This page lists all known releases (78's, 45's, EP's and LP's) on the Gospel Recording Co. label.
78 & 45rpm releases:

| release | artist | artist as shown | songs | year |
| --- | --- | --- | --- | --- |
| Gospel Recording 214 | Bethel Specials | | I'm Singing b/w Since Jesus Came To Stay | c. 1957-58 |
| Gospel Recording 215 | Lawson Radio Choir, Bishop | | God Put A Rainbow In The Sky b/w Little David | c. 1957-58 |
| Gospel Recording 219 | Famous Harps of Praise | | My Heavenly Father Watches Over Me / Let Us Run On To Jesus | c. 1957-58 |
| Gospel Recording 222 | Bibleway Young People Choir of Brooklyn, NY | | I Love The Name Jesus b/w Walking Up The Kings Highway | c. 1957-59 |
| Gospel Recording 225 | Washington Temple's Camp Meeting Choir | | How Great Thou Art b/w I Shall Not Be Moved | c. 1957-59 |
| Gospel Recording 227 | Porter, Hugh | | Briney Tears b/w Whispering Hope | c. 1958-61 |
| Gospel Recording 231 | Childs Radio Choir, Bishop | | Calling Jesus My Rock b/w I Will Give Thanks | c. 1958-61 |
| Gospel Recording 232 | Lowe, James | Bro. James Lowe | Friend Above All Others b/w Nothing But The Holy Ghost | c. 1958-61 |
| Gospel Recording 233 | Badgett, Brother C.O. | | What A Time b/w Stumbling Over My Life | c. 1959-61 |
| Gospel Recording 366 | Newberry Singers | | I Cannot Fail The Lord b/w Do You Know Him | c. 1961-63 |
| Gospel Recording 367 | Christian Tabernacle Radio Choir | | Can't Turn Around Now b/w Just To God Be True | c. 1961-63 |
| Gospel Recording 368 | Anderson, Lamar | | The Only Hope b/w Without God I Can Do Nothing | c. 1961-63 |
| Gospel Recording 373 | Corinthian Gospel Singers | Corinthian Gospel Singers of Buffalo, NY | All That You Need b/w Sometimes | c. 1962-63 |
| Gospel Recording 377 | Friendship Baptist Mass Choir of Buffalo, NY | | Walk On By Faith b/w If You Believe | c. 1962-63 |
| Gospel Recording 378 | Harps of God Jubilee Singers | | God Is Able b/w I Believe I'll Serve The Lord | c. 1962-63 |
| Gospel Recording 379 | Buffalo Youth and Young Adult Choir | | Great Is The Lord b/w All That You Need | c. 1962-63 |
| Gospel Recording 380 | Moss & Celestials, Bill | | He Made It Alright For Me b/w I'll Tell The World | c. 1962-63 |
| Gospel Recording 383 | Brooklyn All Stars | Brooklyn All Star Singers | I'm On The Right Road Now b/w I'm Coming Home | c. 1962-63 |
| Gospel Recording 384 | Jackson, Lillie | | I Wondered As I Wandered b/w Sweet Little Jesus Boy | c. 1962-63 |
| Gospel Recording 385 | Six Gospel Stars | | Steal Away b/w Come On And Let's Go Back | c. 1962-63 |
| Gospel Recording 386 | Spiritual Voices | | Jesus I Love You b/w Without Holiness | c. 1962-63 |
| Gospel Recording 390 | Gospel Echoes of Newburg, NY | | I've Got The Love Of Jesus b/w Since I Laid My Burdens Down | c. 1962-63 |
| Gospel Recording 391 | Southern Harmoneers | | Holy City b/w Save Me | c. 1962-63 |
| Gospel Recording 392 | Gospel Choralaires of South Carolina | | What Love b/w Long White Robe | c. 1962-63 |
| Gospel Recording 397 | Brooklyn All Stars | Brooklyn All Stars Singers | If It Wasn't For The Lord b/w The Lord Will | c. 1962-63 |
| Gospel Recording 399 | Brooks, Gladys | | In Times Like These b/w Am I A Soldier | 1962-63 |
| Gospel Recording 400 | Sisters of Harmony | | What Love b/w Going To The City | c. 1963-64 |
| Gospel Recording 401 | Happy Travelers of Brooklyn, NY | | I Want The Lord To Remember Me b/w The Lord Has Been So Good | c. 1963-64 |
| Gospel Recording 403 | Crusaders of Washington, DC | | I've Been Living All Day Long For Jesus b/w Peace Be Still | c. 1963-64 |
| Gospel Recording 404 | Ivory Gospel Singers | Ivory Gospel Singers from the City of Richmond, VA | You Can't Do Wrong And Get By b/w Give God The Thanks | 1963-64 |
| Gospel Recording 405 | Golden Travelers of Brooklyn, NY | | I'll Take Jesus For Mine b/w Take Me By My Hand | c. 1963-64 |
| Gospel Recording 406 | Singing Angels | | The Way I Used To Walk b/w I Don't Know Why | c. 1963-64 |
| Gospel Recording 407 | Calvary Gospel Singers | | That Little Wooden Church b/w Motherless Child | c. 1963-64 |
| Gospel Recording 408 | Six Gospel Stars | | Ride That Glory Train b/w Had It Not Been For Him | c. 1963-64 |
| Gospel Recording 409 | Walker, Clara | Clara Walker and the Gospel Redeemers | Everything b/w I Want To Be Baptized | c. 1963-64 |
| Gospel Recording 1369 | Original Gospel Pearls | | Jesus Bore A Cross b/w Meet Me There | c. 1963-64 |
| Gospel Recording 1370 | Southern Harmoneers | | Home When The Roll Is Called b/w Home In The Sky | c. 1963-64 |
| Gospel Recording 1497 | Bishop Lawson Radio Choir | | God Put A Rainbow In The Sky b/w Little David | c. 1963-64 |
| Gospel Recording 2170 | Gospel All Stars | Famous Gospel All Stars | Sweeter Than The Day Before b/w Choose Your Seat | c. 1963-64 |
| Gospel Recording 2171 | World Famous Gaylocks Juniors | | I Got Jesus b/w Jesus Died On Calvary | c. 1963-64 |
| Gospel Recording Co. 500 | Young Adult Choir | | Trouble About My Soul b/w Too Late | c. 1964 |
| Gospel Recording 501 | Original Gospel Pearls | | Here We Stand b/w Lord Don't Leave Me | c. 1964 |
| Gospel Recording 502 | Sisters of Harmony | | Halleujah [sic] b/w Following Moses | c. 1964 |
| Gospel Recording 504 | Brooklyn All Stars | Brooklyn All Star Singers | Don't Forget The Family Prayer b/w Lord I Want To Rest | c. 1964 |
| Gospel Recording 505 | Southland Singers | | Tell Me Why b/w Live The Life | c. 1964 |
| Gospel Recording Co. 506 | Peerless Four Quartet | | My Mother Is Gone b/w This Is The Reason | c. 1964 |
| Gospel Recording Co. 506 | Downing Quartette, J.C. | | Play On Your Harp b/w Victory After Awhile | c. 1964 |
| GRC 507 | Emerson Four | | Well Done b/w Waiting And Watching | c. 1964 |
| GRC 509 | Sensational Golden Sons of Brooklyn NY | | Standing In The Safety Zone b/w Lord One Day | c. 1964 |
| Gospel Recording Co. 510 | Peerless Four Quartet | | What A Mighty God b/w Examine Me Oh Lord | c. 1964 |
| Gospel Recording Co. 511 | Colmanaires of Washington, DC | | God Put A Rainbow In The Sky b/w I Must Tell Jesus | c. 1964 |
| GRC 512 | Silver Gate Quartette | | Wasn't It A Rainy Time b/w What He's Done For Me | c. 1964 |
| GRC 513 | Starlight Singers | Starlight Singers of Emporia, Virginia | Move These Things b/w Sweet Home | c. 1964 |
| Gospel Recording Co. 514 | Washington Singers | | One Step b/w Where Ever | c. 1964 |
| GRC 515 | Teasley Inspirational Singers | | Prayer Keeps Me Marching On b/w My Help Cometh From The Lord | c. 1964 |
| Gospel Recording Co. 517 | Six Gospel Stars | | I Prayed All Night Long b/w My Testimony | c. 1964 |
| GRC 518 | Aeolian Gospel Singers of Phila., PA | | No Not One b/w In His Arms | c. 1964 |
| Gospel Recording Co. 522 | Cross Jordan Singers | | A Letter To Mother b/w Sit Down Mother | c. 1964 |
| GRC 524 | Southern Echoes of Washington, DC | | I Know A Man b/w Search My Heart | c. 1964 |
| Gospel Recording Co. 525 | Pilgrims of Faith | | When My Jesus Comes b/w Jesus Died | c. 1964 |
| Gospel Recording Co. 526 | Washington Singers | | You'll Need Jesus b/w There's Joy | c. 1964 |
| Gospel Recording Co. 531 | Southland Mission Singers | | Time Has Made A Change b/w I Want To See Jesus | c. 1964 |
| Gospel Recording Co. 532 | Bethlehem Travelers | | Main Line b/w How Great Thou Art | c. 1964 |
| Gospel Recording Co. 533 | Singing Angels | | I've Got A Right b/w The Lord's Prayer | c. 1964 |
| Gospel Recording Co. 535 | Brooklyn All Stars | Brooklyn All Stars Singers | Guide Me Oh Thou Great Jehovah b/w I've Got My Ticket | c. 1964 |
| Gospel Recording Co. 537 | Galileans | | Just Can't Keep It b/w Till We Meet | c. 1964 |
| Gospel Recording Co. 538 | Jones, Jimmy | Jimmey Jones b/w Jimmey Jones Singers | I Believe I'll Go Back Home b/w Lord I've Tried | c. 1964 |
| Gospel Recording Co. 539 | Sons of David | | Swing Low Sweet Chariot b/w Blessed Assurance | c. 1964 |
| Gospel Recording Co. 540 | Peerless Four Quartet | Peerless Four | Jesus Will Roll b/w Come Ye Disconsolate | c. 1964 |
| Gospel Recording Co. 542 | Gospel Ensemble of Chattanooga, Tenn. | | Depending On You b/w Lead Me To That Rock | c. 1964 |
| Gospel Recording Co. 544 | Mighty Southland Singers of Paterson, NJ | | Take Me By My Hand b/w Good Religion | c. 1964 |
| Gospel Recording Co. 546 | Happyland Singers of Baltimore, MD. | Happyland Singers | There Will Be No Tomorrow b/w It's A Long Way | c. 1964 |
| Gospel Recording Co. 547 | Young, Dewey | Dewey Young and the Devine Travelers | I Will Guide Thee b/w I Cried All Nite Long | c. 1964 |
| Gospel Recording Co. 548 | Mighty Gospel Wonders of Winston Salem, NC | | Lord Touch Me b/w My Life Is In His Hands | c. 1964 |
| Gospel Recording Co. 554 | Gospel Communicators | | Communication With Jesus b/w How Sweet It Is | c. 1964-65 |
| Gospel Recording Co. 560 | Brooklyn All Stars | Brooklyn All Stars Singers | I Want To Be Ready b/w Sinner Man | c. 1964-65 |
| Gospel Recording Co. 561 | Six Gospel Stars | | Sit Down And Rest b/w Hold On | c. 1964-65 |
| Gospel Recording Co. 562 | Johnson Singers | | I Kept On Searching b/w If I Go | c. 1964-65 |
| Gospel Recording Co. 563 | Five Singing Stars | Tommy Ellison and the Five Singing Stars | Amen b/w I Know The Lord | c. 1964-65 |
| Gospel Recording Co. 564 | Carlton, Becky | | Silent Nite b/w Away In A Manger | c. 1964-65 |
| Gospel Recording Co. 565 | Capitalaires | Capitolaires of Columbus, Ohio | Jesus Made It Possible b/w Yield Not To Temptation | c. 1964-65 |
| Gospel Recording Co. 569 | Sacred Harmonizers | Sacred Harmonizers of Phila, PA | Half Has Never Been Told b/w Working For Jesus | c. 1964-65 |
| Gospel Recording Co. 570 | Heavenly Echoes | | Good Time b/w The Clouds Are Hanging Low | c. 1964-65 |
| Gospel Recording Co. 571 | Happyland Singers of Baltimore, MD. | | Great Day Is Coming b/w Since I Laid My Burden Down | c. 1964-65 |
| Gospel Recording Co. 572 | Singing Stars | Singing Stars of Louisburg, NC | Take Me To The Water b/w Motherless Child | c. 1964-65 |
| Gospel Recording Co. 573 | Sons of David | | Around God's Throne b/w Freedom In The Land | c. 1964-65 |
| Gospel Recording Co. 574 | Young, Dewey | Rev. Dewey Young and his Singers | Prodigal Son b/w Jesus Loves Me | c. 1964-65 |
| Gospel Recording Co. 575 | Rugged Cross Singers | | We Are Going To Glory b/w Softly And Tenderly | c. 1964-65 |
| Gospel Recording Co. 578 | Johnson Singers | | Resting In The Lord b/w Walk Together Children | c. 1964-65 |
| Gospel Recording Co. 581 | Soul Savers | | I'll Be Alright b/w Just Anyhow | c. 1965 |
| Gospel Recording Co. 582 | Capitalaires | | Take It To Jesus b/w Holy Ghost | c. 1965 |
| Gospel Recording Co. 583 | Silver Gate Quartette | Silver Gate Quartett | Move For Jesus b/w I Believe | c. 1965 |
| Gospel Recording Co. 585 | Jenkins and the Pilgrim Gospel Singers, Prof. | | Leaning On The Lord b/w So High You Can't Get Over It | c. 1965-66 |
| Gospel Recording Co. 586 | Merckson, Maggie | | In Everybody's Garden Some Rain Must Fall b/w Out In The Sunshine | c. 1965-66 |
| Gospel Recording Co. 587 | Victory Chorale Ensemble | | Victory, Victory Shall Be Mine b/w There Is No Telling What God Can Do | c. 1965-66 |
| Gospel Recording Co. 588 | Glorious King Gospel Singers | | I Found The Answer b/w Two Wings | c. 1965-66 |
| Gospel Recording Co. 589 | Brooklyn All Stars | Brooklyn All Star Singers / Paul Owens and the Brooklyn All Star Singers | Motherless Child b/w Look Down The Line | c. 1965-66 |
| Gospel Recording Co. 590 | Summers and the Gospel Two, A. | | God Is So Good b/w Hear My Prayer | c. 1965-66 |
| Gospel Recording Co. 591 | Rugged Cross Singers | Rugged Cross Singers of Jersey City, NJ | He's Everything To Me b/w The Last Mile Of The Way | c. 1965-66 |
| Gospel Recording Co. 592 | Mighty Heavenly Crowns of Albany, GA. | | Home In Glory b/w Stand For Jesus | c. 1965-66 |
| Gospel Recording Co. 594 | Gospel Tones | Gospel Tones of Grand Rapids, Michigan | I Never Knew b/w I've Got It | c. 1965-66 |
| Gospel Recording Co. 596 | Original Sensational Gospel Six | | I Thank You b/w Tomorrow Is Another Day | c. 1965-66 |
| Gospel Recording Co. 597 | Victory Chorale Ensemble | | I Love The Lord b/w Sinner Why Do You Wait | c. 1966 |
| Gospel Recording Co. 597 (2) | Gospel Jewels | | Just One Touch b/w Stand Up For Jesus | c. 1966-67 |
| Gospel Recording Co. 598 | Dixieland Gospel Singers | | Going Home b/w The Lord Is My Shepherd | c. 1966-67 |
| Gospel Recording Co. 599 | Ford, Brother Allen | | Highway 66 b/w You Can't Make It By Yourself | c. 1966-67 |
| Gospel Recording Co. 600 | Spiritual Voices | | Search Me Jesus b/w Leak In The Building | c. 1966-67 |
| Gospel Recording Co. 602 | Williams, Rev. A.C. | | In Times Like These b/w It Is No Secret | c. 1966-67 |
| Gospel Recording Co. 603 | Singing Stars | | Lord I'll Go b/w I'm On The Right Road | c. 1966-67 |
| Gospel Recording Co. 604 | Southland Jubiliars [sic] | | My Hand Is In God's Hand b/w Oh Lord | c. 1966-67 |
| Gospel Recording Co. 605 | Willis Sisters | | God Doesn't Ever Change b/w Marching Thru The City | c. 1966-67 |
| Gospel Recording Co. 606 | Hebrew Gospel Singers | | God Answers Prayer b/w I've Got to Meet Jesus | c. 1966-67 |
| Gospel Recording Co. 606 | Mighty Sensational Twilights | | All Thru The Years b/w Theme Song God Is Able | c. 1966-67 |
| Gospel Recording Co. 608 | Sampson Harmoneers | | My Soul b/w I Can Depend On Jesus | c. 1966-67 |
| Gospel Recording Co. 700 | Bright Light Baptist Church | | Fire b/w No Stranger | c. 1966-67 |
| Gospel Recording Co. 701 | Swint, Anita | | If I Can Help Somebody b/w Witness For My Lord | c. 1967 |
| Gospel Recording Co. 704 | Victory Chorale Ensemble | | Standing Standing In The Need Of Prayer b/w Tambourines To Glory | c. 1968 |
| Gospel Recording Co. 705 | Singing Stars | Singing Stars of Louisburg, NC | Live So God Can Use Me b/w Jesus Made A Way | c. 1968 |
| Gospel Recording Co. 706 | Little Rock Baptist Choir | | Let The Spirit Moving b/w Long, Long Time Ago | c. 1968 |
| Gospel Recording Co. 707 | Singing Stars | | Going Back With Jesus b/w Did You Stop To Think | c. 1968 |
| Gospel Recording Co. 708 | Mighty Charity Gospel Singers | | Oh Mary b/w Story Of Job | c. 1968 |
| Gospel Recording Co. 800 | Byrd, Rev. and Mrs. E.T. | | I'd Rather Have Jesus b/w Just How Much We Can Bear | c. 1968-69 |
| Gospel Recording Co. 800 (2) | Ford, Brother Allen | Bro. Allen Ford | Where I'm Bound b/w He Delivered Me | c. 1968-69 |
| Gospel Recording Co. 801 | Singing Stars | Singing Stars of Louisburg, NC | Nothing Can Change Me b/w When The Roll Is Called | c. 1968-69 |
EP releases:

| release | artist | artist as shown | title | year |
| --- | --- | --- | --- | --- |
| Gospel Recording EP 372 | Heavenly Echoes of E. Orange, NJ | | no title | c. 1962-63 |
| Gospel Recording EP 374 | Saxton, Henry Nelson and Harold Austin, Henry | | Christmas Music | c. 1962-63 |
LP releases:

| release | artist | artist as shown | title | year |
| --- | --- | --- | --- | --- |
| Gospel Recording Co. LP 214 | Various | | Three Great Gospel Choirs | c. 1961-62 |
| Gospel Recording Co. LP 215 | Porter, Prof. Hugh | | Inspirational Songs | c. 1961-62 |
| Gospel Recording Co. LP 216 | Angelic Choir of Washington Temple Church | | Church Of God In Christ | c. 1961-62 |
| Gospel recording Co. LP 217 | Gospel All Stars | | no title | c. 1962 |
| Gospel Recording Co. LP 218 | Newberry Singers | | no title | c. 1962 |
| Gospel Recording Co. LP 220 | Gospel All Stars | | Deep River | c. 1962 |
| Gospel Recording Co. LP 1364 | Stevens, Prof. Herman | | Gospel Organ Music | c. 1962 |
| Gospel Recording Co. LP 1365 | Christian Tabernacle Radio Choir | Christian Tabernacle Choir | In The Tabernacle Of The Lord | c. 1962 |
| Gospel Recording Co. LP 1365 | Various | | Gospel On The Hammond Organ | c. 1962 |
| Gospel Recording Co. LP 1367 | Friendship Baptist Mass Choir | | The 140 Beautifully Blended Voices of the Friendship Baptist Mass Choir | c. 1962 |
| Gospel Recording Co. LP 1368 | St. John Baptist Choir of Buffalo, NY | | no title | c. 1962-63 |
| Gospel Recording Co. LP 1369 | Various | | Gospel Dinner Music | c. 1962-63 |
| Gospel Recording Co. LP 1370 | Various | | I Thank You Lord | c. 1963-64 |
| Gospel Recording Co. LP 1371 | Brooklyn All Stars | Brooklyn All Stars Singers | I've Got My Ticket | c. 1964 |
| Gospel Recording Co. LP 1372 | Gospel Pearls | | Here We Stand | c. 1964 |
| Gospel Recording Co. LP 1373 | Brooklyn All Stars | | I Want To Rest | c. 1964-65 |
| Gospel Recording Co. LP 1374 | Various | | Choir Convention | c. 1964-65 |
| Gospel Recording Co. LP 1375 | Various | | Ten Gospel Hits, volume 1 | c. 1964-65 |
| Gospel Recording Co. LP 1376 | Young, Dewey | Dewey Young and the Divine Travelers | ? | c. 1964-65 |
| Gospel Recording Co. LP 1377 | Brooklyn All Stars | | ? | c. 1964-65 |
| Gospel Recording Co. LP 1378 | Carlton, Becky | Little Becky Carlton | Organ Melodies | c. 1964-65 |
| Gospel Recording Co. LP 1379 | Various | | Jesus Made It Possible | c. 1964-65 |
| Gospel Recording Co. LP 1380 | Walker, Clara | Clara Walker and the Gospel Redeemers | Take Me To The Water | c. 1964-65 |
| Gospel Recording Co. LP 1381 | Lawson, Bishop R.C. | | Behold The Man | c. 1966 |
| Gospel Recording Co. LP 1382 | Victory Chorale Ensemble | | Victory Shall Be Mine | c. 1966 |
| Gospel Recording Co. LP 1383 | Peerless Four Quartet | | Many Blessings | c. 1967 |
| Gospel Recording Co. LP 1384 | Victory Chorale Ensemble | | More Love To Thee | c. 1967 |
| Gospel Recording Co. LP 1385 | Coleman, Rev. Howard | | The Lord Will Provide (sermon) | c.1967 |
| Gospel Recording Co. LP 1386 | Silver Gate Quartet | | I Believe | c. 1967 |
| Gospel Recording Co. LP 1387 | Voices of Shiloh | | Standing On The Promises | c. 1967 |
| Gospel Recording Co. LP 1388 | Sangster Gospel Chorus, E.D. | | I Have A Friend | c. 1967 |
| Gospel Recording Co. LP 1391 | Young People's Holy Association District Choir | | I Won't Turn My Back On God | c. 1967 |
| Gospel Recording Co. LP 1392 | Gospel Tones | | no title | c. 1967 |
| Gospel Recording Co. LP 1393 | Cornerstone Church Choir | | I Want To Be Ready | c. 1967-68 |
| Gospel Recording Co. LP 1394 | Cleveland Graves | | The Remarkable Cleveland Graves Plays Gospel Melodies | c. 1967-68 |
| Gospel Recording Co. LP 1395 | Spiritual Voices | Philip Johnson, Spiritual Voices | Search Me Jesus | c. 1968 |
| Gospel Recordings LP 1396 | Victory Chorale Ensemble | | Tambourines To Glory | c. 1968-69 |
| Gospel Recording Co. LP 1397 | Voices of Shiloh | | Dry Bones Made Alive | c. 1968-69 |
| Gospel Recording Co. LP 1398 | Voices of E.R.C. | | It Is Well | c. 1969 |
| Gospel Recording Co. LP 1399 | Young Adult Choir | | Satan We're Going To Tear Your Kingdom Down | c. 1969 |
| Gospel Recording Co. LP 1400 | Youth Ensemble of St. John Fire Baptized Holiness Church of God of the Americas | | Only Believe | c. 1970 |
| Gospel Recordings LP 14002 | Parham, Kitty | Kitty Parham and the West District Choir | no title | c. 1970 |
| Gospel Recordings LP 14003 | Penn. State Choir | | no title | c. 1970 |
| Gospel Recordings LP 14004 | Carlton, Becky | Becky Carlton and the Broadie Temple Choir | Behold Beloved | c. 1970 |
| Gospel Recordings LP 14005 | Jordan Gospel Singers | | The Family Reunion | c. 1970-71 |
| Gospel Recordings LP 14008 | Pittsburgh All-Stars | | Good Things Come To Those Who Wait | c. 1970-72 |
| Gospel Recordings LP 14009 | Way of the Cross Choir | | He's Coming Back | c. 1970-72 |
| Gospel Recordings LP 1010 | Saint Mathew Choir | | Faith | c. 1971 |
| Gospel Recordings LP 1112 | Parham, Kitty | Kitty Parham and the Phildelphia Voices For Christ | By The Grace Of God | c. 1972-73 |