Elko gospel discography (c. 1951-54)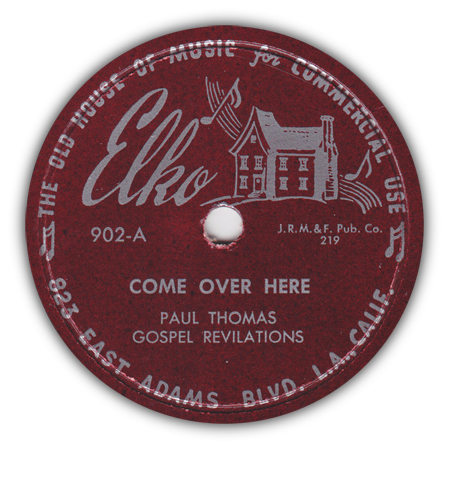 For a short label introduction, click here.
George Curry also had a secular release on Elko (#827).
It seems likely that records #12 and #13 in the listing are both by the Corinthian Gospel Singers; however, on Elko 932 there's no artist name given and there seem to be differences between the recordings.
Elko 918, though credited to Sister Christine, is actually by Clara Ward/Clara Ward and the Ward Sisters. The same recordings can be found on BBS 1002, which was released in c. 1952.
The Sensational Clouds of Joy continued to record as the Mighty Clouds of Joy (most famous for their Peacock recordings).
Click here for a picture of George Curry.
This page lists all known Elko gospel releases.
78rpm releases:

| release | artist | artist as shown | songs | year |
| --- | --- | --- | --- | --- |
| Elko 200 | Watson, Doris and Tommy | | The Day Is Passed And Gone b/w I Thank You Lord | 1951 |
| Elko 201 | Watson Sisters b/w Tommy Watson and Doris Watson | | Didn't It Rain b/w I Live The Life I Sing About | 1951 |
| Elko 254 | Turney and her Goodwill Singers, Bertha Mae | | What Manner Of Man Is This b/w Didn't It Rain | 195? |
| Elko 824 | Golden Star Spiritual Singers | | The Gospel Train Is Coming b/w All You Need Is That True Religion | 1952-53 |
| Elko 828 ♫ | Curry, George | George Curry (the One Man Quartet) | When My Good Lord Decides b/w Live In Jesus Name | 1952-53 |
| Elko 902 | Zion Travelers | Paul Thomas Gospel Revilations | Come Over Here b/w God's Blood | 1953-54 |
| Elko 903 | Sister Christine | Sister Christine and her Piano | Take My Hand b/w If I Could Only Hear My Mother's Prayer Again | 1953-54 |
| Elko 904 | Stewart and Family, Rev. | | Wings To Fly Away b/w I Made A Vow To God | 1953-54 |
| Elko 916 | Rising Star Gospel Singers | Rising Stars | The Name Jesus b/w Today | 1954 |
| Elko 917 | Rev. Latimore | | Eagle Stirs His Nest b/w Prayer | 1954 |
| Elko 918 | Ward, Clara | Sister Christine | King Jesus Is All I Need b/w I'll Anchor In The Harbor Of The Lord | 1954 |
| Elko 932 | Unknown group (Corinthians Gospel Singers?) | | Please Let Me Rest b/w Didn't It Rain | 1954? |
| Elko (nn) | Corinthians Gospel Singers | | Please Let Me Rest b/w Didn't It Rain | 1954? |
| Elko (nn) | Sensational Clouds of Joy | | Build Me A Cabin In Glory b/w That's What He Is To Me | 195? |
| Elko (nn) | Unknown group | | Let Me Live In Jesus' Name b/w My Lord Is Gonna Decide | 19?? |