Federal gospel discography (1950-67)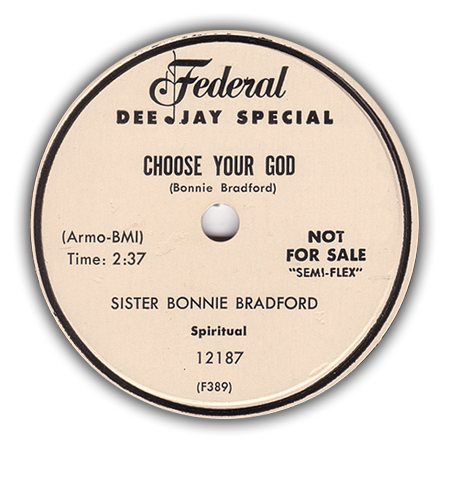 Federal was a subsidiary label of King. It was founded by Syd Nathan in 1950.
The daughter of Thelma Hawkins (Federal 12009) was Victoria Hawkins who had a gospel recording career of her own (Peacock). #12009 was probably first issued on Staff 648, released as by Thelma Hawkins and daughter Victoria.
The Interne Quartet (Federal 12052) is a female vocal group featuring Thelma Bumpess (Blind Mary) and Shirley Caesar (Baby Shirley). There's no connection with the Four Internes.
All Federal tracks by the Four Internes were also issued on King LP 574 (1958) and on King LP 945 (1966).
All Federal tracks by the Patterson Singers are also on King LP 763 (1962).
All Kelly Brothers singles on Federal, except #12472, were also issued on King LP 810 (1962).
Click here to see a phograph of the Kelly Brothers (with names given).
This page lists all known Federal gospel singles.
78 & 45rpm releases:

| release | artist | artist as shown | songs | year |
| --- | --- | --- | --- | --- |
| Federal 12002 | L and N Gospel Singers | L. and N. Gospel Singers | Get Away Jordan b/w Jesus Knows About My Trouble | 1950 |
| Federal 12004 | Anderson, Robert | | King Jesus b/w My Friend Jesus | 1950 |
| Federal 12009 | Thelma Hawkins and Daughter | | He Knows How Much I Can Bear b/w Over The Hill | 1950 |
| Federal 12011 | L and N Gospel Singers | L. and N. Gospel Singers | Going To Move b/w Lord, You Been So Good To Me | 1951 |
| Federal 12013 | Anderson, Robert | | My Home Over There b/w Eternal Home | 1951 |
| Federal 12026 | Anderson, Robert | | He Lives In Me b/w God Answers Prayers | 1951 |
| Federal 12032 | Robinson, Rev. Cleophus | | Now Lord b/w I Love The Name Of Jesus | 1951 |
| Federal 12040 | Florida Soul Stirrers | | I Heard The Voice b/w Get Right With God | 1951 |
| Federal 12047 | Florida Soul Stirrers | | Father Alone b/w Holy Father | 1951 |
| Federal 12050 | Golden Eagles | | Jezebel b/w Lay Down Your Soul | 1951 |
| Federal 12051 | Bumpess, Thelma | Blind Mary and Baby Shirley | Every Hour Every Day b/w Sweeping Through The City | 1951 |
| Federal 12052 | Interne Quartet | | In The Great Reunion b/w I Want To See Jesus | 1951 |
| Federal 12071 | Four Internes | | In That Great Gettin' Up Mornin' b/w Living In The Glory Land | 1952 |
| Federal 12074 | Baby Shirley | | I'd Rather Serve Jesus b/w I Know Jesus Will Serve | 1952 |
| Federal 12086 | Four Internes | | In That Great Reunion b/w One Of These Mornings | 1952 |
| Federal 12091 | Golden Eagles | | Anywhere Anytime b/w My God Called Me This Morning | 1952 |
| Federal 12094 | Bumpess, Thelma | Thelma Bumpess and the Royalettes | God's Soldier b/w Precious Father | 1952 |
| Federal 12097 | Four Internes | | Count Your Blessings b/w Going Back To Jesus | 1952 |
| Federal 12104 | Four Internes | | Newborn Again b/w Home Again | 1952 |
| Federal 12116 | Golden Eagles | | The Lord Will Make A Way Somehow b/w Throw Out The Life Line | 1953 |
| Federal 12124 | Four Internes | | Do Unto Others b/w I'm Using My Bible For A Road Map | 1953 |
| Federal 12146 | Four Internes | | Holy Father b/w Stepped In The Water | 1953 |
| Federal 12154 | Four Internes | | I Just Rose To Tell You b/w You'd Better Mind | 1953 |
| Federal 12167 | Bradford, Sister Bonnie | | He Stopped Me From Straying b/w Glorify His Name | 1954 |
| Federal 12170 | Four Internes | | Who Will Your Captain Be b/w Do You Know Him | 1954 |
| Federal 12187 | Bradford, Sister Bonnie | | Choose Your God b/w Jesus Made A Change | 1954 |
| Federal 12239 | Four Internes | | It's All Right Now b/w I'm Troubled | 1955 |
| Federal 12247 | Four Internes | | See The Sign Of Judgment b/w Let's Go To Jesus | 1955 |
| Federal 12373 | Kelly Brothers | | I've Been Striving For So Long b/w I've Made It Over At Last | 1960 |
| Federal 12386 | Revelation Baptist Church Adult Choir | Revelation Baptist Church Adult Choir b/w Truzella McClain and the Revelation Baptist Church Choir | Hold On b/w I'm Trying My Best To Get Home To See Jesus | 1960 |
| Federal 12388 | Patterson Singers | | When Jesus Comes b/w Jesus Is Mine | 1960 |
| Federal 12389 | Joy Rite Singers | | You Better Mind b/w What About You | 1960 |
| Federal 12390 | Candlelight Singers | | The Altar b/w In The Boat | 1960 |
| Federal 12391 | Patterson Singers | | Plenty Good Room b/w I Need Jesus | 1960 |
| Federal 12392 | Kelly Brothers | | Waiting For Jesus b/w Jesus Knows The Reason Why | 1960 |
| Federal 12394 | Candlelight Singers | | Never Alone b/w Sinner | 1960 |
| Federal 12404 | Kelly Brothers | | He's The Same Today b/w He's All Right | 1961 |
| Federal 12419 | Patterson Singers | Patterson Singers of Brooklyn, NY | Thy Way b/w Jesus Knows | 1961 |
| Federal 12427 | Patterson Singers | Patterson Singers of Brooklyn, NY | Try Jesus b/w Oh What A Time We'll Have Up There | 1961 |
| Federal 12438 | Ambassadors of Philadelphia, PA | | He Watches Over Me b/w I'm Traveling Through This Land | 1961 |
| Federal 12442 | Kelly Brothers | | Come On Jesus (Give Me A Helping Hand) b/w When Satan Blocked My Way | 1962 |
| Federal 12458 | Kelly Brothers | | I'll Be A Witness There Too b/w I'm So Glad Today | 1962 |
| Federal 12459 | Kingdom Bound Singers | | A Few Words About Jesus b/w I'll Wait On Jesus | 1962 |
| Federal 12465 | Kelly Brothers | Kelley Brothers | I Still Remember b/w I'll Be Standing At The Station When Jesus Comes | 1962 |
| Federal 12467 | Patterson Singers | | I'm On My Way b/w God Of Our Fathers | 1962 |
| Federal 12469 | Ambassadors of Philadelphia, PA | | Just Another Day b/w I Have To Cry Sometime | 1962 |
| Federal 12472 | Kelly Brothers | | (I Was Way Down Yonder And) I Couldn't Hear Nobody Pray b/w Lord, Remember Me | 1962 |
| Federal 12481 | Kingdom Bound Singers | | It's Praying Time b/w Take The Lord Along With You | 1963 |
| Federal 12492 | Parker Brothers Choir | | Unreleased, titles unknown | |
| Federal 12494 | Kingdom Bound Singers | | Wonder What The Lord Will Say b/w I Want To Be Just Like Him | 1963 |
| Federal 12542 | Willingham and his Swanees, Rev. | | That's The Spirit b/w Try Me Father | 1966 |
| Federal 12550 | Robinson, Kay | | In The Bosom Of Jesus b/w This Old World | 1967 |
| Federal 12553 | Robinson, Kay | | Lord I'm Yours b/w This Old World | 1967 |