Checker gospel discography (1953-69)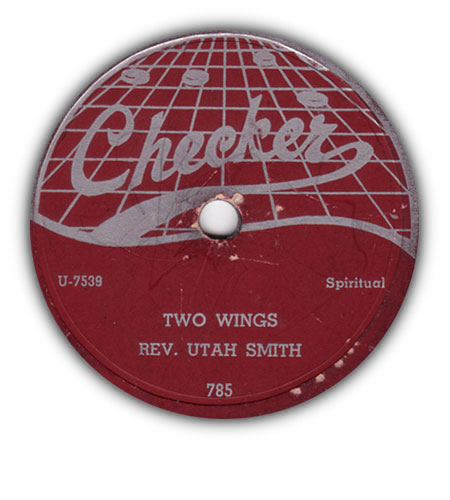 Checker was a subsidiary of the Chess label (Chicago, IL). The label was founded in 1952 by the Chess brothers who ran the label until they sold it to General Recorded Tape (GRT) in 1969.
Many early Checker singles were originally released on other labels. This is noted on the applicable single pages with links to the original issues when available.
Checker LP 10002 is by the Oak Ridge Quartet (a white group), LP 10005 is probably unreleased (Sammie Bryant?).
Gene Viale (Checker LP 10054) was a latin soul singer, included in the discography for reasons of completeness. He was associated with James Cleveland and sang with the James Cleveland Singers.
This page lists all Checker gospel singles and LP's until 1970. Later singles and albums have been omitted.
78 & 45rpm releases:

| release | artist | artist as shown | songs | year |
| --- | --- | --- | --- | --- |
| Checker 776 | Silver Stars | | Take It To The Lord b/w Twelve Years Old | 1953 |
| Checker 785 ♫ | Smith, Rev. Utah | | Two Wings b/w Take A Trip | 1953 |
| Checker 861 | Franklin, Aretha | | Never Grow Old b/w You Grow Closer | 1957 |
| Checker 941 | Franklin, Aretha | | Precious Lord, Pt. 1 b/w Precious Lord, Pt. 2 | 1960 |
| Checker 953 | Five Blind Boys of Mississippi | Original Five Blind Boys of Mississippi | A Weeping For A Mighty Long Time b/w Take Your Burdens To Jesus | 1960 |
| Checker 966 | Bells Of Joy | | What A Fellowship b/w I Found Another Soldier | 1961 |
| Checker 978 | Southern Echoes | Southern Echos | Seeking Me b/w The Story Of Job | 1961 |
| Checker 993 | Windy City Four | | Lord Send Me b/w Deep River | 1961 |
| Checker 1000 | Christland Singers | | The Lord Will Make A Way Somehow b/w God Has Done So Much For Me | 1961 |
| Checker 1008 | Southern Echoes | Southern Echos | The Old Account b/w I'm Waiting | 1962 |
| Checker 1044 | Turner, Carlo | | My Mother Bowed And She Prayed For Me b/w On The Battle Field | 1963 |
| Checker 1059 | Morning Stars | Morning Stars (of Savannah, GA) | Somehow b/w Come Over here | 1963 |
| Checker 1066 | Barrett and Walton Bros., Rev. | | I Have A Friend Above All Others b/w Pray For The Nation | 1963 |
| Checker 1176 | Meditation Singers | | I Feel It b/w It's Wrong To Fight | 1967 |
| Checker 5001 | Flying Clouds of Detroit | | My Mother b/w When They Ring The Golden Bells | 1964 |
| Checker 5002 | Violinaires | | Tell Mother There Will Be No Separation Now b/w Things That Worry Me | 1964 |
| Checker 5003 | Hawkins, Stevie | | Open Our Eyes b/w He Loves Me | 1964 |
| Checker 5004 ♫ | Pope and Pearly Gates, Sister | | Jesus Tore My Heart To Pieces b/w Highway | 1965 |
| Checker 5005 | Lewis, Rev. Singing Sammy | | I'm Glad About It, Pt. 1 b/w I'm Glad About It, Pt. 2 | 1965 |
| Checker 5006 | Clefs of Calvary | | Thank You b/w He Promised To Meet Me There | 1965 |
| Checker 5007 | Soul Stirrers | | I Know I'll Be Free b/w Christmas Joy | 1965 |
| Checker 5008 | Franklin, Rev. C.L. | | Mother Loves Her Children b/w I Will Trust In The Lord | 1965-66 |
| Checker 5009 | Lewis, Rev. Singing Sammy | | The Lord Will Provide, Pt. 1 b/w The Lord Will Provide, Pt. 2 | 1966 |
| Checker 5010 | Soul Stirrers | | Jesus, Wash My Troubles Away b/w Were You There? | 1966 |
| Checker 5011 | Davis Sisters | | I Want You To Move b/w He'll Understand | 1966 |
| Checker 5012 | Hayes and Universal Kingdom of Christ Choir, Father | | Tell Me How Do You Feel, Pt. 1 b/w Tell Me How Do You Feel, Pt. 2 | 1966 |
| Checker 5013 ♫ | Violinaires | | Old Time Religion b/w My Mother Used To Hold Me | 1966 |
| Checker 5014 | Hawkins, Stevie | | I'm Willing b/w Gospel Train | 1966 |
| Checker 5015 | Sensational Saints | | Jesus b/w The Love Of Jesus | 1966 |
| Checker 5016 | Bass, Martha | | I'm Getting Nearer To My Home b/w I'm So Grateful | 1966 |
| Checker 5017 | Holy Wonders of Detroit, Michigan | | The Storm Of Life b/w I Had To Stoop Down And Buckle Up My Shoes And Keep On Pushing | 1966 |
| Checker 5018 | Moore, Rev. C.L. | | God Specializes, Pt. 1 b/w God Specializes, Pt. 2 | 1966 |
| Checker 5019 | Cleveland Golden Echoes | | I Was On My Knees b/w Looking Back On My Life | 1966 |
| Checker 5020 | Meditation Singers | | Don't You Want To Go, Pt. 1 b/w Don't You Want To Go, Pt. 2 | 1966 |
| Checker 5021 | Violinaires | | Children Are You Ready b/w I'll Never Stop Loving God | 1966 |
| Checker 5022 | Soul Stirrers | Soulstirrers | He's My Friend b/w Resting Easy | 1966 |
| Checker 5023 | Bryant, Sammie | Sammy Bryant | He Knows How Much We Can Bear, Pt. 1 b/w He Knows How Much We Can Bear, Pt. 2 | 1966-67 |
| Checker 5024 | Franklin, Rev. C.L. | | Precious Lord, Pt. 1 b/w Precious Lord, Pt. 2 | 1966-67 |
| Checker 5025 | Violinaires | | Three Pictures Of The Lord b/w I'm Going To Serve The Lord | 1967 |
| Checker 5026 | Franklin, Ernest | Ernest Franklin and the Voices of Mt. Eagle | Walking With The King b/w Blessed Quietness | 1967 |
| Checker 5027 | Franklin, Rev. C.L. | | The Old Ship Of Zion, Pt. 1 b/w The Old Ship Of Zion, Pt. 2 | 1967 |
| Checker 5028 | Rodgers, Lucy | Sister Soul and the Lucy Rodgers Singers | Time Is Drawing Nigh b/w I Surrender All | 1967 |
| Checker 5029 | Franklin, Rev. C.L. | | The Lord Will Make A Way, Pt. 1 b/w The Lord Will Make A Way, Pt. 2 | 1967 |
| Checker 5030 | Randle, Cleo Jackson | | Life In Heaven Is Free b/w No One Cares For Me Like Jesus | 1967 |
| Checker 5031 | Franklin, Aretha | | Precious Lord, Pt. 1 b/w Precious Lord, Pt. 2 | 1967 |
| Checker 5032 | Plummer, Betty Jean | | Rejoice b/w I Must Tell Jesus | 1967 |
| Checker 5033 | Gay Singers | | Let Me Alone b/w He's Calling Me | 1967 |
| Checker 5034 | Soul Stirrers | | He's Been A Shelter b/w There's A Man | 1967 |
| Checker 5035 | Violinaires | | Mother's Last Prayer b/w Wicked Man | 1967 |
| Checker 5036 | Lewis, Rev. Singing Sammy | Rev. "Singing" Sammy Lewis | Power Of The Holy Ghost b/w What Can I Do | 1967 |
| Checker 5037 | Masonic Wonders | | Peaceful Little Valley b/w Just To Behold His Face | 1967 |
| Checker 5038 | Kindly Shepherds | | Lend Me Your Hand b/w He'll Be Waiting For Me | 1967 |
| Checker 5039 | Faithful Wonders | | Ol' John (Behold Thy Mother) b/w You've Got To Move | 1967 |
| Checker 5040 ♫ | Gospel Clouds | | Let's Go Home b/w Do You Know Him | 1967 |
| Checker 5041 | Treadwell Community Choir | | Lord Have Mercy b/w Love Is A Three Letter Word – God | 1967 |
| Checker 5042 | Rodgers, Lucy | | Let The Train Roll Easy b/w I Found A Friend | 1967 |
| Checker 5043 | Violinaires | | Call On Him b/w I Don't Know | 1967 |
| Checker 5044 | Franklin, Rev. C.L. | | I'm Going Through, Pt. 1 b/w I'm Going Through, Pt. 2 | 1967-68 |
| Checker 5045 | Franklin, Aretha | | Never Grow Old b/w You Grow Closer | 1967-68 |
| Checker 5047 | Meditation Singers | | Stand Up And Be Counted b/w Let Love Fill Your Heart | 1968 |
| Checker 5047 | Soul Stirrers | | The Love Of God b/w If I Had A Hammer | 1968 |
| Checker 5048 | Salem Travelers | | Give Me Liberty Or Death b/w With God's Love | 1968 |
| Checker 5049 | Smith Majestic Choir, Harold | | People Get Ready b/w What The World Needs Now | 1968 |
| Checker 5050 | Gospel Classics | | More Love That´s What We Need b/w You Need Faith | 1968 |
| Checker 5051 | Lewis, Rev. Singing Sammy | | We Need More Love b/w Somebody Bigger Than You And I | 1968 |
| Checker 5052 | Franklin, Ernest | | Since Jesus Came Into My Heart b/w A Place In The Sun | 1968 |
| Checker 5053 | Violinaires | | Just Go Ahead b/w Practice What You Preach | 1968 |
| Checker 5054 | Violinaires | Charlie Brown | The Whole World Is Watching b/w That Evening Sun | 1968 |
| Checker 5055 | Soul Stirrers | | God's Giving b/w Peace Be Still | 1968 |
| Checker 5056 | Soul Stirrers | | Christmas Means Love b/w Christmas Bells Are Ringing | 1968 |
| Checker 5053 | Meditation Singers | | Blue Christmas b/w The Spirit Of Christmas | 1968 |
| Checker 5058 | Salem Travelers | | Tell It Like It Is b/w Thank You Lord | 1968 |
| Checker 5059 | Franklin, Ernest | | Lift The Savior b/w Running For Jesus | 1968 |
| Checker 5060 | Lewis, Rev. Singing Sammy | | Only What You Do For Christ Will Last b/w Jesus The Waymaker | 1968 |
| Checker 5061 | Majestic Choir and Soul Stirrers b/w Harold Smith Majestic Choir | Majestic Choir and Soul Stirrers b/w Harold Smith's Majestic Choir | Why Am I Treated So Bad b/w We Can All Walk A Little Bit Prouder | 1968 |
| Checker 5062 | Bass, Martha | | House Of Gold b/w I'm So Grateful | 1968 |
| Checker 5063 | Violinaires | | Stand By Me b/w Salt Of The Earth | 1969 |
| Checker 5064 | Soul Stirrers | | If I Were A Bird b/w Striving | 1969 |
| Checker 5065 | Violinaires | | I'm Satisfied With Jesus b/w It Will All Be Over (After While) | 1969 |
| Checker 5066 | Soul Stirrers | | A Few More Days b/w It's A Wonder God Loves Us | 1969 |
| Checker 5067 | Salem Travelers | | Summertime b/w I Found The Lord | 1969 |
| Checker 5068 | Soul Stirrers | | Don't You Worry b/w When The Gates Swing Open | 1969 |
LP releases:

| release | artist | artist as shown | title | year |
| --- | --- | --- | --- | --- |
| Checker LP 10001 ♫ | Bells of Joy | | no title | 1961 |
| Checker LP 10003 | Five Blind Boys of Mississippi | Original 5 Blind Boys of Mississippi | I'll Go | 1961 |
| Checker LP 10004 ♫ | Christland Singers | | He's Mine | 1961 |
| Checker LP 10006 ♫ | KYOK Koral-Aires | | Songs of the KYOK Koral-Aires | 1962 |
| Checker LP 10007 | Morning Stars | Morning Stars of Savannah | Listen to the Morning Stars of Savannah | 1963 |
| Checker LP 10008 ♫ | Norfleet Brothers | | Shadrach | 1964 |
| Checker LP 10009 ♫ | Franklin, Aretha | | Songs Of Faith | 1965 |
| Checker LP 10010 | Hawkins, Stevie | | The Spiritual Soul Of A Child | 1965 |
| Checker LP 10011 ♫ | Violinaires | | Stand By Me | 1965 |
| Checker LP 10012 ♫ | Golden Harp Gospel Singers | Golden Harps | Stand Up For Jesus | 1965 |
| Checker LP 10013 | Moore, Rev. C.L. | Rev. Moore | More Fools Needed (sermon) | 1965? |
| Checker LP 10014 | Lewis, Rev. Singing Sammy | Rev. "Singing" Sammy Lewis | I'm Glad About It | 1966 |
| Checker LP 10015 | Soul Stirrers | | The Best of the Soul Stirrers | 1966 |
| Checker LP 10016 | Smith and the Majestic Choir, Harold | Harold Smith and his Majestic Choir | Just As I Am | 1966 |
| Checker LP 10017 ♫ | Violinaires | | The Fantastic Violinaires | 1966 |
| Checker LP 10018 | Bryant, Sammie | | Rev. C.L. Franklin Presents Sammie Bryant | 1966 |
| Checker LP 10019 | Meditation Singers | | Don't You Want To Go | 1966 |
| Checker LP 10020 | Violinaires | | I'm Going To Serve The Lord | 1967 |
| Checker LP 10021 | Soul Stirrers | | Resting Easy | 1967 |
| Checker LP 10022 | Bass, Martha | | I'm So Grateful | 1967 |
| Checker LP 10023 | Cleveland Golden Echos | | Old Time Religion | 1967 |
| Checker LP 10024 ♫ | Hawkins, Stevie | | Two Wings | 1967 |
| Checker LP 10025 | Best Gospel Singers, Dorothy | | Try Him | 1967 |
| Checker LP 10026 | Smith and the Majestic Choir, Harold | | God Never Fails | 1967 |
| Checker LP 10027 | Soul Stirrers | | The Gospel Truth | 1967 |
| Checker LP 10028 | Hoover, Rev. O.M. | | The Hand Of God | 1967 |
| Checker LP 10029 | Meditation Singers | | I Feel It | 1967 |
| Checker LP 10030 | Violinaires | | Move On Up | 1967 |
| Checker LP 10031 | Franklin, Ernest | Ernest Franklin and the Voices of Mount Eagle Choir | Blessed Quietness | 1967 |
| Checker LP 10032 | Lewis, Rev. Singing Sammy | Rev. "Singing" Sammy Lewis | What Can I Do | 1967 |
| Checker LP 10033 | Treadwell Community Choir | | Love Is A 3 Letter Word: God | 1967 |
| Checker LP 10034 | Rodgers, Lucy | | Sister Soul | 1967 |
| Checker LP 10035 | Smith and the Majestic Choir, Harold | Harold Smith Majestic Choir | The 23rd Psalm | 1967 |
| Checker LP 10036 | Various | | The Sunday Gospel Open House | 1967 |
| Checker LP 10037 | Brown, O.W. | | I'll Be Home After 'While | 1967 |
| Checker LP 10038 | Soul Stirrers | Soul Stirrers, accompanied by the Harold Smith Majestic Choir | The Golden Gospel | 1968 |
| Checker LP 10039 | Willing Four | | Nearer To Thee | 1968 |
| Checker LP 10040 | Violinaires | | Shout! | 1968 |
| Checker LP 10041 | Bradford, Alex | | Alex Bradford | 1968 |
| Checker LP 10042 | Inspirational Singers | | Inspiring | 1968 |
| Checker LP 10043 | Salem Travelers | | Give Me Liberty Or Death | 1968 |
| Checker LP 10044 | Meditation Singers | | The Bad Apple | 1968 |
| Checker LP 10045 ♫ | Violinaires | | Live The Right Way | 1968 |
| Checker LP 10046 | Gospel Classics | | We've Got To Join Hands | 1968 |
| Checker LP 10047 | Various | | Mightiest Gospel Program | 1968 |
| Checker LP 10048 | Bass, Martha | | Rescue Me | 1968 |
| Checker LP 10049 | Franklin, Ernest | | Bless This House | 1968 |
| Checker LP 10050 | Various | | A Christmas Dedication | 1968 |
| Checker LP 10051 | Soul Stirrers | | Soul Stirrers In Concert | 1968 |
| Checker LP 10052 | Salem Travelers | | Tell It Like It Is | 1968 |
| Checker LP 10053 | Violinaires | | Violinaires Live In Concert | 1968 |
| Checker LP 10054 | Viale, Gene | | What Color Is God? | 1968-69 |
| Checker LP 10055 | Salem Travelers | | The Soulful Salem Travelers | 1969 |
| Checker LP 10056 | Soul Stirrers | | Soul's In, But Gospel's Out Of Sight | 1969 |
| Checker LP 10057 | Violinaires | | God's Creation | 1969 |
| Checker LP 10058 | Soul Stirrers | | Judgement | 1969 |
| Checker LP 10059 | Bass, Martha | | Martha Sings Mahalia | 1970 |
Checker gospel, Checker gospel, Checker gospel, Checker gospel, Checker gospel, Checker gospel, Checker gospel, Checker gospel