JAS gospel discography (1960s-80s)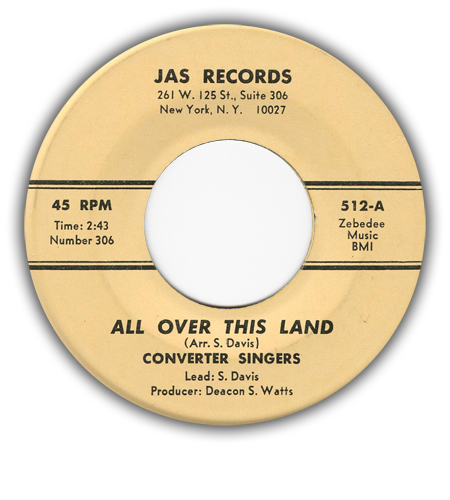 JAS Records was started in New York, 1968, by Deacon Watts (Elder Shumpert Watts Jr.), Rev. James Granger and Al Hayward. This information was formerly given on the Deacon Watts website. Other sources list most JAS releases as from 1965-66. The LP's were probably released between the mid 1970's and 1980. It's possible that these LP's were issued in an effort to revive JAS Records after the label slowed down in 1972. The JAS label may have been connected to the Honey-B label.
The name JAS comes from the first names of the label owners: James, Al and Shumpert.
Except for a few, all JAS 45's seem to have been released with both a 300 and 500 number printed on the labels. I have 500 numbers for all of these releases so I sorted the listing according to that. Where known, the 300 number is given between brackets.
JAS 1017 (Mighty Mellotones) is a reissue of Honey B 1017 (late 50's recordings). It could be the first release on JAS and it's definitely an early release as it shows the Cathedral Station address, which was used until #509. The company then moved to W. 125 St. JAS 526 and later issues do not show an address on the labels. The back cover of LP 1101 (Converter Singers) shows a PO box address in the Bronx, NY.
Jimmy Jones (#519, 527) is the same artist as Jimmey Jones on the Gospel Recording Co. label (#538, with "Mr. Bass" printed on the labels) and he also recorded as Jimmy Jones and the Sensationals on Savoy. The Deacon Watts website referred to this artist as "Gospel's most well known and talented contra-bass recording artist". Deacon Watts became his booking manager in 1961.
Apart from gospel there were some secular releases on JAS as well: 506 (300), 511 (303), 514 (308), 515, 520 (314), 522 (316), 525 (319) and 529 (323). No details for the other unlisted numbers.
JAS LP 1101 has been released twice and it seems likely that the LP by the Spiritual Echoes was released several years earlier than the LP by the Soul Converters.
This page lists all known JAS gospel releases (45's and LP's).
45rpm releases:

| release | artist | artist as shown | songs | year |
| --- | --- | --- | --- | --- |
| JAS 1017 | Mighty Mellotones | Mighty Mello Tones | Beams Of Heaven b/w I Want To Be Right | 196? |
| JAS 500 | Mighty Mellotones | Mighty Mello Tones | Swing Low b/w We Are Trying To Reach Our Goal | 196? |
| JAS 501 | Converter Singers | Converted Singers of the Bronx | When We All Get To Heaven b/w In Vain | 196? |
| JAS 504 | Sensational Gospel Spirits | | I Made It Over b/w Down On My Knees | 196? |
| JAS 505 | Mighty Mellotones | Mighty Mello Tones | Jesus Will Never Fail b/w Mean World | 196? |
| JAS 507 (301) | Finney, Shirley | Shirley Finney b/w Shirley Finney and Mother | Bring Us Out b/w Will It Be | 196? |
| JAS 508 (302) | Gospel Special | | Great Change In Me b/w Guide My Mind | 196? |
| JAS 509 (304) | Mighty Mellotones | | Jesus b/w Seek Seek | 196? |
| JAS 512 (306) | Converter Singers | | All Over This Land b/w Soul Caught On Fire | 196? |
| JAS 513 | Rountree Sisters | | Go To Jesus b/w You Can't Stop Me | 196? |
| JAS 516 (311) | Gospel Warriors of Wash., DC | | Lord We Need You b/w Let The Lord Come | 196? |
| JAS 517 (313) | Straight Gate Choir | | Let Him Tell You What To Do b/w To The Mount Of Prayer I'll Go | 196? |
| JAS 518 (312) | Spiritual Echoes of NYC | | Be Careful b/w Let You Will Be Done | 196? |
| JAS 519 (310) | Jones, Jimmy | Jimmy Jones and the Northern Aires | When Jesus Call Me b/w I Believe I'll Go Back Home | 196?-7? |
| JAS 521 (315) | Mighty Mellotones | | While We Pray b/w Couldn't Hear Nobody Pray | 196?-7? |
| JAS 523 (317) | Huggins and the Heavenly Echoes, Bro. | | Precious Lord b/w Do You Want To Be Saved | 196?-7? |
| JAS 524 (318) | Thrashing Wonders | | Long Line Of Poor Folk b/w Sign Of The Judgement | 196?-7? |
| JAS 526 (320) | Sky Light Singers | Skylights | So Hard To Bear b/w Tell Him All | 196?-7? |
| JAS 527 (321) | Jones, Jimmy | J. Jones and the Northernairs | I Don't Know Why b/w Theres Been A Change In Me | 1970 |
| JAS 528 | Rehobath Church of God in Christ | | Stay With Jesus b/w Fire | 1970-71 |
| JAS 530 (324) | Converter Singers | Converters | He Will Give What We Need b/w We've Gone Away From God | 1971 |
| JAS 531 (325) | Birds of Harmony | | You Have To Cry Sometime b/w Old Time Religion | 197? |
| JAS 534 | Manhattan F.Y.C.'ers | | I See Him In A Baby's Smile b/w I Woke Up This Morning Feeling Fine | 197? |
| JAS 535 (328) | Converter Singers | Soul Converters | Just As I Am b/w Wait Right On | 197? |
| JAS 536 (329) | Golden Harmonizers | | I Will Be Alright b/w You Can't Hurry God | 197? |
| JAS 537 (330) | Gospel Revivals | | Down By Jordan b/w Religion It All Over Me | 197? |
| JAS 538 (331) | Converter Singers | Soul Converters | What Have You Done b/w Get Right With God | 1979-81? |
| JAS 539 (332) | Wearyland Gospel Singers | | Try Jesus b/w One Of These Mornings | 1979-81? |
LP releases:

| release | artist | artist as shown | title | year |
| --- | --- | --- | --- | --- |
| JAS LP 1100 | Mighty Mellotones | Mighty Mello Tones | No Man Greater Than God | 197? |
| JAS LP 1101 | Spiritual Echoes | | Jesus Will Fix It | 197? |
| JAS LP 1101 | Converter Singers | Soul Converters | Just As I Am | c. 1980-81 |