King & Queen gospel discography (1946-73)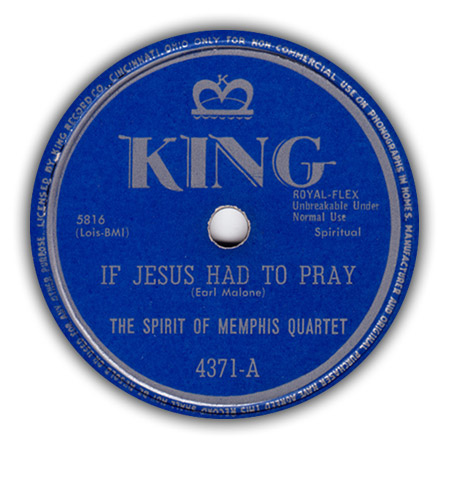 The King label was founded in 1943 by Sydney Nathan in Cincinnati, Ohio. The first releases were all country but in August 1945 Nathan formed the Queen label, devoted to black artists. In 1947 the label was discontinued and all new releases came out on King. Most, maybe all Queen releases were re-released on King with the same numbers. Nathan officially acquired the DeLuxe label in February, 1951, and formed Federal in late 1950. The budget label Audio Lab was formed in 1958.
Queen 4140, 4141 and 4142 were also in Queen album #1; Queen 4154, 4155 and 4156 also in Queen album #3. Album #2 is by Mrs. Sidney Raush (secular).
King 4298 (Famous Blue Jay Singers) was first issued on 20th Century 2047.
King 5584 was reissued as #6386 (Reverend Abraham Swanson).
King 6369 (Four Internes) is a reissue of Federal 12097 (1952).
King 6370 (Patterson Singers) reissues two Federal recordings; "Jesus Knows" from Federal 12419 and "Try Jesus" from Federal 12427 (both Federal releases are from 1961).
King 6371 (Spirit of Memphis) reissues two earlier King recordings; "Days Passed And Gone" (King 4340, 1949) and "Toll The Bell Easy" (King 4575, 1952).
"This Old World" by Kay Robinson (King 6362) was first issued on Federal 12550 (also on Federal 12553, both 1967). The flip of King 6362, "Amazing Grace", was a new recording, done with the Charles Fold Singers (1971).
King 6316 (Kay Robinson) features part 1 of "Lord Will Make A Way Somehow". According to the Gospel Discography, part 2 was recorded but never released. However, on YouTube King 004 (a bootleg 45rpm release from 2006) can be found, featuring the song with a song length of 5:15 minutes, so apparently both parts are there. The reverse of this side 45 is by Wendy Lynn though (see Discogs). It's a bit confusing; either King 004 features both parts on one side (and the label information is wrong), or the recording on YouTube comes from another source.
King LP 105-35 and 265-75 are 10inch releases.
King LP 265-75 has been reissued as LP 395-519 (1956) and LP 519 (1958), both with four extra tracks. The 10inch album was also reissued on King EP's 232 and 233. The four extra LP tracks were also on EP 234.
Other EP's with King material (Swan Silvertones, Spirit of Memphis) were released on Audio Lab.
King LP's 572-578 ("Spirituals", vol. 1-7), probably with the exception of #574 and 578, have been reissued in 1960. Same numbers but different covers.
King LP 572 has also been reissued as LP 939, King LP 573 has also been reissued as LP 942, King LP 574 has been reissued as LP 945, King LP 575 has also been reissued as LP 948, King LP 576 has also been reissued as LP 951, King LP 577 has also been reissued as LP 954, King LP 578 has been reissued as LP 957 and King LP 736 has been reissued as LP 1121.
The Marvin Anderson Singers (King 6230, LP 1056) were formed from the (Gospel) Lords of Harmony (Savoy).
King LP's 1153 (Harrison Gospel Singers) and 1154 (Gales of Joy) probably exist as test pressings only, although LP 1153 was reissued as HSE LP 1451 with a different song order and some differences in song length.
Several LP's were reissued on Gusto (c. 1974 and later), but these are not included in the LP discography.
This page lists all known King & Queen gospel singles, EP's and LP's from 1946-73.
78 & 45rpm releases:

| release | artist | artist as shown | songs | year |
| --- | --- | --- | --- | --- |
| Queen/King 4130 | Gospel Trumpeters | | Oh Lord What A Time! Pt. 1 b/w Oh Lord What A Time! Pt. 2 | 1946 |
| Queen/King 4131 | Gospel Trumpeters | | Remember Me Lord b/w No More No More | 1946 |
| Queen/King 4134 | Swan Silvertone Singers | Swann's Silvertone Singers (Queen), Swan's Silvertone Singers (King) | I Cried Holy b/w Go Ahead | 1946 |
| Queen/King 4137 | Swan Silvertone Singers | Swan's Silvertone Singers | These Bones Gwine Rise Again b/w I Want My Crown | 1946 |
| Queen/King 4138 | Harmoneers | | Blind Barnabus b/w My Way | 1946 |
| Queen/King 4139 | Harmoneers | | Let The World See Jesus In My Life b/w Noah | 1946 |
| Queen/King 4140 | Wings over Jordan | | Deep River b/w Old Ship Of Zion | 1946 |
| Queen/King 4141 | Wings over Jordan | | Were You There? b/w Take Me To The Water | 1946 |
| Queen/King 4142 | Wings over Jordan | | When You Come Out The Wilderness b/w I'm A'Rollin' | 1946 |
| Queen/King 4143 | Swan Silvertone Singers | Swan's Silvertone Singers | Will The Circle Be Unbroken b/w My Time Done Come | 1946 |
| Queen/King 4144 | Swan Silvertone Singers | Swan's Silvertone Singers | I Done Made It Up In My Mind b/w I'm Tired | 1946 |
| Queen/King 4145 | Gospel Trumpeters | | Standing On The Highway b/w Does Jesus Care | 1946 |
| Queen/King 4146 | Gospel Trumpeters | | I Thank You Lord b/w If I Could Hear My Mother Pray Again | 1946 |
| Queen/King 4154 | Wings over Jordan | | Swing Low Sweet Chariot b/w Trampin' | 1946 |
| Queen/King 4155 | Wings over Jordan | | My Lord's Gonna Move This Wicked Race b/w You Got To Stand The Test In Judgement | 1946 |
| Queen/King 4156 | Wings over Jordan | | I Will Trust In The Lord b/w Plenty Good Room | 1946 |
| Queen/King 4163 | Jubalaires | | A Sunday Kind Of Love b/w Pray (a-side is secular) | 1947 |
| Queen/King 4167 | Jubalaires | | God Almighty's Gonna Cut You Down b/w Go Down Moses | 1947 |
| Queen/King 4168 | Jubalaires | | My God Called Me This Morning b/w Ring That Golden Bell | 1947 |
| Queen/King 4173 | Southern Harps | | Depending On The Lord b/w What A Friend We Have In Jesus | 1947 |
| King 4182 | Breckenridge, Paul | Paul Breckenbridge and the Four Heavenly Knights | Rock-A-My-Soul b/w Lonesome Road | 1947 |
| King 4192 | Breckenridge, Paul | Paul Breckenbridge and his Four Heavenly Knights | I Shall Not Be Moved b/w Shine On Me | 1947 |
| King 4193 | Swan Silvertone Singers | Swan's Silvertone Singers | In That Upper Room b/w I Want To Rest | 1947 |
| King 4196 | Breckenridge, Paul | Paul Breckenbridge with Johnny Taylor b/w Paul Breckenbridge with the Chicago Crusaders, Jubilee Singers and Brother Shoestring | Merry Christmas (To You) b/w In That Great Gettin' Up Mornin' | 1947 |
| King 4221 | Southern Harps | | Standing In The Safety Zone b/w What Could I Do | 1947 |
| King 4228 | Swan Silvertone Singers | Swan's Silvertone Singers | I Want To Dig A Little Deeper b/w What Could I Do | 1947 |
| King 4233 | Harmoneers | | Weep Below Children b/w Before This Time (Another Year) | 1947 |
| King 4248 | Swan Silvertone Singers | Swan's Silvertone Singers | Working On A Building b/w Depending On Jesus | 1947 |
| King 4258 | Breckenridge, Paul | Paul Breckenridge and the Four Heavenly Knights | Staff In My Hand b/w Nobody Knows The Trouble I've Seen | 1947 |
| King 4270 | Jewel Jubilee Singers | | What Are They Doing In Heaven b/w When I Lay My Burden Down | 1948-49 |
| King 4282 | Swan Silvertone Singers | Swan's Silvertone Singers | I'll Search Heaven b/w I've Tried | 1948-49 |
| King 4298 | Famous Blue Jay Singers b/w Shelley Quartet | | I Must Tell Jesus b/w Looking For My Jesus | 1948-49 |
| King 4301 | Jewel Jubilee Singers | | Who Shall Walk Through Gethsemane b/w When God Dips His Pen Of Love In My Heart | 1948-49 |
| King 4308 | Swan Silvertone Singers | Swan's Silvertone Singers | I Got A Mother Done Gone On b/w I'm Gonna Wait | 1949 |
| King 4320 | Swan Silvertone Singers | Swan's Silvertone Singers | No, Not A One b/w Use Me Lord | 1949 |
| King 4340 | Spirit of Memphis | Spirit of Memphis Quartet | Blessed Are The Dead b/w Days Passed And Gone | 1949 |
| King 4344 | Swan Silvertone Singers | Swan's Silvertone Singers | My God Is Getting Us Ready b/w Down On My Knees | 1949 |
| King 4348 | Sensational Nightingales | Nightingales | My Life Is In His Hands b/w One Of These Days | 1950 |
| King 4350 | Crocker, Rev. J.B. | | When I Can Read My Title Clear b/w He Is Able | 1950 |
| King 4358 | Spirit of Memphis | Spirit of Memphis Quartet | On The Battle Field b/w Jesus, Jesus | 1950 |
| King 4360 | Trumpeteers | | Trouble About My Soul b/w Where Shall I Go | 1950 |
| King 4362 | Sensational Nightingales | Nightingales | It's A Highway To Heaven b/w Something Within Me | 1950 |
| King 4363 | Trumpeteers | | Lay Down My Heavy Burden b/w The Sun Didn't Shine | 1950 |
| King 4370 | Flying Clouds of Detroit | Flying Clouds of Detroit, Michigan | I Want To Move In The Room With The Lord b/w If I Get Inside The Gate | 1950 |
| King 4371 | Spirit of Memphis | Spirit of Memphis Quartet | If Jesus Had To Pray b/w He Never Left Me Alone | 1950 |
| King 4372 | Crocker, Rev. J.B. | | Why Should I Worry b/w Sermon, Hallelujah, Amen | 1950 |
| King 4380 | Trumpeteers | | Who Is Your Friend b/w Somehow | 1950 |
| King 4390 | Flying Clouds of Detroit | | I Got A Right To The Tree Of Life b/w Just As Long As Jesus Lives | 1950 |
| King 4391 | Swan Silvertone Singers | Swan's Silvertone Singers | Long Ago b/w Jesus Is God's Atomic Bomb | 1950 |
| King 4392 | Spirit of Memphis | Spirit of Memphis Quartet | Make More Room For Jesus b/w Calvary | 1950 |
| King 4394 | Beck, Elder | | I'm Gonna Live The Life I Sing About In My Song b/w What Do You Think About Jesus | 1950 |
| King 4403 | Trumpeteers | | This Is A Mean Old World (To Try To Live In) b/w Nobody's Fault But Mine | 1950 |
| King 4404 | Swan Silvertone Singers | Swan's Silvertone Singers | Jesus Never Fails b/w Mother's Name Lives In My Heart | 1950 |
| King 4407 | Spirit of Memphis | Spirit of Memphis Quartet | How Far Am I From Canaan b/w I'll Never Forget | 1950 |
| King 4408 | Beck, Elder | | Shouting With Elder Beck b/w Jesus, I Love You | 1950 |
| King 4429 | Spirit of Memphis | Spirit of Memphis Quartet | Automobile To Glory b/w I'll Go | 1950 |
| King 4430 | Swan Silvertone Singers | Swan's Silvertone Singers | Careless Soul b/w My Lord Done What He Said | 1950 |
| King 4439 | Swan Silvertone Singers | Swan's Silvertone Singers | I Got A Witness b/w Live So God Can Use You | 1950 |
| King 4440 | Spirit of Memphis | Spirit of Memphis Quartet | God's Got His Eyes On You b/w If You Make A Start To Heaven (Don't Turn Around) | 1950 |
| King 4463 | Spirit of Memphis | Spirit of Memphis Quartet | Every Day And Every Hour b/w World Prayer | 1951 |
| King 4464 | Swan Silvertone Singers | Swan's Silvertone Singers | All Night, All Day b/w A Mother's Cry | 1951 |
| King 4471 | Spirit of Memphis | Spirit of Memphis Quartet | Everytime I Feel The Spirit b/w Sign Of The Judgment | 1951 |
| King 4481 | Wright Family Singers | | It Is No Secret b/w Go Where I Send Thee | 1951 |
| King 4484 | Wright Family Singers | | Peace In The Valley b/w Let Me Go | 1951 |
| King 4494 | Swan Silvertone Singers | Swan's Silvertone Singers | Backslider's Plea b/w Over Yonder | 1951 |
| King 4500 | Spirit of Memphis | Spirit of Memphis Quartet | Tell Heaven I'm Coming b/w The Ten Commandments | 1951 |
| King 4512 | Swan Silvertone Singers | Swan's Silvertone Singers | Every Day Seems Like Sunday b/w He's My All | 1951-52 |
| King 4516 | Swan Silvertone Singers | Swan's Silvertone Singers | All Aboard b/w Father Alone | 1951-52 |
| King 4521 | Spirit of Memphis | Spirit of Memphis Quartet | He Never Let Go My Hand b/w The Atomic Telephone | 1951-52 |
| King 4538 | Spirit of Memphis | Spirit of Memphis Quartet | That Awful Day b/w Ease My Trouble In Mind | 1951-52 |
| King 4542 | Swan Silvertone Singers | Swan's Silvertone Singers | Toll The Bell b/w Grant It Lord | 1951-52 |
| King 4562 | Spirit of Memphis | Spirit of Memphis Quartet | Jesus Brought Me b/w Just To Behold His Face | 1951-52 |
| King 4569 | Boggs, Prof. Harold | | The Half Has Never Been Told b/w I Know He Is With Me Everywhere | 1952 |
| King 4575 | Spirit of Memphis | Spirit of Memphis Quartet | Toll The Bell Easy b/w God's Amazing Grace | 1952 |
| King 4576 | Spirit of Memphis | Spirit of Memphis Quartet | Lord Jesus, Pt. 1 b/w Lord Jesus, Pt. 2 | 1952 |
| King 4587 | Boggs, Prof. Harold | | God Is A Refuge b/w Jesus Will Be Your Best Friend | 1952 |
| King 4590 | Reed, Lula | | Heavenly Road b/w My Mother's Prayer | 1952 |
| King 4614 | Spirit of Memphis | Spirit of Memphis Quartet | There's No Sorrow b/w Workin' Till The Day Is Done | 1952 |
| King 4629 | Highbaugh, Rev. John T. | | When Mother Prayed b/w We'll Have A Big Time Over There | 1953 |
| King 4643 | Boggs, Prof. Harold | | After Running This Race b/w Inside The Beautiful Gate | 1953 |
| King 4652 | Highbaugh, Rev. John T. | | The Only One b/w Do What The Lord Says Do | 1953 |
| King 4660 | Boggs, Prof. Harold | | I Want To Live Right b/w Praying For God's Amazing Grace | 1953 |
| King 4677 | Wings over Jordan | | I've Been 'Buked b/w I Cried And I Cried | 1953 |
| King 4693 | Patterson Singers | Patterson Singers of Brooklyn, NY | All Day And All Night b/w I'm Gonna Reach My Heavenly Home Someday | 1953 |
| King 4694 | Wings over Jordan | Wings over Jordan Choir | Trying To Get Ready b/w When I've Done The Best I Can | 1953 |
| King 4705 | Patterson Singers | Patterson Singers of Brooklyn, NY | How Longer Lord, Shall It Be b/w (Early One Morning) He Answered My Prayer | 1953 |
| King 4714 | Lula Reed | | If The Sun Isn't Shining In Your Window b/w Just Whisper | 1954 |
| King 4737 | Reed, Lula | | What Could I Do But Believe In Jesus b/w A Quiet Time With Jesus | 1954 |
| King 5584 | Swanson XII, Little Abraham | | Rev. Abraham XII Prayer b/w Pray For Me | 1962 |
| King 5586 | Galatians | | Don't You Want To Go b/w When The Gates Swing Open | 1962 |
| King 5603 | Parker Brothers | Parker Brothers Choir | I Was Moaning When Somebody Touched Me b/w The Old Rugged Cross | 1962 |
| King 5624 | Galatians | | He Said He Would Deliver Me b/w Holiday Religion | 1962 |
| King 5753 | Galatians | Galatian Singers | Yes, You'll Know Him b/w Jesus Will Move Every Burden Out Of Your Life | 1962 |
| King 5764 | Dorsey, Willa | | Have Thine Own Way b/w Ezekial Saw The Wheel | 1963 |
| King 5831 | Galatians | | Birth Of The King b/w Great Joy | 1963 |
| King 5859 | Galatians | | Jesus Died b/w I Wish I Had Been There | 1964 |
| King 6157 | Galatians | | It Is No Secret b/w Steal Away | 1968 |
| King 6182 | Robinson, Kay | | What A Feeling b/w Try Me Father | 1968 |
| King 6200 | Soul Believers | | I Don't Want Nobody's Troubles b/w I'm With You | 1968 |
| King 6230 | Anderson Singers, Marvin | | Pattern Of My Life b/w Reach For The Moon | 1969 |
| King 6231 | Skylight Singers | | In Thy Service b/w See How They Done My Lord | 1969 |
| King 6232 | Calvary Singers | Original Calvary Singers | Nothing Can Change Me b/w Brought Me | 1969 |
| King 6238 | Smith, Bishop J.M. | Smith Evangelistic Temple Choir | Let There Be Love b/w I've Been With The Lord All Day Long | 1969 |
| King 6256 | Institutional Church of God in Christ Choir | | Good Things Come To Those That Wait b/w This Is The Right Time | 1969 |
| King 6257 | Harmonizing Four | | Been In The Storm Too Long b/w My Hope Is Built | 1969 |
| King 6259 | Bolden, Alfred | | My Faith Looks Up To Thee b/w Something Got Me | 1969 |
| King 6260 | Mighty Clouds of Harmony | | The Train Is Gone b/w Devil Can't Harm A Praying Man | 1969 |
| King 6261 | Stars of Virginia | | His Hands b/w One Way | 1969 |
| King 6262 | Smith, Bishop J.M. | Bishop J.M. Smith and the Evangelist Choir | Just Jesus Alone b/w A Soldier's Plea | 1969 |
| King 6287 | Smith, Bishop J.M. | Bishop J.M. Smith and the Evangelist Choir | God Is Already Here b/w Step Out On Faith | 1969 |
| King 6316 | Robinson, Kay | | Got To Keep On Traveling b/w Lord Will Make A Way Somehow, Pt. 1 | 1970 |
| King 6357 | Royal Gospel Singers | | There's Hope For This World b/w I Find No Fault | 1970 |
| King 6362 | Robinson, Kay | Kay Robinson b/w Kay Robinson with the Charles Fold Singers | This Old World b/w Amazing Grace | 1971 |
| King 6369 | Four Internes | | Count Your Many Blessings b/w Going back To Jesus | 1971 |
| King 6370 | Patterson Singers | | Jesus Knows b/w Try Jesus | 1971 |
| King 6371 | Spirit of Memphis | Spirit of Memphis Quartet | Toll The Bell Easy b/w Days Past And Gone | 1971 |
| King 6386 | Swanson XII, Little Abraham | Reverend Abraham Swanson | Rev. Abraham XII Prayer b/w Pray For Me | 1971 |
| King 6392 | Harrison Gospel Singers | Harrison Gospel Singers with Squeaky Morgan | Who b/w Where You There (When They Crucified My Lord) | 1972 |
EP releases:

| release | artist | artist as shown | title | year |
| --- | --- | --- | --- | --- |
| King EP 232 | Wings over Jordan | Wings over Jordan Choir | no title | 195? |
| King EP 233 | Wings over Jordan | Wings over Jordan Choir | no title | 195? |
| King EP 234 | Wings over Jordan | Wings over Jordan Choir | no title | 195? |
LP releases:

| release | artist | artist as shown | title | year |
| --- | --- | --- | --- | --- |
| King LP 105-35 | Harmonaires | | Spirituals | 1952? |
| King LP 265-75 | Wings over Jordan Choir | | no title | 1954 |
| King LP 395-519 | Wings over Jordan Choir | | Amen | 1956 |
| King LP 560 | Wings over Jordan Choir | | An Outstanding Collection Of Traditional Negro Spirituals | 1958 |
| King LP 572 | Swan Silvertone Singers | Swan's Silvertone Singers | Spirituals, Volume 1 | 1958 |
| King LP 573 | Spirit of Memphis | Spirit of Memphis Quartet | Spirituals, Volume 2 | 1958 |
| King LP 574 | Four Internes | | Spirituals, Volume 3 | 1958 |
| King LP 575 | Swan Silvertone Singers | Swan's Silvertone Singers | Spirituals, Volume 4 | 1958 |
| King LP 576 | Various | | Spirituals, Volume 5 | 1958 |
| King LP 577 | Spirit of Memphis | Spirit of Memphis Quartet | Spirituals, Volume 6 | 1958 |
| King LP 578 | Swan Silvertone Singers | Swan's Silvertone Singers | Spirituals, Volume 7 | 1958 |
| King LP 736 | Bible Way Church of God Choir | | Let The Church Roll On | 1960 |
| King LP 760 | Parker Brothers Choir | | 18 Soulful Songs | 1962 |
| King LP 763 | Patterson Singers | | Gospel Songs By The Patterson Singers | 1962 |
| King LP 788 | Galatian Singers | | A Collection Of 18 Spiritual Songs | 1962 |
| King LP 798 | Davis, Prof. James | Professor James W. Davis and the Dobb Singers | Folk Spiritual Songs By Professor James W. Davis And The Dobb Singers | 1962 |
| King LP 803 | Galatian Singers | | Christmas Spiritual Songs | 1962 |
| King LP 806 | Dorsey, Willa | Willa Dorsey and the Mighty Faith Increasers | no title | 1962 |
| King LP 810 | Kelly Brothers | | Kelly Brothers Sing A Page Of Songs From The Good Book | 1962 |
| King LP 814 | Mighty Faith Increasers | | A Festival Of Spiritual Songs | 1963 |
| King LP 898 | Church of God and Saints of Christ Singers | | Songs Of Zion | 1964 |
| King LP 939 | Swan Silvertone Singers | Swan's Silvertone Singers | 15 Songs | 1965 |
| King LP 940 | Galatian Singers | | Galatian Singers Sing Spiritual, Gospel, Sacred And Religious Songs For The Whole Family | 1965 |
| King LP 942 | Spirit of Memphis | Spirit of Memphis Quartet | no title | 1965 |
| King LP 945 | Four Internes | | Everybody Joins In When They Hear These 20 Songs | 1966 |
| King LP 948 | Swan Silvertone Singers | Swan's Silvertones | no title | 1966 |
| King LP 951 | Various | The Trumpeteers, the Nightingales, the Patterson Singers | no title | 1966 |
| King LP 954 | Spirit of Memphis | Spirit of Memphis Quartet | 15 Soulful Songs Everybody Loves | 1966 |
| King LP 957 | Swan Silvertone Singers | Swan's Silvertone Singers | Songs You'll Remember Forever | 1966 |
| King LP 1037 | Galatian Singers | | Keep on Praying | 1968 |
| King LP 1056 | Anderson Singers, Marvin | | Pattern My Life | 1969 |
| King LP 1057 | Skylight Singers | Skylight Singers of New York | Burden To The Lord | 1969 |
| King LP 1058 | Calvary Singers | Original Calvary Singers | Thank You | 1969 |
| King LP 1076 | Harmonizing Four | | Precious Lord | 1970 |
| King LP 1077 | Institutional Church of God in Christ Choir | | This Is The Right Time | 1970 |
| King LP 1089 | Kay Robinson | | We Need Time | 1970 |
| King LP 1093 | Stars of Virginia | | His Hands | 1970 |
| King LP 1094 | Smith, Bishop J.M. | Smith Evangelist Choir | A Soldier's Plea | 1970 |
| King LP 1106 | Bolden, Alfred | | World's Greatest Gospel Organist: His Last And Greatest Contribution | 1970 |
| King LP 1107 | Mighty Clouds of Harmony | | The Mighty Clouds of Harmony Sing Nobody But You | 1970 |
| King LP 1109 | Galatian Singers | | In New York | 1970 |
| King LP 1111 | Hines with the Gospel Winds, George | | Moving Up | 1971 |
| King LP 1114 | Gaines Singers, Marion | | Lord Here I Am | 1971 |
| King LP 1121 | Swanson XII, Little Abraham | Reverend Abraham Swanson, the Bibleway Church Choir | no title | 1971 |
| King LP 1128 | Four Internes | | Count Your Many Blessings | 1971 |
| King LP 1129 | Patterson Singers | Patterson Singers of Brooklyn, NY | Jesus Knows | 1971 |
| King LP 1131 | Spirit of Memphis | Spirit of Memphis Quartet | Days Passed And Gone | 1971 |
| King LP 1132 | Swan Silvertone Singers | Swan's Silvertone Singers | I Cried Holy | 1971 |
| King LP 1143 | Harrison Gospel Singers | | If It Wasn't For The Lord | 1972 |
| King LP 1144 | Gales of Joy | | I'm Going Home | 1972 |
| King LP 1153 | Harrison Gospel Singers | | no title | 1973 |
| King LP 1154 | Gales of Joy | | no title | 1973 |