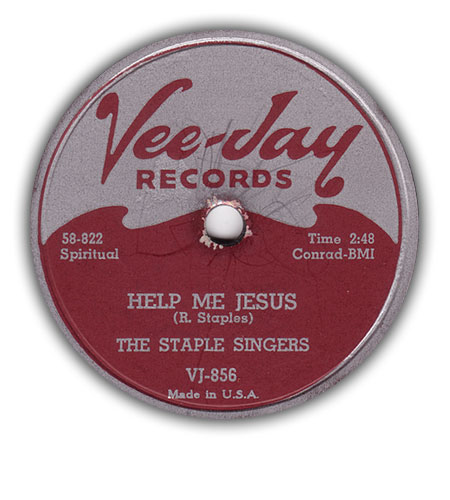 Vee-Jay was founded in Gary, Indiana in 1953 by Vivian Carter and James C. Bracken (later that year, Mr. & Mrs. Bracken), who used their first initials for the label's name. This black-owned company was very succesful (Vee-Jay was the first US label that had the Beatles) but went bankrupt in 1966. In the 1970's the label revived as Vee-Jay International (excluded from this discography).
Vee-Jay 857 is a reissue of #137 (Rev. James Lofton).
Vee-Jay 885 has been released as by the Staple Singers and as by Roebuck Staples.
Vee-Jay 869 is a reissue of #232 (Swan Silvertones).
William Everett Preston (Vee-Jay LP 5083) is Billy Preston.
Vee-Jay LP 8503 (various: Black Nativity) is a reissue of LP 5022.
Vee-Jay LP 5056 (Alex Bradford) was reissued on Checker LP 10092.
Missing numbers are secular (100 & 200 series), the gospel 800 series starts with #843 and continues to #969, with no missing numbers. Early numbers in the 800 series (800-808?) are secular and released in 1966. I guess, in 1966, Vee-Jay wanted to release the yet unused numbers in the 800 series (800-842) but bankruptcy frustrated these plans at an early stage.
Click here to see a photograph of the Harmonizing Four.
This page lists all known Vee-Jay gospel issues from 1954 to 1966.
| 78's, 45's | release | artist | artist as shown | songs | year |
| --- | --- | --- | --- | --- | --- |
| 1 | Vee-Jay 106 | Woods Singers, Maceo | | Garden Of Prayer b/w Sweeter As The Day Go By | 1954 |
| 2 | Vee-Jay 108 | Woods Singers, Maceo | | Keep Trusting b/w Run To Jesus | 1954 |
| 3 | Vee-Jay 109 | Isaiah's Church of God in Christ Choir, Brother | | Old Camp Ground b/w All Night, All Day | 1954 |
| 4 | Vee-Jay 110 | Lockhart Singers | | Own Me As A Child b/w Walking Up The King's Highway | 1954 |
| 5 | Vee-Jay 114 | Lewis, Rev. Singing Sammy | Singing Sammy Lewis | Will I Find Peace (Lord, Will I Find Peace Someday) b/w Jesus Is All The World To Me | 1954 |
| 6 | Vee-Jay 120 | Holy Gospel Singers | | Revive Us Again b/w Move Up | 1955 |
| 7 | Vee-Jay 122 | Woods Singers, Maceo | Maceo Woods at the Hammond Organ | Amazing Grace b/w Leaning On The Everlasting Arm | 1955 |
| 8 | Vee-Jay 123 | Lewis, Rev. Singing Sammy | Singing Sammy Lewis (?) | Jesus Was The One b/w It's A Mighty Hard Road | 1955 |
| 9 | Vee-Jay 128 | Rasberry Singers | Rasberry Singers of Cleveland | I Thank You Lord b/w I'll Let Nothing Separate Me | 1955 |
| 10 | Vee-Jay 130 | Boyer Brothers | Famous Boyer Brothers | Trust Him Today b/w Going Back To God | 1955 |
| 11 | Vee-Jay 137 | Lofton, Rev. James | Rev. James Lofton and his Church of Our Prayer | Great Day, Pt. 1 b/w Great Day, Pt. 2 | 1955 |
| 12 | Vee-Jay 139 | Lockhart Singers | | Feed Me 'Till I Want No More b/w I Want To Be A Christian | 1955 |
| 13 | Vee-Jay 140 | Isaiah's Church of God in Christ Choir, Brother | | Climbing High Mountains b/w The Fountain | 1955 |
| 14 | Vee-Jay 150 | Highway Q.C.'s | Highway Q-C's | Pray b/w Somewhere To Lay My Head | 1955 |
| 15 | Vee-Jay 151 | Lewis, Rev. Singing Sammy | Singing Sammy Lewis | Jesus Paid It b/w Jesus Brighten Up My Life | 1955 |
| 16 | Vee-Jay 152 | Woods Singers, Maceo | | Never Grow Old b/w In The Sweet Bye And Bye | 1955 |
| 17 | Vee-Jay 157 | Woods Singers, Maceo | Maceo Woods at the Hammond Organ | When The Saints Go Marching In b/w Near The Cross | 1955 |
| 18 | Vee-Jay 161 | Rasberry Singers | | I Want To Be More Like Jesus b/w Happy Over There | 1955 |
| 19 | Vee-Jay 162 | Woods Singers, Maceo | ? | In My Home Over There b/w I Trust In God | 1955 |
| 20 | Vee-Jay 163 | Boyer Brothers | Famous Boyer Brothers | I Love To Tell The Story b/w He's My Solid Rock | 1955 |
| 21 | Vee-Jay 169 | Staple Singers | | If I Could Hear My Mother b/w God's Wonderful Love | 1956 |
| 22 | Vee-Jay 170 | Woods Singers, Maceo | Maceo Woods at the Hammond Organ | Steal Away b/w Precious Lord | 1956 |
| 23 | Vee-Jay 181 | Spiritualaires of Columbia, SC | Spiritual Airs of Columbia, SC | Can't Hide Sinner b/w When The Saints Go Marching In | 1956 |
| 24 | Vee-Jay 182 | Swan Silvertone Singers | Swan Silvertones | Jesus Remembers b/w My Soul Is A Witness | 1956 |
| 25 | Vee-Jay 193 | Woods Singers, Maceo | | Signs Of The Judgment b/w No Time To Lose | 1956 |
| 26 | Vee-Jay 194 | Five Blind Boys of Mississippi | Original Five Blind Boys | You Don't Know b/w I Never Heard A Man | 1956 |
| 27 | Vee-Jay 195 | Highway Q.C.'s | Highway QC's | He Lifted My Burdens b/w I Dreamed Heaven Was Like This | 1956 |
| 28 | Vee-Jay 200 | Echoes Of Eden | | He's My Everything b/w I Need Jesus | 1956 |
| 29 | Vee-Jay 201 | Argo Singers | | He's Alright With Me b/w Near The Cross (with Lorenza Brown, soloist) | 1956 |
| 30 | Vee-Jay 209 | Boyer Brothers | Famous Boyer Bros. | Let's Walk Together b/w Lord Be My Protector | 1955 |
| 31 | Vee-Jay 210 | Spiritualaires of Columbia, SC | | I'm Going On To Glory b/w I'm Out On Life's Ocean | 1956 |
| 32 | Vee-Jay 220 | Kelly Brothers | | Prayer For Tomorrow b/w God Said He Was Coming | 1956 |
| 33 | Vee-Jay 221 | Robinson, Helen | Helen Robinson Youth Chorus | Time Is Winding Up b/w Dwelling In Beulah Land | 1956 |
| 34 | Vee-Jay 222 | Swan Silvertone Singers | Swan Silvertones | When Jesus Comes b/w Traveling On | 1956 |
| 35 | Vee-Jay 223 | Silver Quintette | | Sinner's Crossroads b/w Father Don't Leave | 1956 |
| 36 | Vee-Jay 224 | Staple Singers | | Uncloudy Day b/w I Know I Got Religion | 1956 |
| 37 | Vee-Jay 225 | Five Blind Boys of Mississippi | Original Five Blind Boys | Jesus Loves Me b/w Oh Why | 1956 |
| 38 | Vee-Jay 231 | Rasberry Singers | | Jesus Is All To Me b/w No Tears In Heaven | 1956 |
| 39 | Vee-Jay 232 | Swan Silvertone Singers | Swan Silvertones | The Lord's Prayer b/w Great Day In December | 1956 |
| 40 | Vee-Jay 240 | Five Blind Boys of Mississippi | Original Five Blind Boys | Don't Forget The Bridge b/w Let's Have Church | 1957 |
| 41 | Vee-Jay 241 | Martin Singers, Jessie | | Heaven On My Mind b/w Jesus, Savior, Pilot Me | 1957 |
| 42 | Vee-Jay 242 | Woods Singers, Maceo | | Walls Of Jericho b/w If You Miss Me Here | 1957 |
| 43 | Vee-Jay 843 | Swan Silvertone Singers | Swan Silvertones | Sinner Man b/w That Day On Calvary | 1957 |
| 44 | Vee-Jay 844 | Highway Q.C.'s | Highway QC's | I'll Trust His Word b/w I Was So Happy | 1957 |
| 45 | Vee-Jay 845 | Harmonizing Four | | Farther Along b/w All Things Are Possible | 1957 |
| 46 | Vee-Jay 846 | Staple Singers | | Let Me Ride b/w I'm Coming Home | 1957 |
| 47 | Vee-Jay 847 | Spiritualaires of Columbia, SC | | Pressing On b/w Family Prayer | 1957 |
| 48 | Vee-Jay 848 | Sky Light Singers | Skylights | I Need Thee b/w What Shall We Call Him | 1957 |
| 49 | Vee-Jay 849 | Five Blind Boys of Mississippi | Original Five Blind Boys | It's A Wonder b/w I'm Willing To Run | 1957 |
| 50 | Vee-Jay 850 | Swan Silvertone Singers | Swan Silvertones | A Lady Called Mother b/w Well, Well, Well | 1957 |
| 51 | Vee-Jay 851 | Boyer Brothers | Famous Boyer Bros. | Nothing Less Than Jesus b/w I Heard From Heaven | 1957 |
| 52 | Vee-Jay 852 | Rasberry Singers | | Where Jesus Is The Light b/w Let's Spread The News | 1957 |
| 53 | Vee-Jay 853 | Highway Q.C.'s | | The Way Up The Hill b/w There's Something On My Mind | 1957 |
| 54 | Vee-Jay 854 | Harmonizing Four | | Motherless Child b/w Where Could I Go But To The Lord | 1957 |
| 55 | Vee-Jay 855 | Five Blind Boys of Mississippi | Original Five Blind Boys | I'm A-Rolling b/w My Robe Will Fit Me | 1958 |
| 56 | Vee-Jay 856 | Staple Singers | | Help Me Jesus b/w I Had A Dream | 1958 |
| 57 | Vee-Jay 857 | Lofton, Rev. James | Rev. James Lofton and his Church of Our Prayer | Great Day, Pt. 1 b/w Great Day, Pt. 2 | 1958 |
| 58 | Vee-Jay 858 | Sky Light Singers | Mighty Skylights | If Jesus Came To Your House b/w I Want To Be Baptized | 1958 |
| 59 | Vee-Jay 859 | Harmonizing Four | Harmonizing 4 | His Eye Is On The Sparrow b/w Lived He Loved Me | 1958 |
| 60 | Vee-Jay 860 | Swan Silvertone Singers | Swan Silvertones | Jesus, He's Alright With Me b/w End Of My Journey | 1958 |
| 61 | Vee-Jay 861 | Highway Q.C.'s | | How I Love Jesus b/w Teach Me | 1958 |
| 62 | Vee-Jay 862 | Knowles and Jackson Sextet | | Give An Account Of Your Sins b/w Brighter Day Ahead | 1958 |
| 63 | Vee-Jay 863 | Four Internes | Internes | When You Pray b/w The Road Home | 1958 |
| 64 | Vee-Jay 864 | Harmonizing Four | | When I've Done My Best b/w Go Down Moses | 1958 |
| 65 | Vee-Jay 865 | Woods Singers, Maceo | Maceo Woods | I Will Trust In The Lord b/w Sunday Morning | 1958 |
| 66 | Vee-Jay 866 | Staple Singers | | Low Is The Way b/w On My Way To Heaven | 1959 |
| 67 | Vee-Jay 867 | Swan Silvertone Singers | Swan Silvertones | Move Up b/w Oh Mary Don't You Weep | 1959 |
| 68 | Vee-Jay 868 | Five Blind Boys of Mississippi | Original Five Blind Boys | I'm A Soldier b/w In The Hands Of The Lord | 1959 |
| 69 | Vee-Jay 869 | Swan Silvertone Singers | Swan Silvertones | The Lord's Prayer b/w Great Day In December | 1959 |
| 70 | Vee-Jay 870 | Staple Singers | | Going Away b/w I'm Leaning | 1959 |
| 71 | Vee-Jay 871 | Harmonizing Four | | In Jerusalem b/w Happy Home | 1959 |
| 72 | Vee-Jay 872 | Five Blind Boys of Mississippi | Five Blind Boys | Waiting At The River b/w Where There's A Will | 1959 |
| 73 | Vee-Jay 873 | Highway Q.C.'s | Highway QC's | Sad How They Done My Lord b/w Working On The Building | 1959 |
| 74 | Vee-Jay 874 | Kingdom Bound Singers | | Standing By The Way b/w I'll Be Standing | 1959 |
| 75 | Vee-Jay 875 | Sky Light Singers | Mighty Skylights | Lift Him Up b/w Never Alone | 1959 |
| 76 | Vee-Jay 876 | Argo Singers | | He Never Said A Word b/w Somebody's Knocking | 1959 |
| 77 | Vee-Jay 877 | Rasberry Singers | | Consecration b/w Keep Me Every Day | 1959 |
| 78 | Vee-Jay 878 | Four Internes | Internes | I've Been In The Storm b/w What Can I Do For Jesus | 1959 |
| 79 | Vee-Jay 879 | Swan Silvertone Singers | Swan Silvertones | Trouble In My Way b/w Near The Cross (Pt. 2) | 1959 |
| 80 | Vee-Jay 880 | Knowles and Jackson Sextet | | Christ Is In My Life b/w Jesus Is The Light Of The World | 1959 |
| 81 | Vee-Jay 881 | Staple Singers | | So Soon b/w Downward Road | 1959 |
| 82 | Vee-Jay 882 | Harmonizing Four | | Waiting For Me b/w All Aboard, Let's Go | 1959 |
| 83 | Vee-Jay 883 | Highway Q.C.'s | Highway QC's | Child Of God b/w Behold Thy Mother | 1959 |
| 84 | Vee-Jay 884 | Friendly Brothers | | Operator b/w You Can't Thumb A Ride | 1959 |
| 85 | Vee-Jay 885 | Staple Singers | | Will The Circle Be Unbroken b/w Don't Drive Me Away | 1960 |
| 86 | Vee-Jay 885 | Staples, Roebuck | | Will The Circle Be Unbroken b/w Don't Drive Me Away | 1960 |
| 87 | Vee-Jay 886 | Harmonizing Four | | Glory To His Name b/w I Love To Call His Name | 1960 |
| 88 | Vee-Jay 887 | Highway Q.C.'s | Highway QC's | Jesus I'm Waiting b/w We're Working Hard | 1960 |
| 89 | Vee-Jay 888 | Five Blind Boys of Mississippi | Five Blind Boys | All Over Me b/w Somebody's Mother | 1960 |
| 90 | Vee-Jay 889 | Swan Silvertone Singers | Swan Silvertones | Move Somewhere b/w Swing Low | 1960 |
| 91 | Vee-Jay 890 | Friendly Brothers | | You Can't Win b/w Need Jesus On My Journey | 1960 |
| 92 | Vee-Jay 891 | Harmonizing Four | | God Will Take Care Of You, Pt.1 b/w God Will Take Care Of You, Pt. 2 | 1960 |
| 93 | Vee-Jay 892 | Highway Q.C.'s | Highway QC's | Done Got Over b/w God Has Not Promised | 1960 |
| 94 | Vee-Jay 893 | Staple Singers | | Pray On b/w Too Close | 1960 |
| 95 | Vee-Jay 894 | Swan Silvertone Singers | Swan Silvertones | Sinking Sand b/w Singin' In My Soul | 1960 |
| 96 | Vee-Jay 895 | Argo Singers | | I've Got The Holy Ghost b/w Jesus Is Sweeter | 1961 |
| 97 | Vee-Jay 896 | Harmonizing Four | | Wade In The Water b/w We're Crossing Over | 1961 |
| 98 | Vee-Jay 897 | Highway Q.C.'s | Highway QC's | Do You Love Him b/w Heavenly Father's Children | 1961 |
| 99 | Vee-Jay 898 | Anderson, Robert | | Closer Walk With Thee b/w Waiting For Jesus | 1961 |
| 100 | Vee-Jay 899 | Harmonizing Four | | On The Right Road b/w Father I Stretch My Hands To Thee | 1961 |
| 101 | Vee-Jay 900 | Argo Singers | | Near The Cross b/w He's All Right With Me | 1961 |
| 102 | Vee-Jay 901 | Reed, Madame Louise | | Show Some Sign b/w That's Enough | 1961 |
| 103 | Vee-Jay 902 | Staple Singers | | Don't Knock b/w I've Been Scorned | 1961 |
| 104 | Vee-Jay 903 | Argo Singers | | I've Been Saved b/w That's How I Know Jesus | 1961 |
| 105 | Vee-Jay 904 | Swan Silvertone Singers | Swan Silvertones | Breathe On Me b/w Come What May | 1961 |
| 106 | Vee-Jay 905 | Harmonizing Four | | What A Fellowship b/w How Great Thou Art | 1962 |
| 107 | Vee-Jay 906 | Highway Q.C.'s | Highway QC's | Where He Leads Me b/w I Don't Want To Be Lost | 1962 |
| 108 | Vee-Jay 907 | Bethel Jubileers | | Washed My Sins Away b/w Look Away Into Heaven | 1962 |
| 109 | Vee-Jay 908 | Martin Singers, Sallie | Sally Martin Singers | I Need Him b/w Old Ship Of Zion | 1962 |
| 110 | Vee-Jay 909 | Swan Silvertone Singers | Swan Silvertones | What About You b/w Amazing Grace | 1962 |
| 111 | Vee-Jay 910 | Patterson Singers | | Brightly Beams b/w When The Saints Go Marching In | 1962 |
| 112 | Vee-Jay 911 | Stewart, Princess | | That's God b/w It's In My Mind | 1962 |
| 113 | Vee-Jay 912 | Staple Singers | | Swing Low b/w Sit Down Servant | 1962 |
| 114 | Vee-Jay 913 | Woods Singers, Maceo | Rev. Maceo Woods' Christian Tabernacle Ensemble (?) | He Is All I Need b/w Do You Know Him | 1962 |
| 115 | Vee-Jay 914 | Harmonizing Four | | When Tears Are Falling b/w When They Ring Them Bells | 1962 |
| 116 | Vee-Jay 915 | Black Nativity | | Poor Little Jesus Boy b/w Go Where I Send Thee | 1962 |
| 117 | Vee-Jay 916 | Highway Q.C.'s | Highway QC's | Nobody Knows b/w All Men Are Made By God | 1962 |
| 118 | Vee-Jay 917 | Taylor, Prof. Charles | Charles Taylor | As You Sow So Shall You Reap b/w Jesus, I'll Never Forget | 1963 |
| 119 | Vee-Jay 918 | Patterson Singers | | I've Got To Make It To The Promised Land b/w He'll Carry You Through | 1963 |
| 120 | Vee-Jay 919 | Bradford, Alex | | Just In Time b/w One Step | 1963 |
| 121 | Vee-Jay 920 | Stars of Faith | Marion Williams and the Stars of Faith | God And Me b/w Hallelujah | 1963 |
| 122 | Vee-Jay 921 | Caravans | | To Whom Shall I Turn b/w Seek Ye The Lord | 1963 |
| 123 | Vee-Jay 922 | Harmonizing Four | | Hallelujah b/w Rock Of Ages | 1963 |
| 124 | Vee-Jay 923 | Original Blind Boys of Alabama | | What He's Done For Me b/w After A While | 1963 |
| 125 | Vee-Jay 924 | Martin Singers, Sallie | Sally Martin Singers | Seeking For Me b/w Let Jesus Come Into Your Heart | 1963 |
| 126 | Vee-Jay 925 | Argo Singers | | How I Love To Call His Name b/w I'll Be Waiting For You | 1963 |
| 127 | Vee-Jay 926 | Swan Silvertone Singers | Swan Silvertones | Savior Pass Me Not, Pt. 1 b/w Savior Pass Me Not, Pt. 2 | 1963 |
| 128 | Vee-Jay 927 | Lunenberg Travelers | | Bedside Of A Neighbor b/w More And More Like Jesus | 1963 |
| 129 | Vee-Jay 928 | Original Blind Boys of Alabama | | You'll Never Walk Alone b/w Looking Back | 1963 |
| 130 | Vee-Jay 929 | Patterson Singers | | Down By The Riverside b/w When The Saints Go Marching In | 1963 |
| 131 | Vee-Jay 930 | Staple Singers | | I'm So Glad b/w Swing Low Sweet Chariot | 1963 |
| 132 | Vee-Jay 931 | Caravans | | No Coward Soldier b/w What Will Tomorrow Bring | 1963 |
| 133 | Vee-Jay 932 | Taylor, Prof. Charles | Charles Taylor Singers | I'll Fly Away b/w I Will Trust In The Lord | 1963 |
| 134 | Vee-Jay 933 | Original Gospel Harmonettes | Gospel Harmonette Specials | I Won't Let Go b/w Now I'm Ready | 1963 |
| 135 | Vee-Jay 934 | Southern Bell Singers | | I Will Overcome Someday b/w The Tragedy Of Kennedy | 1963 |
| 136 | Vee-Jay 935 | Thompson Community Singers | | Witness b/w Rise Up And Walk | 1964 |
| 137 | Vee-Jay 936 | Original Blind Boys of Alabama | | How Far Am I From Canaan b/w I Can See Everybody's Mother | 1964 |
| 138 | Vee-Jay 937 | Highway Q.C.'s | Highway QC's | Lord I'll Go b/w Somebody Is Praying For Me | 1964 |
| 139 | Vee-Jay 938 | Caravans | | There'll Be Blue Birds Over The White Cliffs Of Dover b/w Unto Thee O Lord | 1964 |
| 140 | Vee-Jay 939 | Bradford, Alex | | Angel On Vacation b/w Can't Trust Nobody | 1964 |
| 141 | Vee-Jay 940 | Swan Silvertone Singers | Swan Silvertones | At The Cross b/w Is God Satisfied With Me | 1964 |
| 142 | Vee-Jay 941 | Williams, Sondra | | He's Got The Whole World In His Hands b/w Heartache | 1964 |
| 143 | Vee-Jay 942 | Lowe, James | | Long Way To Go b/w If You Pray | 1964 |
| 144 | Vee-Jay 943 | Pope, Sister Lucille | Sister Pope and the Pearly Gates | Early One Morning b/w Almighty God | 1964 |
| 145 | Vee-Jay 944 | Harley, Lucille | | He's My Light b/w Amazing Grace | 1964 |
| 146 | Vee-Jay 945 | Caravans | | Walk Around Heaven All Day b/w Solid Rock | 1964 |
| 147 | Vee-Jay 946 | Richburg Singers | | He'll Bless Your Soul b/w I Will Follow | 1964 |
| 148 | Vee-Jay 947 | Bradford, Alex | | Am I Wrong? b/w Won't Have To March No More | 1965 |
| 149 | Vee-Jay 948 | Harmonizing Four | | Standing Here Wondering b/w Without Him | 1965 |
| 150 | Vee-Jay 949 | Taylor, Prof. Charles | Charles Taylor Singers | Break Bread b/w Maybe The Last Time | 1965 |
| 151 | Vee-Jay 950 | Swan Silvertone Singers | Swan Silvertones | Come To Jesus b/w Look Down The Line | 1965 |
| 152 | Vee-Jay 951 | Argo Singers | | Fill Me Now b/w What Have I Given Today | 1965 |
| 153 | Vee-Jay 952 | Original Gospel Harmonettes | Gospel Harmonettes | You've Been Good To Me b/w Step By Step | 1965 |
| 154 | Vee-Jay 953 | Thompson Community Singers | | Here Is One b/w Soldier In God's Army | 1965 |
| 155 | Vee-Jay 954 | Glover, Kenneth | Kenneth Glover and the Glovertones | My God Rowed The Boat Ashore b/w I Waited So Long | 1965 |
| 156 | Vee-Jay 955 | Original Blind Boys of Alabama | Original Blind Boys | Mother Loves Her Children b/w People Don't Sing Like They Used To Sing | 1965 |
| 157 | Vee-Jay 956 | Harmonizing Four | | Tone The Bell b/w Think Of God | 1965 |
| 158 | Vee-Jay 957 | Lunenberg Travelers | | Jesus Is The Way Maker b/w Sweet Hour | 1965 |
| 159 | Vee-Jay 958 | Patterson Singers | | He Won't Fail You b/w Lord Hear My Cry To Thee | 1965 |
| 160 | Vee-Jay 959 | Disciples | | It's Gonna Rain b/w He Took My Sins Away | 1965 |
| 161 | Vee-Jay 960 | Lowe, James | | I Believe b/w The Saints Go Marching In | 1965 |
| 162 | Vee-Jay 961 | Triumphs | | Come To The Savior b/w I'm A-Rollin' | 1965 |
| 163 | Vee-Jay 962 | Caravans | | Break Bread Together b/w Holy Boldness | 1965 |
| 164 | Vee-Jay 963 | Caravans | | The Greatest Story b/w Where Is Your Faith In God? | 1966 |
| 165 | Vee-Jay 964 | Original Blind Boys of Alabama | Blind Boys of Alabama | I Trust In God b/w God Specializes | 1966 |
| 166 | Vee-Jay 965 | Bradford, Alex | | All That I Am b/w The Last Goodbye | 1966 |
| 167 | Vee-Jay 966 | Harmonizing Four | | Now The Day Is Over b/w That's Alright | 1966 |
| 168 | Vee-Jay 967 | A.M.E. Four | | Don't Worry About It b/w There's Coming A Day | 1966 |
| 169 | Vee-Jay 968 | Swan Silvertone Singers | Swan Silvertones | I Found The Answer b/w Going On With Jesus | 1966 |
| 170 | Vee-Jay 969 | Original Gospel Harmonettes | Gospel Harmonettes | Let The Holy Ghost Come b/w Troubled | 1966 |
| LP's | release | artist | artist as shown | title | year |
| --- | --- | --- | --- | --- | --- |
| 1 | Vee-Jay LP 5000 | Staple Singers | | Uncloudy Day | 1959 |
| 2 | Vee-Jay LP 5001 | Woods, Maceo | | Amazing Grace | 1959 |
| 3 | Vee-Jay LP 5002 | Harmonizing Four | | no title | 1959 |
| 4 | Vee-Jay LP 5003 | Swan Silvertone Singers | Swan Silvertones | no title | 1959 |
| 5 | Vee-Jay LP 5004 | Five Blind Boys of Mississippi | Original Five Blind Boys | no title | 1959 |
| 6 | Vee-Jay LP 5005 | Highway Q.C.'s | Highway QC's | no title | 1959 |
| 7 | Vee-Jay LP 5006 | Swan Silvertone Singers | Swan Silvertones | Singing In My Soul | 1960 |
| 8 | Vee-Jay LP 5007 | Highway Q.C.'s | Highway QC's | Jesus Is Waiting | 1960 |
| 9 | Vee-Jay LP 5008 | Staple Singers | | Will The Circle Be Unbroken? | 1960 |
| 10 | Vee-Jay LP 5009 | Harmonizing Four | | God Will Take Care Of You | 1960 |
| 11 | Vee-Jay LP 5010 | Woods, Maceo | | The Lord Will Make A Way | 1960 |
| 12 | Vee-Jay LP 5011 | Back Home Choir | | Wonderful | 1961 |
| 13 | Vee-Jay LP 5012 | Argo Singers | | Near The Cross | 1961 |
| 14 | Vee-Jay LP 5013 | Swan Silvertone Singers | Swan Silvertones | Saviour Pass Me Not | 1961 |
| 15 | Vee-Jay LP 5014 | Staple Singers | | Swing Low | 1961 |
| 16 | Vee-Jay LP 5016 | Various | | Sunday Morning | 1961 |
| 17 | Vee-Jay LP 5017 | Patterson Singers | | My Prayer | 1962 |
| 18 | Vee-Jay LP 5018 | Princess Stewart | | That's God | 1962 |
| 19 | Vee-Jay LP 5019 | Staple Singers | | The Best of the Staple Singers | 1962 |
| 20 | Vee-Jay LP 5020 | Highway Q.C.'s | Highway QC's | Oh Lord I Pray | 1962 |
| 21 | Vee-Jay LP 5021 | Martin Singers, Sallie | Sally Martin Singers | Precious Lord | 1962 |
| 22 | Vee-Jay LP 5022 | Various | | Black Nativity | 1962 |
| 23 | Vee-Jay LP 5023 | Alex Bradford | | One Step | 1962 |
| 24 | Vee-Jay LP 5024 | Stars of Faith | Marion Williams and the Stars of Faith | God And Me | 1962 |
| 25 | Vee-Jay LP 5025 | Harmonizing Four | | Golden Bells | 1963 |
| 26 | Vee-Jay LP 5026 | Caravans | | Seek Ye The Lord | 1963 |
| 27 | Vee-Jay LP 5027 | Watson Singers | | Glory Train | 1963 |
| 28 | Vee-Jay LP 5028 | Woods, Maceo | Reverend Maceo Woods' Christian Tabernacle Ensemble | Message Of Hope | 1963 |
| 29 | Vee-Jay LP 5029 | Original Blind Boys of Alabama | | You'll Never Walk Alone | 1963 |
| 30 | Vee-Jay LP 5030 | Staple Singers | | Swing Low Sweet Chariot | 1963 |
| 31 | Vee-Jay LP 5031 | Stars of Faith | Marion Williams and the Stars of Faith | Let The Words Of My Mouth | 1963 |
| 32 | Vee-Jay LP 5032 | Patterson Singers | | The Lord's Prayer | 1963 |
| 33 | Vee-Jay LP 5033 | Taylor, Prof. Charles | Charles Taylor | As You Sow, So Shall You Reap | 1963 |
| 34 | Vee-Jay LP 5034 | Swan Silvertone Singers | Swan Silvertones | Blessed Assurance | 1963 |
| 35 | Vee-Jay LP 5035 | Argo Singers | | I'll Serve The Lord | 1963 |
| 36 | Vee-Jay LP 5036 | Northeastern Michigan Church of God in Christ State Choir | | Reach The Heart | 1963 |
| 37 | Vee-Jay LP 5037 | Bradford Singers | | Angel On Vacation | 1963 |
| 38 | Vee-Jay LP 5038 | Caravans | | The Soul of the Caravans | 1963 |
| 39 | Vee-Jay LP 5039 | Harmonizing Four | | Nearer My God To Thee | 1963 |
| 40 | Vee-Jay LP 5040 | Highway Q.C.'S | | All Men Are Made By God | 1963 |
| 41 | Vee-Jay LP 5041 | Martin Singers, Sallie | | God Is Here | 1963 |
| 42 | Vee-Jay LP 5042 | Original Gospel Harmonettes | Gospel Harmonette Specials | Camp Meeting | 1963 |
| 43 | Vee-Jay LP 5043 | Various | | The Greatest Gospel Songs Of Our Time | 1963 |
| 44 | Vee-Jay LP 5044 | Various | | Let's Sing About Freedom | 1963 |
| 45 | Vee-Jay LP 5045 | Various | | A Treasury of Golden Christmas Songs by America's Greatest Gospel Singers | 1963 |
| 46 | Vee-Jay LP 5046 | Patterson Singers | | Songs Of Faith | 1963 |
| 47 | Vee-Jay LP 5047 | Thompson Community Singers | | Yes Jesus Loves Me | 1963 |
| 48 | Vee-Jay LP 5048 | Original Blind Boys of Alabama | | True Convictions | 1963 |
| 49 | Vee-Jay LP 5049 | Wooten Ensemble | | Altar Stairs Of Song | 1963 |
| 50 | Vee-Jay LP 5050 | Harmonizing Four | | The Best of the Harmonizing Four | 1963 |
| 51 | Vee-Jay LP 5051 | Highway Q.C.'s | Highway QC's | The Best of the Highway QC's | 1963 |
| 52 | Vee-Jay LP 5052 | Swan Silvertone Singers | Swan Silvertones | The Best of the Swan Silvertones | 1963 |
| 53 | Vee-Jay LP 5053 | Woods, Maceo | Reverend Maceo Woods | Garden Of Prayer | 1963 |
| 54 | Vee-Jay LP 5054 | Harmonizing Four | | That Old Time Religion | 1964 |
| 55 | Vee-Jay LP 5055 | Highway Q.C.'s | Highway QC's | Gospel Songs Our Mother Taught Us | 1964 |
| 56 | Vee-Jay LP 5056 | Alex Bradford | | The Soul of Alex Bradford | 1964 |
| 57 | Vee-Jay LP 5057 | Richburg Singers | Richbourg Singers | He'll Bless Your Soul | 1964 |
| 58 | Vee-Jay LP 5058 | Caravans | | Walk Around Heaven All Day | 1964 |
| 59 | Vee-Jay LP 5059 | Swan Silvertone Singers | Swan Silvertones | Let's Go To Church Together | 1964 |
| 60 | Vee-Jay LP 5060 | Patterson Singers | | The Soul of the Patterson Singers | 1964 |
| 61 | Vee-Jay LP 5061 | Various | | Come Closer To God | 1964 |
| 62 | Vee-Jay LP 5062 | Charles Taylor | | The Soul of Charles Taylor | 1964 |
| 63 | Vee-Jay LP 5063 | Argo Singers | | The Soul of the Argo Singers | 1964 |
| 64 | Vee-Jay LP 5064 | Original Gospel Harmonettes | Gospel Harmonettes | The Soul of the Gospel Harmonettes | 1964 |
| 65 | Vee-Jay LP 5065 | Thompson Community Singers | | The Soul of the Thompson Community Singers | 1964 |
| 66 | Vee-Jay LP 5066 | Various | | Wonderful Memories From The Family Prayer Book | 1964 |
| 67 | Vee-Jay LP 5067 | Woods, Maceo | | The Many Moods of Reverend Maceo Woods | 1964 |
| 68 | Vee-Jay LP 5069 | Harmonizing Four | | Spirituals That Will Live Forever! | 1964 |
| 69 | Vee-Jay LP 5070 | Caravans | | Let's Break Bread Together | 1964 |
| 70 | Vee-Jay LP 5071 | Highway Q.C.'s | Highway QC's | The Highway QC's sing from the Top Of The Hill | 1964 |
| 71 | Vee-Jay LP 5072 | Original Blind Boys of Alabama | Blind Boys of Alabama | Can I Get A Witness | 1965 |
| 72 | Vee-Jay LP 5073 | Five Blind Boys of Mississippi | Archie Brownlee with the Original Five Blind Boys | Waiting At The River | 1965 |
| 73 | Vee-Jay LP 5074 | Robinson, Helen | Helen Robinson Youth Choir | The Heart Of Gospel | 1965 |
| 74 | Vee-Jay LP 5075 | Lowe, James | | My Movin' Soul | 1965 |
| 75 | Vee-Jay LP 5076 | Lunenberg Travellers | | Religion With Rhythm | 1965 |
| 76 | Vee-Jay LP 5077 | Caravans | | The Caravans in Concert | 1965 |
| 77 | Vee-Jay LP 5078 | Harmonizing Four | | Singing Is Our Life | 1965 |
| 78 | Vee-Jay LP 5083 | Preston, William Everett | | Hymns Speak From The Organ | 1965 |
| 79 | Vee-Jay LP 5099 | Harmonizing Four | | Child Of The King | 1966 |
| 80 | Vee-Jay LP 1069 | Bradford, Alex / Chris Barber | | Pop Gospel Live From London | 1963 |
| 81 | Vee-Jay LP 8503 | Various | | Black Nativity | 1964 |