Kent gospel discography (c. 1971-73)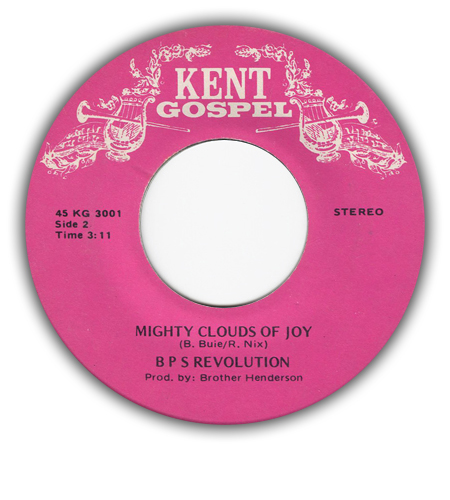 Kent was a Jules Bihari label, originally from Culver City, CA and connected to Crown, RPM, Modern, United, etc. (1958-1970's). In the early 70's, the years relevant for this discography, the label was located at 5810 S. Normandie Ave. in Los Angeles.
Kent started distribution for Brother Henderson's Gospel Corner and Proverb labels in c. 1971 (these albums can be recognized by the Kent Gospel Records logo). Henderson joined Kent later (late 1971?) and worked as a producer (and more). Several gospel LP's were released in Kent's 500 series, bearing the label name Kent Gospel (Records). A few singles were released as well. It's very well possible that Henderson's own labels and Kent Gospel Records coexisted for some time. It all came to a sudden end in 1973, when Brother Henderson passed away.
The Kent 45 and LP's were released without Henderson's meddling. The a-side of the first 45 on Kent Gospel (#3000 by the Pilgrim Travelers), "Did You Stop To Pray This Morning", wasn't produced by Henderson either, but by J.W. Alexander instead. J.W. Alexander produced Kent LP 564 where this song was taken from. However, the b-side ("Jesus Knows") was produced by Brother Henderson. It must have been recorded later.
Both Proverb, Gospel Corner and Kent Gospel issued their LP's in a 500-series (Proverb used some other numbers as well).
The Pilgrim Travelers on Kent were put together by J.W. Alexander and the Kent recordings do not feature any previous members of the group.
Kent 3004 may not exist; the songs were issued on Jewel 214.
This page lists all known Kent gospel releases (Kent and Kent Gospel). Missing numbers are secular or unknown releases. B.B. King's gospel recordings are omitted from the discography (maybe they'll be added at a later moment).
45rpm releases:

| release | artist | artist as shown | songs | year |
| --- | --- | --- | --- | --- |
| Kent 4565 | Pace-Setters | | Push On Jessie Jackson b/w Freedom And Justice | 1971-72 |
| Kent Gospel 3000 | Pilgrim Travelers | World Famous Pilgrim Travelers | Did You Stop To Pray This Morning? b/w Jesus Knows | 1971-73 |
| Kent Gospel 3001 | B.P.S. Revolution | | Fill My Cup b/w Mighty Clouds Of Joy | 1971-73 |
| Kent Gospel 3002 | Hampton-Aires | Harold Bowen's Hampton-Aires | I've Been Changed b/w Stop Sign Ahead | 1971-73 |
| Kent Gospel 3004 (?) | B.P.S. Revolution | | Brotherly Love b/w Walk Around Heaven | 1971-73 |
LP releases:

| release | artist | artist as shown | title | year |
| --- | --- | --- | --- | --- |
| Kent LP 564 | Pilgrim Travelers | | Did You Stop To Pray This Morning? | 1971 |
| Kent LP 567 | Hamilton and the Miracle-Aires, Alexander | | He Set Me Free | 1971 |
| Kent Gospel LP 569 | Corder Family | Famed Corder Family of Nashville, Tennessee | He's The One | 1971-73 |
| Kent Gospel LP 570 | Los Angeles Gospel Chimes | | My Soul Is Free | 1971-73 |
| Kent Gospel LP 571 | B.P.S. Revolution | | Fill My Cup | 1971-73 |
| Kent Gospel LP 572 | Hampton-Aires | Hampton-Aires of Memphis, Tennessee | It's A Blessing | 1971-73 |
| Kent Gospel LP 575 | True Heart Consolers | True Heart Consolers of St. Louis, MO | It's A Good Day | 1971-73 |
| Kent Gospel LP 576 | Christian Travelers | Christian Travelers of St. Louis, MO | God Is Real | 1971-73 |
| Kent Gospel LP 577 | Lumpkin, Rev. W.J. | | Satan Is Using His Sifter (sermon) | 1971-73 |