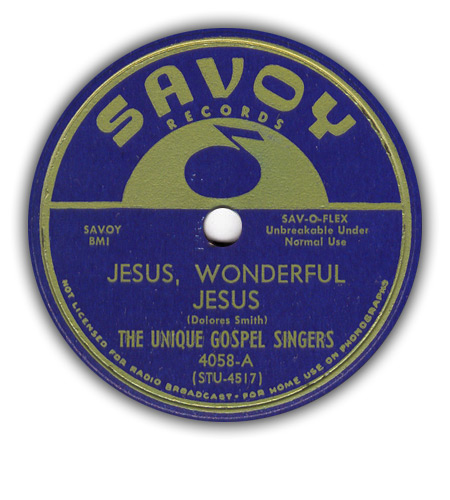 Savoy was founded in 1942 by Herman Lubinsky. The Newark, New Jersey label issued many of the important early jazz/bebop albums. With the rise of rock and roll in the 1950's, Lubinsky concentrated more on African-American gospel music, recording many groups and establishing Savoy's preeminence in the black gospel recording industry through its association with James Cleveland and his Gospel Music Workshop of America. (source: Wikipedia)
Savoy 1027 (Maggie Lee) was first issued on White Church 1180.
Savoy 4005 (Son's of Jesus) was also released as by the Zionettes of Detroit (same tracks!).
Savoy 4002, 4017, 4023 and 4026 (all by the Ward Singers) were first issued on Acorn 5000, 5001, 5002 and 5003 respectively.
The Corinthian Singers (Savoy 4000) is the same group as the Progressive Four (#4001, 4006). Savoy 4000, 4001 and 4006 were also released on DC 8059, 8038 and 8042.
The sides by the Deep Tones (Savoy 1025 and 1026) were also released on King Solomon.
Savoy 4220 and 4240 (Mighty Gospel Giants) are the same, but on #4240 "Heavenly Father" is incorrectly credited to the Southwest Michigan State Choir.
The Gospel Lords of Harmony (Savoy 4237, 4262) reformed to the Marvin Anderson Singers in the late 1960's (see the King/Queen discography).
Savoy 4246 released as by Rev. Cleophus Robinson and as by Rev. C. Robinson.
Jimmy Jones (see also Gospel Recording Co. and JAS) recorded secular material for Savoy as Jimmie Jones and the Savoys.
Savoy 4205 has been released as by the Southeast and the Southwest Michigan State Choir. 'East' must have been a typo as this choir is know as the Southwest Michigan State Choir. Probably, Savoy corrected this for the second run of this release.
It seems that Gospel 5804 was by mistake issued as Savoy 5804. Savoy has no 5800 series otherwise.
Savoy 4296 – 4298 and 4312 have probably not been released.
Savoy EP's 20000, 20001 and 20002 are 78rpm records, all by the Ward Singers and released in the early 1950's.
Savoy LP 15057 is a 10-inch LP, released prior to the 14000 series. I wonder if there are other (10-inch) gospel releases in the 15000 series.
Early Savoy catalogues often list the first song (or another) of an album as the album title; the actual LP title was neglected or an album title was given where there was none. I have corrected most of these mistakes but it may lead to some inconsistencies with other information found on the internet and elsewhere.
Savoy LP's 14080 and 14087 (Rasberry Singers) are reissues of Choice LP 506 and 510 resp.
Savoy LP 14102 (Banks Brothers) was first released as "It Took A Miracle", then a sticker was applied to hide this title to show a new one: "Lord, I've Tried".
Savoy LP 14156 (Dr. C.J. Johnson) is titled "The Old Time Song Service" on the cover and "Old Time Prayer Meeting" on the labels. Most of his LP's are titled "The Old Time Song Service" (or similar).
Savoy LP 14239 (James Herndon with the Southside Ensemble) may not have been released.
The Sons of David (Savoy 4035) were Rev. Morgan and Rev. Cromwell; under their own names they were featured on Regent LP 6070 ("The Gospel Train"). All the Savoy/Regent recordings were made at the same session on April 3, 1952. It is possible that Rev. Morgan is the same person as Rev. "Squeaky" Morgan who recorded with the Harrison Singers for Savoy (1963-65), King, HSE and ASL.
Many LP's in Savoy's catalogue have been reissued. First issues, until 1961 (at least until LP 14044) , have deep groove and red labels (often referred to as 'blood red'). Somewhere in 1961 the label color changed to maroon and the deep groove disappeared; this label was used until 1974 and it was replaced by the dark red ('oxblood') label color. Of course, there are variations and anomalies.
Unlisted LP's are either secular (early numbers) or unreleased (14186, 14247).
This page lists all known gospel issues (78's, 45's, EP's and LP's) on Savoy, released between 1948 and 1970. Later recordings are omitted.
78 & 45rpm releases:

| release | artist | artist as shown | songs | year |
| --- | --- | --- | --- | --- |
| Savoy 1025 | Deep Tones | | My God Calls Me b/w Jesus' Love Bubbles Over | 1948 |
| Savoy 1026 | Deep Tones | | When The Storm Of Life Is Over b/w Made Up In My Mind | 1948 |
| Savoy 1027 | Lee, Maggie | | Sampson b/w What Changes Have You Made | 1948 |
| Savoy 4000 | Progressive Four | Corinthian Singers | I Got A Home b/w Rocks And The Mountains | 1948-49 |
| Savoy 4001 | Progressive Four | | I Cried Holy b/w You Can Run On | 1948-49 |
| Savoy 4002 | Ward Singers | | Jesus b/w Stretch Out | 1949 |
| Savoy 4003 | Ward, Clara | | Tired b/w Just One Moment | 1949 |
| Savoy 4004 | Ward Singers | | Each Day b/w Come Ye Disconsolate | 1949 |
| Savoy 4005 | Son's of Jesus or Zionettes of Detroit | | Poor Lame Man b/w This Evening Our Heavenly Father | 1949 |
| Savoy 4006 | Progressive Four | | Old Time Religion b/w I Ain't Ready To Die | 1947 |
| Savoy 4007 | Ward Singers b/w Clara Ward | | When I Get Home b/w Jesus Is All The World To Me | 1949 |
| Savoy 4008 | Original Kings of Harmony | | Little David b/w I Got A Mother Done Gone On | 1944 |
| Savoy 4009 | Ward, Clara | | The Day Is Passed And Gone b/w Prayer Changes Things | 1949 |
| Savoy 4010 | Ward Singers | | Jesus Gave Me Water b/w Get Back Jordan | 1949 |
| Savoy 4011 | Ward Singers | Famous Ward Singers | How Far Am I From Canaan, Pt. 1 b/w How Far Am I From Canaan, Pt. 2 | 1949 |
| Savoy 4012 | Ward, Clara | | Just Over The Hill b/w He Knows How Much We Can Bear | 1949 |
| Savoy 4013 | Ward Singers | Famous Ward Singers | My Jesus Is All And All b/w Jesus Is So Real To Me | 1949 |
| Savoy 4014 | Ward, Clara | | Who Could Ask For Anything Else b/w I've Got A Home | 1949 |
| Savoy 4015 | Atlanta-Airs | | I'm Clinging Closer To Jesus b/w On The Battlefield For My Lord | 1950 |
| Savoy 4016 | Ward Singers | Famous Ward Singers | I'm Bound For The Higher Ground b/w Thy Holy Will Be Done | 1949 |
| Savoy 4017 | Ward Singers | | Surely God Is Able b/w I Need Thee Every Hour | 1950 |
| Savoy 4018 | Evans and the Gospel Trio, Freddie | | When The Pearly Gates Unfold b/w Even Me | 1950 |
| Savoy 4019 | Ward Singers | | When I Wake Up In Glory b/w Tell Jesus All | 1950 |
| Savoy 4020 | National Independent Gospel Singers | National Independent Gospel Singers of Atlanta, GA | I Met My Elder This Morning b/w I Got Good Religion | 1950 |
| Savoy 4021 | Ward Singers | | Silent Night b/w Glory, Glory, Hallelujah | 1950 |
| Savoy 4022 | Patterson Singers | Famous Patterson Singers | Every Day I'm Getting Nearer To The Lord b/w Lord I Need Thee | 1950 |
| Savoy 4023 | Ward Singers | Gertrude Ward and Daughters b/w Ward Singers | That Awful Day Will Surely Come b/w Tell The Angels I'm On My Way | 1950 |
| Savoy 4024 | Ward Singers | Famous Ward Singers | The Old Rugged Cross b/w Wasn't It A Pity How They Punished My Lord | 1950 |
| Savoy 4025 | Gay Sisters | | God Will Take Care Of You b/w I'm Goin' To Walk Out In His Name | 1951 |
| Savoy 4026 | Ward Singers b/w Clara Ward | | Oh, My Lord, What A Time b/w When He Spoke | 1951 |
| Savoy 4027 | Gay Sisters | | God Is On Our Side b/w I'm A Soldier | 1951 |
| Savoy 4028 | Crockett Singers of Chicago, Anna | | Send Your Blessing Down b/w I'm Going Through | 1951 |
| Savoy 4029 | Watkins, Charles | | I Must Tell Jesus b/w Christmas Morn' | 1951 |
| Savoy 4030 | Ward Singers | | Prince Of Peace b/w I Heard The Voice Of Jesus | 1951 |
| Savoy 4031 | Gay Sisters | | God Shall Wipe All Tears Away b/w We're Gonna Have A Good Time | 1952 |
| Savoy 4032 | Patterson Singers | | Throw Out The Lifeline b/w Jesus, The Light Of The World | 1952 |
| Savoy 4033 | Ward Singers | | Take Your Burden To The Lord b/w The Old Landmark | 1952 |
| Savoy 4034 | Bram, Emily | Sister Emily Bram | We'll Understand b/w Blessed Assurance | 1952 |
| Savoy 4035 | Sons of David | | The Old Gospel Ship b/w When | 1952 |
| Savoy 4036 | Ward, Clara | | I Will Trust In The Lord b/w I Know What He's Done For Me | 1952 |
| Savoy 4037 | Gay Sisters | | Oh Lord, Somebody Touched Me b/w He Knows How Much We Can Bear | 1952 |
| Savoy 4038 | Ward Singers | | This Little Light Of Mine b/w Just A Little While | 1952 |
| Savoy 4039 | DeLoach, Mary | Mary DeLoatch | Rumors Of War b/w Life Was A Burden | 1952 |
| Savoy 4040 | Parks Singers, Lucille | | Saved By The Power Divine b/w Rough And Rocky Road | 1952 |
| Savoy 4041 | Ward Singers | | Until I Found The Lord b/w How Many Times | 1952 |
| Savoy 4042 | Watkins, Charles | | My Change b/w All Alone | 1952 |
| Savoy 4043 | Gay Sisters | | Only Believe b/w It's Real | 1952 |
| Savoy 4044 | Ward Singers | Famous Ward Singers | Since I Found The Light b/w I Just Can't Make It Myself | 1953 |
| Savoy 4045 | Ward Singers | Famous Ward Singers | I Know It Was The Lord, Pt. 1 b/w I Know It Was The Lord, Pt. 2 | 1953 |
| Savoy 4046 | Gay Sisters | Famous Gay Sisters | The Little Old Church b/w That's What I Like About Jesus | 1951 |
| Savoy 4047 | Ward Singers | Famous Ward Singers (?) | Who Shall Be Able To Stand b/w I Want To Be More Like Jesus | 1953 |
| Savoy 4048 | Ward Singers | Famous Ward Singers | O Lord How Long b/w Farther On Up The Road | 1953 |
| Savoy 4049 | Watkins, Charles | | Don't Let This Harvest Pass b/w Run, Run And Tell Him | 1954 |
| Savoy 4050 | Banks Brothers | | I've Got The Witness b/w For My Sake | 1954 |
| Savoy 4051 | Ward Singers | Famous Ward Singers | The Wonderful Counselor Is Pleading For Me b/w Only The Crumbs | 1954 |
| Savoy 4052 | Heavenly Lights | | Jesus Said It b/w Lord I'm In Your Hands | 1954 |
| Savoy 4053 | Drinkard Singers | Drinkard Jubilairs | When I Rise b/w A Sinner Like Me | 1954 |
| Savoy 4054 | Watkins, Charles | | Sweet Hour Of Prayer b/w What He's Done For Me | 1954 |
| Savoy 4055 | Ward Singers | Famous Ward Singers | I'm Climbing Higher And Higher b/w God's Amazing Love | 1954 |
| Savoy 4056 | Rhodeaires | | When He Calls Me b/w Further Along | 1954 |
| Savoy 4057 | Laws' Specials, Arnold | | Blood Of Jesus b/w Glory To The Lamb Of God | 1954 |
| Savoy 4058 | Unique Gospel Singers | | Jesus, Wonderful Jesus b/w Strength And Courage | 1954 |
| Savoy 4059 | Ward Singers | | Sweet Little Jesus Boy b/w Glory, Glory To The King | 1954 |
| Savoy 4060 | Five Trumpets | | Lord, I Want To Be A Christian b/w Amazing Grace | 1955 |
| Savoy 4061 | Afro Quintette | | Toll The Bells b/w Working For My Jesus | 1955 |
| Savoy 4062 | Ward Singers | Famous Ward Singers | Weeping May Endure For A Night b/w Treading The Wine Press Alone | 1955 |
| Savoy 4063 | Davis Sisters | Famous Davis Sisters | He'll Understand (And Say Well Done) b/w He's My King | 1955 |
| Savoy 4064 | Sampson, Rev. Otis | | Teardrops b/w I'll Search Heaven For You | 1955 |
| Savoy 4065 | Banks Brothers | | Happy In Glory b/w Show Me The Way | 1954 |
| Savoy 4066 | Ward Singers | Famous Ward Singers | When They Crown Him Lord Of All b/w Oh Gabriel | 1954 |
| Savoy 4067 | Davis Sisters | Famous Davis Sisters of Philadelphia with Curtis Dublin | Twelve Gates To The City b/w You've Got The River Jordan To Cross | 1955 |
| Savoy 4068 | Ward Singers | Famous Ward Singers | I'm Goin' Home b/w Lord Touch Me | 1955 |
| Savoy 4069 | Selah Jubilee Singers | | Gospel Train b/w Who So Ever Will | 1955 |
| Savoy 4070 | Davis Sisters | Famous Davis Sisters of Philadelphia, PA | Rain In Jerusalem b/w Oh Happy Day | 1955 |
| Savoy 4071 | Ward Singers | Famous Ward Singers | Anywhere In Glory b/w Hold Back The Tears | 1956 |
| Savoy 4072 | Five Trumpets | | I've Got Jesus b/w I Shall Not Be Moved | 1956 |
| Savoy 4073 | Davis Sisters | Famous Davis Sisters of Philadelphia | Lord Don't Leave Me b/w Plant My Feet On Higher Ground | 1956 |
| Savoy 4074 | Drinkard Singers | Drinkard Jubilairs | I'm Troubled b/w Walk Together Children | 1956 |
| Savoy 4075 | Clark, Christine | | Swing Low Sweet Chariot b/w Fear Not | 1956 |
| Savoy 4076 | Ward Singers | Famous Ward Singers | Great Is The Lord b/w He Knows | 1956 |
| Savoy 4077 | Davis Sisters | Famous Davis Singers | Won't It Be Wonderful There b/w Jesus Gently Guide Me | 1956 |
| Savoy 4078 | Morris Brothers | | Kneel At The Cross b/w Rescue Me Lord | 1956 |
| Savoy 4079 | Davis Sisters | Famous Davis Sisters | Oh Sinner b/w More Than All | 1956 |
| Savoy 4080 | Ward Singers | Famous Ward Singers | Packin' Up b/w Draw Me Nearer | 1956 |
| Savoy 4081 | Martin Singers, Roberta | | Walk In Jerusalem b/w When He Set Me Free | 1957 |
| Savoy 4082 | Davis Sisters | Famous Davis Sisters | He's Mine b/w Keeping Me Alive | 1957 |
| Savoy 4083 | Ward Singers | Famous Ward Singers | Climbing Jacob's Ladder b/w Nearer My God To Thee | 1957 |
| Savoy 4084 | Martin Singers, Roberta | | Teach Me Lord b/w God Is So Good To Me | 1957 |
| Savoy 4085 | Davis Sisters | Famous Davis Sisters | There's A Tree On Each Side Of The River b/w I Don't Know What I'd Do | 1957 |
| Savoy 4086 | Ward Singers | Famous Ward Singers | I'm So Glad b/w I Feel The Holy Spirit | 1957 |
| Savoy 4087 | Martin Singers, Roberta | | Sinner Man, Where You Gonna Run To b/w Nothing But A God | 1957 |
| Savoy 4088 | Davis Sisters | Famous Davis Sisters | Farewell b/w My Wonderful Counselor | 1957 |
| Savoy 4089 | Gospel Clefs | Gospel Cleffs | Wings Of A Dove b/w Go Down, Go Down | 1957 |
| Savoy 4090 | Mighty Gospel Giants | | Jesus Will Meet Me b/w Waiting | 1958 |
| Savoy 4091 | Gospel Clefs | | Rise Up And Walk b/w Steal Away | 1958 |
| Savoy 4092 | Ward Singers | | Our God Is Real b/w In His Arms | 1958 |
| Savoy 4093 | Martin Singers, Roberta | | Nobody Knows b/w One Day | 1958 |
| Savoy 4094 | Taylor, Prof. Charles | Prof. Chas. Taylor and the Taylor Singers | I'm Stumbling b/w I'll See It Through | 1958 |
| Savoy 4095 | Davis Sisters | Famous Davis Sisters | What He's Done For Me b/w Almost Home | 1958 |
| Savoy 4096 | Gospel Chordettes | | God's Got The Whole World In His Arms b/w I Can't Believe It | 1958 |
| Savoy 4097 | Imperial Gospel Singers | | My Father's House b/w Reach Out And Touch Him | 1958 |
| Savoy 4098 | Gospel Clefs | Gospel Clefs of Newark, New Jersey | Big Wheel b/w How Long Has It Been Since You Prayed | 1958 |
| Savoy 4099 | Ward Singers | Famous Ward Singers | Good News b/w Pure Gold | 1958 |
| Savoy 4100 | Martin Singers, Roberta | | Grace b/w Ride On King Jesus | 1958 |
| Savoy 4101 | Davis Sisters | Famous Davis Sisters | You're Gonna Need Somebody On Your Side b/w Following Him | 1958 |
| Savoy 4102 | Roberts, Lawrence | Lawrence Roberts Singers | Softly And Tenderly b/w If You Make It To The Moon | 1958 |
| Savoy 4103 | Martin Singers, Roberta | | I Found Him b/w God Specializes | 1958 |
| Savoy 4104 | Stars of Faith | | Had It Not Been For The Lord b/w Mean Old World | 1958 |
| Savoy 4105 | Taylor, Prof. Charles | Charles Taylor and the Taylor Singers | What You Gonna Do Bout Me b/w I Must Live Until Morning | 1958 |
| Savoy 4106 | Imperial Gospel Singers | | My Change Will Come b/w Swing Low | 1958 |
| Savoy 4107 | Ward Singers | Famous Ward Singers | He's Watching Over You b/w Got On My Traveling Shoes | 1958 |
| Savoy 4108 | Gospel Clefs | | Book Of Revelations b/w Rock Me To Sleep | 1958 |
| Savoy 4109 | Davis Sisters | Famous Davis Sisters | Jonah b/w He's Here Now | 1958 |
| Savoy 4110 | Rasberry Singers | | Jesus King Of Kings b/w I Believe Every World | 1958 |
| Savoy 4111 | Roberts, Lawrence | Lawrence Roberts Singers | I'm A Rollin' b/w When The Lord Saved Me | 1959 |
| Savoy 4112 | Martin Singers, Roberta | | Certainly Lord b/w I Can Make It | 1959 |
| Savoy 4113 | Stars of Faith | | Don't Stop Praying b/w I Shall Wear A Crown | 1959 |
| Savoy 4114 | Taylor, Prof. Charles | Prof. Charles Taylor and the Taylor Singers | I'll Go b/w The Message | 1959 |
| Savoy 4115 | Original Gospel Harmonettes | | Don't You b/w Let Me Ride | 1959 |
| Savoy 4116 | Jones, Jimmy | Jimmy Jones and the Sensationals | Walk In The Garden b/w Come On And Go With Me | 1959 |
| Savoy 4117 | Stars of Faith | | Said He Would b/w High Class Physician | 1959 |
| Savoy 4118 | Rasberry Singers | Raymond Rasberry Singers | Every Round Of The Ladder, Pt. 1 b/w Every Round Of The Ladder, Pt. 2 | 1959 |
| Savoy 4119 | Gospel Clefs | | By The Water Of Babylon b/w Open Our Eyes | 1959 |
| Savoy 4120 | Ward Singers | Famous Ward Singers | We're Gonna Have A Time b/w We Shall Be Changed | 1959 |
| Savoy 4121 | North Philadelphia Juniors | | There's Something Within Me b/w Lord Come By Here | 1959 |
| Savoy 4122 | Original Gospel Harmonettes | | Lift Him Up b/w The Finishing Line | 1959 |
| Savoy 4123 | Imperial Gospel Singers | | Lazarus b/w If You Wait | 1959 |
| Savoy 4124 | Davis Sisters | Famous Davis Sisters | We Need Power b/w I Got A New Home | 1959 |
| Savoy 4125 | Martin Singers, Roberta | | That Great Judgement Day b/w He's All I Need | 1959 |
| Savoy 4126 | Jones, Jimmy | Jimmy Jones and the Sensationals | Before This Time Another Year b/w Nobody But The Lord | 1960 |
| Savoy 4127 | Rasberry Singers | Raymond Rasberry and the Rasberry Singers | We're Crossing Over b/w Lord, In The New Jerusalem | 1960 |
| Savoy 4128 | Stars of Faith b/w Marion Williams | | Moan Frances b/w When Jesus Was Born | 1960 |
| Savoy 4129 | Taylor, Prof. Charles | | Six Months b/w The Blood Of Jesus | 1960 |
| Savoy 4130 | Gospel Clefs | | Behind Every Dark Cloud b/w Out Of The Fiery Furnace | 1960 |
| Savoy 4131 | Ward Singers | Famous Ward Singers | Every Day Will Be Sunday (By And By) b/w God Is God | 1960 |
| Savoy 4132 | Davis Sisters | Famous Davis Sisters | Not A Word b/w Save Me | 1960 |
| Savoy 4133 | Martin Singers, Roberta | | He's So Divine b/w Since He Lightened My Heavy Load | 1960 |
| Savoy 4134 | Stars of Faith | | Something Within Me b/w There's A Fountain | 1960 |
| Savoy 4135 | Imperial Gospel Singers | | In Jesus' Name b/w Dark Was The Night | 1960 |
| Savoy 4136 | Original Gospel Harmonettes | | So Many Years b/w Rest For The Weary | 1960 |
| Savoy 4137 | Rasberry Singers | Raymond Rasberry Singers | Waiting On You b/w As Long As I Live | 1960 |
| Savoy 4138 | Gospel Clefs | | He Made Them All b/w Go Woman, Sin No More | 1960 |
| Savoy 4139 | Taylor, Prof. Charles | Prof. Chas. Taylor | God Can't Fail b/w Hold Out | 1960 |
| Savoy 4140 | Martin Singers, Roberta | | Oh How Much He Cared For You b/w It's Gonna Rain | 1960 |
| Savoy 4141 | Cleveland, James | James Cleveland with the Famous All Stars | Just Like He Said He Would b/w He's All Right With Me | 1960 |
| Savoy 4142 | Stars of Faith | | In The Upper Room, Pt. 1 b/w In The Upper Room, Pt. 2 | 1960 |
| Savoy 4143 | Martin Singers, Roberta | | God Is Still On The Throne b/w He Laid His Hands On Me | 1960 |
| Savoy 4144 | Song Birds of the South | | Everybody's Running b/w Don't Let The Devil Know | 1960 |
| Savoy 4145 | Davis Sisters | Famous Davis Sisters | Father I'm Coming Home, Pt. 1 b/w Father I'm Coming Home, Pt. 2 | 1960 |
| Savoy 4146 | Cleveland, James | | Anyhow b/w Just To Behold His Face | 1960 |
| Savoy 4147 | Taylor, Prof. Charles | Prof. Chas. Taylor (?) | Another Day b/w Pay Day (Put Our Time In) | 1960 |
| Savoy 4148 | Martin Singers, Roberta | | Step In, Jesus b/w Jesus Will Hear You Pray | 1960 |
| Savoy 4149 | Stars of Faith | Marion Williams and the Stars of Faith | My Lord And I b/w Jesus Gave Me Water | 1960 |
| Savoy 4150 | Ward Singers | Famous Ward Singers | I'm Getting Richer b/w I'm Gonna Move Upstairs | 1960 |
| Savoy 4151 | Stars of Faith | Marian Williams and the Stars of Faith | Lord My Keeper Be b/w Blood Saved Me | 1961 |
| Savoy 4152 | Davis Sisters | Famous Davis Sisters | Right Now Jesus b/w Jesus Is The One To Love | 1961 |
| Savoy 4153 | Ward Singers | Famous Ward Singers | A Sweeter Tomorrow b/w Life Is Just One Step | 1961 |
| Savoy 4154 | Cleveland, James | | There's A Brighter Day Somewhere b/w Oh Lord I'm Satisfied | 1961 |
| Savoy 4155 | Martin Singers, Roberta | | Hold Me b/w Hold The Light | 1961 |
| Savoy 4156 | Rasberry Singers | Raymond Rasberry Singers | He Do'eth All Things Well b/w The Lord Will Be Waiting | 1961 |
| Savoy 4157 | Cleveland, James | James Cleveland and the Gospel All Stars | Love Of God b/w I Need Jesus On My Journey | 1961 |
| Savoy 4158 | Original Gospel Harmonettes | | Let's Come In The House b/w Ever Since I Met Him | 1961 |
| Savoy 4159 | Walker, Clara | Gospel Redeemers with Clara Walker | Stay Within b/w I Gave God My Word | 1961 |
| Savoy 4160 | Angelic Choir | Angelic Choir of the First Baptist Church of Nutley, NJ | He Will b/w A Little Too Close To Be Afraid | 1961 |
| Savoy 4161 | Gospel Clefs | | To Heal The Soul b/w So Good | 1961 |
| Savoy 4162 | Ward Singers | Famous Ward Singers | Rock Of Ages b/w The Lord's Army | 1961 |
| Savoy 4163 | Davis Sisters | | Nothing But The Blood b/w My Jesus | 1961 |
| Savoy 4164 | Martin Singers, Roberta | | Every Now And Then b/w Only A Look | 1961 |
| Savoy 4165 | Ward Singers | Famous Ward Singers | Prince Of Peace b/w Sweet Little Jesus Boy | 1961 |
| Savoy 4166 | Gospel Chimes | James Cleveland and the Gospel Chimes | What A Mighty God b/w Down Deep In My Heart | 1961 |
| Savoy 4167 | Walker, Clara | Gospel Redeemers with Clara Walker | I've Got To Kneel Down To Pray b/w Message From Heaven | 1962 |
| Savoy 4168 | Original Gospel Harmonettes | Gospel Harmonettes | Till I Get Back There b/w By Myself | 1962 |
| Savoy 4169 | Angelic Choir | Rev. Lawrence Roberts and his Angelic Choir | Its The Holy Ghost b/w I Know The Lord | 1962 |
| Savoy 4170 | Martin Singers, Roberta | | Had It Not Been For Him b/w I Couldn't Hear Nobody Pray | 1962 |
| Savoy 4171 | Davis Sisters | | Jesus Loves Me b/w Earnestly Praying | 1962 |
| Savoy 4172 | Mighty Gospel Giants | Gospel Giants | Down To Sleep b/w Brother Noah | 1962 |
| Savoy 4173 | Martin Singers, Roberta | | It Was The Blood b/w Out Of The Depths | 1962 |
| Savoy 4174 | Jones, Jimmy | Jimmy Jones and the Sensationals | I Can't Begin To Tell You b/w In The Storm | 1962 |
| Savoy 4175 | Gospel Clefs | | Be Still My Soul b/w Stand The Storm | 1962 |
| Savoy 4176 | Gospel Chimes | James Cleveland and the Gospel Chimes | Sit Down Servant b/w There Is No Failure In God | 1962 |
| Savoy 4177 | Gospel Chimes | | To Jesus I'll Go b/w Father, I Stretch My Hand To Thee | 1962 |
| Savoy 4178 | Jackson, Myrtle | | Christ Lives In My Soul b/w My Hope Is Built On Thee | 1962 |
| Savoy 4179 | Anderson, Robert | | In Times Like These b/w The Only Hope | 1962 |
| Savoy 4180 | Ward Singers | | Handwriting On The Wall b/w Contract With The Lord | 1962 |
| Savoy 4181 | Martin Singers, Roberta | | No Other Help I Know b/w He Brought Me Out | 1962 |
| Savoy 4182 | Cleveland and Angelic Choir, James | | Jesus Will Bring Things Out b/w Trust Him | 1962 |
| Savoy 4183 | Original Gospel Harmonettes | Gospel Harmonettes Specials | Daniels Stone b/w My Fathers Children | 1963 |
| Savoy 4184 | Swindell Brothers | Swindell Brothers and Rev. Johnnie Wilkerson | Pay Day b/w This Trouble Of Mine | 1963 |
| Savoy 4185 | Gospel Chimes | | It's Well With My Soul b/w It Will Be Glory | 1963 |
| Savoy 4186 | Watkins, Charles | Rev. Charles Watkins' Pentecostal Mass Choir (?) | Heartaches b/w Shady Green Pastures | 1963 |
| Savoy 4187 | Davis Sisters | Ruth Davis and the Davis Sisters | If It Wasn't For Jesus b/w On The Right Road | 1963 |
| Savoy 4188 | Cleveland and Angelic Choir, James | | Redeemed b/w Leave It There | 1963 |
| Savoy 4189 | Martin Singers, Roberta | | The Storm Is Passing Over b/w What Would You Do Without Jesus | 1963 |
| Savoy 4190 | Blendwrights | | Let Down The Ladder b/w How Many Steps To Heaven | 1963 |
| Savoy 4191 | Banks Brothers | | I Can Put My Trust In Jesus b/w Jesus Is Willing | 1963 |
| Savoy 4192 | Cleveland, James | James Cleveland and the James Cleveland Singers | The Sun Will Shine After Awhile b/w No Need To Worry | 1963 |
| Savoy 4193 | Sunrising Kings | | Lord I've Tried b/w Bye And Bye | 1963 |
| Savoy 4194 | Jewel Gospel Singers | | Dissalusioned b/w God Don't Change | 1963 |
| Savoy 4195 | Martin Singers, Roberta | | I'm Grateful, Pt. 1 b/w I'm Grateful, Pt. 2 | 1963 |
| Savoy 4196 | Ward Singers | | Who Is It b/w Move Along | 1963 |
| Savoy 4197 | Gospel Clefs | | You Can Talk To God b/w Let The Lord Come In | 1963 |
| Savoy 4198 | Original Gospel Harmonettes | Gospel Harmonettes | It's Going To Rain, Pt. 1 b/w It's Going To Rain, Pt. 2 | 1963 |
| Savoy 4199 | Gospel Chimes | | I'll Make It Alright b/w We Serve A Merciful God | 1963 |
| Savoy 4200 | Angelic Choir | | He's Got Everything b/w Without A God | 1963 |
| Savoy 4201 | A'Cappels | | He Made It All b/w Steal Away | 1963 |
| Savoy 4202 | Wallace, Rosie | Rosie Wallace and the First Church of Love, Faith and Deliverance Choir | God Cares b/w Just A Little Talk With Jesus | 1963 |
| Savoy 4203 | Jewel Gospel Singers | | After Awhile b/w Precious To Me | 1963 |
| Savoy 4204 | Norwood, Dorothy | Dorothy Norwood Singers | Johnny And Jesus b/w The Failure Is Not In God, It's In Me | 1963 |
| Savoy 4205 | Southwest Michigan State Choir | | He's The Answer b/w I Thank You Lord | 1963 |
| Savoy 4206 | Sunrising Kings | | Blind Bartimus b/w Ring Out The Name Of Jesus | 1963 |
| Savoy 4207 | Rasberry Singers | Raymond Rasberry Singers | Deliverance Will Come b/w No More | 1963 |
| Savoy 4208 | Ruth, Therman | Bro. Therman Ruth and the Harmoneers | That Awful Day In Dallas b/w He'll Understand | 1963 |
| Savoy 4209 | Wallace, Rosie | | A Light That Shines b/w Take Courage | 1964 |
| Savoy 4210 | Jewel Gospel Singers | | Pilgrim Of Sorrow b/w The Modern Joshua | 1964 |
| Savoy 4211 | Cleveland, James | James Cleveland and the Cleveland Singers | He's Always Doing Something Good For Me b/w I've Come A Long Ways | 1964 |
| Savoy 4212 | Swindell Brothers | Swindell Brothers and Rev. Johnnie Wilkerson | Holy Train b/w If I Could Make It To The City | 1964 |
| Savoy 4213 | Blendwrights | | God Bless The Song b/w A Long Way To Go | 1964 |
| Savoy 4214 | Martin Singers, Roberta | | From Out Of Nowhere b/w The Best Things In Life Are Free | 1964 |
| Savoy 4215 | Roberts, Lawrence | Rev. and Mrs. Lawrence Roberts | Keep In Touch With Jesus b/w Things Are Not What They Ought To Be (But They Could Be Worse) | 1964 |
| Savoy 4216 | Golden Echoes | Big John and the Golden Echoes | Sing b/w Union In Heaven | 1964 |
| Savoy 4217 | Cleveland and Angelic Choir, James | | The Original Peace Be Still, Pt. 1 b/w The Original Peace Be Still, Pt. 2 | 1964 |
| Savoy 4218 | Bailey Singers, Harold | Harold Bailey Singers Of Chicago, Ill. | Lord I'll Go, Pt. 1 b/w Lord I'll Go, Pt. 2 | 1964 |
| Savoy 4219 | Robinson, Rev. Cleophus | | We Shall Gain The Victory b/w Keep On Marching | 1964 |
| Savoy 4220 | Mighty Gospel Giants | | Heavenly Father b/w I'll Follow Him | 1964 |
| Savoy 4221 | Southwest Michigan State Choir | | Write My Name Above b/w None But The Pure In Heart | 1964 |
| Savoy 4222 | Jewel Gospel Singers | | Mercy b/w Come To Jesus | 1964 |
| Savoy 4223 | Norwood, Dorothy | Dorothy Norwood Singers | I'm Thine Oh Lord b/w The Old Lady's House | 1964 |
| Savoy 4224 | Barrett Sisters | Dolores Barrett and Barrett Sisters | Jesus Loves Me b/w I Thank You Lord | 1964 |
| Savoy 4225 | St. John's Inspirational Choir | | Sometimes My Burdens Are So Hard To Bear b/w It Is Well With My Soul | 1964 |
| Savoy 4226 | Bradley Singers | | He'll Roll Back Those Dark Clouds b/w Truly I Hear God | 1964 |
| Savoy 4227 | Golden Crowns | | Have You Got Oil In Your Vessel b/w Everything Will Be Alright | 1964 |
| Savoy 4228 | Simpson, Madam Margaret | | Bound For The Promised Land b/w How I Got Over | 1965 |
| Savoy 4229 | Angelic Choir | | Christ Is All b/w Climbing Up The Mountain | 1965 |
| Savoy 4230 | Cleveland, James | James Cleveland and the Cleveland Singers | That Will Be Good Enough For Me b/w Two Wings | 1965 |
| Savoy 4231 | Robinson, Rev. Cleophus | Cleophus Robinson | I Know He's Strength b/w Don't Forget To Thank Him | 1965 |
| Savoy 4232 | Martin Singers, Roberta | | Didn't It Rain b/w Keep Me In Touch With Thee | 1965 |
| Savoy 4233 | Original Gospel Harmonettes | Gospel Harmonettes | That Kind Of God b/w How Much More | 1965 |
| Savoy 4234 | Jones, Jimmy | Jimmy Jones and the Sensationals | Lead Me On b/w So High | 1965 |
| Savoy 4235 | Gospel Clefs | | The Precious Name b/w There'll Be A Meeting Tonight | 1965 |
| Savoy 4236 | Gospel Teens | | There's A Balm In Gilead b/w Four Little Sheep | 1965 |
| Savoy 4237 | Gospel Lords of Harmony | Lords of Harmony | He's Been In My Building b/w If God Gave Us Everything | 1965 |
| Savoy 4238 | Johnson, Dr. C.J. | Dr. C.J. Johnson and the Old Time Prayer Meeting | I Want To Go Where Jesus Is b/w Down On My Knees | 1965 |
| Savoy 4239 | Gilmer, Willie | | Jesus Keep Me Near The Cross b/w Gilmer's Prayer | 1965 |
| Savoy 4240 | Epps Gospel Singers | | Hide Me b/w Just Try Jesus | 1965 |
| Savoy 4240 | Mighty Gospel Giants | | Heavenly Father b/w I'll Follow Him | 1965 |
| Savoy 4241 | Banks Brothers | Banks Brothers and the Greater Harvest Baptist Church Choir | Lord, I've Tried, Pt. 1 b/w Lord, I've Tried, Pt. 2 | 1965 |
| Savoy 4242 | Majestic Male Choir | Magnificent Majestic Male Choir of Atlanta, GA | Jesus Promises Shall Be Fulfilled b/w Salvation | 1965 |
| Savoy 4243 | Hodge, Robert | | I Will Trust In The Lord b/w It Will Be Glory | 1965 |
| Savoy 4244 | Roberts, Lawrence | ? | Dreams Can Come True b/w What Makes A Man Turn His Back On God | 1965 |
| Savoy 4245 | James, Sister Josephine | | Jordan River b/w God is All | 1965 |
| Savoy 4246 | Robinson, Rev. Cleophus | | How Sweet It Is To Be Loved By God b/w Jesus Keep Me Near The Cross | 1965 |
| Savoy 4247 | Martin Singers, Roberta | | He's Done Great Things For Me b/w Standing On The Promises | 1965 |
| Savoy 4248 | Bailey Singers, Harold | | It's Mighty Nice b/w Two Wings | 1965 |
| Savoy 4249 | Barrett Sisters | Dolores Barrett and the Barrett Sisters | I'll Fly Away b/w God's Tomorrow | 1965 |
| Savoy 4250 | Anderson, Robert | | Only By Grace b/w If Jesus Had To Pray | 1965 |
| Savoy 4251 | Patterson, Rev. Esmond b/w Pattersonaires | | A Letter To Jesus b/w Wake Up Nation | 1965 |
| Savoy 4252 | Cleveland, James | | Down By The River b/w It's Real | 1965 |
| Savoy 4253 | Moore, Earl | Chaplain Earl Moore Of The Garden Of Prayer, World's Prayer Center | Because He Loved Me So b/w I Met Jesus In Prayer | 1965 |
| Savoy 4254 | Sonority Gospel Singers | | Tell It b/w Christ Won't Fail Us | 1965 |
| Savoy 4255 | Flying Clouds of Montgomery, Ala. | | Pay Day b/w Up Hill Journey | 1965 |
| Savoy 4256 | Cleveland and Angelic Choir, James (?) | | I Stood On The Banks Of Jordan, Pt. 1 b/w I Stood On The Banks Of Jordan, Pt. 2 | 1965 |
| Savoy 4257 | Angelic Choir | | I've Got It b/w I Can Put My Trust In Jesus | 1965 |
| Savoy 4258 | Martin Singers, Roberta | | There's A God b/w I'm Glad I'm A Witness | 1966 |
| Savoy 4259 | Southwest Michigan State Choir | Southwest Michigan Choir of the Church of God in Christ | Climbing Up The Mountain, Pt. 1 b/w Climbing Up The Mountain, Pt. 2 | 1966 |
| Savoy 4260 | Johnson, Dr. C.J. | | You Better Run b/w You Don't Know What The Lord Told Me | 1966 |
| Savoy 4261 | Norwood, Dorothy | Dorothy Norwood and the Combined Choirs of Atlanta, GA | The Boy And His Kite, Pt. 1 b/w The Boy And His Kite, Pt. 2 | 1966 |
| Savoy 4262 | Gospel Lords of Harmony | | God's Love Shall Never Die b/w I Don't Have To Search No More | 1966 |
| Savoy 4263 | Majestic Male Choir | Magnificent Majestic Male Choir of Atlanta, GA | At A Time Like This b/w At The Throne Of Grace | 1966 |
| Savoy 4264 | Roberts, Lawrence b/w Dolores Roberts and Angelic Choir | | For Mother b/w Sweet Mother | 1966 |
| Savoy 4265 | Rasberry Singers | Raymond Rasberry Singers | What Would It Mean b/w I Couldn't Find No Satisfaction | 1966 |
| Savoy 4266 | Hodge, Robert | | The Hope Of The World Is Jesus b/w I Wouldn't Tell You | 1966 |
| Savoy 4267 | Boyer Brothers | Famous Boyer Brothers | Take Your Troubles To Jesus b/w There's A Dark Cloud Rising | 1966 |
| Savoy 4268 | Flying Clouds of Montgomery, Ala. | | The Sermon On The Mount b/w Holy Spirit | 1966 |
| Savoy 4269 | Cleveland, James | James Cleveland and the Cleveland Singers | Without A Song, Pt. 1 b/w Without A Song, Pt. 2 | 1966 |
| Savoy 4270 | Banks Brothers | Banks Bros. and the Greater Harvest Back Home Choir of Newark, New Jersey | Said He Would Lead Me b/w Stand By Me | 1966 |
| Savoy 4271 | Angelic Choir | | I Know God Loves Me b/w Wade In The Water | 1966 |
| Savoy 4272 | Moss and Celestials, Bill | | My Child Came Home b/w Something Within | 1967 |
| Savoy 4273 | Sonority Gospel Singers | | God's Good Work b/w God Is Everything To Me | 1967 |
| Savoy 4274 | Fletcher, Oradell | | Feel Like My Time b/w I Get Great Consolation | 1967 |
| Savoy 4275 | Hodge, Robert | | I'm So Glad b/w When The War Is Over | 1967 |
| Savoy 4276 | Cleveland and Angelic Choir, James | | Beautiful Garden Of Prayer, Pt. 1 b/w Beautiful Garden Of Prayer, Pt. 2 | 1967 |
| Savoy 4277 | Johnson, Dr. C.J. | | Be Ready When He Comes b/w Somebody Calling My Name | 1967 |
| Savoy 4278 | Martin Singers, Roberta | | Be Still My Soul, Pt. 1 b/w Be Still My Soul, Pt. 2 | 1967 |
| Savoy 4279 | Hightower and Sister Massey, Elder | | When I'm Gone b/w Jesus Wants Us To Be Happy | 1967 |
| Savoy 4280 | Robinson, Rev. Cleophus | | Must Jesus Bear The Cross Alone b/w Won't We Have A Time | 1967 |
| Savoy 4281 | Morning Stars | Morning Stars of Savannah, GA | The Adopted Child, Pt. 1 b/w The Adopted Child, Pt. 2 | 1967 |
| Savoy 4282 | Norwood, Dorothy | Dorothy Norwood and the Combined Choirs of Baltimore, MD | The Singing Slave, Pt. 1 b/w The Singing Slave, Pt. 2 | 1967 |
| Savoy 4283 | Jewel Gospel Singers | | Got A Lot To Be Thankful For b/w I Know The Lord Will Make A Way | 1967 |
| Savoy 4284 | Simpson, Madam Margaret | | I'm God's Child b/w I Don't Want To Be Lost | 1968 |
| Savoy 4285 | Cleveland, James | | God Is Not Dead, Pt. 1 b/w God Is Not Dead, Pt. 2 | 1968 |
| Savoy 4286 | Roberts, Lawrence | Rev. Lawrence Roberts | The Lord Will Make A Way, Pt. 1 b/w The Lord Will Make A Way, Pt. 2 | 1968 |
| Savoy 4287 | Little Junior and Butler-Airs | | This Religion b/w Keep On Praying | 1968 |
| Savoy 4288 | Johnson, Brother Julian | Bro. Julian Johnson | I Want Jesus To Walk With Me b/w Amazing Grace | 1968 |
| Savoy 4289 | Moss and Celestials, Bill | | It Was Jesus Talking To Me b/w Jesus Knows What We Can Bear | 1968 |
| Savoy 4290 | Cleveland, James b/w Lawrence Roberts | Rev. James Cleveland b/w Rev. Lawrence Roberts | Hold Fast b/w A Message (recitals) | 1968 |
| Savoy 4291 | Founders Gospel Singers | | Waiting On You b/w Sweet Bye And Bye | 1968 |
| Savoy 4292 | New Jersey All Star Choir | Ralph McAllister and New Jersey All Star Choir | Fountain Of Grace b/w Reigning With Him | 1968 |
| Savoy 4293 | Green, Willie | Rev. Willie Green | Said He Was Coming Again b/w Amen | 1968 |
| Savoy 4294 | C.M.B. Gospel Singers | | It's Only Jesus b/w Last Passover | 1968 |
| Savoy 4295 | Bos Singers | Bos Singers of Cleveland, Ohio | I Want The World To See Jesus b/w On God's Tomorrow | 1968 |
| Savoy 4299 | Little Junior and Butler-Airs | | Train Is Coming b/w This Is Heaven | 1969 |
| Savoy 4300 | Layne, Austin | Austin Layne and the Layne Ensemble | Have Mercy Lord b/w Wonderful Jesus | 1969 |
| Savoy 4301 | Norwood, Dorothy | Dorothy Norwood and the Norwood Singers | In That Little Town b/w The Prescription | 1969 |
| Savoy 4302 | Cleveland, James | James Cleveland and the Cleveland Singers | Free At Last b/w Somebody Knows | 1969 |
| Savoy 4303 | Angelic Choir | | I'll Be Waiting b/w Somewhere | 1969 |
| Savoy 4304 | Martin Singers, Roberta | | Praise God b/w I Have Hope | 1969 |
| Savoy 4305 | Southwest Michigan State Choir | | What I Need b/w Lord, I'm Thankful | 1969 |
| Savoy 4306 | Hurley and her daughter Carolyne, Hulah Gene | ? | Simply Trusting b/w Steal Away | 1969 |
| Savoy 4307 | Johnson, Dr. C.J. | | I've Got A New Name b/w This Heart Of Mine | 1969 |
| Savoy 4308 | Davis Sisters | | Four And Twenty Elders b/w I Believe I'll Go Back Home | 1969 |
| Savoy 4309 | Herndon, James | James Herndon and the Herndon Singers | The Valley Of Decision b/w Lord, Have Mercy | 1969 |
| Savoy 4310 | Tharpe, Sister Rosetta | | The Last Mile Of The Way b/w Walking Up The King's Highway | 1969 |
| Savoy 4311 | Banks Brothers | Banks Bros. and the Greater Harvest Choir | Sing On b/w He'll Roll Your Burdens Away | 1969 |
| Savoy 4313 | Fletcher, Oradell | | The Days Have Passed And Gone b/w I'll Be Satisfied | 1969 |
| Savoy 4314 | Roberts, Lawrence | Rev. Lawrence Roberts (?) | Oh What A Day, Pt. 1 b/w Oh What A Day, Pt. 2 | 1969 |
| Savoy 4315 | Cleveland and Angelic Choir, James | | It All Belongs To My Father b/w It's In My Heart | 1969 |
| Savoy 4316 | Cleveland, James | James Cleveland and the Cleveland Singers | I Don't Need Nobody Else (As Long As I've Got Jesus) b/w That's What I Like About Jesus | 1969 |
| Savoy 4317 | Cleveland, James | | Old Ship Of Zion b/w Sweet Hour Of Prayer | 1969 |
| Savoy 4318 | Cleveland and Angelic Choir, James | | God Is Enough b/w No Cross, No Crown | 1969 |
| Savoy 4319 | Cleveland, James | James Cleveland and the Cleveland Singers (?) | If I Had A Hammer b/w Look Up And Live | 1969 |
| Savoy 4320 | Cleveland, James | James Cleveland and Hulah Gene Hurley b/w James Cleveland and the Voices of Tabernacle | No Night There b/w I Can't Make It Without You | 1969 |
| Savoy 4321 | Cleveland and Angelic Choir, James | | He's A Miracle Worker, Pt. 1 b/w He's A Miracle Worker, Pt. 2 | 1969 |
| Savoy 4322 | Cleveland, James | | Abide With Me b/w My Faith Looks Up To Thee | 1969 |
| Savoy 4323 | Cleveland, James | James Cleveland and the Cleveland Singers | How Tedious And Tasteless, Pt. 1 b/w How Tedious And Tasteless, Pt. 2 | 1969 |
| Savoy 4324 | Cleveland and Angelic Choir, James | | The Grace Of God b/w Trouble Don't Last Always | 1969 |
| Savoy 4325 | Norwood, Dorothy | Dorothy Norwood and the Norwood Singers | Jesus Is A Soul Man b/w Our Prayer | 1969 |
| Savoy 1553 | Jones, Jimmy | Jimmy Jones and Chorus | A Closer Walk b/w Somebody Bigger Than You And I | 1958 |
| Savoy 5804 | Davis, Prof. James | Prof. James W. Davis and the Dobbs | On My Way Home b/w Troubles Are Bothering | 1960-61 |
| Savoy 9500 | Bennett Sensationals | | Make My Enemy (Lead Me Along) b/w Waiting For Jesus | 1961 |
EP releases:

| release | artist | artist as shown | title | year |
| --- | --- | --- | --- | --- |
| Savoy EP 20000 | Ward Singers | Famous Ward Singers | no title | 195? |
| Savoy EP 20001 | Ward Singers | Famous Ward Singers | no title | 195? |
| Savoy EP 20002 | Ward Singers | Famous Ward Singers | no title | 195? |
LP releases:

| release | artist | artist as shown | title | year |
| --- | --- | --- | --- | --- |
| Savoy LP 15057 | Ward Singers | Famous Ward Singers | no title | 1955 |
| Savoy LP 14000 | Davis Sisters | Famous Davis Sisters | no title | 1956 |
| Savoy LP 14001 | Ward Singers | Famous Ward Singers | Surely God Is Able | 1957 |
| Savoy LP 14006 | Ward Singers | Famous Ward Singers | Lord, Touch Me | 1957 |
| Savoy LP 14007 | Davis Sisters | Famous Davis Sisters | Shine On Me | 1957 |
| Savoy LP 14008 | Martin Singers, Roberta | | Twelve Inspirational Songs | 1957 |
| Savoy LP 14013 | Various | | Newport Spiritual Stars | 1958 |
| Savoy LP 14014 | Davis Sisters | | He That Believeth | 1958 |
| Savoy LP 14015 | Ward Singers | Famous Ward Singers | Meeting Tonight | 1958 |
| Savoy LP 14020 | Ward Singers | Famous Ward Singers | Packing Up | 1958 |
| Savoy LP 14021 | Gay Sisters | | God Will Take Care Of You | 1958-59 |
| Savoy LP 14022 | Martin Singers, Roberta | | Grace | 1959 |
| Savoy LP 14023 | Gospel Clefs | | no title | 1959 |
| Savoy LP 14024 | Stars of Faith | | no title | 1959 |
| Savoy LP 14026 | Ward Singers | Clara Ward and the Famous Ward Singers | I Feel The Holy Spirit | 1959 |
| Savoy LP 14027 | Various | | He's Got The Whole World In His Hands | 1959 |
| Savoy LP 14028 | Imperial Gospel Singers | | no title | 1959 |
| Savoy LP 14029 | Taylor, Prof. Charles | Prof. Charles Taylor and the Taylor Singers | The Message | 1959 |
| Savoy LP 14030 | Davis Sisters | Famous Davis Sisters | Plant My Feet On Higher Ground | 1959 |
| Savoy LP 14031 | Martin Singers, Roberta | | God Is Still On The Throne | 1959 |
| Savoy LP 14032 | Stars of Faith | Marian Williams and the Stars of Faith | O Holy Night | 1959 |
| Savoy LP 14034 | Ward Singers | Clara Ward and the Famous Ward Singers | That Old Landmark | 1959 |
| Savoy LP 14035 | Various | | The Gospel Clefs Anniversary | 1959 |
| Savoy LP 14036 | Davis Sisters | Famous Davis Sisters | Jesus Gave Me Water | 1959 |
| Savoy LP 14037 | Original Gospel Harmonettes and North Philadelphia Juniors | | A Gospel Concert | 1959 |
| Savoy LP 14038 | Stars of Faith | | The Upper Room, The Beloved Songs of Lucie E. Campbell | 1960 |
| Savoy LP 14039 | Martin Singers, Roberta | | Try Jesus | 1960 |
| Savoy LP 14040 | Rasberry Singers | Raymond Rasberry Singers | He Doeth All Things Well | 1960 |
| Savoy LP 14043 | Martin Singers, Roberta | | Since I Met Him | 1961 |
| Savoy LP 14044 | Five Blind Boys of Alabama | Original Blind Boys of Alabama | no title | 1961 |
| Savoy LP 14045 | Cleveland, James | James Cleveland with the Gospel All-Stars | Out On A Hill | 1961 |
| Savoy LP 14046 | Ward Singers | Famous Ward Singers | The Famous Ward Singers in a Gospel Concert | 1961 |
| Savoy LP 14047 | Ward Singers | Famous Ward Singers | A Merry Christmas with the Famous Ward Singers | 1961 |
| Savoy LP 14048 | Imperial Gospel Singers | | Fountain Of Blood | 1961 |
| Savoy LP 14049 | Angelic Choir | Angelic Gospel Choir of the First Baptist Church of Nutley, NJ | no title | 1961 |
| Savoy LP 14050 | Original Gospel Harmonettes | Gospel Harmonettes | no title | 1961 |
| Savoy LP 14051 | Davis Sisters | Famous Davis Sisters | Earnestly Praying (?) | 1962 |
| Savoy LP 14052 | Gospel Chimes | James Cleveland and the Gospel Chimes | no title | 1962 |
| Savoy LP 14053 | Gospel Clefs | | no title | 1962 |
| Savoy LP 14054 | Martin Singers, Roberta | | It Was The Blood | 1962 |
| Savoy LP 14055 | Gospel Chimes | | Father I Stretch My Hand To Thee | 1962 |
| Savoy LP 14056 | Smith, Little Lucy | | Little Lucy Smith Plays Your Favorite Gospel Hymns | 1962 |
| Savoy LP 14057 | Jones and Sensationals, Jimmy | | no title | 1962 |
| Savoy LP 14058 | Michaux, Elder Lightfoot Solomon | | Happy Am I | 1962 |
| Savoy LP 14059 | Cleveland and Angelic Gospel Choir, James | | This Sunday, In Person | 1962 |
| Savoy LP 14060 | Ward Singers | | Just Over The Horizon | 1962 |
| Savoy LP 14061 | Davis Sisters | | Somewhere In Glory | 1962 |
| Savoy LP 14062 | Original Gospel Harmonettes | Gospel Harmonettes Specials | My Fathers Children | 1962 |
| Savoy LP 14063 | Cleveland and Angelic Choir, James | James Cleveland with the Angelic Choir | Volume 2 | 1962-63 |
| Savoy LP 14064 | Swindell Brothers | Swindell Brothers with Rev. Johnnie Wilkerson | This Trouble Of Mine | 1962-63 |
| Savoy LP 14065 | Watkins, Charles | Rev. Charles Watkins and the Pentacostal Mass Choir of Chicago Ill. | Shady Green Pastures | 1963 |
| Savoy LP 14066 | Martin Singers, Roberta | | From Out Of Nowhere | 1963 |
| Savoy LP 14067 | Gospel Chimes | | Learn How To Wait | 1963 |
| Savoy LP 14068 | Cleveland, James | | The Soul Of James Cleveland | 1963 |
| Savoy LP 14069 | Various | | Great Golden Gospel Hits, Vol. 1 | 1963 |
| Savoy LP 14070 | Blendwrights | | Let Down The Ladder | 1963 |
| Savoy LP 14071 | Banks Brothers | | For My Sake | 1963 |
| Savoy LP 14072 | Davis Sisters | Ruth Davis and the Davis Singers | On The Right Road | 1963 |
| Savoy LP 14073 | Anderson, Robert | | In Times Like These | 1963 |
| Savoy LP 14074 | Jackson, Myrtle | | Myrtle Jackson sings Songs Of Hope And Inspiration | 1963 |
| Savoy LP 14075 | Angelic Choir | | no title | 1963 |
| Savoy LP 14076 | Cleveland and Angelic Choir, James | | Volume 3, Peace Be Still | 1963 |
| Savoy LP 14077 | Southwest Michigan State Choir | Southwest Michigan State Choir of the Church of God in Christ | Wonderful, Wonderful | 1963 |
| Savoy LP 14078 | Ward Singers | Clara Ward | The Best of Clara Ward | 1963 |
| Savoy LP 14079 | Various | | Christmas With The Gospel Stars | 1963 |
| Savoy LP 14080 | Rasberry Singers | Raymond Rasberry Singers | Deliverance Will Come | 1963 |
| Savoy LP 14081 | Wallace, Rosie | Evangelist Rosie Wallace and the First Church of Love, Faith and Deliverance Choir | God Cares | 1963 |
| Savoy LP 14082 | Banks Brothers | | Wonderous Cross | 1963 |
| Savoy LP 14083 | Norwood, Dorothy | Dorothy Norwood Singers | Johnny And Jesus | 1963 |
| Savoy LP 14084 | A'Cappels | | The Magnificent Voices of the A'Cappels | 1963 |
| Savoy LP 14085 | Cleveland, James | James Cleveland and the Cleveland Singers | The Sun Will Shine After Awhile | 1963 |
| Savoy LP 14086 | Jewel Gospel Singers | | The Harvest | 1963 |
| Savoy LP 14087 | Rasberry Singers | Raymond Rasberry Singers | Pray When Everything Goes Wrong | 1963-64 |
| Savoy LP 14088 | St. John's Inspirational Choir of Scotch Plains, NJ | | Choir In Concert | 1964 |
| Savoy LP 14089 | Roberts, Rev. and Mrs. Lawrence | | Presenting Rev. and Mrs. Lawrence Roberts | 1964 |
| Savoy LP 14090 | Swindell Brothers | Swindell Brothers and Rev. Johnnie Wilkerson | Holy Train | 1964 |
| Savoy LP 14091 | Big John and the Golden Echoes | | Ride Away To Heaven | 1964 |
| Savoy LP 14092 | Blendwrights | | Over The Sunset Mountain | 1964 |
| Savoy LP 14093 | Norwood, Dorothy | Dorothy Norwood Singers | The Old Lady's House | 1964 |
| Savoy LP 14094 | Barrett Sisters | Dolores Barrett and the Barrett Sisters | Jesus Loves Me | 1964 |
| Savoy LP 14095 | Bradley Singers | | He'll Roll Back Those Dark Clouds | 1964 |
| Savoy LP 14096 | Cleveland and Angelic Choir, James | James Cleveland with the Angelic Choir | Volume 4, I Stood On The Banks Of The Jordan | 1964 |
| Savoy LP 14097 | Martin Singers, Roberta | | The Failure Is Not In God, It's In Me | 1964 |
| Savoy LP 14098 | Gospel Chimes | | We Serve A Merciful God | 1964 |
| Savoy LP 14099 | Southwest Michigan State Choir | Southwest Michigan State Choir of the Church of God in Christ | None But The Pure In Heart | 1964 |
| Savoy LP 14100 | Robinson, Rev. Cleophus | | We Shall Gain The Victory | 1964 |
| Savoy LP 14101 | Mighty Gospel Giants | | Heavenly Father | 1964 |
| Savoy LP 14102 | Banks Brothers | Banks Brothers with Greater Harvest Baptist Church Choir Of Newark, New Jersey | It Took A Miracle | 1964 |
| Savoy LP 14103 | Cleveland, James | James Cleveland and the Cleveland Singers | Heaven, That Will Be Good Enough For Me | 1964 |
| Savoy LP 14104 | Various | | Great Golden Gospel Hits, Vol. 2 | 1964 |
| Savoy LP 14105 | Angelic Choir | | Climbing Up The Mountain | 1964 |
| Savoy LP 14106 | Wallace, Rosie | Evangelist Rosie Wallace And Choir Of First Church Of Love, Faith And Deliverance | Wake Up In Glory | 1965 |
| Savoy LP 14107 | Norwood, Dorothy | Dorothy Norwood and Combined Choirs of Atlanta, GA | The Bell Didn't Toll | 1965 |
| Savoy LP 14108 | Gospel Clefs | | The Precious Name | 1965 |
| Savoy LP 14109 | Moss and Celestials, Bill | | God Has Been So Good | 1965 |
| Savoy LP 14110 | Jewel Gospel Singers | | Let's Have Church | 1965 |
| Savoy LP 14111 | Gospel Lords of Harmony | | If God Gave Us Everything We Need, We Wouldn't Have Need To Pray | 1965 |
| Savoy LP 14112 | Epps Gospel Singers | | Just Try Jesus | 1965 |
| Savoy LP 14113 | Majestic Male Choir | Magnificent Majestic Male Choir of Atlanta, GA | no title | 1965 |
| Savoy LP 14114 | Barrett Sisters | Dolores Barrett and the Barrett Sisters | I'll Fly Away | 1965 |
| Savoy LP 14115 | Bailey Singers, Harold | Harold Bailey Singers Of Chicago | Lord, I'll Go | 1965 |
| Savoy LP 14116 | Anderson, Robert | | Only By Grace | 1965 |
| Savoy LP 14117 | Cleveland and Angelic Choir, James | James Cleveland with the Angelic Choir | Volume 5, Give Me My Flowers | 1965 |
| Savoy LP 14118 | Various | | W.A.O.K. Gospel Caravan | 1965 |
| Savoy LP 14119 | Martin Singers, Roberta | | He Has Done Great Things For Me | 1965 |
| Savoy LP 14120 | Southwest Michigan State Choir | Southwest Michigan State Choir of the Church of God in Christ | Salvation Is Free | 1965 |
| Savoy LP 14121 | Robinson, Rev. Cleophus | | How Sweet It is To be Loved By God | 1965 |
| Savoy LP 14122 | Josephine James, Sister | | Let The World Know "God Is All" | 1965 |
| Savoy LP 14123 | Golden Crowns Of Charlotte, NC. | | Have You Got Oil In Your Vessel | 1965 |
| Savoy LP 14124 | Angelic Choir | | Songs Of Faith And Inspiration | 1965 |
| Savoy LP 14125 | Cleveland, James | | James Cleveland Sings Songs Of Dedication | 1965 |
| Savoy LP 14126 | Johnson, Dr. C.J. | | In An Old Time Song Service | 1965 |
| Savoy LP 14127 | Norwood, Dorothy | Dorothy Norwood and the Combined Choirs of Atlanta, GA | He Will Never Let Go My Hand | 1965 |
| Savoy LP 14128 | Smith, Harrison | | The Old Time Prayer Meeting | 1965 |
| Savoy LP 14129 | Gospel Lords of Harmony | | God's Love Will Never Die | 1965 |
| Savoy LP 14130 | Majestic Male Choir | Magnificent Majestic Male Choir of Atlanta, GA | At The Throne Of Grace | 1965 |
| Savoy LP 14131 | Cleveland, James | James Cleveland and the Cleveland Singers | He Leadeth Me | 1965 |
| Savoy LP 14132 | Rasberry Singers | Raymond Rasberry Singers | I Couldn't Find No Satisfaction | 1966 |
| Savoy LP 14133 | Moss and Celestials, Bill | | Make A Joyful Noise Unto The Lord | 1966 |
| Savoy LP 14134 | Cleveland and Angelic Choir, James | | Volume 6, The Grace Of God | 1966 |
| Savoy LP 14135 | Johnson, Dr. C.J. | | The Old Time Song Service | 1966 |
| Savoy LP 14136 | Hawkins, Dr. William K. | | A Contract With God (sermon) | 1966 |
| Savoy LP 14137 | Anderson, Robert | | If You Deny Yourself | 1966 |
| Savoy LP 14138 | Barrett Sisters | Dolores Barrett and the Barrett Sisters | Carry Me Back | 1966 |
| Savoy LP 14139 | Wallace, Rosie | Evangelist Rosie Wallace and the First Church of Love, Faith and Deliverance Choir | No One But Jesus | 1966 |
| Savoy LP 14140 | Norwood, Dorothy | Dorothy Norwood and the Combined Choirs of Atlanta, GA | A Denied Mother | 1966 |
| Savoy LP 14141 | Bailey Singers, Harold | | Adopted In The Royal Family | 1966 |
| Savoy LP 14142 | Neopolitan Spiritual Church Choir of Detroit, Michigan | | He's There | 1966 |
| Savoy LP 14143 | Boyer Brothers | Famous Boyer Brothers | Take Your Troubles To Jesus | 1966 |
| Savoy LP 14144 | Flying Clouds of Montgomery, Ala. | Flying Clouds of Montgomery, Alabama | The Sermon On The Mount | 1966 |
| Savoy LP 14145 | Sunrising Kings | | Ring Out The Name Of Jesus | 1966 |
| Savoy LP 14146 | Banks Brothers | Banks Brothers with the Greater Harvest Baptist Church Back Home Choir Of Newark, New Jersey | no title | 1966 |
| Savoy LP 14147 | Martin Singers, Roberta | | One Step Away | 1966 |
| Savoy LP 14148 | Epps Gospel Singers | | For You I'm Praying | 1966 |
| Savoy LP 14149 | Lemon Singers of Detroit, Mich., Howard | | Use What You Have For God | 1966 |
| Savoy LP 14150 | Hightower and Sister Massey, Elder | | It's A Long Long Way | 1966 |
| Savoy LP 14151 | Southwest Michigan State Choir | | A City Called Heaven | 1966 |
| Savoy LP 14152 | Morning Stars | Morning Stars of Savannah, GA | The Adopted Child | 1966 |
| Savoy LP 14153 | Hawkins, Dr. William K. | | Give Me Time (sermon) | 1966 |
| Savoy LP 14154 | Majestic Male Choir | Magnificent Majestic Male Choir | The Time Is Now | 1966 |
| Savoy LP 14155 | Boyer Brothers | Famous Boyer Brothers | Step By Step | 1966-67 |
| Savoy LP 14156 | Johnson, Dr. C.J. | | The Old Time Song Service | 1966-67 |
| Savoy LP 14157 | Norwood, Dorothy | Dorothy Norwood and the Combined Choirs of Atlanta, GA | The Soldier From Viet Nam | 1966-67 |
| Savoy LP 14158 | Gospel Lords of Harmony | | Grant Me This Day | 1966-67 |
| Savoy LP 14159 | Cleveland, James | James Cleveland with the Walter Arties Chorale | In Hollywood | 1966-67 |
| Savoy LP 14160 | Stevens, Prof. Herman | | The Poet Of The Gospel Organ Plays Your Favorite Hymns | 1966-67 |
| Savoy LP 14161 | Jewel Gospel Singers | | I Know The Lord Will Make A Way | 1966-67 |
| Savoy LP 14162 | Moss and Celestials, Bill | | My Child Came Home | 1966-67 |
| Savoy LP 14163 | Angelic Choir | | Yours Because Of Calvary | 1966-67 |
| Savoy LP 14164 | Watkins, Charles | Rev. Charles Watkins and the Pentecostal Singers | The Lost Sheep | 1966-67 |
| Savoy LP 14165 | Various | | Great Golden Gospel Hits Vol. 3 | 1966-67 |
| Savoy LP 14166 | Wallace, Rosie | Evangelist Rosie Wallace and the First Church Of Love, Faith and Deliverance Choir | no title | 1967 |
| Savoy LP 14167 | Cleveland, James | James Cleveland and the Cleveland Singers | I Walk With God | 1967 |
| Savoy LP 14168 | Banks Brothers | Banks Brothers with the Greater Harvest Baptist Church Back Home Choir of Newark, New Jersey | no title | 1967 |
| Savoy LP 14169 | Norwood, Dorothy | Dorothy Norwood Singers | no title | 1967 |
| Savoy LP 14170 | United Singing Convention | United Singing Convention Bibleway Church | Class #1 of the United Singing Convention Bibleway Church (?) | 1967 |
| Savoy LP 14171 | Cleveland and Angelic Choir, James | | Volume 7 | 1967 |
| Savoy LP 14172 | Ingraham, Ronald | Ronald Ingraham Concert Choir Of Boston, Mass. | Prayer Changes Things | 1967 |
| Savoy LP 14173 | Johnson, Dr. C.J. | | The Old Time Song Service | 1967 |
| Savoy LP 14174 | Morning Stars | Morning Stars of Savannah, GA | This Train | 1967 |
| Savoy LP 14175 | Norwood, Dorothy | Dorothy Norwood and the Combined Choirs of Balt., MD | The Singing Slave | 1967 |
| Savoy LP 14176 | Cleveland, James | | Songs My Mother Taught Me | 1967 |
| Savoy LP 14177 | Bradley Singers, Clyde | Clyde Bradley Singers of St. Louis, MO | no title | 1967 |
| Savoy LP 14178 | Marshall, Rev. J.W. | | None Of These Things Will Move Me (sermon) | 1967 |
| Savoy LP 14179 | Majestic Male Choir | Magnificent Majestic Male Choir Of Atlanta, GA | Ask Him To Guide You | 1967 |
| Savoy LP 14180 | Hightower and Sister Massey, Elder | The Sensational Elder Hightower and Sister Massey | no title | 1967 |
| Savoy LP 14181 | Southwest Michigan State Choir | Southwest Michigan State Choir of the Church of God in Christ | A Closer Walk With Thee | 1967 |
| Savoy LP 14182 | Norwood and James Herndon, Dorothy | | Dynamic Gospel Duets by Dorothy Norwood and James Herndon | 1967 |
| Savoy LP 14183 | Davis Sisters | Famous Davis Sisters | In My Room | 1967 |
| Savoy LP 14184 | Banks Brothers | Banks Brothers with the Greater Harvest Baptist Church Back Home Choir Of Newark, New Jersey | no title | 1967-68 |
| Savoy LP 14185 | Roberts, Rev. Lawrence, Rev. Charles Banks, Elder Jeff Banks | | Prayers For Every Occasion | 1967-68 |
| Savoy LP 14187 | Moss and Celestials, Bill | | no title (?) | 1967-68 |
| Savoy LP 14188 | Cleveland, James | James Cleveland and the Cleveland Singers | no title | 1967-68 |
| Savoy LP 14189 | Stevens, Prof. Herman | | Prof. Herman Stevens Sings And Plays Your Favorite Hymns | 1967-68 |
| Savoy LP 14190 | Norwood, Dorothy | Dorothy Norwood and the Dorothy Norwood Singers | The Bereaved Child | 1967-68 |
| Savoy LP 14191 | Angelic Choir | | The Soul And Faith Of The Angelic Choir | 1968 |
| Savoy LP 14192 | Ingraham, Ronald | Ronald Ingraham Concert Choir Of Boston, Mass. | My Reward | 1968 |
| Savoy LP 14193 | Southwest Michigan State Choir | Southwest Michigan State Choir of the Church of God in Christ | Show Me The Way | 1968 |
| Savoy LP 14194 | Hurley and her daughter Carolyne, Hulah Gene | Hulah Gene and her daughter Carolyne | no title | 1968 |
| Savoy LP 14195 | Cleveland and Angelic Choir, James | | Merry Christmas from James Cleveland and Angelic Choir | 1968 |
| Savoy LP 14196 | Wallace, Rosie | Evangelist Rosie Wallace and the First Church of Love, Faith and Deliverance Choir | Lord, Hold My Hand | 1968 |
| Savoy LP 14197 | Martin Singers, Roberta | | Praise God | 1968 |
| Savoy LP 14198 | Herndon, James | James Herndon and Herndon Singers | no title | 1968 |
| Savoy LP 14199 | Davis Sisters | Famous Davis Sisters | They That Wait Upon The Lord | 1968 |
| Savoy LP 14200 | Cleveland, James | James Cleveland and the Voices of Tabernacle | James Cleveland and the Voices of Tabernacle sing in Memory of Rev. Charles A. Craig | 1968 |
| Savoy LP 14201 | Watkins, Charles | Rev. Charles Watkins and the Pentecostal Singers | In The Whole Wide World | 1968 |
| Savoy LP 14202 | Caravans | Shirley Caesar with the Caravans | The Best Of Shirley Caesar with the Caravans | 1968 |
| Savoy LP 14203 | Southwest Michigan State Choir | Southwest Michigan State Choir of the Church of God in Christ | Lord, Renew My Spirit Within | 1968 |
| Savoy LP 14204 | Johnson, Dr. C.J. | | The Old Time Song Service | 1968 |
| Savoy LP 14205 | Cleveland and Angelic Choir, James | | Volume 8, Part 1 | 1968 |
| Savoy LP 14206 | Cleveland and Angelic Choir, James | | Volume 8, Part 2 | 1968 |
| Savoy LP 14207 | O'Neal Twins | Dynamic O'Neal Twins | no title | 1968 |
| Savoy LP 14208 | Jones, Rev. Arvetra | | Revival Time | 1968 |
| Savoy LP 14209 | Herndon, James | James Herndon and the Herndon Singers | no title | 1968 |
| Savoy LP 14210 | Johnson, Harrison | Harrison Johnson and his Los Angeles Community Choir | Because | 1968 |
| Savoy LP 14211 | Cleveland, James | James Cleveland and the Cleveland Singers | no title | 1968-69 |
| Savoy LP 14212 | Norwood, Dorothy | Dorothy Norwood and Dorothy Norwood Singers | The Stories Behind The Songs | 1968-69 |
| Savoy LP 14213 | Pickard, Herbert | Herbert Pee-Wee Pickard | Soul Piano | 1968-69 |
| Savoy LP 14214 | Tharpe, Sister Rosetta | | Precious Memories | 1968-69 |
| Savoy LP 14215 | Southwest Michigan State Choir | Southwest Michigan State Choir of the Church of God in Christ | I'll Take Jesus For Mine | 1969 |
| Savoy LP 14216 | Banks Brothers | Banks Brothers with the Greater Harvest Baptist Church Back Home Choir Of Newark, New Jersey | no title | 1969 |
| Savoy LP 14217 | Norwood and Angelic Choir, Dorothy | | no title | 1969 |
| Savoy LP 14218 | Johnson, Dr. C.J. | | The Old Time Song Service | 1969 |
| Savoy LP 14219 | Flying Clouds of Montgomery, Ala. | Flying Clouds of Montgomery, Alabama | Since I Laid My Burdens Down | 1969 |
| Savoy LP 14220 | Cleveland, James | Rev. James Cleveland | God's Promise (sermon) | 1969 |
| Savoy LP 14221 | Martin Singers, Roberta | Roberta Martin | The Unforgettable Voice Of Roberta Martin | 1969 |
| Savoy LP 14222 | O'Neal Twins | O'Neal Twins and the Missouri State Choir of the Church of God in Christ | no title | 1969 |
| Savoy LP 14223 | Watkins, Charles | Rev. Charles Watkins and Pentecostal Singers | Baptized | 1969 |
| Savoy LP 14224 | Tharpe, Sister Rosetta | | Singing In My Soul | 1969 |
| Savoy LP 14225 | Cleveland, James | James Cleveland and the Voices of Tabernacle | no title | 1969 |
| Savoy LP 14226 | Roberts and the Roberts Singers, Roger | | no title | 1969 |
| Savoy LP 14227 | Hurley and her daughter Carolyne, Hulah Gene | Hulah Gene and her daughter Carolyne | The Sweetest Sound In Gospel | 1969 |
| Savoy LP 14228 | Herndon, James | James Herndon and the Herndon Singers of Chicago, Ill. | The Lord Will Make A Way | 1969-70 |
| Savoy LP 14229 | Pilgrims of Joy | Pilgrims of Joy of North Carolina | The Lord Will Bring You Out | 1969-70 |
| Savoy LP 14230 | Cleveland and Angelic Choir, James | | Volume 9 | 1969-70 |
| Savoy LP 14231 | Holy Lights Of Baltimore, MD. | | Yesterday's Prayer | 1969-70 |
| Savoy LP 14232 | Clark, Mattie Moss | Mattie Moss Clark and the Clesiastic Sounds | no title | 1969-70 |
| Savoy LP 14233 | Griffin, Bessie | | The Gospel Soul of Bessie Griffin | 1969-70 |
| Savoy LP 14234 | Angelic Choir | | The Girl Who Loved Jesus (I Love Jesus) | 1969-70 |
| Savoy LP 14235 | Cleveland, James | James Cleveland and the Southern California Community Choir | no title | 1969-70 |
| Savoy LP 14236 | Cleveland, Gospel Girls, James | | And Introducing the Gospel Girls | 1969-70 |
| Savoy LP 14237 | Johnson, Harrison | Harrison Johnson and the Los Angeles Community Choir | Blessed Quietness | 1969-70 |
| Savoy LP 14238 | Layne, Austin | Austin Layne and the Layne Ensemble | no title | 1969-70 |
| Savoy LP 14239 | Herndon, James | James Herndon with the Southside Ensemble | no title | 1969-70 |
| Savoy LP 14240 | Wallace, Rosie | Evangelist Rosie Wallace and the Choir Of First Church Of Love, Faith And Deliverance | no title | 1969-70 |
| Savoy LP 14241 | Johnson, Dr. C.J. | | The Far Country (sermon) | 1969-70 |
| Savoy LP 14242 | Martin, Sallie | Miss Sallie Martin and the Evangelical Choral Chapter | The Living Legend | 1969-70 |
| Savoy LP 14243 | Sanctuary Choir of the Free For All Missionary Baptist Church | | no title | 1969-70 |
| Savoy LP 14244 | Norwood, Dorothy | The Dynamic Dorothy Norwood and the Norwood Singers | no title | 1969-70 |
| Savoy LP 14245 | Cleveland, James | James Cleveland and the Southern California Community Choir | no title | 1969-70 |
| Savoy LP 14246 | Herndon and Delores Washington, James | James and Dee | Dynamic Gospel Duets | 1969-70 |
| Savoy LP 14248 | Banks Brothers | Banks Brothers and Combined Choirs | Holy Spirit (?) | 1969-70 |
| Savoy LP 14249 | Clark, Mattie Moss | Mattie Moss Clark and the Clesiastic Sounds | Seek Him And He Will Let You Come In | 1969-70 |
| Savoy LP 14250 | Davis Sisters | | In Memory Of Ruth Davis | 1969-70 |