Golgotha gospel discography (1960's)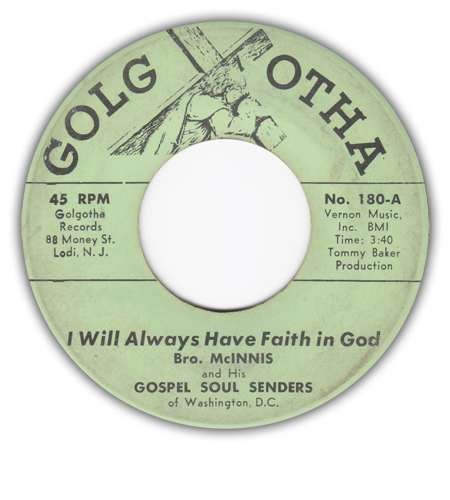 Golgotha was a gospel label from New Jersey. #101 shows a PO Box address in Garfield, NJ. Most issues show an address in Lodi, NJ (88 Money St.). #92, 180 (Happy Landers), 509 and LP 500 show an address in Rahway, NJ (169 E. Albert St.).
Little is known about the Golgotha label, but it likely was in business during the mid to late 1960's. Tommy Baker produced most of the recordings.
Golgotha 133 and 138 seem to have a date written in the dead wax (2-19-68 and 3-25-68).
Some numbers were used twice (#101, 170, 180).
It's uncertain if Golgotha 101 by the Wandering Shepherds is the same Golgotha label. The label lay-out is different and there's no other information giving a clue.
The image of Christ on the labels changed with #138. It became a more simple drawing with a reversed orientation.
Missing numbers are unknown releases and there are quite a few!
The Golgotha gospel discography lists all known single and LP issues released on this label.
45rpm releases:

| release | artist | artist as shown | songs | year |
| --- | --- | --- | --- | --- |
| Golgotha 100 | Stars of Harmony of Eagleswood, NJ | | On My Way b/w You've Got To Move | 196? |
| Golgotha 101 | Wandering Shepherds | | Down On Me b/w A Long Way From Home | 196? |
| Golgotha 101 | Southern Harmoneers of Lodi, NJ | | The Teaching Of Jesus b/w A Shame How They Done My Lord | 196? |
| Golgotha 102 | Sisters of Harmony of Hartford, Conn. | | Going On With Jesus b/w unknown title | 196? |
| Golgotha 103 | Heavenly Echoes of East Orange, NJ | | A Bright Star Somewhere  b/w Somebody Saved Me | 196? |
| Golgotha 104 | Heavenly Echoes of East Orange, NJ | | The Blood Of Jesus b/w On The Jericho Road | 196? |
| Golgotha 105 | Southern Harmoneers of Lodi, NJ | | Walking With The King b/w Sweeping Through The Gate | 196? |
| Golgotha 108 | Brown and Junior Gospelaires, Rev. Matthew | | Yes God Is Real b/w unknown title | 196? |
| Golgotha 109 | Southern Harmoneers of Lodi, NJ | | God Bless Our Children b/w Get Ready | 196? |
| Golgotha 110 | Sensational Prayer Wheels of Paterson, NJ | | Hold To His Hand b/w Down On My Knees | 196? |
| Golgotha 112 | Traveling Gospelettes of Wilmington, Delaware | | He's Able b/w unknown title | 196? |
| Golgotha 113 | Angelic Gospelaires of Harrisburg, PA | | Wade In The Water b/w unknown title | 196? |
| Golgotha 115 | United Maleaiers of Harrisburg, PA | | I Find No Fault In God b/w As Long As I Got Jesus | 196? |
| Golgotha 116 | Yancey Brothers of Wilmington, Delaware | | I Will Guide Thee b/w unknown title | 196? |
| Golgotha 117 | Heavenly Echoes of East Orange, NJ | | Wake Up In Glory b/w Couldn't Hear Nobody Pray | 196? |
| Golgotha 120 | Southern Echoes of Newburgh, NY | | It's In My Heart b/w unknown title | 196? |
| Golgotha 121 | Baltimore Echoes | Baltimore Echoes of Baltimore, Maryland | I Am Satisfied b/w I Got Shoes | 196? |
| Golgotha 122 | Baltimore Echoes | Baltimore Echoes of Baltimore, Maryland | You Can't Make It b/w Be My Guide | 196? |
| Golgotha 123 | Gospel Hi-Lites | Gospel Highlights of Paterson, NJ | There Is A Name b/w Lord I Prayed | 196? |
| Golgotha 126 | Voices of New England of Springfield, Mass. | | Day On Calvary b/w I Know Jesus | 196? |
| Golgotha 127 | New England Stars of Hartford, Conn. | | All Secrets Will Be Unfolded b/w Jesus I'll Never Forget | 196? |
| Golgotha 130 | Biblettes of Springfield, Mass. | | Lift Up Your Heads b/w Rest For The Weary | 196? |
| Golgotha 131 | Jericho Travelers of Greenville, NC | | Life Line b/w When The First Trumpet Sounds | 196? |
| Golgotha 132 | Horne, Brother Melvin | Brother Melvin Horne of Paterson, NJ | The Cost Of Living b/w unknown title | 196? |
| Golgotha 133 | Echoes of Harmony of Jersey City, NJ | | Time Is Winding Up b/w Church On The Hill | 1968 |
| Golgotha 138 | Southern Echoes of Washington, DC | Mighty Southern Echoes of Washington, DC | Shout On For Jesus b/w It's No Secret | 1968 |
| Golgotha 144 | Gospel Hi-Lites | Gospel Highlights of Paterson, NJ | Steal Away b/w Jesus Is My Only Friend | 196? |
| Golgotha 147 | Heavenly Echoes of Albany, NY | | Manision [sic] In The Sky b/w Sweet By And By | 196? |
| Golgotha 148 | Baltimore Echoes | Baltimore Echoes of Baltimore, MD | Wait Right Here b/w What Are You Doing | 196? |
| Golgotha 150 | Highway Spirtual Singers of Charlotte, NC | | I'll Never Turn Back On God b/w I'll Fly Away | 196? |
| Golgotha 151 | Highway Spirtual Singers of Charlotte, NC | | Troubled About My Soul b/w Memories | 196? |
| Golgotha 152 | Horne, Melvin | (Soul Bro.) Melvin Horne | Rudolph The Red Nose Reindeer b/w Jingle Bells | 196? |
| Golgotha 154 | Harps of God of New York City | Harp's of God of New York City | Lord I'm In Your Care b/w Jesus On The Mainline | 196? |
| Golgotha 160 | Zollicoffer and Christian Airs of Baltimore, MD, Brother | | Good News b/w Fall On Me | 196? |
| Golgotha 161 | Mighty Gospel Kings of Charlotte, NC | | Guide Me b/w I Was Glad When He Said To Me | 196? |
| Golgotha 165 | Sensational Monarks of Charlotte, NC | | How Does My Jesus Look b/w Prodigal Son | 196? |
| Golgotha 170 | True Light Gospel Singers of New Haven, Conn. | | It Will Be All Over After Awhile b/w This Is What The Lord Has Done | 196? |
| Golgotha 170 | Mighty Gospel Kings of Charlotte, NC | | Look To Jesus b/w Leaning On Jesus | 196? |
| Golgotha 171 | Harps of God of New York City | | I've Been Striving b/w I've Come A Long Way | 196? |
| Golgotha 176 | Acher of Formsville, VA, Miss Gladys | | Remember Me b/w I Feel Good | 196? |
| Golgotha 177 | Dee-Cee Harmoneers | | Lord Fix Me Now b/w Nothing But Prayer | 196? |
| Golgotha 180 | McInnis and his Gospel Soul Senders of Washington, DC, Bro. | | I Will Aways Have Faith In God b/w I Love The Lord | 196? |
| Golgotha 180 | Happy Landers of Pineville, NC | | Jesus Has A Helping Hand b/w He's Everything To Me | 196? |
| Golgotha 190 | Highway Spirtual Singers of Charlotte, NC | Highway Spirituals of Charlotte, NC | Every Now And Then b/w He's Got The Whole World In His Hands | 196? |
| Golgotha 80 | Highway Spirtual Singers of Charlotte, NC | | Pass Me Not b/w Jacob's Ladder | 196? |
| Golgotha 82 | Untouchable Goldwings of Baltimore, MD | | Around God's Throne b/w He's Alright | 196? |
| Golgotha 92 | Hymsters Gospel Singers | Rev. W. Dixson and the Hymsters of Newark, NJ | Lord Hold My Hand b/w Calm The Ocean | 196? |
| Golgotha 509 | Brown of Neptune, NJ, Mrs. Charlee Mae | | It's Real b/w Peace In The Valley | 196? |
LP releases:

| release | artist | artist as shown | title | year |
| --- | --- | --- | --- | --- |
| Golgotha LP 125 | Southern Harmoneers of Lodi, NJ | | Mine Eyes Have Seen the Glory | 196? |
| Golgotha LP 126 | Horne, Brother Melvin | | The Cost Of Living | 196? |
| Golgotha LP 127 | Southern Echoes of Washington, DC | Mighty Southern Echoes of Washington, DC | Shout On For Jesus | 196? |
| Golgotha LP 500 | Southern Echoes of Washington, DC | Mighty Southern Echoes of Washington, DC | Move Up | 196? |