Sun gospel discography (1953-62)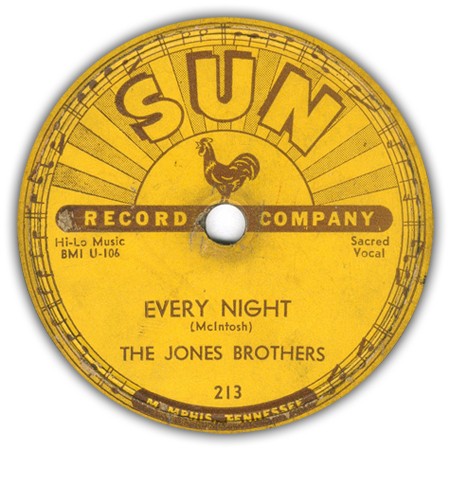 Sam Phillips' Sun Records from Memphis, TN is most famous for launching the career of Elvis Presley with five essential records, released in 1954-55. Phillips recorded many other big names, both black and white, between 1952 and 1968: Johnny Cash, Rosco Gordon, Howlin' Wolf, B.B. King, Jerry Lee Lewis, Roy Orbison, Little Junior Parker, Carl Perkins, Rufus Thomas and many others.
In 1969, Mercury Records label producer Shelby Singleton purchased the Sun label from Sam Phillips.
Although Phillips also recorded quite some black gospel, only four discs seem to have been issued (there were a few white gospel issues as well); this indicates that Phillips didn't expect much commercial success from releasing gospel. In the last decades reissue labels like Ace, Charly (both from the UK) and Bear Family (Germany) put a lot of effort in releasing virtually everything that they could lay their hands on, including various unissued gospel recordings (mainly on Charly).
Unlisted records by the Prisonaires are secular (Sun 186 and 207).
This page lists all known Sun gospel issues (78's and 45's).
78 & 45rpm releases:

| release | artist | artist as shown | songs | year |
| --- | --- | --- | --- | --- |
| Sun 189 | Prisonaires | | My God Is Real b/w Softly And Tenderly | 1953 |
| Sun 191 | Prisonaires | | A Prisoner's Prayer b/w I Know | 1953 |
| Sun 213 | Jones Brothers | | Look To Jesus b/w Every Night | 1953 |
| Sun 406 | James Anderson | Brother James Anderson | I'm Gonna Move In The Room With The Lord b/w My Soul Needs Resting | 1962 |