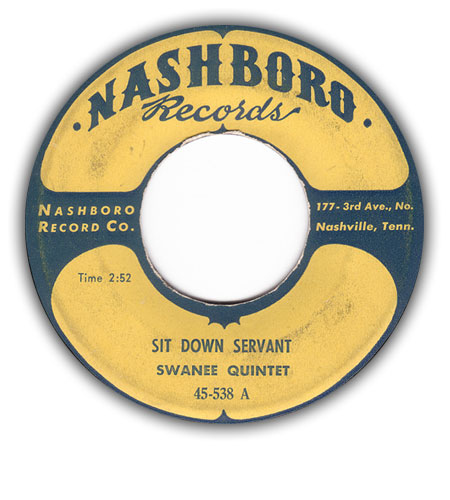 The Nashboro label was founded by Ernest L. Young (a.k.a. Ernie Young) in 1951 in Nashville, TN. Nashboro was the parent label of Excello (1952), Nasco (1957), Crescent (1967), Creed (1967), Mankind (1971?), Ernie's (197?) and Cheri (1981).
The Chosen Gospel Singers (see also the Specialty discography) reformed in 1963-64 to continue as the Gospel Keynotes.
It is not known what exactly was the last Nashboro LP released in 1969. LP 7069 is the last one listed in the LP discography below, but it's more or less a guess.
This page lists all gospel releases on the Nashboro label from 1951 to 1969. Nashboro continued releasing records in the 1970's and 1980's but these have been omitted from this discography.
78 & 45rpm releases:

| release | artist | artist as shown | songs | year |
| --- | --- | --- | --- | --- |
| Nashboro 500 | Silvertone Singers pp | Silvertone Jubilee Singers | I Met My Mother This Morning b/w I'm Looking For My Jesus | 1951 |
| Nashboro 501 | Zachary's Heavenly Gospel-Aires | | The Lord Came To Save Me b/w Blessed Saviour | 1951 |
| Nashboro 502 | Silvertone Singers | Silvertone Jubilee Singers | Prayer Changes Things b/w Just Can't Help From Cryin' | 1951 |
| Nashboro 503 | Skylarks | | Stand By Me b/w Something About My Lord Mighty Sweet | 1951 |
| Nashboro 504 | Skylarks | | My Rock b/w Four And Twenty-Four Elders | 1951 |
| Nashboro 505 | Skylarks | | Life's Burdens (Pt. 1) b/w Life's Burdens (Pt. 2) | 1951 |
| Nashboro 506 | Fireside Gospel Singers | | Gabriel Sound Your Trumpet b/w Tell Jesus I'm Coming Home | 1951 |
| Nashboro 508 | Skylarks | | Cheer The Weary Traveler b/w The Holy Father | 1951 |
| Nashboro 509 | Skylarks | | There Must Be A City b/w This Heart Of Mine | 1951 |
| Nashboro 510 | Cross-Road Singers | | Sing Till The Power Of The Lord Comes b/w Where Shall I Be | 1951 |
| Nashboro 511 | Cross-Road Singers | | Leave It There b/w Roll The Stone Away | 1951 |
| Nashboro 512 | Jordan River Singers | Rev. W.M. Anderson and the Jordan River Singers | Jesus On The Main Line b/w Won't We Have A Time (When We Get Over Yonder) | 1951 |
| Nashboro 513 | Skylarks | | Farther Along b/w I'm Satisfied | 1951 |
| Nashboro 514 | Swanee Quintet | Sewanee Quintet | Jesus On My Mind b/w Walk In The Light | 1951 |
| Nashboro 515 | Fireside Gospel Singers | | What Did Jesus Say b/w God Leads His Dear Children Along | 1951 |
| Nashboro 517 | Jordan River Singers | | I'm A Soldier b/w My Life Is In His Hands | 1952 |
| Nashboro 518 | Skylarks | | Jesus Won't Deny Me b/w What A Glorious Day | 1952 |
| Nashboro 520 | Blair Gospel Singers | | Forgive Me Lord b/w Standing At The Station | 1952 |
| Nashboro 521 | Swanee Quintet | Sewanee Quintet (?) | In My Savior's Care b/w That Old Time Religion | 1952 |
| Nashboro 522 | Fireside Gospel Singers | | In The Garden b/w Two Little Fishes And Five Loaves Of Bread | 1952 |
| Nashboro 523 | Skylarks | | New Jerusalem b/w What Manner Of Man Is This | 1952 |
| Nashboro 524 | Swanee Quintet | Sewanee Quintet | Come On In This Altar b/w My Lord Is Coming Back | 1952 |
| Nashboro 525 | Silvertone Singers | Silvertone Singers of Cincinnati | Walk Through The Valley b/w When We Bow In The Evening (At The Altar) | 1953 |
| Nashboro 528 | Jordan River Singers | | Precious Lord b/w Seek And Ye Shall Find | 1953 |
| Nashboro 529 | Flying Clouds of Detroit | Flying Clouds Quintet | I'm Going Through b/w Jezebel | 1953 |
| Nashboro 530 | Blair Gospel Singers | | Lord You Know My Mind b/w In This World Today | 1953 |
| Nashboro 531 | Skylarks | | I Want To Walk With Jesus b/w Come Over Here | 1953 |
| Nashboro 532 | Blair Gospel Singers | | I'm Striving Hard Each Day b/w I Want To Be More Like Jesus | 1953 |
| Nashboro 533 | Swanee Quintet | | Let Us Stretch Out b/w Wasn't It A Pity | 1953 |
| Nashboro 534 | Silvertone Singers | | I've Got A Mother Gone On b/w What Are They Doing In Heaven | 1953 |
| Nashboro 535 | Skylarks | | Jesus Prayed Every Step Of The Way b/w This May Be The Last Time | 1953 |
| Nashboro 536 | Fireside Gospel Singers | | Better Stop And Get Religion b/w When The Roll Is Called | 1953 |
| Nashboro 537 | Flying Clouds of Detroit | | I, John Saw A Mighty Number b/w When Jesus Comes | 1953 |
| Nashboro 538 | Swanee Quintet | | Sit Down Servant b/w Well Done | 1953 |
| Nashboro 539 | Fireside Gospel Singers | | Get Your Soul Right b/w When They Ring Them Golden Bells | 1953 |
| Nashboro 540 | Skylarks | | I Want To Know, Will He Welcome Me There b/w Heavenly Light Shine On Me | 1953 |
| Nashboro 541 | Swanee Quintet | | Long As Jesus Lives b/w Joy In Beulah Land | 1953 |
| Nashboro 542 | Blair Gospel Singers | | I've Got Heaven On My Mind b/w Anyhow | 1953 |
| Nashboro 544 | Skylarks | | Lord Have Mercy b/w There's No Discharge In God's Army | 1953 |
| Nashboro 545 | Skylarks | | Baptism Of Jesus b/w I Stepped In The Water One Day | 1954 |
| Nashboro 546 | Swanee Quintet | | Cry Sometimes b/w In My Heart | 1954 |
| Nashboro 547 | Swanee Quintet | | On My Knees b/w Remember Me | 1954 |
| Nashboro 548 | Skylarks | | Call You In The Morning b/w Letter From Jesus | 1955 |
| Nashboro 549 | Cooke, Edna Gallmon | | Nobody But You Lord b/w Somebody Help Me | 1955 |
| Nashboro 550 | Jewell Gospel Singers | Jewell Gospel Trio | Many Little Angels In The Band b/w Take My Hand Precious Lord | 1955 |
| Nashboro 551 | Swanee Quintet | | It's Hard To Get Along b/w Judgement | 1955 |
| Nashboro 552 | Spiritual Five | | I've Been Born Again b/w Heavenly Father | 1955 |
| Nashboro 553 | Cooke, Edna Gallmon | | Who'll Be A Witness b/w My Joy | 1955 |
| Nashboro 554 | Skylarks | | Gonna Wake Up In Glory b/w I Love The Lord | 1955 |
| Nashboro 555 | Blair Gospel Singers | | I've Been Moaning So Long b/w Waiting For The Lord | 1955 |
| Nashboro 556 | Christland Singers | | Where Could I Go (But To The Lord) b/w Nothing Will Move Me (From The Love Of God) | 1955 |
| Nashboro 557 | Golden Trumpets | | Just Like Jesus Did b/w Down At The Cross | 1955 |
| Nashboro 558 | Angelic Gospel Singers | | Jesus Never Fails Me b/w I'll Be Alright | 1955 |
| Nashboro 559 | Trumpets of Joy | | Sweeter Than The Day Before b/w Last Mile Of The Way | 1955 |
| Nashboro 560 | Boggs, Prof. Harold | | Help Me Jesus b/w When The Spirit Of The Lord Comes | 1955 |
| Nashboro 561 | Cooke, Edna Gallmon | | Said I Wouldn't Tell It b/w Hide Me | 1955 |
| Nashboro 562 | Swanee Quintet | | Low Down Chariot b/w I'm Alright Now | 1955 |
| Nashboro 563 | White, Geneva b/w Marie Strange | | Blessed Assurance b/w Just As I Am Without One Plea | 1955 |
| Nashboro 564 | Consolers | | Give Me My Flowers b/w Nobody Knows | 1955 |
| Nashboro 565 | Skylarks | | God Is Able b/w He's My All And All | 1955 |
| Nashboro 566 | Radio Four | | An Earnest Prayer b/w How Much I Owe | 1955 |
| Nashboro 567 | Chosen Gospel Singers | | It's Alright b/w When The Saints Go Marching In | 1955 |
| Nashboro 568 | Radio Four | | Sending Up A Prayer (Pt. 1) b/w Sending Up A Prayer (Pt. 2) | 1955 |
| Nashboro 569 | Christland Singers | | I'm Willing To Run All The Way Lord b/w Sell Out To The Master | 1955 |
| Nashboro 570 | Jewell Gospel Singers | Jewel Gospel Trio | I Looked Down The Line b/w Somebody's Knocking At My Door | 1955 |
| Nashboro 571 | Swanee Quintet | | Race To Run b/w My Last Prayer | 1956 |
| Nashboro 572 | Lampkin, Rev. Emmett A.L. | | Inspirational Thoughts (Pt. 1) b/w Inspirational Thoughts (Pt. 2) | 1956 |
| Nashboro 573 | Chosen Gospel Singers | | This Old Soul Of Mine b/w Hellelujah | 1956 |
| Nashboro 574 | Cooke, Edna Gallmon | Edna Gallmon Cooke with the Singing Sons | My Journey Home b/w Hallelujah | 1956 |
| Nashboro 575 | Sons of the South | | Surely It Was God b/w I Know It Was The Blood (Of Jesus) | 1956 |
| Nashboro 576 | Golden Trumpets | | Come And Go With Me b/w Plow Your Row To The End | 1956 |
| Nashboro 577 | Radio Four | | My Imagination Of Heaven b/w I Expect To Be Landed | 1956 |
| Nashboro 578 | Boggs, Prof. Harold | | Where God Leads Me, I'll Follow b/w Jesus Is All The World To Me | 1956 |
| Nashboro 579 | Spiritual Five | | Everyday Will Be The Same b/w I'll Carry My Burden | 1956 |
| Nashboro 580 | Kindly Shepherds | Kindly Shepherd Gospel Singers | The Upper Garden b/w Left In The Hands Of The Lord | 1956 |
| Nashboro 581 | Southern Echoes | | Be Ready When He Comes b/w When Jesus Says: Come Home | 1956 |
| Nashboro 582 | Traveling Echoes | | Looking For A Better Place To Live b/w For God I Live | 1956 |
| Nashboro 583 | Skylarks | | Gonna Help The Needy b/w Come In At The Door | 1956 |
| Nashboro 584 | Silvertone Singers | | The Sun Will Rise To The East b/w It's A Wonder What My Lord Can Do | 1956 |
| Nashboro 585 | Cooke, Edna Gallmon | Edna Gallmon Cooke and the Singing Sons | The Lord Blessed My Soul b/w Up To Sweet Heaven | 1956 |
| Nashboro 586 | Consolers | | I Cried To The Lord b/w I'm Gonna Use Just What I've Got | 1956 |
| Nashboro 587 | Swanee Quintet | | Jesus Won't Fail b/w The Fire Keeps A Burning | 1956 |
| Nashboro 588 | Jewell Gospel Singers | Jewel Gospel Trio | Jesus Is Listening b/w The Gospel Ship | 1956 |
| Nashboro 589 | Christland Singers | | Jesus Has A Blessing b/w You Got To Be Born Again | 1956 |
| Nashboro 590 | Singing Sons | | God Will Bring Things Out b/w If You Ever Needed The Lord | 1956 |
| Nashboro 591 | Barbee and Morgan Babb, Sister Lucille | Lucille Barbee and Morgan Babb | Straighten 'em Lord b/w Yes Call Him By His Name | 1956 |
| Nashboro 592 | Radio Four | | If You Miss Me From Praying b/w The Christian Race | 1956 |
| Nashboro 593 | Chosen Gospel Singers | | Trouble Of This World Condition b/w Do Thy Will | 1957 |
| Nashboro 594 | Boggs, Prof. Harold | | Will I Be Remembered b/w Inside The Beautiful Gate | 1957 |
| Nashboro 595 | Consolers | | I Remember The Bridge b/w Let Jesus Come In | 1957 |
| Nashboro 596 | Cooke, Edna Gallmon | Edna Gallmon Cooke and the Singing Sons | God Will Move b/w God's Children | 1957 |
| Nashboro 597 | Kindly Shepherds | Kindly Shepherd Gospel Singers | Climbing Higher Mountains b/w Oh How I Love Jesus | 1957 |
| Nashboro 598 | Singing Sons | | The Christian Way b/w Send It On Down | 1957 |
| Nashboro 599 | Jewell Gospel Singers | Jewel Gospel Trio | Sin Is To Blame b/w Praying Time | 1957 |
| Nashboro 600 | Radio Four | | Travelin' Through The Land b/w You Must See Jesus | 1957 |
| Nashboro 601 | Chosen Gospel Singers | | Walk With Me b/w Won't Be Back | 1957 |
| Nashboro 602 | Spiritual Five | | I Don't Have To Worry b/w The King's Highway | 1957 |
| Nashboro 603 | Babb, Morgan | | Dedication To Mothers b/w Wonder How Long | 1957 |
| Nashboro 604 | Swanee Quintet | | Come See About Me b/w My Burdens Are Laid Down | 1957 |
| Nashboro 605 | Pilgrim Jubilee Singers | | Gonna Work On b/w God Is Good To Me | 1957 |
| Nashboro 606 | Trumpeteers | | Seven Angels b/w I Want To Know | 1957 |
| Nashboro 607 | Angelic Gospel Singers | | I've Weathered The Storm b/w Every Day | 1957 |
| Nashboro 608 | Consolers | | Revival Time b/w When Others Fail | 1957 |
| Nashboro 609 | Cooke, Edna Gallmon | Edna Gallmon Cooke with the Singing Sons | A Dedication b/w You Ought've Been There | 1957 |
| Nashboro 610 | Sons of Jehovah | Sons of Jehova | High Cost Of Living b/w Teach Me Lord | 1957 |
| Nashboro 611 | Kelly Brothers | Kelly Bros. Singers | Glad I Found The Lord b/w I'll Be Ready | 1957 |
| Nashboro 612 | Southern Echoes | | On My Way To See Jesus b/w Higher Up The Mountain | 1958 |
| Nashboro 613 | Gospel Paraders | | When We Reach That Kingdom b/w It's Worryin' Me | 1958 |
| Nashboro 614 | Radio Four | | You Can't Hide b/w All On Board | 1958 |
| Nashboro 615 | Chosen Gospel Singers | | Borrowed Land b/w Lord Shine On Me | 1958 |
| Nashboro 616 | Kindly Shepherds | | Lay Me Down to Sleep b/w So Many Years | 1958 |
| Nashboro 617 | Jewell Gospel Singers | Jewel Gospel Trio | Too Late b/w Ease My Troublin' | 1958 |
| Nashboro 618 | Boggs, Prof. Harold | | Because He's Mine b/w Yes, There's One | 1958 |
| Nashboro 619 | Supreme Angels | | Run To The Rock b/w Jesus Let Me Sleep | 1958 |
| Nashboro 620 | Swanee Quintet | | When I Move b/w Sleep On Mother | 1958 |
| Nashboro 621 | Christland Singers | | He Walks With Me b/w Sometime Our Burdens Are Hard | 1958 |
| Nashboro 622 | Consolers | | Glad To Be In The Number b/w I Shall Not Want | 1958 |
| Nashboro 623 | Cooke, Edna Gallmon | | I Can't See Them Now b/w Road Of No Returns | 1958 |
| Nashboro 624 | Radio Four | | Building A Home b/w I Feel The Spirit | 1958 |
| Nashboro 625 | Pilgrim Jubilee Singers | | John Behold Thy Mother b/w I Heard Of A City | 1958 |
| Nashboro 626 | Sons of Jehovah | | Keep Me And Teach Me b/w The Holy Bible | 1958 |
| Nashboro 627 | Babb, Morgan | Morgan Babb and the Philco Singers | God Works Wonders b/w I'll Follow Jesus | 1958 |
| Nashboro 628 | Cooke, Edna Gallmon | | Come Home b/w Heavy Load | 1958 |
| Nashboro 629 | Spiritual Five | | Trouble Will Be Over b/w Let Me Have A Talk | 1958 |
| Nashboro 630 | Swanee Quintet | Sewanee Quintet | Where He Leads Me b/w Over In Zion | 1958 |
| Nashboro 631 | Boggs, Prof. Harold | | Hold On To What You Got b/w Lord Give Me Strength | 1958 |
| Nashboro 632 | Consolers | | God Will Take Care b/w It May Be The Last Time | 1958 |
| Nashboro 633 | Sensational Propheteers | | Lord Lifted Me b/w I'm Battling | 1958 |
| Nashboro 634 | Babb, Morgan | Morgan Babb and the Philco Singers | Cold Cold Ground b/w Take Me By The Hand | 1959 |
| Nashboro 635 | May, Brother Joe | | The Master's On Our Side b/w My Mother Prayed For Me | 1959 |
| Nashboro 636 | Supreme Angels | | Seven Seals b/w Beautiful City | 1959 |
| Nashboro 637 | Skylarks | | When The World's On Fire b/w Jesus Keeps Me Alive | 1959 |
| Nashboro 638 | Radio Four | | There's Gonna Be Joy b/w The Road's Rough and Rocky | 1959 |
| Nashboro 639 | Kindly Shepherds | | On The Battlefield b/w Testify For Jesus | 1959 |
| Nashboro 640 | Cooke, Edna Gallmon | Edna Gallmon Cooke with Radio Four | Nobody But You Lord b/w Walk Thru The Valley | 1959 |
| Nashboro 641 | Trumpeteers | CBS Trumpeteers | Milky White Way b/w Right John | 1959 |
| Nashboro 642 | Swanee Quintet | | What About Me b/w My Father's Land | 1959 |
| Nashboro 643 | May, Brother Joe | Bro. Joe May | Hush! Somebody's Calling My Name b/w I Heard Angels Singing (b-side with Emma Tucker) | 1959 |
| Nashboro 644 | Angelic Gospel Singers | | Yes! Nobody Knows My Troubles b/w Touch Me Lord Jesus | 1959 |
| Nashboro 645 | Sons of Jehovah | | Waiting For Me b/w Jesus Hear My Plea | 1959 |
| Nashboro 646 | Consolers | | Every Christian Mother b/w Help Me To Understand | 1959 |
| Nashboro 647 | Boggs, Prof. Harold | | When It Hits You b/w Swing Wide Open | 1959 |
| Nashboro 648 | Trumpets of Joy | | I Come To Thee b/w I Love Jesus | 1959 |
| Nashboro 649 | Golden Trumpets | | Jesus My Doctor b/w Mean Old World | 1959 |
| Nashboro 650 | Pilgrim Jubilee Singers | | River of Jordan b/w Father, I'm Coming Home | 1959 |
| Nashboro 651 | Spiritual Five | | Walk Around b/w Lord, I'm In Your Care | 1959 |
| Nashboro 652 | Cooke, Edna Gallmon | | He'll Fix It b/w If You Don't Go | 1959 |
| Nashboro 653 | Swanee Quintet | | New Walk b/w Lowly Jesus | 1959 |
| Nashboro 654 | Kelly Brothers | Kelley Brothers | Got A Soul To Save b/w Oh! Beulah Land | 1959 |
| Nashboro 655 | Trumpeteers | CBS Trumpeteers | My Lord Called Me b/w A Christian's Testimony | 1959 |
| Nashboro 656 | Babb, Morgan | Morgan Babb and Philco Singers | It's Never Too Late b/w Don't You Hinder Me | 1959 |
| Nashboro 657 | May, Brother Joe | | Willing To Run b/w When The Lord Gets Ready | 1959 |
| Nashboro 658 | Spiritual Keynotes | | Ashamed Of Jesus b/w Get Closer To God | 1960 |
| Nashboro 659 | Angelic Gospel Singers | | All That I Need Is Jesus b/w Out Of The Depths | 1960 |
| Nashboro 660 | Radio Four | | I Received My Blessings b/w When He Calls | 1960 |
| Nashboro 661 | Consolers | | Another Day's Journey b/w Some Sweet Day Afterwhile | 1960 |
| Nashboro 662 | Kindly Shepherds | | Every Year Carries A Number b/w Take The Lord With You | 1960 |
| Nashboro 663 | Hightower Brothers | | Finally Made It In b/w Oh Lord Save Me | 1960 |
| Nashboro 664 | Cooke, Edna Gallmon | | In My Heavenly Home b/w It Could Be Jesus | 1960 |
| Nashboro 665 | May, Brother Joe | Bro. Joe May | My Conversion b/w Go Tell The News | 1960 |
| Nashboro 666 | Bright Stars | | Deep In My Heart b/w Look At The Promised Land | 1960 |
| Nashboro 667 | Swanee Quintet | | Lay This Body Down b/w When Jesus Comes | 1960 |
| Nashboro 668 | Trumpets of Joy | | I'm Going To New Jerusalem b/w He's Comin' Again | 1960 |
| Nashboro 669 | Sons of Jehovah | | It's Me Lord b/w We Are Blessed | 1960 |
| Nashboro 670 | Consolers | | Never Could Have Made It (Pt. 1) b/w Never Could Have Made It (Pt. 2) | 1960 |
| Nashboro 671 | Boggs, Prof. Harold | | That's It b/w Everything's Going To Be Alright | 1960 |
| Nashboro 672 | Barbee, Sister Lucille | Lucile Barbee | Let The Church Roll On b/w Faith And Grace | 1960 |
| Nashboro 673 | Angelic Gospel Singers | | My Sweet Home b/w Jesus Is A Way-Maker | 1960 |
| Nashboro 674 | Hightower Brothers | | My Jesus Loves Me b/w Lord Help Me To Stand | 1960 |
| Nashboro 675 | Cooke, Edna Gallmon | | Wave That Train b/w War Fare | 1960 |
| Nashboro 676 | Singing Sons | | I Need Your Power b/w Throw Your Arms Around Me | 1960 |
| Nashboro 677 | May, Brother Joe | | Amazing Grace (Pt. 1) b/w Amazing Grace (Pt. 2) | 1960 |
| Nashboro 678 | Supreme Angels | | Let Me Thank You Lord b/w When I Get Up In Glory | 1960 |
| Nashboro 679 | Swanee Quintet | | Just Made It In b/w Children Pray On | 1960 |
| Nashboro 680 | Consolers | | Almighty God b/w By The Help Of The Lord | 1960 |
| Nashboro 681 | Babb, Morgan | Morgan Babb and Philco Singers | Shame b/w Everything You Need | 1960 |
| Nashboro 682 | Golden Trumpets | | The Blood Of Jesus b/w Standing On His Word | 1961 |
| Nashboro 683 | Bright Stars | | Rainbow In The Sky b/w I Feel The Fire Burning | 1961 |
| Nashboro 684 | Boggs, Prof. Harold | Prof. Harold Boggs and the Boggs Singers | When They Ring Them Golden Bells b/w Heavenly Power | 1961 |
| Nashboro 685 | Trumpets of Joy | | On The Right Road Now b/w Need The Lord To Guide Me | 1961 |
| Nashboro 686 | Hightower Brothers | | Jesus My Only Friend b/w Lord Take Me Through | 1961 |
| Nashboro 687 | Angelic Gospel Singers | | I'm Getting Nearer (Pt. 1) b/w I'm Getting Nearer (Pt. 2) | 1961 |
| Nashboro 688 | May, Brother Joe | Bro. Joe May and the Mayettes (A) b/w Bro. Joe May | Free At Last b/w I'm On The Battlefield | 1961 |
| Nashboro 689 | Traveling Kings | | Down Here Lord Waiting On You b/w Shake Me Jesus | 1961 |
| Nashboro 690 | Consolers | | I Know What It Means b/w After The Clouds Roll Away | 1961 |
| Nashboro 691 | Swanee Quintet | | (Jesus Said If You Need Me) I'll Be There b/w Holy Ghost Got Me | 1961 |
| Nashboro 692 | Radio Four | | Jesus Never Left Me Alone b/w Walk Around My Bedside | 1961 |
| Nashboro 693 | Canaanites | | Land Of Mercy b/w I Want To Be Thine | 1961 |
| Nashboro 694 | Boggs, Prof. Harold | Prof. Harold Boggs and the Boggettes | I Prayed And He Healed Me b/w I Recommend The Lord | 1961 |
| Nashboro 695 | Pilgrim Jubilee Singers | | Jesus Help Me b/w I've Done Got Over | 1961 |
| Nashboro 696 | Babb, Morgan | Morgan Babb and the Philco Singers | Lord You Know b/w Don't Leave Me Jesus | 1961 |
| Nashboro 693 | Cooke, Edna Gallmon | | Walking On The Right Road b/w The Lord Still Answers Prayer | 1961 |
| Nashboro 698 | Traveling Kings | | Now Lord b/w I'm Goin' | 1961 |
| Nashboro 699 | May, Brother Joe | Bro. Joe May | Anybody Waiting For Me b/w Somebody Needs My Jesus | 1961 |
| Nashboro 700 | Sons of Faith | | I Gave My Heart To Jesus b/w What More Can He Do? | 1961 |
| Nashboro 701 | Rock Island Singers | | Lord I'll Be Satisfied b/w Can't Do Without The Lord | 1961 |
| Nashboro 702 | Gospel Five Singers | | This Is My Testimony b/w Jesus Is With Me All The Way | 1961 |
| Nashboro 703 | Hightower Brothers | Hightower Bros. Gospel Singers | Ain't Gonna Be This Way b/w God Has Been Good | 1961 |
| Nashboro 704 | Swanee Quintet | | Leaning On The Lord b/w Oh Yes He Will | 1961 |
| Nashboro 705 | Cooke, Edna Gallmon | | Stop Gambler b/w The Hammer Rings | 1961 |
| Nashboro 706 | Golden Trumpets | | I Thank Jesus So Much b/w Born To Die | 1961 |
| Nashboro 707 | Six Trumpets | | Jesus Christ, The Baby b/w My Jesus, He's Pleased | 1961 |
| Nashboro 708 | Sons of Jehovah | | Let My People Go b/w A Servant Of God | 1962 |
| Nashboro 709 | Angelic Gospel Singers | | Everybody Ought To Pray b/w Goin' Over Yonder | 1962 |
| Nashboro 710 | Bright Stars | | Family Prayer b/w Someone's Waitin' For Me | 1962 |
| Nashboro 711 | Sons of Faith | | Mother Had It b/w Gonna See My Friends Again | 1962 |
| Nashboro 712 | Swanee Quintet | | I Need You Jesus b/w One More River To Cross | 1962 |
| Nashboro 713 | May, Brother Joe | Bro. Joe May | Goin' On a Long Journey b/w Walk With Me, Lord | 1962 |
| Nashboro 714 | Six Trumpets | | God Wants Real People b/w God Has His Eyes On You | 1962 |
| Nashboro 715 | Cantrell, Bonita | | Looking And Waiting For Jesus b/w Beyond The Sky | 1962 |
| Nashboro 716 | Boggs, Prof. Harold | | What's Happening, Christians b/w Have Faith In God | 1962 |
| Nashboro 717 | Radio Four | | What He's Done For Me b/w Whisper to Jesus | 1962 |
| Nashboro 718 | Consolers | | Glory Land b/w Goin' Across The River | 1962 |
| Nashboro 719 | Hightower Brothers | | To The End b/w Until He Comes | 1962 |
| Nashboro 720 | Singing Crusaders | | Baptism Of Jesus b/w Jesus, He'll Take Me | 1962 |
| Nashboro 721 | Supreme Angels | | Rest From My Labor b/w Let The Will Of The Lord Be Done | 1962 |
| Nashboro 722 | Cooke, Edna Gallmon | | Don't You Wanta Go? b/w Jesus Will Never Say No | 1962 |
| Nashboro 723 | Babb, Morgan | | Keep Faith In God b/w What Is This | 1962 |
| Nashboro 724 | Gospel Solotones | | Same Train b/w Ride On Moses | 1962 |
| Nashboro 725 | May, Brother Joe | Bro. Joe May | Walk On Talk On b/w Take A Poor Servant Home | 1962 |
| Nashboro 726 | Angelic Gospel Singers | | Be Sure He'll Take Care b/w He Never Left Me Alone | 1962 |
| Nashboro 727 | Traveling Kings | | So Soon! I'll Be At Home b/w Sing On | 1962 |
| Nashboro 728 | Dixie Nightingales | | My Destiny b/w Now I Lay Me Down To Sleep | 1962 |
| Nashboro 729 | Skylarks | | Roll Jordan Roll b/w Let's Work For Him | 1962 |
| Nashboro 730 | Gospel Five Singers | Gospel Five | Done The Best I Can b/w Love Down Deep In Your Heart | 1962 |
| Nashboro 731 | Tucker, Emma | | I'm Trusting In Jesus b/w Free To Worship | 1962 |
| Nashboro 732 | Bright Stars | | He Rescued Me b/w Standing In The Safety Zone | 1962 |
| Nashboro 733 | Cantrell, Bonita | | Dark Calverie's Hill b/w Sinner Man | 1962 |
| Nashboro 734 | Sons of Faith | | Since I've Been Born b/w What You Gonna Do | 1962 |
| Nashboro 735 | Swanee Quintet | | How I Got Over b/w Take The Lord With You | 1962 |
| Nashboro 736 | Holmes Sisters | | The Living God b/w I Found The Saviour | 1962 |
| Nashboro 737 | Sons of Jehovah | | Gonna Travel On b/w Our Troubles Of Today | 1962 |
| Nashboro 738 | Boggs, Prof. Harold | | Tell It Like It Is b/w Someone's Gone Home | 1962 |
| Nashboro 739 | Supreme Angels | | He's By My Side b/w Drinking Of The Wine | 1962 |
| Nashboro 740 | Consolers | | Waitin' At The River b/w Say A Prayer For Me | 1962 |
| Nashboro 741 | Canaanites | | Let Jesus Lead The Way b/w Trust Him Today | 1962 |
| Nashboro 742 | Silver Bells | | No Friend Like the Lord b/w Come And Go With Me | 1962 |
| Nashboro 743 | Gospel Song Birds | | The Bible Is Right b/w Jesus I Love You | 1962 |
| Nashboro 744 | Gospel Clouds of Joy | Gospel Clouds of Joy of Cleveland | Just A Few More Days b/w Get Down On Your Knees | 1962 |
| Nashboro 745 | Cooke, Edna Gallmon | | Leaking In This Building b/w Lord When I Get Home | 1962 |
| Nashboro 746 | Gospel Solotones | | Ride In The Chariot b/w Steal Away | 1962 |
| Nashboro 747 | Traveling Kings | | Could Have Been Gone b/w God's Been Good | 1962 |
| Nashboro 748 | Cantrell, Bonita | | Marching Home b/w Sweet Heaven | 1962 |
| Nashboro 749 | Phillipian Gospel Singers | | He Lightened My Heavy Load b/w Great Camp Meeting | 1962 |
| Nashboro 750 | May, Brother Joe | | Wake Me And Shake Me b/w How The Lord Can Heal | 1962 |
| Nashboro 751 | Ingram, Maggie | Maggie Ingram and the Silver Stars | Vision Of The Shepherd b/w King Of Kings | 1962 |
| Nashboro 752 | Six Trumpets | | When Trouble Arises b/w Don't Know Why | 1962 |
| Nashboro 753 | Tucker, Emma | | Come On And Go b/w Look And See | 1962 |
| Nashboro 754 | Consolers | | Over Yonder b/w God Makes No Mistakes | 1962 |
| Nashboro 755 | Holmes Sisters | | God Got His Hand On Me b/w The Love Of Jesus | 1962 |
| Nashboro 756 | Singing Crusaders | | Lord Somebody Touched Me b/w Lord I'm In Your Care | 1963 |
| Nashboro 757 | Hightower Brothers | | Saved By The Blood Of Jesus b/w This Little Light Of Mine | 1963 |
| Nashboro 758 | Skylarks | | Fly Away b/w Someone To Care | 1963 |
| Nashboro 759 | National Clouds of Joy | | Want Jesus To Hold My Hand b/w I Heard The Angels Singing | 1963 |
| Nashboro 760 | Cooke, Edna Gallmon | | Let's Praise God b/w Mother's Looking For Me | 1963 |
| Nashboro 761 | Chosen Gospel Singers | | Let Your Life Speak Out b/w You'll Need The Lord | 1963 |
| Nashboro 762 | Ingram, Maggie | Maggie Ingram with the Silver Stars | The Only Way Home b/w Got A Mind To Serve The Lord | 1963 |
| Nashboro 763 | Sons of Jehovah | | You Gotta Live Right b/w Judgment Day Is Coming | 1963 |
| Nashboro 764 | Dixie Nightingales | | I Would Not Be A Sinner b/w I'll Go With You | 1963 |
| Nashboro 765 | Cantrell, Bonita | | There's No Segregation In Heaven b/w Blessed Assurance | 1963 |
| Nashboro 766 | Supreme Angels | | Ain't Gonna Study War No More b/w Come And See About Me | 1963 |
| Nashboro 767 | Gospel Song Birds | | Help Me To Run This Race b/w When They Ring Them Golden Bells | 1963 |
| Nashboro 768 | Bright Stars | | What Could I Do b/w Do You Love Jesus | 1963 |
| Nashboro 769 | Traveling Kings | | I Know A Man b/w My Rock | 1963 |
| Nashboro 770 | May, Brother Joe | | Don't Fly So High b/w Call Him By His Name | 1963 |
| Nashboro 771 | Babb, Morgan | | Sinner! Don't Wait b/w Don't Leave Me Jesus | 1963 |
| Nashboro 772 | Consolers | | Won't It Be Grand b/w Want To Go With Jesus | 1963 |
| Nashboro 773 | Silver Bells | | God's Done So Much b/w God Will Bless You | 1963 |
| Nashboro 774 | Swanee Quintet | | Meetin' Tonight b/w Oh How I Love Jesus | 1963 |
| Nashboro 775 | Gospel Clouds of Joy | Gospel Clouds of Joy of Columbus, Ohio | Thinking About His Goodness b/w The Ship Tossed And Rocked | 1963 |
| Nashboro 776 | Hightower Brothers | | It's Glory Glory b/w Seat In The Kingdom | 1963 |
| Nashboro 777 | Boggs, Prof. Harold | | Doing All The Good We Can b/w Bless Me Jesus | 1963 |
| Nashboro 778 | Holmes Sisters | | Gonna Ride This Train b/w Son Of Man | 1963 |
| Nashboro 779 | Gospel Solotones | | Honey In The Rock b/w Wrestling Jacob | 1963 |
| Nashboro 780 | Singing Crusaders | | Oh Lord You've Been Good To Me b/w One Way To The Pearly Gate | 1963 |
| Nashboro 781 | Cooke, Edna Gallmon | | Jesus Is Mine b/w Seven Steps To Hell | 1963 |
| Nashboro 782 | Six Trumpets | | He'll Take Care Of You b/w Lord I'm In Your Care | 1963 |
| Nashboro 783 | Sons of Faith | | Winding Chain b/w Beautiful Land | 1963 |
| Nashboro 784 | Sim-Aires | | Lord You've Been Good to Me b/w I'm A Christian | 1963 |
| Nashboro 785 | Sons of Glory | | What The Lord Can Do b/w Gonna Talk With The Lord | 1963 |
| Nashboro 786 | May, Brother Joe | | Jesus Said Go b/w We're Marching On | 1963 |
| Nashboro 787 | Angelic Gospel Singers | | I Shall Know Him b/w I Want to Go to Heaven | 1963 |
| Nashboro 788 | Trumpeteers | CBS Trumpeteers | God Is Coming b/w One Day I Was Walking | 1963 |
| Nashboro 789 | Chosen Gospel Singers | New Chosen Gospel Singers | I'll Be There b/w Just Have to Cry Sometime | 1963 |
| Nashboro 790 | Swanee Quintet | | I'm A Pilgrim b/w Life's Ocean | 1963 |
| Nashboro 791 | Gospel Song Birds | | Here's My Testimony b/w Just A Closer Walk With Thee | 1963 |
| Nashboro 792 | Sons of Jehovah | | The Story Of Noah b/w Left All Alone | 1963 |
| Nashboro 793 | Tucker, Emma | | I Don't Have To Worry b/w Something To Tell Jesus | 1963 |
| Nashboro 794 | Cantrell, Bonita | | God's With Me Every Day b/w I Must Tell Jesus | 1963 |
| Nashboro 795 | Golden Trumpets | | Working Below b/w We All Need Jesus | 1963 |
| Nashboro 796 | Holmes Sisters | | By His Word b/w Set Your House In Order | 1963 |
| Nashboro 797 | Radio Four | | On My Journey Now b/w Believe Every Word He Says | 1963 |
| Nashboro 798 | Silver Bells | | Some Day You'll Miss Me b/w Lord Stop by Here | 1963 |
| Nashboro 799 | Canaanites | | Do You Stop To Pray? b/w Lord You Can Depend On Me | 1964 |
| Nashboro 800 | Consolers | | Waiting for My Child b/w On God's Word | 1964 |
| Nashboro 801 | Bright Stars | | Jesus Steppin' b/w Jesus Keep Your Arms Around Me | 1964 |
| Nashboro 802 | Taylor Brothers | Taylor Bros. Gospel Singers | I Wonder b/w I'll Slave No More | 1964 |
| Nashboro 803 | Swanee Quintet | | The Lord's On My Side b/w He Cares For You | 1964 |
| Nashboro 804 | Ingram, Maggie | | Victory Shall Be Mine b/w Come Ye Disconsolate | 1964 |
| Nashboro 805 | Trumpeteers | CBS Trumpeteers | My Heart Bubbles Over b/w Everything Moves | 1964 |
| Nashboro 806 | Cooke, Edna Gallmon | | You Don't Know b/w The Man's Alright | 1964 |
| Nashboro 807 | Gospel Clouds of Joy | | A Brighter Day b/w Lord I'll Take Your Word | 1964 |
| Nashboro 808 | Dixie Nightingales | | Pleading For Me b/w Death Is Riding | 1964 |
| Nashboro 809 | Angelic Gospel Singers | | Do Lord Remember Me b/w Yes! He'll Take Care of You | 1964 |
| Nashboro 810 | Sons of Glory | | No Other Help b/w At Peace With Jesus | 1964 |
| Nashboro 811 | Cantrell, Bonita | | Must Jesus Bear The Cross b/w Why Not Today | 1964 |
| Nashboro 812 | Six Trumpets | | I Found Jesus b/w Lord You Saved My Soul | 1964 |
| Nashboro 813 | Taylor Brothers | | My Trials Will Be Over b/w Will He Welcome Me | 1964 |
| Nashboro 814 | Silver Bells | | Walking On The Water b/w The Great Reunion | 1964 |
| Nashboro 815 | Traveling Kings | | Farther Down The Road b/w Dark Clouds | 1964 |
| Nashboro 816 | Singing Crusaders | | Good Morning b/w Angels Backing Me | 1964 |
| Nashboro 817 | Sons of Jehovah | | Pleading To God b/w Story Of The Hebrew Children | 1964 |
| Nashboro 818 | Robinson, Annie | | God Sent Jesus b/w God Gave It To Me | 1964 |
| Nashboro 819 | Franklin, Rev. M.L. | | Sweet Hour Of Prayer b/w Marching To Zion | 1964 |
| Nashboro 820 | Ingram, Maggie | Maggie Ingram with the Ingramettes | I'm Not Uneasy b/w Melody Of Love | 1964 |
| Nashboro 821 | Gospel Song Birds | | Do You Ever Call Jesus b/w Let Jesus Lead You | 1964 |
| Nashboro 822 | National Clouds of Joy | | There's Only One Train b/w Oh Lord I Need Thee | 1964 |
| Nashboro 823 | Swanee Quintet | | Death Will Come b/w Pray Sometime | 1964 |
| Nashboro 824 | Gospel Keynotes | | In Glory Land b/w Show Me The Way | 1964 |
| Nashboro 825 | Mighty Golden Tones | | Lord! Care For Me b/w My Saviour Lifted Me | 1964 |
| Nashboro 826 | Williams Singers | | Troubled Mind b/w We're Blessed | 1964 |
| Nashboro 827 | Bright Stars | | God's Comin' Again b/w If You Miss Me Singing | 1964 |
| Nashboro 828 | May, Brother Joe | Bro. Joe May | What You've Done For Me b/w God Gave Me A Song | 1964 |
| Nashboro 829 | Tucker, Emma | | In The Prayer Room b/w I Waited For A Long Time | 1964 |
| Nashboro 830 | Supreme Angels | | Lord I'm Alright b/w Jesus Soothes Me | 1964 |
| Nashboro 831 | Gospel Clouds of Joy | Gospel Clouds of Joy of Columbus | Jesus! My Friend b/w My Lord! He's The Man | 1964 |
| Nashboro 832 | Boggs, Prof. Harold | | I'ved Fixed It With Jesus [sic] b/w My Home Sweet Home | 1964 |
| Nashboro 833 | Consolers | | Around God's Throne b/w Don't Want To Be Lost | 1964 |
| Nashboro 834 | Cantrell, Bonita | | Beautiful Home b/w Wait On The Lord | 1964 |
| Nashboro 835 | Golden Trumpets | | A Sweeter Life b/w So Called Christians | 1964 |
| Nashboro 836 | Silver Bells | | Pray Like The Lord Says b/w My Love For Jesus | 1964 |
| Nashboro 837 | Radio Four | | What Kind Of A Man Is Jesus b/w In My Father's House | 1964 |
| Nashboro 838 | Harmonizing Five | | You Need The Lord Every Day b/w When I Sought The Lord | 1964 |
| Nashboro 839 | Six Trumpets | | Nobody But You, Lord b/w New Born King | 1964 |
| Nashboro 840 | National Clouds of Joy | | In The Stone b/w When Jesus Rises | 1964 |
| Nashboro 841 | Singing Crusaders | | Come Into The Room b/w Lord I'll Go | 1964 |
| Nashboro 842 | May, Brother Joe | | What is This b/w I've Been Trampin' | 1964 |
| Nashboro 843 | Ingram, Maggie | Maggie Ingram and the Ingramettes b/w Maggie Ingram | Time Is Winding Up b/w A Plea For Man | 1965 |
| Nashboro 844 | Taylor Brothers | | God Knows My Feelin' b/w Mother's Advice | 1965 |
| Nashboro 845 | Gospel Song Birds | | Won't It Be Grand b/w When God Calls Me | 1965 |
| Nashboro 846 | Bells of Joy | | King Jesus is Listening b/w You Can't Do Wrong and Get By | 1965 |
| Nashboro 847 | Morning Echoes | | Not Bread Alone b/w The Lord Will Provide | 1965 |
| Nashboro 848 | Cooke, Edna Gallmon | | The Mule Talked b/w Little Boy | 1965 |
| Nashboro 849 | Brown, Eloise | | Blessed Assurance b/w What A Friend We Have In Jesus | 1965 |
| Nashboro 850 | Choir of Bill's Creek Baptist Church | | Oh How I Love Jesus b/w Blood Done Signed My Name | 1965 |
| Nashboro 851 | Bright Stars | | When I'm Gone b/w I've Done Thy Will | 1965 |
| Nashboro 852 | Gospel Keynotes | | Only "Right" Will Win b/w Have More Faith | 1965 |
| Nashboro 853 | Bells of Joy | | Hear Our Blessed Saviour b/w Just Live The Life | 1965 |
| Nashboro 854 | Supreme Angels | | Friends Talk About Me b/w Are You Ready | 1965 |
| Nashboro 855 | Mighty Golden Tones | | Just One Look In The Book b/w When The Saints Go Marching In | 1965 |
| Nashboro 856 | May, Brother Joe | | To My Home in Glory b/w Must Jesus Bear The Cross | 1965 |
| Nashboro 857 | Boggs, Prof. Harold | Pro. Harold Boggs | My Loving Mother Prayed b/w God Can Do What You Need | 1965 |
| Nashboro 858 | Swanee Quintet | | This Train b/w Heard The Angels Sing | 1965 |
| Nashboro 859 | Gospel Song Birds | | Hallelujah b/w Farther Along | 1965 |
| Nashboro 860 | Tucker, Emma | | You Should Have Been There b/w I'll Reach My Home | 1965 |
| Nashboro 861 | Harmonizing Five | | I'll Go Lord b/w Live By The Lord's Prayer | 1965 |
| Nashboro 862 | Silver Bells | | Solve Your Problems With Prayer b/w Get With The Bible | 1965 |
| Nashboro 863 | Bright Stars | | Found The Saviour b/w Jesus Will Help You | 1965 |
| Nashboro 864 | Supreme Angels | | I Saw The Light b/w Till We Meet | 1965 |
| Nashboro 865 | Taylor Brothers | | God Will Bless Us b/w Got Something You Don't Have | 1965 |
| Nashboro 866 | Morning Echoes | | I've Got Jesus b/w The Last Pass-Over | 1965 |
| Nashboro 867 | Six Trumpets | | Confession b/w Just Call Jesus | 1965 |
| Nashboro 868 | Ingram, Maggie | | Let Jesus Come Into Your Life b/w God's Wonderful Love | 1965 |
| Nashboro 869 | May, Brother Joe | | Harder Is My Fight b/w Been In The War So Long | 1965 |
| Nashboro 870 | Holmes Sisters | | Safe In The Arms Of Jesus b/w Lord Hear My Cry | 1965 |
| Nashboro 871 | Bells of Joy | | His Eye Is One The Sparrow b/w I'll Be Satisfied | 1965 |
| Nashboro 872 | Babb, Morgan | | Everything You Need b/w I Won't Let Go | 1965 |
| Nashboro 873 | Boggs, Prof. Harold | | 'Tis So Sweet To Let God Abide b/w What Are They Doin' Right Now | 1965 |
| Nashboro 874 | Mighty Golden Tones | | It's Time To Testify b/w Just Can't Help It | 1965 |
| Nashboro 875 | Skylarks | | My Life Is In His Hands b/w Lord! I'm Your Child | 1965 |
| Nashboro 876 | Harmonizing Five | | I'll Wake Up In Glory b/w Lord! I'll Come To Thee | 1965 |
| Nashboro 877 | Silver Bells | | The Lord Told Me Something b/w Glorify The Name Of Jesus | 1965 |
| Nashboro 878 | Taylor Brothers | | Time Will Bring You In b/w You Drive On | 1965 |
| Nashboro 879 | Angelic Gospel Singers | | Sometimes I Feel My Time Ain't Long b/w Don't Know What I'd Do (Without The Lord) | 1965 |
| Nashboro 880 | Supreme Angels | Supreme Angel Singers | Father! Watch Over Us b/w I Want To Be Just Like Him | 1965 |
| Nashboro 881 | Gospel Clouds of Joy | | Goin' Back To Jesus b/w When Morning Comes | 1965 |
| Nashboro 882 | Six Trumpets | | My Work Will Be Done b/w Jesus Is Calling | 1965 |
| Nashboro 883 | Cooke, Edna Gallmon | | At The Gate b/w Poor Me | 1966 |
| Nashboro 884 | Ingram, Maggie | Maggie Ingram and the Ingramettes | Gimme That Old Time Religion b/w My Friend Jesus | 1966 |
| Nashboro 885 | Gospel Song Birds | | Glory To His Name b/w Traveling Pilgrim | 1966 |
| Nashboro 886 | Morning Echoes | | God's A Wonderful Lawyer b/w Waitin' And Watchin' | 1966 |
| Nashboro 887 | Trumpeteers | CBS Trumpeteers | Lord Ease My Weary Mind b/w Little Wooden Church | 1966 |
| Nashboro 888 | Harmonizing Five | | Lord I'll Be There b/w God Has A Way | 1966 |
| Nashboro 889 | Boggs, Prof. Harold | | Now I'm Saved b/w I've Got It | 1966 |
| Nashboro 890 | Taylor Brothers | | Old Camp Ground b/w Come, Ye That Love The Lord | 1966 |
| Nashboro 891 | Gospel Keynotes | | Working For Jesus b/w Meet Me At The River | 1966 |
| Nashboro 892 | Silver Bells | | Started On My Journey b/w Jesus! The Perfect Man | 1966 |
| Nashboro 893 | Skylarks | | All Over This World b/w Within Me | 1966 |
| Nashboro 894 | Ingram, Maggie | Maggie Ingram and the Ingramettes | Solid Rock b/w Land Of Peace | 1966 |
| Nashboro 895 | Spiritual Five | | Satisfied With Him b/w The Sun Will Shine | 1966 |
| Nashboro 896 | Gospel Song Birds | | Story Of The Woman (At The Well) b/w Cannan Land | 1966 |
| Nashboro 897 | Skylarks | | When You Give (Pt. 1) b/w When You Give (Pt. 2) | 1966 |
| Nashboro 898 | Consolers | | Too Late b/w His Child Is Aboard | 1966 |
| Nashboro 899 | Morning Echoes | | I Thank My Jesus Every Day b/w God Has Brought Me Safe This Far | 1966 |
| Nashboro 900 | May, Brother Joe | | My Own Fault b/w Where Is The Road That Leads Home? | 1966 |
| Nashboro 901 | Gospel Keynotes | | We'll Live Again b/w I Don't Mind | 1966 |
| Nashboro 902 | Bells of Joy | | I Know The Secret b/w Little David, Play On Your Harp | 1966 |
| Nashboro 903 | Cheatham Spiritual Singers | | Jesus Is Mine b/w Oh How I Love Jesus | 1966 |
| Nashboro 904 | Gospel Clouds of Joy | | Tears Of Joy b/w I'll Be Happy | 1966 |
| Nashboro 905 | Cooke, Edna Gallmon | | When I Get Inside b/w Down On Me | 1966 |
| Nashboro 906 | Harmonizing Five | | Traveling On b/w Without The Lord | 1966 |
| Nashboro 907 | Angelic Gospel Singers | | Jesus, When Troubles Burden Me b/w Standing On The Highway | 1966 |
| Nashboro 908 | May, Brother Joe | | Silent Night b/w Sweet Little Jesus Boy | 1966 |
| Nashboro 909 | Brooklyn All Stars | Brooklyn Allstars | How Long Has It Been? b/w Motherless Child | 1967 |
| Nashboro 910 | Supreme Angels | | It's Sweet Just To Know b/w Our Nightly Prayer | 1967 |
| Nashboro 911 | Spiritual Five | | Mother's Plea (Pt. 1) b/w Mother's Plea (Pt. 2) | 1967 |
| Nashboro 912 | Traveling Notes | | Make Me b/w Jesus Is A Solid Rock | 1967 |
| Nashboro 913 | Tucker, Emma | Sister Emma Tucker | Crying Days Will Be Over b/w Who'll Be A Witness | 1967 |
| Nashboro 914 | Babb, Morgan | Rev. Morgan Babb (with his King Solomon Baptist Church Choir) | Go On, My Child (Pt. 1) b/w Go On, My Child (Pt. 2) | 1967 |
| Nashboro 915 | May, Brother Joe | | That's Enough b/w Trouble In My Way | 1967 |
| Nashboro 916 | Bright Stars | | I Want To Go Home b/w Just Look Around You | 1967 |
| Nashboro 917 | Bells of Joy | | Jesus Arose b/w Shepherd Feed My Sheep | 1967 |
| Nashboro 918 | Boggs, Prof. Harold | ? | Long Tedious Journey b/w That's The Way The Lord Works | 1967 |
| Nashboro 919 | Gospel Keynotes | | God's Love b/w God Knows It All | 1967 |
| Nashboro 920 | Skylarks | Famous Skylarks | Jesus Knows b/w Gambling Man | 1967 |
| Nashboro 921 | Gospel Clouds of Joy | | I've Got To Stand For Jesus b/w When He Calls, I'll Answer | 1967 |
| Nashboro 922 | Barbee, Sister Lucille | | Call Him By His Name b/w Let's Praise The Lord | 1967 |
| Nashboro 923 | Spiritual Five | | Old Time Religion b/w Stumbling Blocks | 1967 |
| Nashboro 924 | Carter, George | | Troubles of the World b/w I Do, Don't You? | 1967 |
| Nashboro 925 | Bradford, Prof. Alex | Alex Bradford (?) | Got Everything I Need b/w I'll Never Forget | 1967 |
| Nashboro 926 | Brooklyn All Stars | Brooklyn Allstars | Jesus Loves Me b/w Tryin' To Get Home | 1967 |
| Nashboro 927 | Church of God in Christ Choir of Nashville, Tenn. | | The Power of the Lord b/w My Soul Loves Jesus | 1967 |
| Nashboro 928 | Consolers | | Lord Bring Me Down b/w Someone Must Answer | 1967 |
| Nashboro 929 | Taylor Brothers | | What More Can A Man Do b/w I'll Return To The Lord | 1967 |
| Nashboro 930 | May, Brother Joe | Brother Joe May with his Pianist, Rev. James Chappell | So Much To Talk About b/w Precious Lord | 1967 |
| Nashboro 931 | Supreme Angels | | He'll Understand b/w Why (Storm Of Life) | 1967 |
| Nashboro 932 | Babb, Morgan | Rev. Morgan Babb (?) | All Tears b/w God Will Walk Away | 1967 |
| Nashboro 933 | Consolers | | Let The Bells Ring b/w No Room In The Inn | 1967 |
| Nashboro 934 | Johnson Specials | | How Much I Love The Lord (Pt. 1) b/w How Much I Love The Lord (Pt. 2) | 1968 |
| Nashboro 935 | Gospel Keynotes | | The Flowers You Give b/w One More Time | 1968 |
| Nashboro 936 | Brooklyn All Stars | Brooklyn Allstars | He Works That Way b/w No Cross No Crown | 1968 |
| Nashboro 937 | Boggs, Prof. Harold | Harold Boggs with the Boggs Specials (?) | Anytime Anyplace b/w I've Been A Christian Too Long (To Stop Now) | 1968 |
| Nashboro 938 | Cooke, Edna Gallmon | | Bottles Of Tears b/w Shake My Mother's Hand | 1968 |
| Nashboro 939 | Bradford, Prof. Alex | | Christ Is All b/w The Goal | 1968 |
| Nashboro 940 | Bright Stars | | Let Thy Will Be Done b/w God Will Bring Things Out All Right | 1968 |
| Nashboro 941 | Six Trumpets | | Set Me Free b/w Yes, God Is Real | 1968 |
| Nashboro 942 | Davenport, Ethel | | Great Big Singing Jubilee b/w Free At Last | 1968 |
| Nashboro 943 | Consolers | | Thank God Things are As Well as They Are b/w Children Keep On Marching | 1968 |
| Nashboro 944 | Johnson Specials | | Does Jesus Care b/w Lazarus | 1968 |
| Nashboro 945 | Bradford, Prof. Alex | Alex Bradford | A Man's A Man B/W What The World Needs Now | 1968 |
| Nashboro 946 | Angelic Gospel Singers | | Father I Stretch My Hands b/w Glory To The New Born King | 1968 |
| Nashboro 947 | Original Gospel Harmonettes | Dorothy Love and the Harmonettes | (I'm Holding On) I Won't Let Go b/w Heaven, I've Heard So Much About It | 1969 |
| Nashboro 948 | Supreme Angels | | One Step Inside b/w Calvary | 1969 |
| Nashboro 949 | Swanee Quintet | Rev. Willingham and the Swanee Quintet | New Walk b/w Sweep Around Your Own Door | 1969 |
| Nashboro 950 | Consolers | | May The Work I've Done Speak For Me b/w Since The Lord Laid His Hands On Me | 1969 |
| Nashboro 951 | Angelic Gospel Singers | | I Hope It Won't Be This Way Always b/w You Don't Know (What The Lord Has Done) | 1969 |
| Nashboro 952 | Brooklyn All Stars | Brooklyn Allstars | He Said He Would Move b/w Family Prayer | 1969 |
| Nashboro 953 | Bradford, Prof. Alex | Alex Bradford | I Believe b/w Just A Little Bit Of Jesus | 1969 |
| Nashboro 954 | Boggs, Prof. Harold | ? | Someone To Care b/w What Is This | 1969 |
| Nashboro 955 | Gospel Keynotes | | We Need Prayer b/w Come On Lord | 1969 |
| Nashboro 956 | Consolers | | Merry Christmas b/w There Will Be Peace One Of These Days | 1969 |
LP releases:

| release | artist | artist as shown | title | year |
| --- | --- | --- | --- | --- |
| Nashboro LP 7000 | Swanee Quintet | | What About Me? | 1960 |
| Nashboro LP 7001 | May, Brother Joe | | The Master's On Our Side | 1960 |
| Nashboro LP 7002 | Cooke, Edna Gallmon | | He'll Fix It | 1960 |
| Nashboro LP 7003 | Angelic Gospel Singers | | no title | 1961 |
| Nashboro LP 7004 | Consolers | | Give Me My Flowers | 1961 |
| Nashboro LP 7005 | Smith Jr., Rev. N.H. | | A Salesman For God | 1961 |
| Nashboro LP 7006 | Various | | Best Loved Gospel Songs | 1961 |
| Nashboro LP 7007 | Demonbreun, Rev. William Allen | | Lame From Thy Birth (sermon) | 1962 |
| Nashboro LP 7008 | Swanee Quintet | | Anniversary Album | 1962? |
| Nashboro LP 7009 | Cooke, Edna Gallmon | | Stop Gambler | 1962 |
| Nashboro LP 7010 | May, Brother Joe | | Walk On and Talk On | 1962 |
| Nashboro LP 7011 | Hightower Brothers | | I Need You Lord | 1963 |
| Nashboro LP 7012 | Babb, Morgan | | Keep Faith In God | 1963 |
| Nashboro LP 7013 | Cooke, Edna Gallmon | | Songs My Mother Sang | 1963 |
| Nashboro LP 7014 | Swanee Quintet | | Meetin' Tonight | 1963 |
| Nashboro LP 7015 | Various | | Best Loved Gospel Songs, volume 2 | 1963 |
| Nashboro LP 7016 | Consolers | | The Consolers singing Heart Warming Spirituals | 1963 |
| Nashboro LP 7017 | May, Brother Joe | | Brother Joe May singing Songs Of The Gospel | 1964 |
| Nashboro LP 7018 | Brown, Eloise | | Hymns Of The Gospel | 1964 |
| Nashboro LP 7019 | Consolers | | Joy In The Morning | 1964 |
| Nashboro LP 7020 | Cooke, Edna Gallmon | | Songs Of Comfort | 1964 |
| Nashboro LP 7021 | Angelic Gospel Singers | | Songs From The Heart | 1964 |
| Nashboro LP 7022 | Swanee Quintet | | Soul Stirring Gospels | 1964 |
| Nashboro LP 7023 | Gospel Clouds Of Joy | | Favorite Gospels | 1965 |
| Nashboro LP 7024 | Consolers | | Sweet Memories | 1965 |
| Nashboro LP 7025 | Cooke, Edna Gallmon | | Living Gospel Songs | 1965 |
| Nashboro LP 7026 | Swanee Quintet | | Songs That Lift The Soul | 1965 |
| Nashboro LP 7027 | Babb, Morgan | Rev. Morgan Babb | Holy Boldness (sermon) | 1965 |
| Nashboro LP 7028 | Bells Of Joy | | Songs That Bring Joy! | 1966 |
| Nashboro LP 7029 | Consolers | | The Consolers singing Songs Of Inspiration | 1966 |
| Nashboro LP 7030 | Supreme Angels | Supreme Angels Gospel Singers | Drinking Of The Wine | 1966 |
| Nashboro LP 7031 | May, Brother Joe | | My Own Fault | 1966 |
| Nashboro LP 7032 | Boggs, Prof. Harold | Professor Harold Boggs | Lord Give Me Strength | 1966 |
| Nashboro LP 7033 | Various | | All Time Gospel Hits | 1966 |
| Nashboro LP 7034 | Traveling Notes | | The Sensational Sound of the Traveling Notes | 1966 |
| Nashboro LP 7035 | Blair, Rev. Edmond | Reverend Edmond Blair | I'm Into Something And I Can't Shake It Loose (sermon) | 1967 |
| Nashboro LP 7036 | Morning Echoes | Morning Echoes of Detroit | Echoes Of The Gospel | 1967 |
| Nashboro LP 7037 | Consolers | | The Soul of the Consolers | 1967 |
| Nashboro LP 7038 | Cheatham Spiritual Singers | | Jesus Is Mine | 1967 |
| Nashboro LP 7039 | May, Brother Joe | | That's Enough | 1967 |
| Nashboro LP 7040 | Various | | All Time Gospel Hits, volume 2 | 1967 |
| Nashboro LP 7041 | Cooke, Edna Gallmon | Mme. Edna Gallmon Cooke | At The Gate | 1967 |
| Nashboro LP 7042 | Blair, Rev. Edmond | | I Don't Need No Doctor (sermon) | 1967 |
| Nashboro LP 7043 | Brooklyn All Stars | Brooklyn Allstars | Jesus Loves Me | 1967 |
| Nashboro LP 7044 | Boggs, Prof. Harold | | I Believe | 1967 |
| Nashboro LP 7045 | Fairfield Four | | Angels Watching Over Me | 1967 |
| Nashboro LP 7046 | Bradford, Prof. Alex | | I Must Tell Jesus | 1967 |
| Nashboro LP 7047 | Angelic Gospel Singers | | The Best of the Angelic Gospel Singers | 1967 |
| Nashboro LP 7048 | Consolers | | The Best of the Consolers | 1967 |
| Nashboro LP 7049 | Cooke, Edna Gallmon | | Memorial Album | 1967 |
| Nashboro LP 7050 | May, Brother Joe | | Best of Brother Joe May | 1967 |
| Nashboro LP 7051 | Ingram, Maggie | Maggie Ingram and the Ingramettes | America's Favorite Spiritual Singing Family | 1968 |
| Nashboro LP 7052 | Supreme Angels | | Just Like Him | 1968 |
| Nashboro LP 7053 | Sims, Rev. Arthur Dave | | The Shepherd And His Sheep (sermon) | 1968 |
| Nashboro LP 7054 | Greer, Elder Jonathan | | Showers Of Blessings | 1968 |
| Nashboro LP 7055 | Traveling Notes | | Just A Little More Faith | 1968 |
| Nashboro LP 7056 | Ford, Esther | | A Profile Of A Great Lady | 1968 |
| Nashboro LP 7057 | May, Brother Joe | | I've Been Dipped in the Water | 1968 |
| Nashboro LP 7058 | Skylarks | | Good News | 1968 |
| Nashboro LP 7059 | Babb, Morgan | Reverend Morgan Babb | The Essential Character Of The Church | 1968 |
| Nashboro LP 7060 | Consolers | | Mighty Good Singing | 1968 |
| Nashboro LP 7061 | Angelic Gospel Singers | | Jesus Paid It All | 1968 |
| Nashboro LP 7062 | Boggs, Prof. Harold | | Prof. Harold Boggs Sings Just For You | 1968 |
| Nashboro LP 7063 | Gospel Keynotes | | Just One More Time | 1968 |
| Nashboro LP 7064 | Brooklyn All Stars | Exciting Brooklyn Allstars | no title | 1968/69 |
| Nashboro LP 7065 | Original Gospel Harmonettes | Dorthy Love Coates and the Gospel Harmonettes | 'Till My Change Comes | 1969 |
| Nashboro LP 7066 | Bradford, Prof. Alex | | What The World Needs Now | 1969 |
| Nashboro LP 7067 | Various | | All Time Gospel Hits, volume 3 | 1969 |
| Nashboro LP 7068 | Cooke, Edna Gallmon | Mme. Edna Gallmon Cooke | Memories of Mme. Edna Gallmon Cooke | 1969 |
| Nashboro LP 7069 | Blair, Rev. Edmond | | Ain't Nothing Like The Real Thing (sermon) | 1969 |
| Nashboro LP 10 | Hamilton, Rev. W.E. | | A Bad Mind (sermon) | 196? |