Gotham gospel discography (1947-58)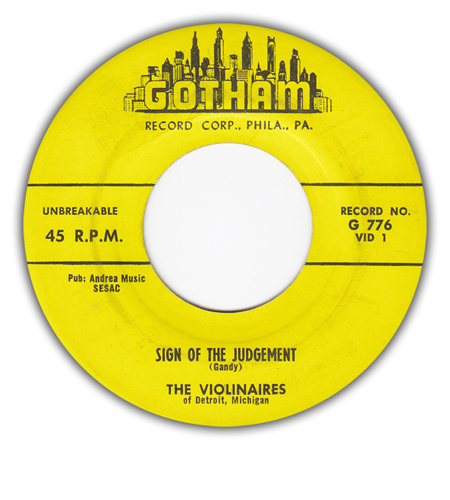 The Gotham Record Corp. was located in Philadelpia, PA although the label started in New York City (1946), where it had a brief stay. Sam Goode and Ivin Ballen were the proprietors. Apart from gospel, the label released various other genres.
The 600 and 700 series were exclusively destined for gospel releases.
45's in the 600 and most of the 700 series have numbers starting with a 7, thus indicating it was a 7 inch release.  Later issues in the 700 series do not show this, which could mean the record was not issued in the 78rpm format. I've omitted this prefix from the listing.
Early 45rpm singles may have been released later than the 78rpm issues.
There seems to be some confusion about the last releases on the label. According to some sources the label quit the scene in 1956, but other sources give 1957 and 1958 as the release (or recording) dates of some of these last issues. I have followed the information given in the Gospel Discography (Laughton/Hayes) which dates the last Gotham session in 1958 (Zion Harmonizers, May 27, 1958). Most of these late issues feature earlier recorded material.
Most of the releases by Earl Hines (Prof. J. Earl Hines and his Goodwill Singers) were also issued on Deluxe and Sacred.
Gotham 600 (Blue Jay Singers) was also released on Aristocrat 3500 and Harlem 1027.
This page lists all known Gotham gospel releases; 45 & 78rpm singles plus one LP release.
78 & 45rpm releases:

| release | artist | artist as shown | songs | year |
| --- | --- | --- | --- | --- |
| Gotham 142 | Silver Leaf Quartet of Florida | | Rock, Sword And Shield b/w I Want To Rest | 1947 |
| Gotham 143 | Silver Leaf Quartet of Florida | | Blind Barnabas b/w I Want Wings | 1947 |
| Gotham 148 | Silver Leaf Quartet of Florida | | I Love The Name Jesus b/w Wake Me, Shake Me, Lord | 1947 |
| Gotham 149 | Silver Leaf Quartet of Florida | | Standing On The Highway b/w Don't Worry About Him | 1947 |
| Gotham 150 | Silver Leaf Quartet of Florida | | Down On My Knees b/w I'm On My Way To Heaven Now | 1947 |
| Gotham 600 | Blue Jay Singers | | In The Upper Room b/w I'm Bound For Canaan Land | 1949 |
| Gotham 601 | Norfolk Four | | I've Been To Heaven In A Dream b/w This Is A Mean World | 1949 |
| Gotham 602 | Silveraires | | Farther Along b/w So High | 1949 |
| Gotham 603 | Beck, Elder | Elder Beck and his Religion in Rhythm | There's A Dead Cat On The Line b/w Didn't It Rain | 1949 |
| Gotham 604 | Silveraires | | Up In My Heavenly Home b/w Traveling Shoes | 1949 |
| Gotham 605 | Angelic Gospel Singers | | Touch Me, Lord Jesus b/w When My Savior Calls Me Home | 1949 |
| Gotham 606 | Beck, Elder | Elder Beck and his Religion in Rhythm | You Got To Move b/w He Knows How Much I Can Bear | 1949 |
| Gotham 607 | Canaanites | | Lead Me To That Rock b/w I'll Tell Him | 1949 |
| Gotham 608 | Silveraires | | End Of My Journey b/w I've Got A Home In That Rock | 1949 |
| Gotham 609 | Angelic Gospel Singers | | Jesus b/w There Is No Friend | 1949 |
| Gotham 610 | Norfolk Four | | Sleep On, Mother b/w He's A Battle Axe | 1949 |
| Gotham 611 | Beck, Elder | Elder Beck and his Religion in Rhythm | Handwriting On The Wall, Pt. 1 b/w Handwriting On The Wall, Pt. 2 | 1949 |
| Gotham 612 | Silveraires | | The Gospel Train b/w In That Land | 1949 |
| Gotham 613 | Angelic Gospel Singers | | Just Jesus b/w This Same Jesus | 1949 |
| Gotham 614 | Dixie Hummingbirds | Dixie Humming Birds | Lord, Come See About Me b/w I'll Be Satisfied | 1949 |
| Gotham 615 | National Clouds of Joy | | What More Can Jesus Do b/w Somebody Touched Me | 1949 |
| Gotham 616 | Tabernacle Gospel Singers | | Now Lord b/w Jesus Put A Song In My Soul | 1949 |
| Gotham 617 | Gospel Messengers | | Only A Dream b/w Won't You Come back Here | 1949 |
| Gotham 618 | Angelic Gospel Singers | | Somebody Saved Me b/w Yes, My Jesus Cares | 1949 |
| Gotham 619 | Jackson, Otis | | Famine In The Land b/w Sure Do Need Him Now | 1949 |
| Gotham 620 | Selah Jubilee Singers | | Good Evening, How Do You Do b/w I Cried Holy | 1949 |
| Gotham 621 | Soul Stirrers | Five Gospel Stirrers | Sleep On Darling Mother b/w Don't Wonder 'Bout Him | 1949 |
| Gotham 622 | Beck, Elder | Elder Beck and his Religion in Rhythm | Lord, I've Tried b/w You Better Watch Your Close Friends | 1949 |
| Gotham 623 | Silveraires | | Bedside Of A Neighbor b/w Journey To The Sky | 1949 |
| Gotham 624 | Williams, Willie May | | Don't Want To Go There b/w Where The Sun Never Goes Down | 1949 |
| Gotham 625 | Sacred Four | | Seek And Ye Shall Find b/w Since Mother's Been Gone | 1949 |
| Gotham 626 | Jackson, Otis | | Tell Me Why You Like Roosevelt, Pt. 1 b/w Tell Me Why You Like Roosevelt, Pt. 2 | 1949 |
| Gotham 627 | Angelic Gospel Singers | | My Life Will Be Sweeter b/w There Must Be A Heaven Somewhere | 1949 |
| Gotham 628 | Dixie Hummingbirds | Dixie Humming Birds | Move On Up A Little Higher b/w We Shall Walk Through The Valley | 1949 |
| Gotham 629 | Waldo Singers | | Jesus Is Near b/w Walking With My Jesus | 1949 |
| Gotham 630 | Beck, Elder | Elder Charles Beck (?) | That Hellbound Train Pt.1 b/w That Hellbound Train Pt.2 | 1949 |
| Gotham 631 | National Clouds of Joy | | Don't Cry b/w Somebody Got Drowned | 1949 |
| Gotham 632 | Dixie Hummingbirds | Dixie Humming Birds | Search Me Lord b/w Two Little Fishes And Five Loaves | 1949 |
| Gotham 633 | Angelic Gospel Singers | | Remember Me b/w Follow In His Footsteps | 1949 |
| Gotham 634 | Beck, Elder | Elder Charles Beck (?) | It Is A Blessing b/w Tell Jesus | 1949 |
| Gotham 635 | Cole, Bernice | | Lord Jesus b/w He's A Pattern For Us All | 1949 |
| Gotham 636 | Ward Singers | Famous Ward Singers Of Philadelphia | Surely God Is Able b/w I Need Thee Every Hour | 1950 |
| Gotham 637 | Silveraires | | Near The Cross b/w One Day | 1950 |
| Gotham 638 | Harmonizing Four | | Lord, I'm Coming Home b/w On The Battlefield For My Lord | 1950 |
| Gotham 639 | Davis Sisters | | I'll Wait On The Lord b/w He Has Away That's Mighty Sweet | 1950 |
| Gotham 640 | Angelic Gospel Singers | | Back To The Dust b/w He Never Has Left Me Alone | 1950 |
| Gotham 641 | Dixie Hummingbirds | Dixie Humming Birds | I Must Have Jesus b/w Anyone In Heaven That You Know | 1950 |
| Gotham 642 | Davis Sisters | | When I Get Home b/w Surely God Is Able | 1950 |
| Gotham 643 | Antioch Female Singers | | Little Boy b/w John The Elevator | 1950 |
| Gotham 644 | Brewster Singers of Memphis | | I'll Go b/w Want The Lord To Smile On Me | 1950 |
| Gotham 645 | Brother Rodney | | Palms Of Victory b/w Keep Your Hand Upon The Throttle | 1950 |
| Gotham 646 | National Gospel Twins | Brother and Sister, National Gospel Twins | Jesus Walks With Me b/w There Was A Cry | 1950 |
| Gotham 647 | Sellers, Rev. John | | Sing On My Sinner b/w God's Love Is Better Felt Than Told | 1950 |
| Gotham 648 | Gospel Stars | | What Manner Of Man Is This b/w Come Ye Disconsolate | 1950 |
| Gotham 649 | Angelic Gospel Singers | | Do Lord Remember Me b/w Almost Persuaded | 1950 |
| Gotham 650 | Hines, Prof. James Earl | Prof. J. Earl Hines and his Goodwill Singers | Yes, God Is Real b/w Look For Me In Heaven | 1950 |
| Gotham 651 | Hines, Prof. James Earl | Prof. J. Earl Hines and his Goodwill Singers | Does Jesus Care b/w Yes I Want To Rest | 1950 |
| Gotham 652 | Hines, Prof. James Earl | Prof. J. Earl Hines and his Goodwill Singers | I Want Wings b/w Well Done | 1950 |
| Gotham 653 | Hines, Prof. James Earl | Prof. J. Earl Hines and his Goodwill Singers | Didn't Rain? [sic] b/w Thank You Jesus | 1950 |
| Gotham 654 | Hines, Prof. James Earl | Prof. J. Earl Hines and his Goodwill Singers | Canaan Land b/w King Jesus | 1950 |
| Gotham 655 | Hines, Prof. James Earl | Prof. J. Earl Hines and his Goodwill Singers | I Cried Holy b/w What Manner Of Man Is This | 1950 |
| Gotham 656 | Hines, Prof. James Earl | Prof. J. Earl Hines and his Goodwill Singers | Jesus b/w Have A Little Talk With Jesus | 1950 |
| Gotham 657 | Hines, Prof. James Earl | Prof. J. Earl Hines and his Goodwill Singers | Every Day Will Be Sunday b/w Only A Look | 1950 |
| Gotham 658 | Hines, Prof. James Earl | Prof. J. Earl Hines and his Goodwill Singers | Precious Memory b/w After Awhile | 1950 |
| Gotham 659 | Hines, Prof. James Earl | Prof. J. Earl Hines and his Goodwill Singers | Jesus Slept Right In b/w Dig A Little Deeper In God's Love | 1950 |
| Gotham 660 | Hines, Prof. James Earl | Prof. J. Earl Hines and his Goodwill Singers | Get Back, Jordan b/w He Knows My Heart | 1950 |
| Gotham 661 | Hines, Prof. James Earl | Prof. J. Earl Hines and his Goodwill Singers | He's A Friend Of Mine b/w Remember Me | 1950 |
| Gotham 662 | Hines, Prof. James Earl | Prof. J. Earl Hines and his Goodwill Singers | Can't Make This Journey By Myself b/w Somebody Saved Me | 1950 |
| Gotham 663 | Angelic Gospel Singers and Dixie Hummingbirds | Angelic Gospel Singers and the Dixie Humming Birds | Jesus Will Answer Prayer b/w In The Morning | 1950 |
| Gotham 664 | Davis Sisters and Curtis Dublin | Davis Sisters of Philadelphia with Curtis Dublin | Footprints Of Jesus b/w Getting Nearer To My Lord | 1950 |
| Gotham 665 | Watts Gospel Guides | | Why Not b/w Leaning On The Everlasting Arms | 1950 |
| Gotham 666 | Harmonizing Four | | Never Turn Back No More b/w King Jesus Will Roll All Burdens Away | 1950 |
| Gotham 667 | Smith, Willie Mae Ford | | Jesus Is The Name b/w Call Him By His Name | 1950 |
| Gotham 668 | Silveraires | | Shine On Me b/w Somebody's Calling My Name | 1950 |
| Gotham 669 | Brother Rodney | | He Lives In Me b/w He's My All And All | 1950 |
| Gotham 670 | Watts Gospel Guides | | Prayer For Today b/w Does Jesus Care | 1950 |
| Gotham 671 | Webb Singers, Willie | | Every Day And Every Hour b/w He's The One | 1950 |
| Gotham 672 | Brewster and his Camp Meeting of the Air, Rev. W. Herbert b/w Brewsteraires of Memphis | | The Hope Of This World Is Jesus b/w When I Shall Meet Him Face To Face | 1950 |
| Gotham 673 | Graham, Anne C. | | Have You Tried Jesus b/w God Talks To Me | 1950 |
| Gotham 674 | Ward, Clara | | The Fountain b/w How I Got Over | 1950 |
| Gotham 675 | Angelic Gospel Singers | | Glory, Glory, To The Newborn King b/w Jesus Christ Is Born | 1950 |
| Gotham 676 | Davis Sisters and Curtis Dublin | Davis Sisters with Curtis Dublin | The First Nowell b/w We Shall Walk In The Sunlight Of The Lord | 1950 |
| Gotham 677 | Harmonizing Four | | Silent Night b/w Sweet Little Jesus Boy | 1950 |
| Gotham 678 | Brother Rodney | | O Bethlehem Of Judah b/w All The Earth Is Filled With Glory | 1950 |
| Gotham 679 | Southern Echoes | Southern Echoes of Chicago, Ill. | Blessed Be The Name b/w I Want To See Jesus | 1950 |
| Gotham 680 | Webb Singers, Willie | | I Call Jesus My Rock b/w Alone | 1950 |
| Gotham 681 | Five Trumpets | | Stand By Me b/w Jesus Is Here Today | 1950 |
| Gotham 682 | Franklin, Rev. C.L. | Rev. C.L. Franklin and the Franklin Singers | I Am Climbing Higher Mountains b/w The Lord Will Make A Way, Yes He Will | 1950 |
| Gotham 683 | Angelic Gospel Singers and Dixie Hummingbirds | Angelic Gospel Singers and the Dixie Humming Birds | Dear Lord, Look Down Upon Me b/w Standing Out On The Highway | 1950 |
| Gotham 684 | Gospel Stars | | Blessed Savior b/w Call Him By His Name | 1950 |
| Gotham 685 | Angelic Gospel Singers | | All To Jesus b/w Keep Me All The Way | 1950 |
| Gotham 686 | Dixie Hummingbirds | Dixie Humming Birds (?) | Live So God Can Use You b/w Beaming From Heaven | 1950 |
| Gotham 687 | Brewster, Rev. W.H. | Rev. W.H. Brewster and his Camp Meeting of the Air | Give Me That Old Time Religion b/w So Glad I've Got Good Religion | 1950 |
| Gotham 688 | Davis Sisters | | I Know It's Real b/w Happy In Glory Afterwhile | 1950 |
| Gotham 689 | Webb Singers, Willie | | Want The World To See Jesus In My Life b/w Eyes Have Not Seen | 1950 |
| Gotham 690 | Ward, Clara | | I Don't Know Why b/w Precious Lord | 1950 |
| Gotham 691 | Franklin, Rev. C.L. | Rev. C.L. Franklin and the Franklin Singers | Your Mother Loves Her Children b/w Wings Of Faith | 1950 |
| Gotham 692 | Harmonizing Four | | Where He Leads Me I Shall Follow b/w Jesus Is A Friend To Everyone | 1950 |
| Gotham 693 | Five Trumpets | | My Chains Fell Off b/w The Lord Knows What I Need | 1950 |
| Gotham 694 | Angelic Gospel Singers and Dixie Hummingbirds | Angelic Gospel Singers and the Dixie Humming Birds | Glory, Glory, Hallelujah b/w I'm On My Way To Heaven Anyhow | 1950/51 |
| Gotham 695 | Glover and Bethel Singers of Detroit, Rev. Charles | | Glory To His Name b/w Sweet Hour Of Prayer | 1951 |
| Gotham 696 | Five Trumpets | | No, Not One b/w A Hand I Can See | 1951 |
| Gotham 697 | Dixie Hummingbirds | Dixie Humming Birds | What Then? b/w Down On Me | 1951 |
| Gotham 698 | Ward Specials, Clara | | Throw Out The Lifeline b/w Hell Never Let Go My Hand | 1951 |
| Gotham 699 | Allison, M.W. | | Call On Jesus In Secret Prayer b/w I Heard Mother Call My Name In Prayer | 1951 |
| Gotham 700 | Harmonizing Four | | Mother's Prayer Has Followed Me b/w Pray Every Step Of The Way | 1951 |
| Gotham 701 | Washington, Sister Emma L. | | Divine Wisdom b/w Who Could Ask For Anything More | 1951 |
| Gotham 702 | Glover and Bethel Singers of Detroit, Rev. Charles | | I Want To See Jesus b/w Softly And Tenderly | 1951 |
| Gotham 703 | Davis Sisters | | When He Spoke b/w In The Morning When I Rise | 1951 |
| Gotham 704 | Angelic Gospel Singers | | Tell The Angels b/w My Faith Looks Up To Thee | 1951 |
| Gotham 705 | Ward Specials, Clara | | Hark The Voice b/w I'm Sealed | 1951 |
| Gotham 706 | Ward, Clara | | When I've Done The Best I Can b/w When The Gates Swing Open | 1951 |
| Gotham 707 | Jordan and Jordan Tabernacle Singers of Baltimore, Madame I. | | Christ Is Calling b/w Jesus Is Mine | 1951 |
| Gotham 708 | Harmonizing Four | | Get Right With God b/w Will There Be Any Stars In My Crown | 1951 |
| Gotham 709 | Anderson and Brewster Singers, Queen C. | | Jesus Is The Perfect Answer b/w These Are They! | 1951 |
| Gotham 710 | Davis Sisters | | He's My Guiding Light b/w He Is My All And All | 1951 |
| Gotham 711 | Angelic Gospel Singers | | If Jesus Goes With Me b/w The Blessed, Blessed Jesus | 1951 |
| Gotham 712 | Ward Specials, Clara | | Happy Over There Pt. 1 b/w Happy Over There Pt. 2 | 1951 |
| Gotham 713 | Hanson Singers, Marie | | Jesus For Me b/w Standing On The Promise | 1951 |
| Gotham 714 | Patterson Singers | | When You Reach The Pearly Gates b/w Draw Me Nearer | 1951 |
| Gotham 715 | Ward, Clara | | Come In The Room b/w I'm Waiting For Jesus | 1952 |
| Gotham 716 | Davis Sisters and Curtis Dublin | | By And By, Pt. 1 b/w By And By, Pt. 2 | 1952 |
| Gotham 717 | Angelic Gospel Singers | | Bread Of Heaven b/w Milky White Way | 1952 |
| Gotham 718 | Harmonizing Four | | May The Good Lord Bless And Keep You b/w Say A Word | 1952 |
| Gotham 719 | Jenkins and Skylight Singers, Ozzie | | Jesus Will Never Let You Down b/w God's Grace Will Carry You Through | 1952 |
| Gotham 720 | Jordanaires of Spartansburg, SC | | This Light O' Mine b/w Lord Take Care Of Me | 1952 |
| Gotham 721 | Patterson Singers, Robert | | I'm A Witness b/w Saved By The Power Devine | 1952 |
| Gotham 722 | Mellow-Aires of Rochester, NY | | Come Over Here b/w Take Your Burdens There | 1952 |
| Gotham 723 | Angelic Gospel Singers | | Since Jesus Came Into My Heart b/w Jesus Is All The World To Me | 1953 |
| Gotham 724 | Ward, Clara | | Jesus Remembers b/w At the Cross | 1953 |
| Gotham 725 | Davis Sisters and Curtis Dublin | | Stand By Me b/w Jesus | 1953 |
| Gotham 726 | Wilson and Family, Elder R. | | Lily Of The Valley b/w Better Get Ready | 1953 |
| Gotham 727 | Davenport, Ethel | Ethel Davenport and the Ethel Davenport Singers | Heavenly Express b/w Steal Away And Pray | 1953 |
| Gotham 728 | Lewis and Trinity Gospel Singers, Rudolph | | Lord, I've Done Done b/w Trying To Obey | 1953 |
| Gotham 729 | Angelic Gospel Singers | | Jesus Will Carry You Through b/w My Lord And I | 1953 |
| Gotham 730 | Echo Gospel Singers | Echo Gospel Singers of Baltimore, MD | I Want To Thank My God In Person b/w This Is Like Heaven To Me | 1953 |
| Gotham 731 | Patterson Singers | Robert Patterson Singers | After Awhile b/w I Will Walk With Jesus | 1953 |
| Gotham 732 | Evening Star Quartet | | Say A Prayer For The Boys In Korea b/w Make It In | 1953 |
| Gotham 733 | Porter, Savannah | | He Is My All And All b/w Sweet Hour Of Prayer | 1953 |
| Gotham 734 | Patterson Singers | | Understand It Better Bye And Bye b/w Unchanging Heart | 1953 |
| Gotham 735 | Ward, Clara | | One Way Street b/w In That Great Judgment Morning | 1953 |
| Gotham 736 | Davis Sisters and Curtis Dublin | | Jesus Steps Right In b/w Too Close To Heaven | 1953 |
| Gotham 737 | Harmonizing Four | | Give My Heart To Jesus b/w Beyond The Sunset | 1953 |
| Gotham 736 | C.B.S. Trumpeteers and Harmonizing Four | | Mother's Prayer b/w This Wicked Race | 1953 |
| Gotham 739 | Davenport, Ethel | Ethel Davenport and E.D. Singers | Something Has Happened To Me b/w Show Me The Way | 1953 |
| Gotham 740 | Angelic Gospel Singers | | I Thank You, Lord! b/w Do Not Pass Me By, O Gentle Saviour | 1953 |
| Gotham 741 | Four Kings Of Harmony of Miami | | Crying In The Chapel b/w Hallelujah | 1953 |
| Gotham 742 | Echo Gospel Singers | | Jesus Put A Song In My Soul b/w Will You Know Me? | 1953 |
| Gotham 743 | Angelic Gospel Singers | | If It Wasn't For The Lord b/w God's Roll | 1953 |
| Gotham 744 | Harmonizing Four | | Joy In Beulah Land b/w I Started In Jesus | 1953 |
| Gotham 745 | Gospel Vocalaires of Norfolk, VA | | Call Him Anytime b/w I'll Be Satisfied | 1953 |
| Gotham 746 | Davis Sisters and Curtis Dublin | Davis Sisters with Curtis Dublin | Marching To Zion b/w Jesus Is A Waymaker | 1953 |
| Gotham 747 | Angelic Gospel Singers | | A Child Is Born b/w Christmas Morning | 1953-54 |
| Gotham 748 | Norfolk Four | | Oh, Lord ! Oh, Lord ! b/w Maybe The Last Time | 1953-54 |
| Gotham 749 | Harmonizing Four | | Protect My Loved Ones b/w Working For The Lord | 1953-54 |
| Gotham 750 | Davis Sisters and Curtis Dublin | Davis Sisters with Curtis Dublin | In The Shelter Of The Rock b/w Is There Anybody Here Who Loves Jesus | 1953-54 |
| Gotham 751 | Lewis, Rudolph | | I'll Live On b/w I Can't Stay On This Highway | 1954 |
| Gotham 752 | Echo Gospel Singers | | Have Mercy b/w At The River Jordan | 1954 |
| Gotham 753 | Harmonizing Four | | Watch Over Me b/w You Ought To Know The Lord | 1954 |
| Gotham 754 | Ward, Clara | | On Higher Ground b/w Out On A Hill | 1954 |
| Gotham 755 | Angelic Gospel Singers | | Watching Over Me b/w I'm Going Home To Jesus | 1954 |
| Gotham 756 | Echo Gospel Singers | | I Have No Friend Like You b/w I Want Jesus To Walk With Me | 1954 |
| Gotham 757 | Harmonizing Four | | Lift Every Heat And Sing b/w Over In Gloryland | 1954 |
| Gotham 758 | Ward, Clara | | Faith Moves Mountains b/w I Heard Of A City Called The New Jerusalem | 1954 |
| Gotham 759 | Harmonizing Choraleers | | I'm On My Way To Heaven b/w Softly And Tenderly | 1954 |
| Gotham 760 | Angelic Gospel Singers | | Jesus Paid It All b/w I Want To See Him | 1954 |
| Gotham 761 | Davis Sisters | | Get Right With God b/w I'm Tired | 1954 |
| Gotham 762 | Echo Gospel Singers and Heavenly Gates | Echo Gospel Singers and Heavenly Gates Quartet | Jesus Will Abide b/w Talkin' About Heaven | 1954 |
| Gotham 763 | Four Kings of Harmony of Miami | | I'll Fly Away b/w The Graveyard Is Waiting | 1954 |
| Gotham 764 | Heavenly Gates | Heavenly Gates Quartet of Baltimore, MD | I Want To Rest b/w I'm All Right Now | 1954 |
| Gotham 765 | Harmonizing Four | | Let God Abide b/w When I Am Gone | 1954 |
| Gotham 766 | Patterson Singers | | Jesus Is Mine b/w Lord Lift Me Up | 1955 |
| Gotham 767 | Rugged Cross Singers of Baltimore | | The Time Will Surely Come b/w Try God | 1955 |
| Gotham 768 | Harmonizing Four | | I've Been Changed b/w Trust Jesus | 1955 |
| Gotham 769 | Evening Star Quartet | | Jesus I'll Never Forget b/w I'm A Witness | 1955 |
| Gotham 770 | Harmonizing Four | | Come Over Here b/w What Do You Know? | 1955 |
| Gotham 771 | Ward A.M.E. Church | | All Things Are Possible b/w Revive Us Again | 1955 |
| Gotham 772 | Harmonizing Four | | I Shall Not Be Moved b/w I'll Go, Lord, Send Me! | 1955-56 |
| Gotham 773 | Harmonizing Four | | I Trust In God b/w I Want To Know | 1955-56 |
| Gotham 774 | Angelic Gospel Singers | | Jesus Is The Light Of The World b/w Only A Look | 1956-57 |
| Gotham 775 | Harmonizing Four | | The Lord's Prayer b/w I Shall Rest At The End Of The Day | 1956-57 |
| Gotham 776 | Violinaires | Violinaires of Detroit, Michigan | Sign Of The Judgement b/w My Work Will Be Done | 1957-58 |
| Gotham 777 | Butler Singers, Anthony | | Will My Mother Know Me? b/w My God Is A Mighty Man! | 1958 |
| Gotham 778 | Zion Harmonizers | Zion Harmonizers of New Orleans | Working The Road b/w In The End | 1958 |
| Gotham 779 | Harmonizing Four | | Amazing Grace b/w Keep Me All The Way | 1958 |
LP release:

| release | artist | artist as shown | title | year |
| --- | --- | --- | --- | --- |
| Gotham LP 1 | Various | | Xmas Spirituals | 1957 |